'Any normal human being, even if he is the American president, will find it hard, at least in the initial stages, to get over the gnawing feeling that Modi is Trump's man.'
'Modi should not be surprised if India and its requirements are treated as of low priority by Joe Biden,' warns B S Raghavan, the distinguished civil servant.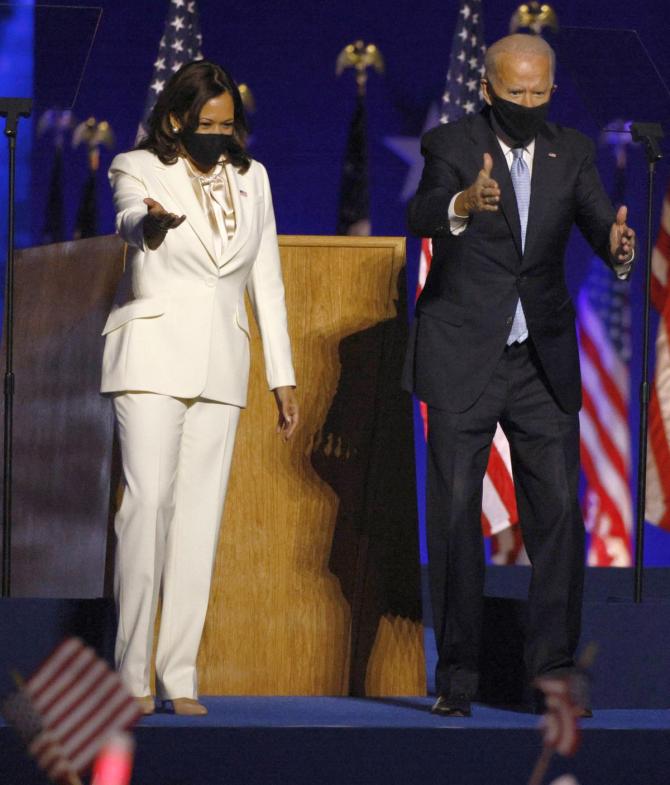 The US presidency is all but sewn up.
The legal challenges alleging fraud, illegalities in the counting of votes and the like mounted by Republican party members and US President Donald J Trump may come to nothing even with a packed US supreme court and a formal announcement is only a matter of time.
The inauguration of the new administration with Joe Biden as president and Kamala Harris as vice-president by the due date in January is a certainty.
The only puzzling feature of all the chaos, tumult and commotion attendant on the electoral process of the world's economically, technologically and militarily the most powerful democracy is the see-saw nature of the race, and the second largest number of votes in all American history secured by an American president by Trump.
This is quite opposite to what was almost taken for granted: That victory would be a cakewalk for the Biden-Harris ticket, in the context of the abysmal depths to which the US presidency had sunk under the present incumbent.
It is clear that though Trump is out, Trumpism, with all its supremacist traits, hatred of immigrants and megalomaniacal attitude towards international affairs is ingrained in the psyche of a large number of Americans.
Thus, Biden is up against the uphill task of finding ways of purging the American psyche and American society of Trumpism at its ugliest.
A Republican-dominated US senate is not going to make his task any easier. For, most Republicans were accomplices and abettors, making it possible for Trump to behave almost like a mafia don, throwing all established rules and norms to the winds and wrecking from within institutions which had until his time commanded respect and credibility for their professional integrity and excellence.
Luckily, the vestiges of their reputation and record of performance still remain, engendering hope that Biden will still be able to build upon them and restore them to their former standards.
Prime Minister Narendra Damodardas Modi has promptly extended his congratulations to both winning candidates, but thereby he has only flagged off a bumpy course with the new president and vice-president.
Both posts are the products as well as victims of their roots. While the holders of those posts, as persons and individuals, may be nice and responsive, and even want to be helpful, the thought processes, traditions and policies of their political upbringing and compulsions by which they are conditioned may hamstring them.
There is an illuminating anecdote to bear this out. Some foreign luminary was calling on President John F Kennedy and was holding forth in the Oval Office with a shopping list of what he wanted.
Kennedy listened to him patiently till he finished, and said bemusedly: 'Well, Mr President/Prime Minister (or whatever he was), I am in entire agreement with you, but I will have to see whether the US government will be equally agreeable!'
Joe Biden and Kamala Harris are from the Democratic party which had its own worldview embedded in it for as long as it existed. They cannot afford not to be seen as upholding its policies and approaches. They cannot make a U-turn at random and at will, without rousing suspicions and sowing confusion.
Individual presidents may stamp the intensity of their own personalities, preferences and priorities on the party tenets and beliefs, but they cannot deviate from them to any extent. They may do some tweaking and tinkering here and there to suit their likes and dislikes or to accommodate someone to whom they may be personally favourably disposed, but that is about all.
Unfortunately, India under Modi starts off at a disadvantage. Modi with his excessive exuberance has thrown in his lot with Trump to the extent of openly coming close to canvasing for his second term at the 'Howdy Modi' grand gala in Houston and going all out to arrange the equally spectacular mega show 'Namaste Trump' event in Ahmedabad.
Not that this got any noticeable mileage with respect to Trump himself. The Kennedy aphorism worked. Trump mouthed some flattering phrases about Modi, but was not above rocking the India boat with some nasty announcement or another.
Any normal human being, even if he is the American president, will find it hard, at least in the initial stages, to get over the gnawing feeling that Modi is Trump's man.
Modi should not be surprised if India and its requirements are treated as of low priority by Joe Biden. Of course India is too big a country and a coming-up power, and has been figuring in America's geopolitical power calculus too long to be ignored and pushed aside, but India should be prepared for a period of cold-shouldering by the US, though all diplomatic niceties will be preserved and appearances kept up.
I see some scope for India-US relations going through a troublous phase on other counts as well. Joe Biden and Kamala Harris are unabashed advocates of human rights and had taken a harsh view of India's abrogation of Article 370 of the Constitution, the National Register of Citizens, the Citizenship (Amendment) Act and generally frowned on its policies on Kashmir.
As between India and Pakistan, Joe Biden distinctly tilts towards Pakistan.
In my article, 'Is Modi ready for Trump's exit?' published on Rediff.com on August 21, 2020, I had written: '... if, as it now looks, Trump is out, Modi is going to find himself in a hotspot, having to reset his relations with the new US president with whom he will have to co-exist for well-nigh his full term.'
What countries and their leaders dealing with the US should never forget, but do, is that for Americans and for the American establishment, there is nothing like sentiment or attachment, such as, for instance what the Soviet Union showed towards India in Indira Gandhi's time or presently China is showing towards Pakistan, supporting it through thick and thin.
The deciding motivation for the US always is in the answer to the question: 'What's there in it for me?' One moment it will all be all effusive, and profuse in plaudits, and the next moment, if it suits its interest, the CIA will be unleashed to deploy all its dirty tricks to do you down.
It might well be worthwhile for the Modi government to send at the earliest a special mission under the external affairs minister to have a behind-the-scenes exchange of views with the new president to plumb his mind and to clear the air in regard to any misunderstandings.
B S Raghavan is a retired member of the Indian Administrative Service who was a US Congressional Fellow and Policy Adviser to UN (FAO)
He has held senior positions in the ministry of home affairs during the administrations of then prime ministers Jawaharlal Nehru, Lal Bahadur Shastri and Indira Gandhi.He was also the Chancellor of Jharkhand ICFAI University.