'Like General Patton, possibly the greatest exponent of the art of war, Vajpayee had the ability to be always on the offensive,' assesses Colonel Anil A Athale (retd).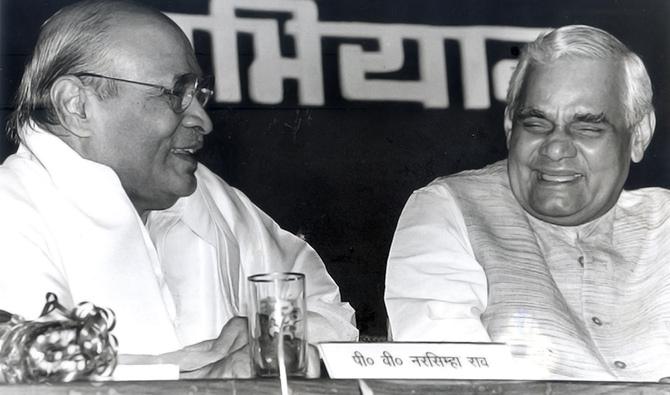 Since 1947 most Indian prime ministers have had to cope with conflicts.
Nehru, the first PM, faced Pakistani aggression in Kashmir in 1947 and the Chinese attack in 1962.
In Kashmir, Nehru prevented the army from finishing the job when he diverted the military efforts from General K S Thimayya when we were on the verge of capturing Muzaffarabad. Strategically, the Pakistan link to Gilgit and Hunza is only possible through this area.
If India had followed geographical logic, today we could have had land access to Russia and Central Asia.
In 1962, Nehru and with him India suffered a major debacle as he followed aggressive diplomacy that was not backed by force. The end result was to diminish India's image in the world and help the West equate India with Pakistan.
In his brief tenure, Lal Bahadur Shastri, who succeeded Nehru, fought a war in September 1965 against Pakistan. Shastri learned from the 1962 disaster and did not interfere in operational matters.
The 1965 war was a stalemate but given American aid, Pakistan actually had a qualitative edge over India and even a stalemate was indeed a great achievement.
But an India that was economically weak, living from 'ship to mouth', could not resist the pressures and gave up the strategic Haji Pir Pass in Kashmir.
Tashkent was a diplomatic disaster.
Indira Gandhi was by far the most successful war leader that India has seen.
In 1971, with astute diplomacy, shrewd strategy and iron will, she demolished Pakistan and created a new nation of Bangladesh.
But in the aftermath of the war, at the Simla peace conference, she failed to cash in on the advantage.
One could also attribute her failure to correctly gauge the depth, persistence and rigidity of the Pakistani national psyche.
Rajiv Gandhi in his five-year tenure went into Sri Lanka where India suffered more losses than in the 1971 war.
In the end, we ended up annoying the Liberation Tigers of Tamil Eelam without any corresponding gain in Sri Lanka. Ultimately, Rajiv Gandhi lost his life to his faulty reading of the deeply entrenched historical forces that were at the root of the Lankan conflict.
Vajpayee was a witness to all these events during his over four decades of political life, and learning from it managed to win both war and peace.
Notice how he conceded very little in all his peace moves. While a genuine peace-monger, he was also a pragmatist.
His ambition to go down in history as the peace-maker of South Asia is legitimate and in the interests of all.
Vajpayee was a pragmatist with a heart of a poet.
An American diplomat marvelled at Vajpayee's ability to be a war leader and peace champion in such quick succession.
This often earned him criticism for flip-flops or inconsistency. But in the rapidly changing world of the 21st century, being static is a virtue of morons.
Vajpayee managed to rapidly change from war to peace and yet retain his leadership due to the relationship of trust that he has established not just with the people of India, but also Pakistan. An index of his appeal is that Kashmiris invited him to contest elections from the state.
Obviously, many others contributed to this success that India achieved as a nation. But as a leader it is Vajpayee that gets the credit, for if there was a failure, that would have also been his and his alone.
One of the greatest abilities he showed in his six years in office is to constantly seize the initiative in even the most impossible situations.
Thus, like General George S Patton, possibly the greatest exponent of the art of war, Vajpayee had the ability to be always on the offensive.
RIP Atalji!
Extensive use for this five-part series has been made of research conducted at the ministry of defence, war studies division, where Colonel (Dr) Anil A Athale served as a joint director from 1986 to 1990.
Anil A Athale, a former colonel of the Indian Army, has a doctorate in defence studies and is the author of books on the history of the Arab-Israeli War, the 1962 India China War, the Sri Lankan conflict, Kashmir, nuclear strategy and Maratha history.