'As I went around Batticaloa, Trincomalee, Jaffna and Mannar, my mind went back to my visit in January 1990 at the fag end of the IPKFs mission in Sri Lanka,' says Colonel Anil A Athale (retd).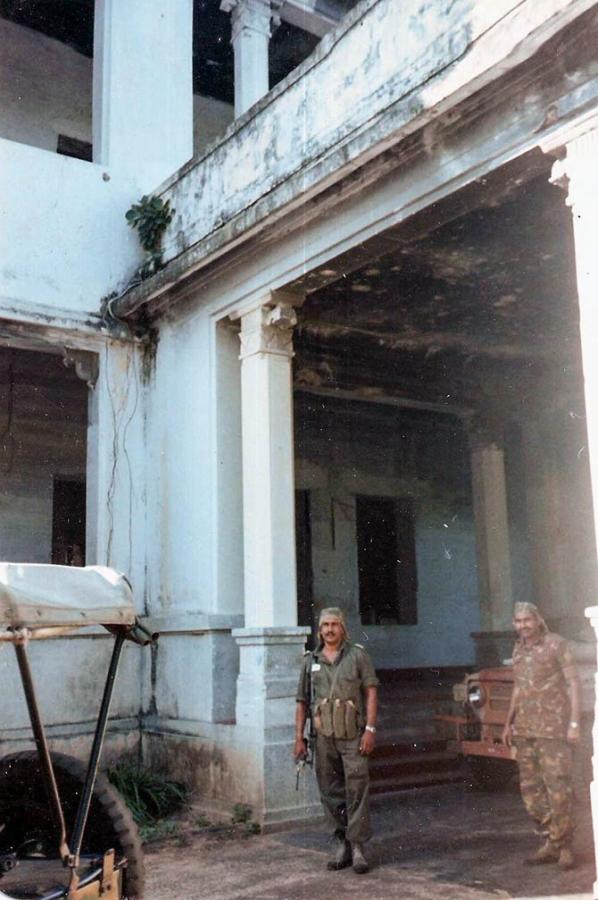 IMAGE: Indian commandos at the burnt Jaffna library, January 1990. Photograph: Colonel Anil A Athale
Sri Lanka, India's closest maritime neighbour, seldom grabs headlines in the Indian media except during instances of internal violence, as happened recently with the Buddhist-Muslim riots.
Or during the Chinese incursions in our backyard, like with the visit of a Chinese submarine to Colombo a few years ago.
But the converse is not true. India looms large in the Sri Lankan media as well as in the public consciousness.
Many Indian visitors to the beautiful island nation are often perplexed at the under-the-surface hostility Sinhalas harbour towards them.
Most Indians are unaware that in the first millennium, King Rajendra Chola invaded Sri Lanka 17 times (a la Mahmud of Ghazni from around the same period), looted and destroyed the capital Anuradhapura.
The Cholas also destroyed the Bodhi tree there and built a Shiva temple in its place. In Sinhala historical memory the Cholas are what Ghazni is to an average North Indian.
In 1996, I learnt from reliable sources that at the height of the Indian Army's offensive against the Tamil Tigers in the late 1980s, Sri Lankans -- under then prime minister Ranasinghe Premadasa -- were supplying ammunition to the rebels!
Sri Lankan hatred of India and its intervention overcame even commonsense. It is another matter that Premadasa and the anti-Indian defence minister Lalith Athulathmudali were both assassinated by the Liberation Tigers of Tamil Eelam.
We often tend to forget that for other South Asian nations we are the big brother. So as a Lanka watcher for 28 years here is my attempt to explain the background to and rationale behind Indo-Sri Lankan relations.
On February 28, 2018, as I emplaned in Colombo to return to India, a long-felt desire had been fulfilled.
No, this was not my first visit to Sri Lanka. It was the fourth, but it was only on this trip that I visited eastern and northern Sri Lanka after the end of the civil war.
As I went around Batticaloa, Trincomalee, Jaffna and Mannar, my mind went back to my visit in January 1990 at the fag end of the Indian Peace Keeping Force's mission in Sri Lanka (appropriately named Operation Pawan).
I went to Sri Lanka on January 6, 1990, as an observer, to study IPKF operations.
Jaffna town was then under partial Indian occupation as were Trincomalee, Batticaloa and Vavunia.
This was after then PM V P Singh had ordered a withdrawal beginning 1989. The situation was tense as the LTTE continued its attacks on the withdrawing Indian troops.
After spending a few days in the Jaffna peninsula I flew to Trincomalee, as movement by road was impossible with the LTTE dominating the area.
At Trincomalee, I tried to go to the ancient city of Anuradhapura, but had to give up as the road was deemed unsafe.
No sooner did I return than I learnt that a prominent breakaway Tamil leader was ambushed and his vehicle blown up with an RPG-7 rocket minutes after I travelled on the same road.
Incidentally, the rocket launcher of Russian make was a favourite of the LTTE's as well as of the Palestinian guerillas.
Within days of my return from Sri Lanka, I learnt of a major ambush of returning soldiers near Kankesanturai port in the Jaffna peninsula.
Jaffna and Trincomalee were and felt like a war zone.
One only moved around with an armed escort. One could see the tension in the eyes of soldiers to realise that a brutal battle was going on between the Indian Army and the LTTE.
I must hasten to add that though very much in service then, I was there on a mission as an observer sent by the ministry of defence and was not a participant in any military operation.
The second time I went to Sri Lanka was in 1996 to study the then ongoing conflict between the LTTE and the Sri Lankan army.
This time my visit was confined to Colombo and Kandy and was basically to interact with the strategic community in Lanka.
During this visit I met Lakshman Kadirgamar, then the foreign minister, a prominent Tamil face in the Sri Lankan government fighting the civil war and assassinated by an LTTE sniper in 2005.
Colombo in 1996 was a city under siege, although the actual fighting was almost 200 km away in the north and east. The streets would be deserted early and normal traffic would not begin till the sun was up.
The fear of explosions and snipers was all-pervasive.
My trip nearly did not happen as I was denied a visa initially since I made it clear that I was not travelling as a tourist but as a researcher working on a project for the Government of India.
The Sri Lankan consul in Mumbai advised me to go as a tourist, but that would be a violation of visa rules and would have made me vulnerable in war time Sri Lanka.
As a desperate measure I wrote to then Sri Lankan president Chandrika Kumaratunga that while India did support the Tamils' legitimate aspirations, India was not only Tamil Nadu and had a genuine interest in the welfare of the Sinhalas as well who, I pointed out, were also of Indian origin from Odisha and Bengal.
It worked and I was granted a visa on presidential intervention.
I returned from my research trip around October 18, 1995. On October 20, 1995, the LTTE attacked the oil storage facilities near Colombo airport, leading it to being shut for nearly a week.
The third time I visited Sri Lanka was in 2012, three years after the LTTE's conclusive defeat and the end of the Sri Lankan civil war in May 2009.
The war was over, but Colombo was still a city on high alert.
There were military checkposts all over the city. Overall, the atmosphere was peaceful, but there was tension in the air.
As one travelled to the hills of Kandy and southern Sri Lanka, the situation eased and there was very little military presence in Sinhala majority areas.
I went deep south to Hambantota where the construction of a port by the Chinese was on in full swing. Interestingly, there was very little visible Chinese presence.
The Chinese kept to themselves and lived in camps with very little interaction with the locals. On weekends, the resort where we stayed saw a few Chinese officials coming over for meals.
In order to 'feel' and experience life in Sri Lanka one travelled by public transport -- buses and train.
Though the civil war had ended three years earlier, there were checkpoints manned by the military. All passengers had to alight and go through screening. One saw that Sri Lankans of Tamil origin received special attention.