'While many Chinese policy makers dismiss the political, economic and technological component of US-India relations, they express caution on the defence-related ties which also happens to be a major driver in US-India relations,' explains China expert Srikanth Kondapalli.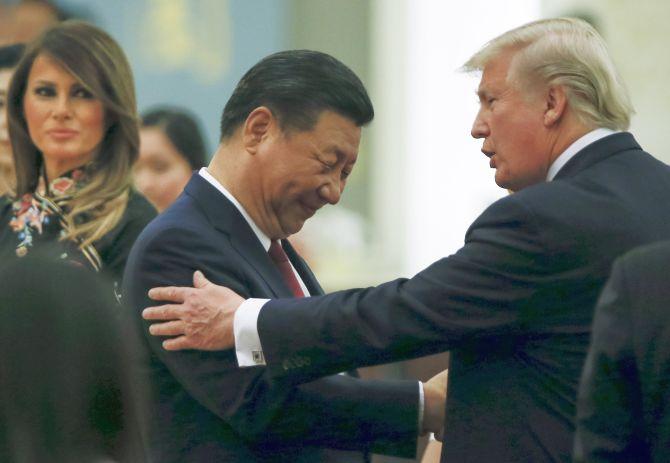 Even though China is currently engrossed in countering the debilitating coronavirus spread across the country, daggers would soon be drawn as India hosts United States President Donald J Trump.
Opinions from China are likely to highlight the 'containment' thesis -- that the US and India are making preparations to address China's rise and its flagship Belt and Road Initiative.
For, there are many stakes for a beleaguered China. China's plans to assiduously place itself in the leadership position in Asia is being questioned increasingly by Japan, India, Australia and other neighbouring countries. With the US's renewed 'isolationist' policies, Beijing initially thought such a move is an opportunity.
China of late had been making preparations to anoint itself the undisputed leader in Asia without providing goods and services on that scale. In May 2014, it suggested that Asian countries should look after their own security, instead of depending on the US.
The 19th Communist party congress in October 2017 went further by suggesting to 'occupy the centre stage' in global and regional orders.
The reaction from the US and its allies has been swift, if bordering on hyperbole. The Trump administration became a proactive critique of the BRI in terms of its violation of sovereign principles or debt financing, environmental fallout and others.
It passed the travel act in regard to Xinjiang, Tibet and Taiwan, besides initiating freedom of navigation and overflight operations in the disputed South China Sea, where China attempted to push everyone else through militarisation and a proposed code of conduct.
The above is typical of the Cold War rendition. What has changed is India, and other countries joining such efforts.
In November 2017, the Trump administration widely popularised the Indo-Pacific strategy of free and open system, rule of law, freedom of navigation, maritime security and connectivity, curbs on nuclear and missile transfers and terrorism.
Initially, China dismissed such moves as merely ocean 'froth' that would recede eventually, as Foreign Minister Wang Yi put it. However, as the idea of the Indo-Pacific is gathering storm, China is concerned.
In June last year, the US has released its first comprehensive Indo-Pacific strategy document mentioning India's 'vital' role in the scheme of things. Major US official documents mentioned China as a revisionist power and a strategic competitor.
Indian official documents do not mention China as a threat even though the highest level leadership had taken objection to the China Pakistan Economic Corridor, with no budging from Beijing.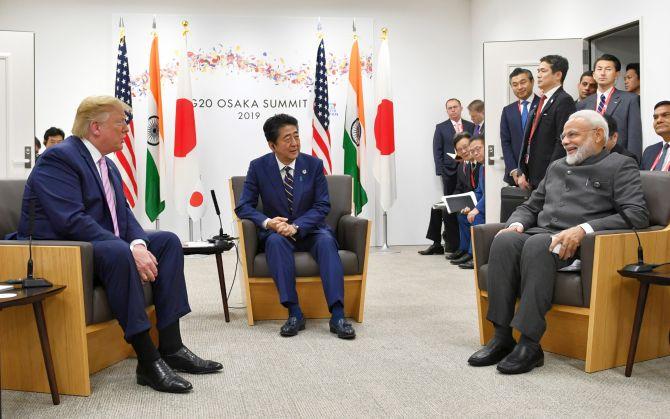 Last September the four Quad countries's foreign ministers met in New York that raised alarm bells in Beijing. Some Chinese scholars like Zhao Minghao termed this as a movement towards an 'Asian NATO'. India and Japan conducted a 2+2 foreign and defence ministerial meeting in New Delhi on November 30, 2019.
Later, in December, the second 2+2 dialogue between the US and India occurred in Washington with renewed defence agreements.
With India joining the Quad, and initiating a 'neighbourhood first' policy, China's radars have gone up. While many Chinese policy makers dismiss the political, economic and technological component of US-India relations, they express caution on the defence-related ties which also happens to be a major driver in US-India relations.
Even though the then prime minister Manmohan Singh assured President Hu Jintao that India is not containing China, the latter was not satisfied. On the other hand, there is no evidence to suggest any Beijing's promise not to contain India -- except for a few bland statements on peace in South Asia.
China's perceptions of India-US relations are coalescing into two main policy streams. One prevalent and persuasive school suggests that India should distance itself from the US and follow 'strategic autonomy' argue that relations with China should be expanded including cooperation in the World Trade Organisation, climate change issues, in multilpolar/multilateral political institutions like BRICS or the Shanghai Cooperation Organisation or in economic groupings like G-20 and for higher voting rights in the International Monetary Fund.
Recently, as China faced intense pressure from the US, former Chinese ambassador to India Luo Zhaohui suggested a united front between India and China to counter US tariff increases although wide discrepancy exists between trade surpluses. The doyen of Indian studies, Zhao Gancheng argued that India is unlikely to take sides in the US-China rivalry, but will use the differences for its economic and security benefits.
According to Zhang Jiadong, 'New Delhi wants to utilise Washington's Indo-Pacific strategy to restrain China; on the other, this South Asian country hopes to maintain its status as an independent power.'
Another was that of Hu Weijia who suggested that instead of the Indo-Pacific strategy, India should align with China so that latter will help New Delhi in economic development. 'If New Delhi relies on Washington to counter China's influence in the Indian Ocean region, India will miss growth opportunities brought by the Chinese economy.'
Ding Gang of the People's Daily suggested as 'China's development is unstoppable', India should not follow a balance of power relations with the US to counter China as this is 'highly likely to lead to the loss of opportunities for cooperation with China'. For Ling Shengli of Foreign Affairs University, differences exist between the US and India.
While the US interest in the Indo-Pacific is to counter China's rise and the Belt and Road Initiative, on the other hand, India wants to increase its economic and security linkages with the region. Others suggest that India's strategy is to maintain equidistance between the US and China as it cannot counter either of these nor side with them explicitly given its limited resources.
However, on why China's economic cooperation with India so far has been minimal is not explained. For instance, for an economy boasting of $14 trillion GDP, China has a cumulative investment of $8.2 billion in India so far.
Also, China's scholars do not propose closure to the many differences between the two countries over the Nuclear Supplies Group, terrorism, Regional Comprehensive Economic Partnership or the vexed territorial dispute or China's submarine activity in the Indian Ocean. China would gather more leverages to keep these issues on the boil.
A second school of thought that has become dominant in China's policies suggest that China should be more proactive in countering US-India relations.
Some influential scholars like Hu Shisheng suggest that in order to counter the US Indo-Pacific strategy, China needs to 'promote pragmatic cooperation with Japan, India and ASEAN members (but he suggests that China) also care for the appeals of small neighboring countries', presumably Pakistan.
Another prolific writer Liu Zongyi is for assiduously replacing the Indo-Pacific strategy, by building a 'democratic, egalitarian and inclusive regional security architecture' -- a euphemism to building a Sino-Centric order.
Thus, the acrimony among China's policy analysts will increase further as the American president lands in India. Surely once again they will raise the 'containment' bogey without making policy readjustments nor reciprocating on India's concerns.
India then needs to clearly set a pro-active agenda based on its national interests.
---
Srikanth Kondapalli is Professor in Chinese Studies at Jawaharlal Nehru University.