China had been trying hard to enter the Indian market, without opening its own to Indian products.
There is an economic crisis in India-China relations that the Chennai Connect barely scratched the surface, points out Srikanth Kondapalli.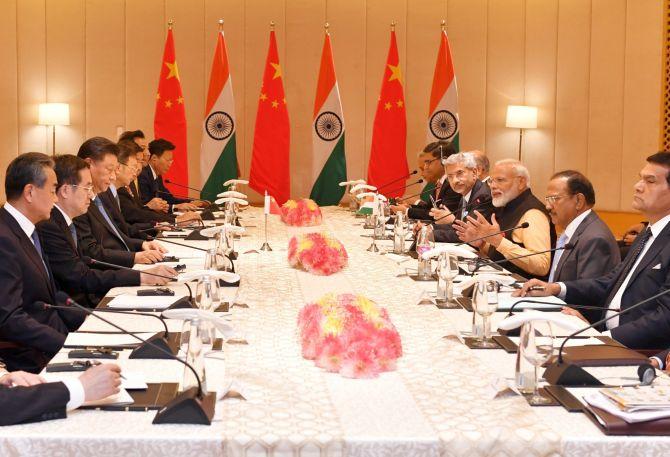 For all the hype at the 'Chennai Connect' -- the second informal summit meeting between the Indian and Chinese leaderships on October 11-12, 2019 -- one of the underperformed issues relate to the economics of the bilateral relations.
Even though both are two major economies in the world today, their bilateral economic equations require more thrust.
An informal summit as such may not lead to any concrete decision on any front, including in the economic field.
Yet the understanding that the leaderships derive from such meetings is enormous for the stability and progression of bilateral relations.
However, in the current round, despite sounding some aspects, there is much to ponder over what India received at the end of the summit meeting.
Firstly, China's gross domestic product last year stood at nearly $14 trillion, with foreign exchange reserves hovering just over $3 trillion making it the largest in the world.
Its growth rates are falling due to a number of reasons -- the United States tariff wars, drying up of exports in the international market impacting under the global financial crisis, rising labour wages, debt to GDP ratio (at more than 320%), diverting credit to loss-making state-owned enterprises, non-performing assets, real estate bubble, prospects for middle income trap and the like.
The profits of industrial enterprises in China fell 1.7% and the PMI dropped to near recession levels of 49.8%, well below the 50% mark.
The GDP estimates by economists like Xiang Songzuo, Zhang Weiying, Michael Pettis and others is less than half of the official estimates of about 6%.
In this context, exploring large markets like that of India with over 400 million consumers is a major driver.
The Chennai Connect provides an opportunity for China in two domains -- exploring further the Indian market as well as strengthen maritime linkages.
Secondly, China had been trying hard to enter the Indian market, without opening its own to Indian products.
Driven by its manufacturing sector growth, China had exported substantial consumer durables in the Indian market, as elsewhere.
As a result, China rode on surpluses of over $750 billion in its favour in the last decade.
China refused to observe market economy status, imposed non-tariff barriers on others' products and hardly invested in other markets, including in the Indian market.
After the Wuhan summit, China allowed to import non-Basmati rice, cancer curing drugs and other products but that hardly bridged the trade deficits.
This is the current economic crisis in India-China relations that Chennai Connect barely scratched the surface.
Thirdly, a way out of the looming crisis is in the investment sector.
Over a thousand Chinese companies are operating in the Indian market today, overwhelming at around 800 from the small and medium enterprises.
The cumulative investment of China according to its official figures is about $8 billion in India.
President Xi Jinping during his 2014 visit to India promised investment of about $20 billion for the next five years.
During Prime Minister Narendra D Modi's visit to Beijing and Shanghai in 2015, Chinese companies announced another $32 billion.
Most of this remained on paper so far.
At the second informal meeting on Saturday, a 'high-level' committee was announced to look into these issues with Finance Minister Nirmala Sitaraman and Vice Premier Hu Chunhua.
No deadlines for bridging trade deficits not investments were made though.
While India emerged as the largest foreign investment destination and ease of doing business improved substantially, China has shied away from investing in India.
Fourthly, in order to overcome its economic difficulties, mainly in the export sector, China has been in the forefront of triggering the Regional Comprehensive Economic Partnership (RCEP) with several Indo-Pacific countries.
As the US-led Trans-Pacific Partnership agreement was revoked by the Trump administration, RCEP offered rich pickings for China.
India had expressed reservations in the current RCEP structure on lack of space for its bourgeoning service sector, employment opportunities or addressing trade deficits due to lack of market economy status or on non-tariff barriers.
However, while this issue was discussed at the Chennai Connect, pressure on India is clearly mounting.
For more than two decades, China has been pressing India for a Free Trade Area agreement.
Citing its domestic industry's concerns and trade deficits, India withstood such pressures.
It appears China is mounting pressure from other RCEP members on India.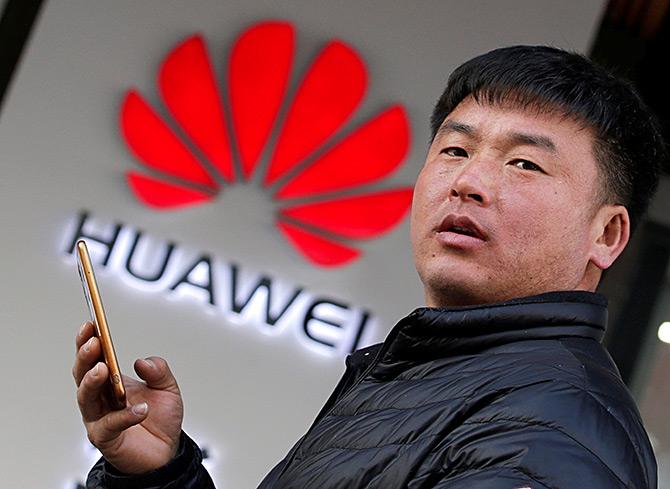 Fourthly, in the light of the revolutionising features of 5G, China is pushing hard for its Huawei and ZTE (Zhongxing) companies to enter the Indian market, again without any reciprocal access to Indian products entry into China.
A few years ago, China did not allow Tata Consultancy Services to bid for Shanghai stock exchange software upgradation nor any Indian IT software companies allowed to service State-owned enterprises in China.
Today, given the hundreds of billions of dollars market opportunity, China is pushing hard on this issue also in the light of restrictions placed by the United States.
A few days ago, India allowed Huawei to enter into trial tests to be conducted shortly.
Indian companies like Reliance Jio, Idea and Airtel are divided on this issue as with government agencies on data security, decryption and encryption technologies and core and non-core sectors.
The Chennai Connect thus had discussions on the pitfalls of economically engaging with China, with no clear roadmap for correcting the problems.
Srikanth Kondapalli is Professor in Chinese Studies at Jawaharlal Nehru University.