'New Delhi showed itself willing -- at least for a period -- to tolerate the risk of conflict and to withstand Beijing's implicit and explicit threats.'
'But it also continued to try to cut some kind of deal with China to reduce tensions.'
A revealing glimpse excerpted from Ian Hall's Modi And The Reinvention Of Indian Foreign Policy.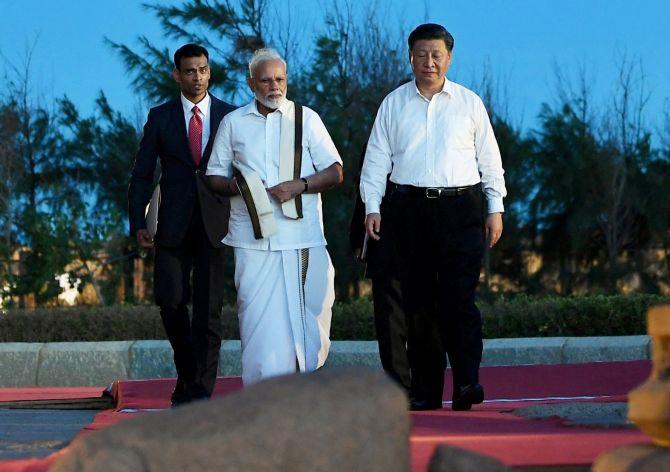 By the time Modi came to power in 2014 the majority of India's political elite had come to the conclusion that China presented the most serious and pressing potential security challenges to the country.
The new prime minister sought to make clear that India's foreign and security policy choices would not be circumscribed by Beijing or by worries that it might be upset by this or that action.
This was the message sent by his invitations to the representatives of Taiwan and the Tibetan government-in-exile to his inauguration.
Another -- that India was concerned about China's intentions and would act, alone and in conjunction with others, if its interests were threatened -- was conveyed during Modi's visit to Japan in August 2014 when he warned those States that believed in what he called 'expansionist policies' that it would better to return to 'the path of development'.
Together, the aim was the make clear that New Delhi had options to complicate China's calculations and that it was concerned about its behaviour.
None of this, however, precluded good relations -- provided both sides understood where they stood and Beijing was attentive to New Delhi's interests.
Having dispatched these messages, Modi reached out to Xi Jinping in an effort to reset relations, establish a personal rapport with the Chinese leader with two bilateral summits and a number of meetings at mini-laterals like the BRICS summit, and attract inward investment from the People's Republic.
China's responses were not wholly positive, however Xi's visit to Gujarat in mid-September 2014 was a lavish production, but produced less in the way of promised investment than hoped; stories of a commitment of up to $100 billion circulated prior to the meeting were not borne out by what was actually put on the table, which was about $20 billion.
Most worrying of all, a major incursion of about a thousand PLA troops across the Line of Actual Control occurred at the same time as the summit, leading Modi to depart from past diplomatic practice and publicly criticise the action while standing alongside Xi in a carefully controlled press conference.
This set the tone for Sino-Indian relations under Modi, as he tried to 'stand up' to Beijing.
On the LAC and elsewhere, China pushed and probed.
It stepped up its support for Pakistan, not least with the China Pakistan Economic Corridor, announced in April 2015 during Xi's visit to Islamabad.
It blocked a series of New Delhi's moves in international forums, including the effort to have India become a member of the Nuclear Suppliers Group and to have Pakistani-based alleged terrorists listed as such by the UN.
The most serious crisis in bilateral relations occurred, however, in Bhutan, over eight weeks in June, July and August 2017, when the Indian army confronted PLA units building a road through territory contested by Bhutan, to which New Delhi has treaty obligations, and China.
The standoff triggered a wave of criticism from the Chinese foreign and defence ministries on New Delhi's behaviour, as well as threats of dire punishment to be inflicted on India, and a torrent of abuse from Chinese state media outlets.
The Modi government's approach to the Doklam crisis -- named after the contested area of Bhutan in which the standoff occurred -- fitted the general pattern established early, in mid- to late 2014.
It publicly criticised China's conduct, as it perceived it.
New Delhi showed itself willing -- at least for a period -- to tolerate the risk of conflict and to withstand Beijing's implicit and explicit threats.
It reinforced the troops on the ground and deployed other significant military assets closer to the border or to positions from which they could strike the PLA.
But it also continued to try to cut some kind of deal with China to reduce tensions and establish a modus vivendi that implied tacit respect, on Beijing's part, of India's status, concerns and interests.
To that end, Modi travelled to Wuhan to meet Xi for a so-called informal summit in late April 2018 to 'review', according to the opaque joint statement issued after the meeting, 'developments in India-China relations from the strategic and long-term perspective'.
In effect, the two sides agreed to temporarily suspend behaviour that the other might consider problematic, as Modi entered the long campaign for re-election in 2019 and Xi tried to manage pressure from Trump's Washington over trade and security issues.
To reinforce India's defences against China and bolster deterrent capabilities, it pressed ahead with long-range missile programmes, including the development of the nuclear-capable Agni-V, first tested in 2012, which has the range to strike Beijing, as well as nuclear missile submarines.
It pushed on with modernising the navy to give it enhanced capabilities to deal with Chinese submarines, which began to venture into the Indian Ocean in late December 2013.
In other areas, however, it struggled.
Most obviously, it failed to find the funds to raise a Mountain Strike Corps, promised in 2013 by the Singh government.
This led to accusations that the Modi government lacked the will and strength, as well as a coherent strategy, to manage Chinese pressure.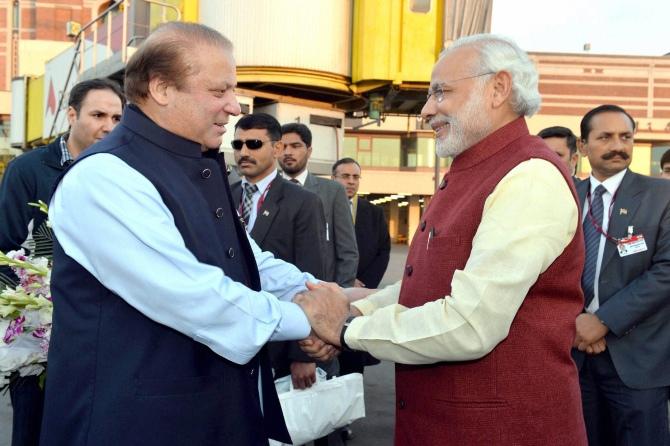 Modi's track record of dealing with the various security challenges emanating from Pakistan was similarly mixed.
Immediately prior to the election, he vowed to follow in Vajpayee's footsteps, promoting economic development in Kashmir to address local disquiet and avert unrest, as well as dialogue with Pakistan.
Early on, he unexpectedly attempted diplomacy, inviting Nawaz Sharif to New Delhi for the swearing in, and making a show of shaking the Pakistani prime minister's hand.
But little progress followed.
A meeting between Kashmiri separatists (the Hurriyat) and the Pakistani high commissioner to India prompted the Modi government to call off talks between then foreign secretaries Sujatha Singh and Aizaz Ahmad Chaudhry, due to take place in August 2014.
Thereafter, the approach hardened for a time, as India tried to bring international pressure to bear on Pakistan over its alleged sponsorship of terrorism.
That threat featured prominently in Modi's first address to the UN general assembly in late September 2014, which heralded a new push for a comprehensive convention on international terrorism, first proposed by India almost twenty years earlier.
In early 2015, however, India signalled that it was ready once more to talk, and at the SCO summit in July the two sides agreed to a meeting of national security advisors later in the year.
Two cross-border terrorist attacks swiftly followed, as did a dispute over including Kashmir in the talks, and the meeting was cancelled.
Modi reached out to Sharif in late December 2015, making an impromptu visit to Lahore to wish the latter happy birthday; another foreign secretaries' meeting was arranged, but a terrorist attack at Pathankot in Punjab on January 2, 2016 put paid to that initiative.
Instead, the Modi government stepped up its efforts to isolate Pakistan on terrorism, at the UN and elsewhere.
It succeeded in getting a number of Middle Eastern States, including Saudi Arabia and the United Arab Emirates, which both have deep ties to Islamabad, to include condemnations of support for terrorism in joint statements.
A further attack, this time at Uri in Kashmir, on September 18, 2016, claimed the lives of 19 members of Indian security forces and four terrorists, and put paid to any further diplomacy.
Eleven days later, Indian commandos conducted a raid -- framed by New Delhi as 'surgical strikes' -- across the Line of Control into Pakistani-controlled Kashmir and destroyed a series of camps, killing an unknown number of people.
As with China, the Modi government attempted to change New Delhi's approach to Pakistan, but with very mixed results.
Wittingly or not, Islamabad stymied, its attempts to use SAARC as a means of realising a more integrated region, leading to a resort to sub-regional mechanisms.
With the CPEC, Islamabad also brought Chinese economic muscle to bear in a different South Asian theatre.
Continued relationships with militant groups allowed Modi to try to isolate Pakistan both rhetorically -- not least with the memorable line that 'While India exports software, Pakistan exports terrorism' -- and diplomatically, but success here was only partial.
While New Delhi did succeed in ensuring that interlocutors in South Asia and the Middle East spoke out against terrorism, the practical effect of these statements was debatable.
Equally, the deterrent effect (if any) of the September 2016 and February 2019 strikes were unclear, despite the political capital the Modi government sought to extract from them.
To be sure, the 2016 surgical strikes and the 2019 air strikes resonated positively with Modi's Hindu nationalist constituency and, to a considerable extent, with the broader community.
No grand strategy was unveiled, still less one that clearly linked aspirations to a Hindu nationalist agenda, notwithstanding the intrinsic weaknesses and apparent contradictions of Hindu nationalist thinking in this area.
Instead, the Modi government changed some of the language of policy, introducing ideas like becoming a 'leading power' and SAGAR, and modified some diplomatic settings, but not in ways that suggest the emergence of a markedly new, fully developed approach, underpinned by a set of clearly articulated principles.
It doubled down on the strategic partnership with the US, took a more robust line with China, at least until the Doklam standoff, and oscillated between outreach and punishment with Pakistan.
It is tempting to suggest that the mixed record of the Modi government on national security was a function of its ideology -- of its underlying ambivalence in Hindu nationalist thought about the acquisition and use of military power.
It is clear that the Modi government struggled with the sheer scale of the challenge of overhauling the institutions that needed reform, prioritised other areas of both domestic and foreign policy, and lacked the resources necessary to bring about the change required.
In so doing, it arguably left India exposed to both Chinese and Pakistani pressure, and to criticism from sceptical voices within putative partner States across the Indo-Pacific, keen to discount New Delhi's capacity to be the 'net security provider' it promised to be.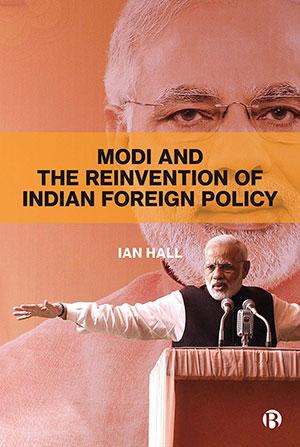 Excerpted from Modi And The Reinvention Of Indian Foreign Policy, by Ian Hall with the kind permission of the publishers, Penguin Random House India.