'The appointment of Yogi Adityanath as UP CM, the revival of the Ram temple movement, the elevation of a ban on cow slaughter as a national priority, and the targeting of any social behaviour deemed contrary to a set of narrowly prescribed Indian values point to a social regression that contradicts the inclusive and forward-looking impulse that underlies Modi's vision of a modern India.'
Shyam Saran on point.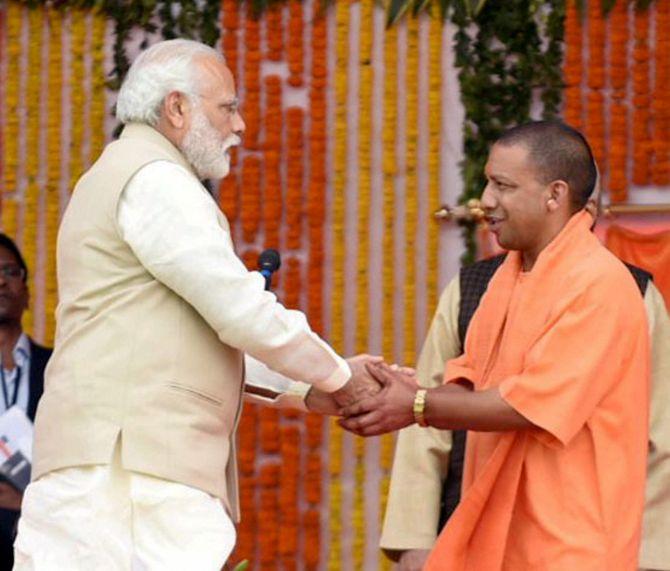 IMAGE: Prime Minister Narendra Modi, left, with UP CM Yogi Adityanath at the latter's swearing in ceremony in Lucknow. Photograph: PTI Photo.
There are two competing trends in India today.
One is Prime Minister Narendra Modi's compelling faith in technological advancement as a key driver of the modernisation of India. This is the message of Digital India.
The other is the assertion of a vision of a Hindu India, but in terms which contradict that of a modern India. The appointment of Yogi Adityanath as the chief minister of Uttar Pradesh, the revival of the Ram Temple movement, the elevation of a ban on cow slaughter as a national priority, and the targeting of any social behaviour deemed contrary to a set of narrowly prescribed Indian values, all these point to a social regression that contradicts the inclusive and forward-looking impulse that underlies Digital India.
It has been argued that Modi himself is wedded to the modernisation of India, but that he has to politically genuflect to a constituency which provides foot soldiers for his political consolidation. If this indeed is the case then it will soon become clear that the current brand of Hindu revivalism and technological progress are antithetical and contradictory pursuits.
This is not to argue that Hindu culture and values per se are antithetical to the modernisation of India. Civilisational values associated with Hinduism have a contemporary relevance.
There is its constant urge to question, to explore, to let the mind range far and wide in the pursuit of truth. Dissent and debate are regarded as intrinsic to knowledge creation and this lies at the heart of its intellectual tradition.
Successful societies of the future will be knowledge-creating societies and India could be in the front ranks. And it would have to be a society with open minds and a liberal outlook.
Hindu myths and legends, the stories of our gods and goddesses, the literature and poetry associated with them and Hindu temple sculpture and art are a constant rebuke to the prudishness which afflicts contemporary guardians of social morality. There is in our culture an easy embrace of diversity, cultivated over centuries of assimilation and a spirit of cosmopolitanism, which is what a globalised world needs to survive and flourish.
And a world ravaged by climate change and ecological degradation would find inspiration in an India that stays true to its belief in nature as a mother, a source of nurture, not a dark force to be conquered and subjugated to serve humanity's greed.
So yes, the revival of civilisational values associated with Hinduism could serve the modernisation of India; it could position India as a leader in a troubled world in search of harmony and a spirit of humanity.
But not the narrow-minded versions which we see at play today.
There is another aspect of social regression that runs counter to the modernisation project.
The authors of the Indian Constitution were mindful that the strong and entrenched feudal tendencies in Indian society would resist the emergence of a democratic and egalitarian society. For this reason, they put in the Constitution citizen-centric rights and obligations, and guaranteed fundamental and equal rights to individual citizens, irrespective of caste, creed or gender.
However, we see a reassertion of feudalism, with people's representatives demanding and obtaining, status and privileges denied to the ordinary citizen. And bureaucracy is not far behind, with civil servants often behaving as local overlords.
Political leaders positively encourage submissive behaviour, with feet touching and prostrations a practice which makes a mockery of the notion of a democratic leader being a servant of the people.
An independent judiciary, which is the guardian of Constitutional rectitude, often displays the very social prejudices it should help eliminate.
This should not to be laid at the door of the current political dispensation. It is a rot which began much earlier.
The cause of modernising India would be greatly advanced if, along with uprooting corruption, there was a similar commitment to eliminating the feudal mentality entrenched in our political class and which has infected society as well.
We are in danger of becoming a society deeply divided and unequal, where a self-entitled elite neglects the welfare of fellow citizens, or worse, condemns them to deprivation and despair. A million mutinies are sure to follow.
The modernisation of India needs the embrace of technology, and Prime Minister Modi's enthusiasm in promoting the use of modern technology and digital economy is laudable.
He is the first Indian leader to openly embrace economic reforms and liberalisation, jettisoning the "reform by stealth" his predecessors chose to follow. He has welcomed foreign investment and is committed to improving the ease of doing business.
The efforts he has made towards financial inclusion and expanding the direct transfer of benefits (DBT) to those who really need support are important reforms and should be acknowledged and welcomed.
However, this encouraging trend has run parallel to a growing polarisation in Indian society, the spread of sectarian and communal divide and an attempt to impose norms and practices dictated by self-styled guardians of an imagined Hindu dispensation, which, in its narrow outlook, has little in common with the breathtaking richness and complexity of the Hindu inheritance. It is a heritage which finds easy and comfortable coexistence with other cultural streams and traditions that define the Indian temperament.
There is so much to be proud about in India's unparalleled intellectual, philosophical and cultural heritage. It is this heritage which needs to be rediscovered, revived and celebrated, not the violent caricature we often see around us, the latest example being the lynching of an innocent citizen by goons, claiming to protect the sacred cow.
If allowed to gather pace, these negative trends will, sooner or later, overwhelm the pursuit of modernity.
Riding two horses at the same time is difficult enough even when they are running in the same direction let alone when they are pulling in very different directions.
For the sake of India's future, the horse racing forward should be unhitched from the other and allowed to ride free.
The writer is a former foreign secretary and currently senior fellow, CPR.
Please scroll down for more related insights.