A Bharatiya Janata Party MLA from Hyderabad has stoked a controversy with his remarks that the heads of "traitors" opposing construction of Ram temple in Ayodhya will be chopped off.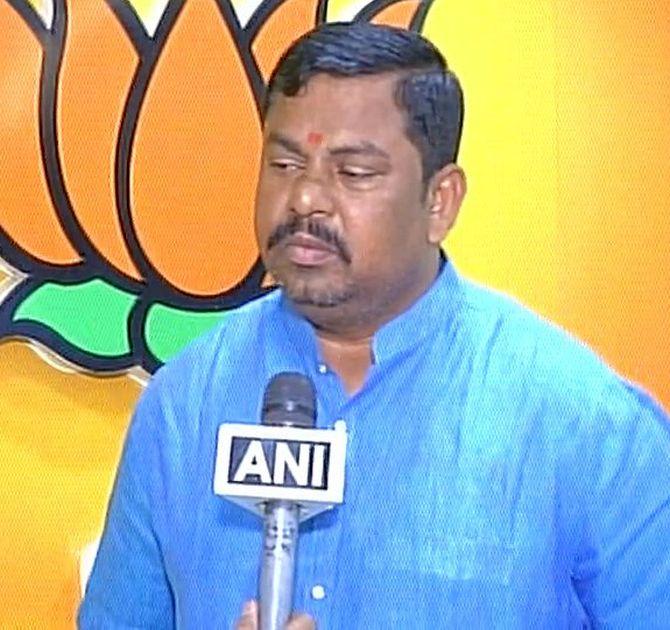 T Raja Singh, who represents Goshamahal constituency in Hyderabad, is heard saying this in a video where he is addressing a gathering as part of Ram Navmi celebrations held on April 5.
Asked about his remarks, Singh on Sunday said he can give his life for the sake of Ram temple and "even take the life of traitors who oppose the building of Ram temple".
"We will not allow the people who believe in destroying this nation to stay in this country. It is our pledge to build a Ram temple in Ayodhya and we will abide by it. We can give our life for Ram temple and even take the life of traitors who oppose Ram temple in Ayodhya," he said.
The Congress hit out at the BJP, saying its "mask" has fallen off and alleged that there "is intimidation of the minorities" under its rule.
The BJP, however, sought to douse the controversy asserting that the Ram temple can be built only with consensus. Party leader Shaina NC said that the prime minister has made it clear that there is no space in a free and elected democratic society for people who choose to be the so-called moral custodians of society.
She indicated that if needed, action can be taken against the MLA. "We are a disciplined cadre, and if we feel there is need to pull up somebody, I am sure the person concerned will have to bear the brunt," she said.
However, the Congress was unimpressed as its spokesperson Sanjay Jha said that the BJP cannot wash off its hands by calling those making inflammatory statements as fringe elements.
"The truth is that there is no fringe anymore. These are mainstream elected BJP leaders either in parliament or the assembly.... This is a political strategy. This is a manifestation of the most ugliest form of politics.
"What is happening in Alwar, what happened in Dadri, you can see the kind of reactions happening all over the place here the BJP is currently in government, there is intimidation of the minorities.
"I think this is the most crude form of majoritarian politics and let me assure you, the PM will not say a word, not even condemn it," he added.
He was referring to the lynching of a Muslim man on suspicion that he had stored beef in Dadri, Uttar Pradesh in 2015, and the recent fatal attack on another man from the community by cow vigilantes.
In the video, the MLA purportedly says, "The day is not far... the dream of every Hindu of building a Ram temple in Ayodhya.
"Recently, a video came on WhatsApp from Uttar Pradesh and someone was saying if Ram Mandir is built in Ayodhya they will create 'tehelka' (chaos) in entire country. We welcome this. In fact, we were waiting for this day for the past several years so that when you traitors raise your heads, we will behead you.
"Nobody has guts to stop construction of Ram temple in Ayodhya," the legislator said.
"A grand Ram Mandir will be definitely built in Ayodhya. I challenge that whosoever tries to stop building a Ram Mandir in Ayodhya, I will deal with such traitor," said Singh who had made certain controversial remarks in the past as well.