If Rahul's yatra makes a political statement from the other side of the aisle and Shah Rukh's success underlines a more relaxed popular mood, Mr Modi and Mr Bhagwat's cues to their followers are coming from another place, observes Shekhar Gupta.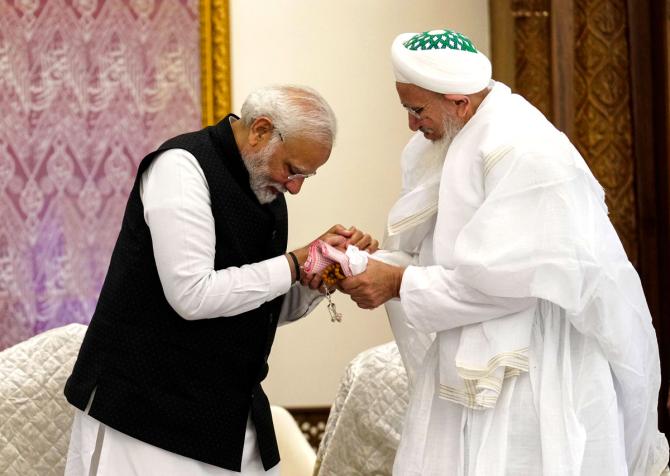 First, there was Prime Minister Narendra Modi's leaked sermon to his key party people at the BJP's national executive meeting.
The PM upbraided his party people for creating too many unnecessary controversies over trivialities like films.
The word 'Muslim' wasn't spoken but, as we say in Hindi, aqalmand ko ishara kaafi hai (for anybody with elementary wisdom, just a signal is enough).
Second, he said there's a need for his party leaders to reach out to sections of Muslims such as the Bohras -- a small sect with strong roots in Gujarat -- and more importantly, the Pasmandas.
They are the equivalent of 'lower castes'; among Muslims and more numerous; they are believed to make up as much as 85 per cent of the Muslim population.
For years now, the Modi-Shah BJP and the Mohan Bhagwat RSS have believed that the Muslim opposition to them is spearheaded by the elites, the so-called Ashraafs, and there is an opportunity to split the Muslim population on the basis of social and economic divisions.
A bit like playing caste politics. Or using some version of caste to play the same game with Muslims that the 'secular' parties have played with the Hindus: Use caste to divide what religion united.
That the prime minister has now escalated it to direct communication with his party is an important development.
It means he is upping the ante. And given the way his party functions now -- taking all cues from his words, actions, gestures, frowns and smiles -- we can safely presume the word is out.
Especially as he topped it with advice to party leaders to go out and actively engage with Christians, their ceremonies, Sufi events, and so on.
We know he does this every year, but just the following week, the government released pictures of the prime minister and Minority Affairs Minister Smriti Irani handing over the chadar to be placed at Ajmer Sharif to a maulvi from the subcontinent's pre-eminent Muslim shrine.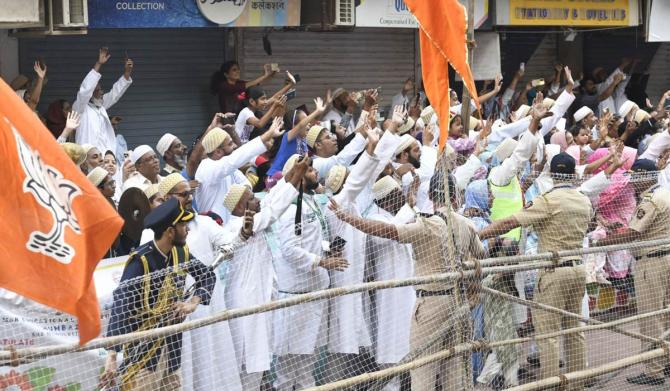 It's all politics, you might say, and you will be right, but then politics is all we are talking about.
This isn't a dispensation that's found any particular need to reach out to India's approximately 200 million Muslims.
It has made their votes irrelevant through an almighty consolidation of the Hindu vote.
Muslims have never been so invisible in positions of power, yet the ruling party can keep on winning majorities in the Lok Sabha and UP assembly.
Yet, if you read these moves in the light of what Mr Bhagwat has been saying about the Muslims, a de-escalation of some sort is on. In fact, in an off-the-record conversation with the capital's key BJP reporters, a top RSS leader lamented how people join politics to become leaders and quickly choose bigotry as the 'most convenient' route to success.
Another important change has been brought about the situation for Indian Muslims, and this time by Modi's biggest and most vocal political critic, Rahul Gandhi.
Yogendra Yadav in a recent column has argued that wherever the Bharat Jodo Yatra has passed, it has calmed down social and communal tensions in its wake.
Even if it is too optimistic, it is undeniable that this is the first time since the anti-CAA protests took place that Indian Muslims have found a forum that allows them to march on the streets in political action without fearing arrest or long incarceration under UAPA.
It's a change, and the language Mr Gandhi has been using influences the larger discourse.
This may not bring India's Muslims as much thrill as an Asaduddin Owaisi speech would.
Yet it is enormously more reassuring to be told again, after years, that India's second biggest political party believes there is space for Muslims in mainstream politics.
Especially as this is something the Muslims haven't yet heard from the rising pretender to the status of national party and pre-eminent challenger to Mr Modi, Arvind Kejriwal's Aam Aadmi Party.
The Congress giving up its diffidence on engaging with the Muslims publicly and politically is a big shift back from the years when they mostly seemed to whisper to them in the dark for fear of annoying the Hindus.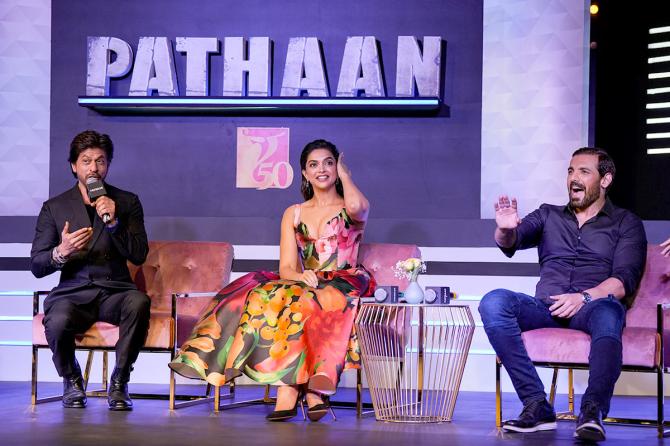 The third straw, if an oversized one emotionally, is the success of Shah Rukh Khan's Pathaan.
Even more importantly, its widespread, popular celebration.
Audiences, in elite cinema halls as well as smaller towns with lower-middle class audiences, have been dancing while watching the movie.
Most importantly, they are cheering the heroics of an unapologetically Muslim protagonist.
A question, therefore: Would it have mattered if instead of playing an obviously Indian Muslim hero, Shah Rukh Khan had returned to some tried, tested Rahul- or Raj-type role? Or a sort of non-committal Rehaan or Iqbal? He dared to risk going with a Muslim name.
If he's only getting rewarded for it, or maybe in spite of it if you are a doubting type, it marks a little change in our popular opinion.
Not too much, don't extrapolate any evidence of substantive shifts in political mood into this, but it's a change nevertheless.
We might have dismissed this as a one-off if Shah Rukh had not been playing with the idea across almost two decades now, from Chak de India's Kabir Khan to My Name is Khan to Raees, Hey Ram, Dear Zindagi, Ae Dil Hai Mushkil and so on.
In Pathaan, he keeps the religion question unsettled, but gives you enough idea of where he's coming from.
Mega film stars stay away from anything political in India and Shah Rukh has in the past dismissed as misplaced and inconsequential suggestions that he's been making a political point by playing Muslim characters.
The fact, however, is, that he's been daring to do so. This isn't something Indian film-makers, even the best and bravest of them, have done.
Remember, however, that all of these movies were set in a Muslim social milieu.
There was even a name for this genre: Muslim Social.
The Muslim character was the all-sacrificing and loyal friend of the Hindu hero, a patriot and an honourable being, but not the hero or heroine.
Of course, with the rise of the Sunny Deol genre, he was mostly a terrorist.
Shah Rukh has challenged this phobia for two decades. This is his biggest success.
If Rahul's yatra makes a political statement from the other side of the aisle and Shah Rukh's success underlines a more relaxed popular mood, Mr Modi and Mr Bhagwat's cues to their followers are coming from another place.
They now believe that politically they have solidified their electoral proposition.
Hindus are not going to be divided again until at least 2024. Most of the key Hindutva/RSS objectives have been achieved.
All key temples are being renovated and, at least for visibility, being reclaimed.
Ujjain and Varanasi are done, Mathura is on the way.
The acceptance of this Hinduness is so wide that so many of the tableaux on Republic Day feature Hindu gods and goddesses.
Even Jammu and Kashmir's, with Amarnath. Is there still any percentage to be gained from this constant targeting of Muslims?
Especially so at a time when India has just stepped into its G20 presidency, which Mr Modi is using as his larger political proposition to his voter base: Leadership of the world.
It's the wrong time for them to light new fires of popular protest, global liberal criticism, or provoke terror attacks. He and his party now need social calm, at least till the summer of 2024.
That may be minimalistic, but still a logical explanation for this change.
The net impact of all of these is what we hail as the return of the Indian Muslim to our mainstream discourse.
Feature Presentation: Rajesh Alva/Rediff.com