Political power has now been outsourced fully to the Modi government.
Even if the RSS is still, in principle, his guru, nobody would dare to whisper a word of advice to Modi, forget some whiff of criticism.
When the shishya grows into such a popular and domineering leader, the guru has to applaud from the sidelines, points out Shekhar Gupta.
The chiefs of the RSS, or sarsanghchalaks as they are called, are usually as abstemious with their public utterances as in their lifestyles.
That's why political watchers wait for their customary annual speech on Vijayadashami or Dussehra, or an equivalent of the State of the Union address.
The current chief, Mohan Madhukarrao Bhagwat, is a break from the mostly silent past.
He speaks more often, but also measures his words more carefully.
His immediate predecessor, the late K S Sudarshan, particularly was a headline-writer's delight.
Mr Bhagwat isn't any of that, but still makes the headlines.
As his recent interview with the RSS mouthpiece Panchjanya and Organiser did.
Finally, he's also the chief in an environment unprecedented in the Sangh's nearly 100-year-long history. (It was founded on September 27, 1925.)
For 90 years until 2014, the RSS had been on the defensive, in an adversarial relationship with the establishment of the day and struggling for wider social acceptance and political relevance.
Today, the RSS isn't just part of the establishment, it is its core.
Mr Bhagwat acknowledges this first up in the Panchjanya interview.
In the past, he said, the challenges (kantak, or thorns in its path, as he put it) were of intellectual and political rejection and criticism. Now that (political) environment has transformed.
He then goes on to list the new challenges and pitfalls, which we will talk about in a bit.
The sarsanghchalak notes correctly that the political environment has transformed radically -- and for the better.
The RSS, therefore, is the most powerful it's ever been in its history.
At the same time, I would also argue that it has never been so weak. How do we resolve that contradiction?
The new, transformed environment, Mr Bhagwat notes, has placed the pupils of his organisation in key positions of power.
Irrespective of which side of the divide you are on, you'd agree that the RSS is now ruling India.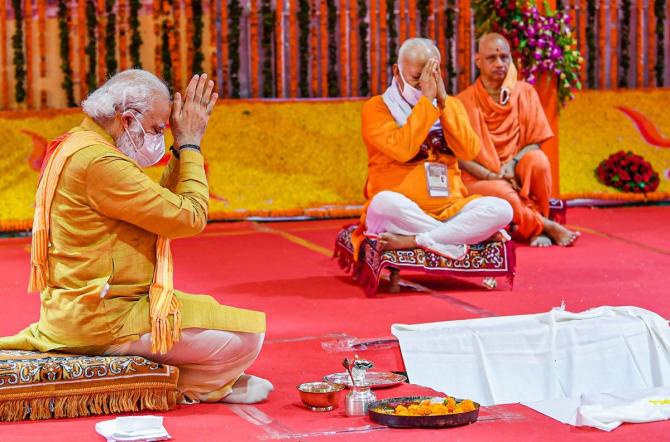 Narendra Modi is no Atal Bihari Vajpayee to pretend to distance himself from his alma mater or be defensive about his ideological upbringing.
Again, unlike the Vajpayee years when the RSS often bickered with him, sometimes in public, we've never seen any whiff of that with Mr Modi.
If anything, we've only seen the most fulsome praise.
That's the reason we argue, counter-intuitively, that the RSS is at its weakest in terms of influence while at its strongest politically.
Because political power has now been outsourced fully to the Modi government.
Even if the RSS is still, in principle, his guru, nobody would dare to whisper a word of advice or counsel to him, forget some whiff of criticism.
When the shishya grows into such a popular and domineering leader, the guru has to applaud from the sidelines.
It follows that the RSS now cannot make much news.
It cannot question or embarrass the government of the day.
It also has to calm down on some old, divisive ideas or what were seen as socially regressive thoughts.
It has the obligation now to be the good establishment boy. Power is heady, but it is less fun.
An all-powerful RSS now has to make compromises over issues so central to it ideologically, ranging from trade to genetically modified seeds, from collective leadership to an almighty personality cult and from alliances with the West to an aggressive outreach to most of the important Islamic nations.
For sure, it also brings the RSS and its members, especially leaders, many benefits.
Which brings us back to the challenges and the pitfalls the sarsanghchalak mentioned in his Panchjanya interview.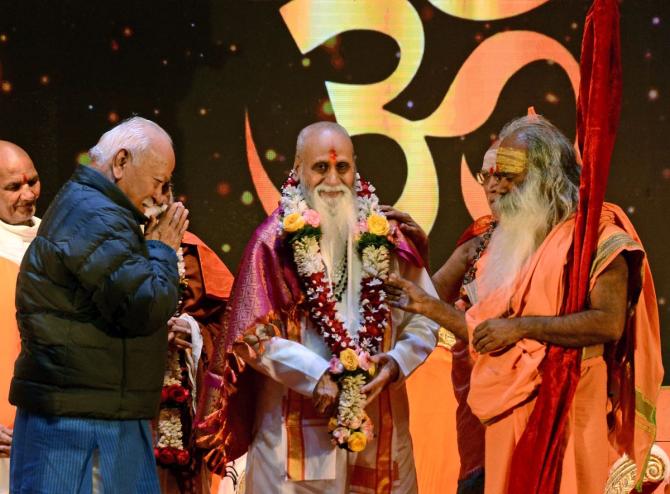 The first is the news media. Now that we are in this position, Mr Bhagwat says, we have to engage with the media, and we should. It makes us feel good.
But we should not become obsessed with it, or become its prisoners.
Similarly, now when we arrive at a railway station, people come to receive us. It feels good as well.
But we shouldn't fall into this trap (the translations aren't exact, but accurate on point of principle).
Our people now sit in positions of power, and sometimes they'd do or say bad things and the organisation will be blamed.
It should take some blame because these people learnt here after all. So far, so good.
Then some complexities arise. The biggest is the challenge for the RSS to live its coveted new role as the core of the establishment after having been a rebel for nine decades.
The limitations of formal power include the need to tamp down the rhetoric on your key ideological issues.
Or to nuance your views, as Mr Bhagwat has done in this interview.
It isn't as simple as it might sound.
If you've built your history, fame, and popular position all these decades on being a constant rebel, on the defensive, the victimhood of Hindus, the theme of an oppressed majority, how do you move away from it? And where do you go?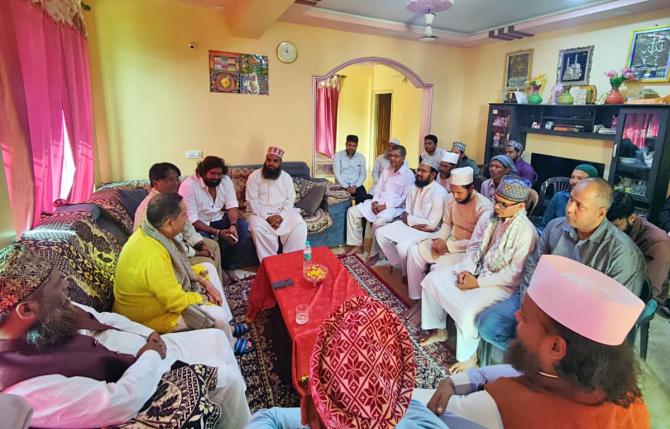 It is easier to make that transition on social issues than on the more visceral ones, like the view on Muslims and Christians.
Mr Bhagwat has done a neat job on the former. He's repositioned the RSS on the issues of homosexuality and LGBTQ rights, for example.
On each one, he's cited history and tradition to assert the point that Hindu culture never had a problem with these and criticism was Western-inspired.
Or more likely, because our intelligentsia and media blindly followed the Western viewpoint.
Transgender people were always accepted in Indian society. They also have their own deities and temples.
On homosexuality, he made a Mahabharat reference to two commanders in Jarasandh's army, Hans and Dimbhak.
Further he said, as a trained veterinarian, he has seen homosexual tendencies among animals too.
This is a biological phenomenon, he said.
For one leading a deeply religious and conservative organisation, saying this is progress.
You wouldn't usually hear similar views from Muslim and Christian religious leaders.
The default opinion there is that it's a 'mental disorder' that can be cured, usually through better religious training.
Similarly on population growth, he disagrees with the call for a law to limit family size.
Coercion won't work, he said, better education will.
Progress again. And then some complexities take over.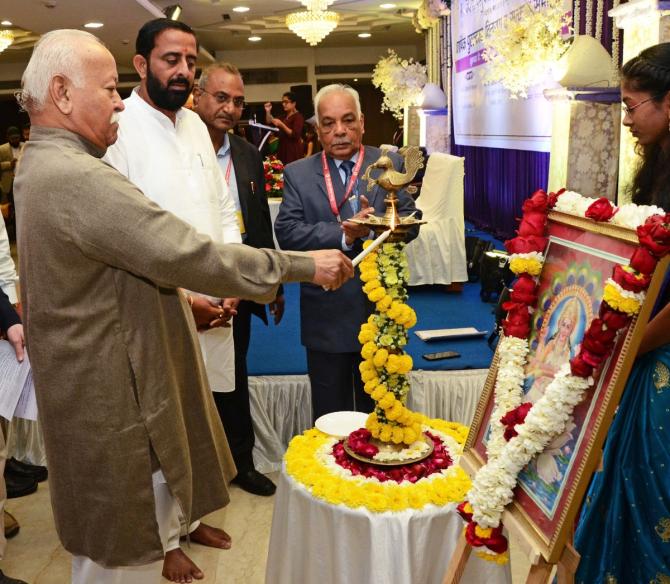 As you'd expect, this is where the RSS's struggles on the Muslim question persist, in spite of the fact that it is in such power.
Birth rates, he said, aren't responsible for the increase in population.
In any case, the larger problem is 'population imbalance'.
He brought up once again the examples of Sudan, Pakistan and East Timor, which, he said, broke up because people of one faith (Muslims in two cases, Christians in one) became too numerous.
He had mentioned these two, along with Kosovo, in his Dussehra speech, too.
To sum up, population isn't the issue, imbalance is. Who causes that imbalance?
He says birth rates aren't the problem, but conversion and infiltration are. Translated, this means Christians and Muslims.
Then he goes on to say that the Christians want to convert the world, the Muslims feel so superior, Hindus have never had such notions.
And then there is a sizeable sermon directed at the Muslims, which made the headlines and launched many primetime discussions.
Especially as it came linked to his idea that India (Hindus) has been at war for 1,000 years.
That coincides with the beginning of the major Muslim conquests.
Now we are too strong to worry, he says. But only as long as we stay a Hindu-majority nation.
Because it is only the Hindus, in his view, who believe in liberal, democratic and secular principles.
This brings us back to where we started.
In constant rebellion or in power, the RSS has still not resolved its 'Abrahamic' or more precisely, Muslim, dilemma.
Will there be progress on it?
We wait for the sarsanghchalak's next speech or interview.
By special arrangement with The Print