You aren't dealing with a normal, civilised, law.
The NDPS Act, in its preconditions for bail, and insistence on evidence of innocence rather than guilt, is worse than UAPA.
Imagine yourself or your child at the other end of this, observes Shekhar Gupta.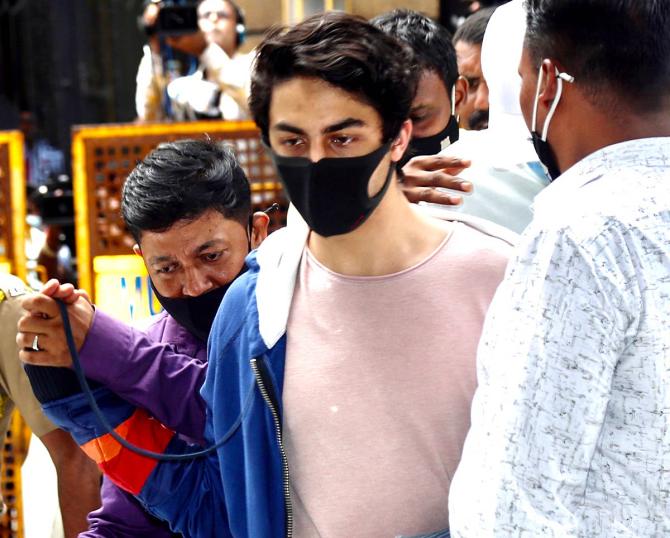 The maniacal global 'War on Drugs' might have calmed down with more rational analysis in most democracies, but it rages on under the many dictatorships, from Iran to China or elected autocracies, such as Singapore and Malaysia.
India is the 'odd man in'.
The ugly and tragic commotion over the case against Aryan Khan and others with him underlines that.
As did the earlier malevolence involving poor Rhea Chakraborty and others.
I am not pronouncing anyone innocent or guilty.
I wouldn't dare in almost any case that is sub judice, least of all in one that falls under a law so draconian and dated that even the judge at this stage is left no option but to make a presumption of guilt.
This is one of those laws where the principle of innocent until proven guilty is reversed. Guilty until proven innocent.
That's why the near impossibility of bail at this stage unless it is a very brave judge who, as former attorney general of India Mukul Rohatgi suggests, would put the facts above the law.
Find me some judges like that, especially in trial courts in India, and I might find you a bench in the Supreme Court to start hearing the anonymous electoral bonds case.
We say the law is an ass. Even so, this particular law, the Narcotic Drugs and Psychotropic Substances (NDPS) Act, first promulgated in 1985, is a species by itself.
It is so unique, draconian, impractical, ineffective, exploitative and prone to misuse that to use the familiar description for the laws would be an insult to the ass.
This was designed to play to a gallery, it's gone through several iterations and dilutions over nearly four decades, and yet remains a disaster for the citizen, blessing for its headline-hunting and corrupt policemen, a jackpot for the lawyers and a pain for the judges.
We know by now that the Narcotics Control Bureau has found no drugs on Aryan.
As they didn't on Rhea Chakraborty. But there are WhatsApp chats that suggest allegedly an intention to buy and consume drugs or maybe some consumption in the past.
Also, the guy with him carried some, so he had 'conscious possession'.
You would normally have been flummoxed: How can vicarious liability apply in a criminal case?
You aren't dealing with a normal, civilised, law.
This law, in its preconditions for bail, and insistence on evidence of innocence rather than guilt, is worse than UAPA.
Maybe a bit like it's old avatar TADA, if not worse.
How did we get here? Blame the Beatles, maybe. Especially John Lennon. I am not digressing.
They represent the 1960s, when psychedelia, hippiedom, substance-induced highs overwhelmed a disenchanted Western youth, particularly with the Vietnam war.
It was at the peak of this phase that the Beatles produced Lucy in the Sky with Diamonds, which was widely interpreted as a suggestion for LSD, then the most expensive, sought after and illegal thing to bury your brain in.
We only singled out Lennon who wrote it and later tried to convince us unsuccessfully that he was only inspired by the imagery of Alice in Wonderland.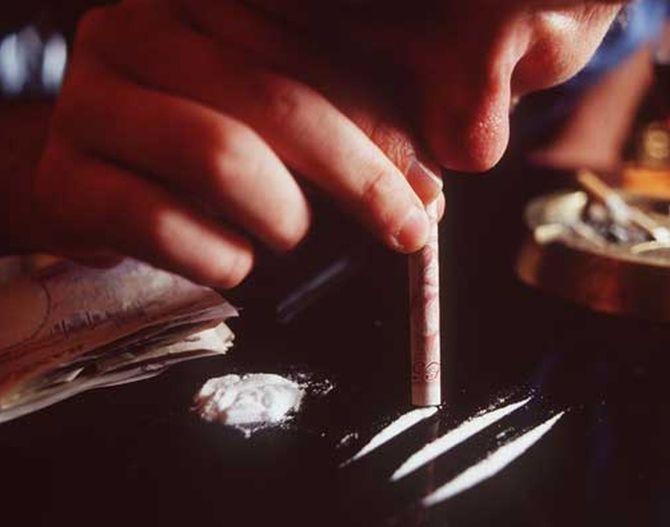 The fact is, from the mid-1950s through the 1970s, drugs were seen to be the greatest threat to humankind.
In 1961, nations met in Paris at what was curiously called the Single Convention on Narcotic Drugs and approved an agreement on July 13 that each signatory will pass laws strong enough to squash this wretched drug threat in 25 years.
Credit to India, it lived up to its reputation of doing things at the last hour.
It was therefore that the NDPS Act of 1985 came about.
By this time, the Republicans were back in America.
For Richard Nixon during Vietnam and the anti-war protests, the war on drugs was like a jihad.
Ronald Reagan now picked up that conservative thread.
Rajiv Gandhi, as the new prime minister, was reaching out to him and America.
Tossed up in that toxic brew of conservative puritanism, geopolitics and feudal family ties was the case of Adil Shahryar, jailed in the US, the Gandhi family apparently wanted out.
The Lutyens' air was rife with rumours of murky deals.
He was the son of their close family friend and retainer Mohammad Yunus. We will need someone who watched that phase from closer to tell us more about it, but we did produce this monstrosity of a law that not only laid down the burden of innocence on the accused but also a mandatory death sentence for possessing larger amounts (yes, a mandatory death sentence, like Singapore or Iran), leaving the judge no option.
Nixon might have lost Vietnam, but his ghost was winning his version of the war on drugs.
Everyone involved in law and justice in India knew a blunder had been made, but who was to question it? Corrections followed every few years.
The first came in 1988 when punishment for personal use of drugs was reduced to 1-2 years of prison time.
There was a hiccup in 1989 when under renewed pressure from Reagan, we made the offences non-bailable, inserted forfeiture of property, besides strengthening mandatory death penalty.
Only two brave MPs spoke against this, Jayanti Patnaik of the Congress and Kamal Morarka of Janata.
After many high courts read down parts of the law, in 1994 (P V Narasimha Rao's government) a committee was set up to look into how the law led to the exploitation of small-time users, street-peddlers and slum populations.
It further softened the law, although the changes were eventually made in 2001 (Vajpayee's government).
Again, a decade later the Bombay high court in a brilliant judgment read down the mandatory death sentence.
Now, Manmohan Singh's UPA-2 set up a committee and in March 2014, the mandatory death sentence was removed.
Much else remained, Sections 37 and 54, which make a presumption of guilt on mere flimsiest of suspicion, like past WhatsApp chats.
Or section 67, empowering an officer to summon just anyone, essentially as a witness but then confront them with any questions, including hurl at them the most serious allegations: Do you do drugs, do you distribute drugs? Of course, you are, stop lying.
Suggested headline: 'I don't do drugs, says superstar so-and-so, grilled by NCB'.
This is power for Gestapo style questioning.
Imagine yourself or your child at the other end of this.
This empowered them to summon Deepika Padukone, Rakul Preet Singh and many others, giving our TV channels the licence to run their most glamorous pictures for days.
The latest is that poor Ananya Panday cavorting in a pool even as the headline is her being 'grilled' by NCB.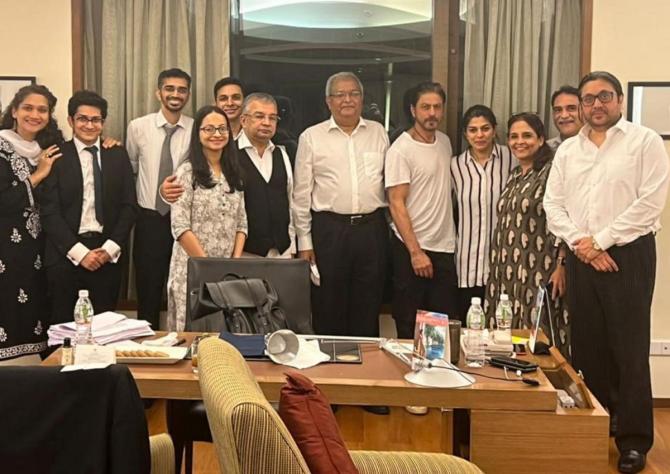 Laws like these will be misused and yield nothing.
For evidence, check the piece from two fine law scholars Neha Singhal and Naveed Ahmed from legal think-tank Vidhi Legal that we published on The Print.
In 2018, they showed, 81,778 people were charged under NDPS Act in India and 99.9 per cent of them only for personal consumption.
Read this with the 2019 Magnitude of Substance Abuse in India" from the Centre's ministry of social justice and empowerment.
It said at this point India had 30 million cannabis users.
How many jails would you need to build if you applied this NDPS to them?
Besides, there were 6 million with opioid disorders.
People doing hard drugs were just 8.5 lakh.
Disappointed that the number seems so low? Because if you saw that monstrosity of a film Udta Punjab, you'd imagine there were 20 times that many coke-snorters and heroin-pushers in that small state.
It's one thing for a brain-dead movie to malign the fine people of an entire state, for it feeds into the folklore.
But folklore lead to bad laws.
The National Law School at Delhi University conducted a study that showed that between 2000 and 2015, in 15 years, only five such death sentences were awarded by trial courts.
Of these, four were commuted to life imprisonment on appeal. And the fifth, hold your breath, was acquitted.
We've picked up a sledgehammer where a set of a plastic-surgeon's needles was needed.
Inevitably it's been handed over to people who are prone to misuse it.
The story we see unfolding on our TV screens is of its blatant misuse.
Innocent or guilty is not even an issue yet.
This is no time for cheap thrills. Remember tomorrow it can be one of us, or our children.
By Special Arrangement with The Print
Feature Presentation: Aslam Hunani/Rediff.com