BJP CMs promote a lawless culture, one where groups backed by the State are encouraged to attack fellow citizens, where being trigger-happy is the official police policy, notes Jyoti Punwani.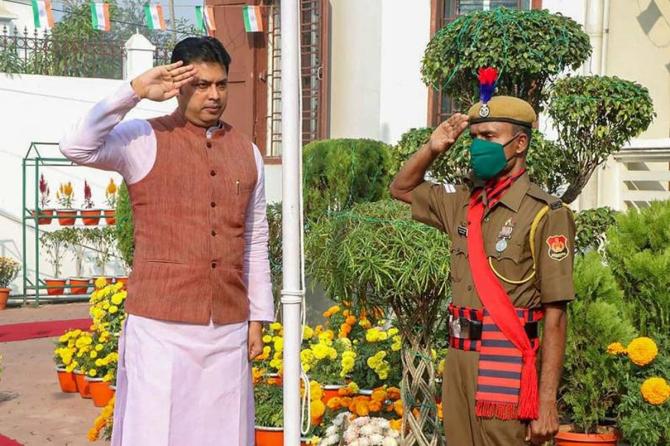 Can citizens of Tripura hope to get justice any longer?
On September 25, their head of government declared himself to be above the law.
In what was not a private conversation but an address to bureaucrats, Biplab Kumar Deb bemoaned their tendency to invoke the fear of contempt of court when asked to implement government schemes.
Said the first BJP CM in Tripura: 'They say, 'can't take the risk sir -- this will be a contempt of court order'. I want to know who has been sent to jail on contempt of court charges? I am here -- before you go I shall go to jail first. It is not so easy to take someone to jail on contempt charges.'
'Police can take someone to jail, but remember, police are under the chief minister. The court will direct police, police will say we are looking for him and so on. So, don't be afraid of courts.'
The 50-year-old CM, also Tripura's home minister, went on to say: 'The way the officials are citing the situation as if contempt of court is like a tiger! I want to assure all of you that I am the tiger. The power is in the hands of the main person who runs the government. I control the police.'
The Tripura CM's assertions show that his officers are true to their service; they do respect the judiciary. Of course, this is also because it is they who face the courts' wrath, not their political masters.
But now, their CM has assured them he would back them even if they flout court orders. What hope does this leave Tripura's residents with?
It is perhaps only a coincidence that when the CM made these remarks, the high court was headed by a judge whose transfer to a larger court, recommended by the Supreme Court collegium, was resisted by the Centre for more than two years. Justice Akil Kureshi's transfer to the Rajasthan high court was announced just two days ago.
Deb might well have made these remarks even had any other judge headed the high court, because two of the earliest decisions that annoyed his government were passed by previous chief justices.
***
In October 2018, then Tripura high court Chief Justice Ajay Kumar Rastogi stayed the deregistration of the Daily Desher Katha, the Communist Party of India-Marxist mouthpiece. The CPI-M was defeated by the BJP in March 2018, after a 20-year tenure.
This order allowed the state's main Opposition party to resume publication of its newspaper within a week of it being deregistered by the West Tripura district magistrate.
Then in September 2019, a bench of then Chief Justice Sanjoy Karol and Justice Arindam Lodh banned animal and bird sacrifices in temples across Tripura.
Within two months, the Tripura government moved the Supreme Court against the ban, and the apex court allowed it 'under certain conditions'.
If at all officials were monitoring whether such conditions were being followed, the CM's recent remarks means they can relax, while animal rights activist and petitioner Subhash Bhattacharjee can tear his hair.
In May this year, a bench headed by Chief Justice Akil Kureshi ordered that District Magistrate Sailesh Kumar Yadav be shunted out of the capital. Yadav had forcibly stopped a wedding ceremony in Agartala because it allegedly violated Covid norms.
The high court said Yadav's shifting out of Agartala was essential for the inquiry ordered against him to be impartial, and forbade him from making any public statements on the incident.
After the CM's remarks, who will bother to go to court against a DM, an action that anyway requires courage?
Like many high courts, the Tripura high court too played an active role during the pandemic, refusing to believe official figures and asking for detailed information.
Would public spirited citizens who approached it then, do so again now?
Ironically, the CM made the controversial remarks because he was angry that a high court order was not being implemented by his bureaucrats.
In February, the long-pending demand that 4,000 contract teachers be regularised had been granted by the court. But bureaucrats had not implemented the order because most of the contract teachers did not have the qualifications required for regular teachers.
In this case, an injustice by the government -- using low paid contract teachers for years -- was set right by the court. However, the bureaucrats' fear was justified, because regularising teachers who did not have the necessary qualifications meant a violation of national guidelines.
Only a court can do justice to this complex situation. But now, after the CM's remarks, who will approach the court?
Deb's remarks constitute contempt of court, but the high court refused a plea by lawyers to charge Deb with contempt. Instead, it expressed satisfaction with his 'explanation' made on Facebook that his remarks -- which were recorded -- had been 'twisted'.
On the same grounds, the state's advocate general turned down a written request by a law student to grant consent to initiate contempt proceedings against the CM.
Thus ended any hope of the judiciary coming to the rescue of a citizenry whose chief executive declares his is a 'by-the-people government, not by-the-court government'.
Which people, is the question.
***
If Deb scoffed at the judiciary, the BJP's first CM in Haryana went a step further. A video shows Manohar Lal Khattar instigating party workers on October 3 to create farmers' groups who would then 'give tit for tat' to farmers protesting against the Centre's new farm laws.
Khattar has thereby committed an offence under the Indian Penl Code punishable by six years' imprisonment (Section 505, incitement to violence). His retraction of his statement five days later doesn't erase what he said.
Interestingly, Khattar didn't motivate his party workers in the same manner in the two big crises he faced in his first term: The Jat reservation agitation in 2016, and the protests against the conviction of godman Gurmeet Ram Rahim Singh in 2017.
Unlike the protesting farmers who have only been gheraoing BJP functionaries, making it difficult for them to move around, both the Jats and Ram Rahim's followers were violent. 30 persons died in the Jat agitation and 9 women were reportedly raped; 38 died in the mayhem that followed Ram Rahim's conviction.
Forget instigating party workers to take on either the Jats or Ram Rahim's followers, Khattar didn't even effectively use the police to control them. And in 2018, his government started withdrawing cases against the Jat agitators.
***
Khattar isn't the first CM to promote vigilantism. Then Chhattisgarh CM Raman Singh was the pioneer; his Salwa Judum, a 'movement' in which Adivasis, helped by the police, attacked those Adivasis who were resisting the takeover of their land and forests by big companies, went on for six years till the Supreme Court put a halt to it in 2011.
Secondly, 'tit for tat' is just a crude version of 'a chain of action and reaction is going on' (Modi's words during Gujarat 2002), and 'whenever a big tree falls, the earth shakes a bit' (Rajiv Gandhi on the 1984 Sikh massacre). The persons who said these words were also Constitutional heads of government, one of them a prime minister, no less.
But rarely have we had CMs across four different states concurrently violating the oath they have taken: To uphold the Constitution.
Giving company to Deb and Khattar are UP CM Yogi Adityanath and Assam CM Himanta Biswa Sarma, both of whom openly encourage their police forces to eliminate or injure suspected offenders instead of arresting them.
But even among these four, Khattar and Deb are different: Both are lifelong RSS members, as their official profiles proudly proclaim.
The Ayodhya movement showed us that the Sangh Parivar never cared much for courts or our Constitution. But the RSS has always boasted about its discipline. Even its critics acknowledge this quality.
What was perhaps never understood was the RSS meaning of 'discipline'.
Former RSS pracharak Khattar spelt it out: Give tit for tat he told his workers, but in a disciplined manner -- stop when you are told to.
Now we know.
Taken together, BJP CMs promote a lawless culture, one where groups backed by the State are encouraged to attack fellow citizens, where being trigger-happy is the official police policy.
All this in the world's largest democracy.
Feature Presentation: Aslam Hunani/Rediff.com