Sharmila is criticising what is perceived to be KCR's strongest point -- welfare -- by charging the government with corruption, reports Aditi Phadnis.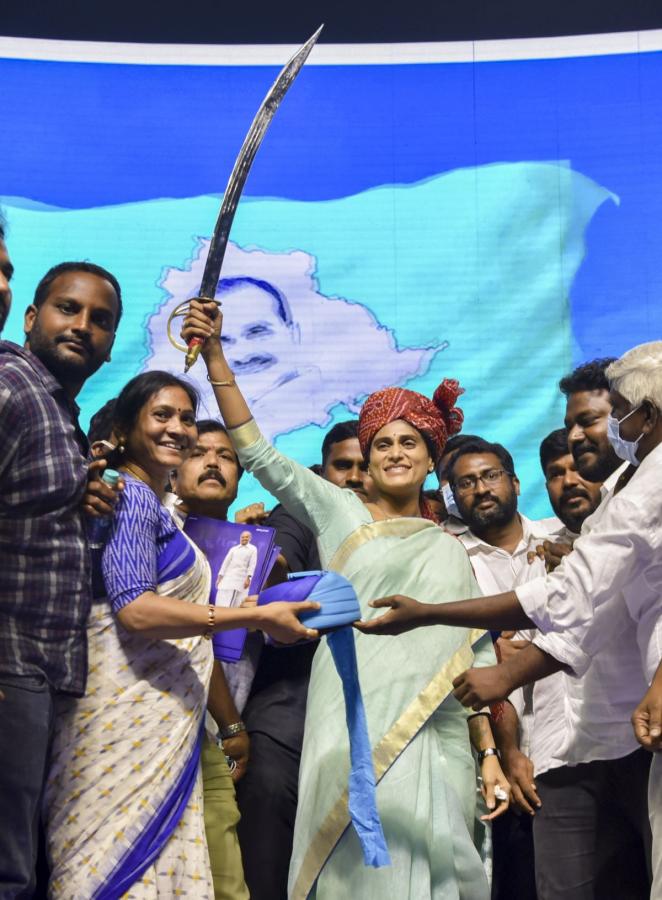 On July 8, the birth anniversary of the late Y S Rajasekhara Reddy , the charismatic chief minister of undivided Andhra Pradesh, his daughter Sharmila launched a party -- the YSR Telangana Party (YSRTP).
Her brother Jagan Mohan Reddy, who is chief minister of neighbouring Andhra Pradesh, was not present at the launch, signalling his disapproval of his sister's initiative.
Their mother was by her daughter's side.
In interviews, Sharmila has made it clear that for the moment, her political work is going to be limited to Telangana.
In other words, she is not competing with her brother for turf.
But does Telangana have the space for another party?
Sharmila doesn't have too much time to earn her spurs.
The assembly polls for the 119 seats in Telangana are due in 2023.
In the 2018 assembly polls, the K Chandrashekar Rao-led Telangana Rashtra Samithi won 88 seats and formed the government, defeating both the BJP and the Congress.
The BJP won one seat and its vote share was just 7 per cent.
But in the 2019 Lok Sabha polls, the BJP won four seats, including Nizamabad, where KCR's daughter K Kavitha was defeated.
It also pulled off a shock victory in the Dubbaka by-poll in November 2020, fanning its ambitions of becoming a significant player in Telangana.
Elections for the Greater Hyderabad Municipal Corporation a month later underlined this.
The Union home minister and the UP chief minister campaigned in the municipal election. The BJP's performance was spectacular.
In all this, it is the Congress that is well and truly decimated.
Between 2018 and now, 12 of its 19 MLAs have defected to join the TRS.
If Sharmila's party takes off, it could spell the end of the Congress in Telangana.
This will be a gift for both KCR and the BJP. So the chatter in Hyderabad today is that the new party is a creation backed by either -- or both.
Sharmila is hoping to put down roots on the base left behind by the Congress.
The powerful Reddy community of Telangana backed YSR unreservedly, especially his declaration that he would not allow the bifurcation of the state.
They lost and later, when the state was divided, many shifted to the BJP, especially from Mahbubnagar district.
G Kishan Reddy, minister of state for home who has been elevated to Cabinet rank, is an aspirant for caste leadership in Telangana.
However, his hold is limited to some pockets in Hyderabad.
To establish her party as a significant entity, Sharmila will have to work very hard.
In a state where those who died for division are considered martyrs, she will have to justify her father's stand against the division.
This could involve complicated political acrobatics.
But although she has never fought an election, when her brother was in jail on corruption charges in 2013, it was Sharmila who held the fort and campaigned in AP in his defence via padayatras.
Her role so far has been organisational and behind the scenes. She might have gotten a bit weary of this.
Her brother has his own plans. He has to battle both the BJP and Chandrababu Naidu's Telugu Desam Part in his state.
He is conscious that he has to consolidate before he can grow. He and KCR are friends.
In the interests of good neighbourly relations, Jagan doesn't want to rock the boat.
Hence his distancing from his sister's political ambitions.
Sharmila, by contrast, has made KCR her target. She is criticising what is perceived to be KCR's strongest point -- welfare -- by charging the government with corruption.
'KCR and his family are only trying to loot Telangana while they're in power,' she said at her first press conference after launching the new party. She has also flagged unemployment.
Sharmila comes from a family of practising Christians. Her husband Anil is an evangelist. However small, the Christian community in Telangana knows her and respects the family.
One of two things could happen. Her party could sink like a stone, with no harm and no foul.
But if she works hard and plays her cards well, she could emerge as a big spoiler in the upcoming assembly elections, forcing all parties to do business with her.
For the time being, that is the role she could be eyeing.
Time is on her side. Both Andhra Pradesh and Telangana are seeing the rise of a new, young, second generation in politics that is laying claim to leadership.
Sharmila is one among many. If she fails, it will not be for want of trying.
Feature Presentation: Aslam Hunani/Rediff.com