His ministers's conduct may lead to a distancing between the army leadership and Prime Minister Imran Khan reveals Rana Banerji, who headed the Pakistan desk at the Research and Analysis Wing, India's external intelligence agency.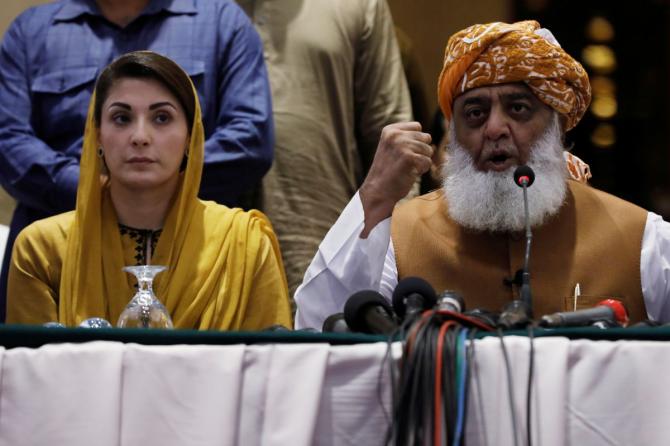 Pakistan's army chief General Qamar Javed Bajwa has ordered an enquiry by the Corps Commander, V Corps, Karachi, after the entire senior Sindh police officialdom resorted to an unprecedented decision to go on leave in protest against the manner in which Sindh Inspector General of Police Mushtaq Mahran was 'ridiculed and humiliated.'
Apparently, Pakistan Rangers personnel hauled the Sindh IGP out of his house at 4 am in the morning.
He was taken to a Karachi police station on October 20 to force the police to arrest Captain (retd) Safdar, Pakistan Muslim League (Nawaz) leader Maryam Nawaz's husband, from their Karachi hotel room at that unearthly hour.
Though law and order is a state subject under Pakistan's 1973 constitution, the Sindh police was forced to register an FIR against the PML (N) politician at the insistence of two federal Pakistan Tehrik e Insaf ministers, Maritime Affairs Minister Ali Zaidi and Education Minister Shafqat Mehmood, for ostensible violation of the sanctity of Mohammad Ali Jinnah's mausoleum.
PML (N) politicians had gone to the mausoleum in Karachi before the Pakistan Democratic Movement protest at Karachi on October 18.
Safdar had chanted slogans demanding 'respect for votes'. He also praised the Quaid e Azam's sister, Fatima Jinnah.
These offences were deemed not really serious enough and Safdar has since been released on bail by a court order.
People's Party Chairperson Bilawal Bhutto Zardari called General Bajwa over the incident, forcing the army chief's hand to order this enquiry.
Thereafter, the IGP Sindh asked his officers to defer their decision to go on leave by ten days.
He thanked the army chief for taking note of the Sindh police's injured sentiments.
These developments have played into the PML (N)'s hands.
Former PM Nawaz Sharif tweeted from London that this vindicated his allegation of a 'State above a State' functioning without any checks and balances in the country.
Maryam Nawaz praised the Sindh police for taking a courageous stand.
After a meeting of Pakistan Democratic Movement leaders in Islamabad on October 21, PML (N)'s former PM Shahid Khaqan Abbasi questioned Prime Minister Imran Khan's silence over the matter and his unseemly fixation on accountability of Opposition politicians.
He blamed the Pakistan Tehrik e Insaf government for bringing the federation in conflict with a province.
If the IGP of a state could be abducted in the wee hours of the night, he lamented, how ordinary people could feel safe!
At the same Pakistan Democratic Movement meet in Islamabad on Wednesday, another former PM, Pervez Ashraf of the People's Party, who hails from Punjab, criticised Imran Khan's silence.
Praising the army chief's timely intervention to contain the damage, Ashraf stressed that his party was against denigrating the army or encouraging a clash of institutions.
At a hastily called press conference, before the army chief's action, Sindh Chief Minister, Murad Ali Shah had expressed surprise over Safdar's arrest.
He promised an enquiry into the unwarranted police action by a 5 member ministers'c committee.
On Wednesday, October 21, he called in the Sindh IGP with all his senior officers, urging them not to loose morale. He assured them that they could continue working fearlessly, without political interference.
PTI's Science and Technology Minister Fawad Chaudhry sought to embarrass the PPP leadership by contending that Sindh's police officers 'went on leave at the instance of Bilawal House', as they had failed to protect 'the former PML (N)'s Badshah's son-in-law'.
However, with egg on their face, other PTI functionaries tried unconvincingly, to dissociate themselves from the Pakistan Rangers's actions.
The Pakistan Rangers, whose senior leaders are all from the army, have been involved in handling chronic law and order problems in Sindh for many years now.
From 2010 onwards, the army wanted to nullify the Mohajir Quami Movement's clout in the greater Karachi agglomeration and cut down to size its local leaders, criminal satraps and 'bhatta brigands' (unauthorised fund collectors).
Often, police officers were not found equal to the tasks undertaken, but never before was the top police leadership of the province humiliated in this manner.
The embarrassment which now stares General Bajwa in the face is that the current director-general, Pak Rangers, Sindh, Major General Omar Ahmed Bukhari, a 'sword of honour' recipient, is a handpicked officer of his own Baloch Regiment.
He was posted as DG, Pak Rangers only last year.
Army officers belonging to the Baloch Regiment have garnered almost all important and prestigious assignments during General Bajwa's extended tenure.
Though in itself, this is not an unusual phenomenon for upwardly mobile army officers, not only in Pakistan, it may inhibit the current enquiry by Lieutenant General Humayun Aziz, himself due to retire in early December.
Will the censure of junior officers of the Pak Rangers, who capitulated under pressure of PTI ministers, be enough to assuage the Sindh police?
Will inadequate action fuel resentment against General Bajwa within army echelons? The response to these questions will need to be carefully watched.
Already, the handling of the Opposition's agitational programme by the so-called 'hybrid regime' is leading to avoidable mistakes, which are turning popular sentiment against the army.
Suffice to say, these developments will not only provide impetus to ensuing Pakistan Democratic Movement's demonstrations, but they may bring about a certain distancing between the army leadership and Prime Minister Imran Khan.
Feature Presentation: Aslam Hunani/Rediff.com