The Indian Army's Northern Command would be stretched if all three of the corps under it -- based in Leh, Srinagar, and Nagrota (near Jammu) -- were to face hostilities, notes David Devadas.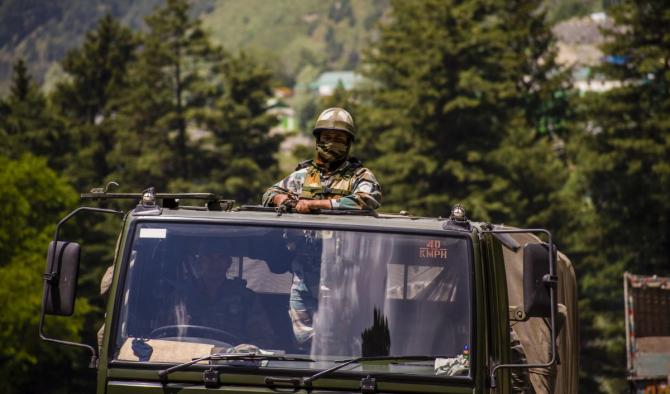 Could the Chinese build-up along the Line Of Actual Control in Ladakh lead to more war-like hostilities as early as November?
At least some well-informed Kashmir-based informants seem to think this might happen.
Perhaps this expectation lay behind former chief minister Farooq Abdullah's jibe that 'China would restore Article 370' (which symbolised the special status of Jammu and Kashmir under the Constitution until August 5, last year).
The idea in Kashmir seems to be that whatever action might take place will be about the future of Jammu and Kashmir, not just a marginal realignment of the LAC.
Although this is admittedly only hearsay, one gives it some credence because the grapevine in Kashmir has proved right in the past.
The word during Ramzan 2016 was that there would be turmoil after Eid. That proved correct: Kashmir was up in arms for months following the killing of Hizbul Mujahideen's Burhan Wani on July 8 that year, two days after Eid.
Certainly, November would seem to be the last chance for war this year, at least on the Ladakh front.
The 1962 War ended on November 21 that year. Although both armies have much better equipment now, the winter cold would make it extremely tough to continue a war after November.
History shows that some of the greatest warriors were brought down by winter. Napoleon's invasion of Russia was defeated largely because of Russia's cold, sleet and slush in 1812.
Jammu's legendary General Zorawar Singh was killed at the battle of Taklakot by a Tibetan army on December 12, 1841, after the great general had captured western Ladakh up to the region around Mansarovar by September that year.
The onset of winter prevented the return of his army, however. In the biting cold of November and December that year, many Dogra soldiers began to lose fingers to frostbite. Some of them even burnt ammunition for fire to survive.
In case this year's stand-off does escalate into war, it is likely to draw in China's 'iron brother', Pakistan.
In fact, it is possible that the main battle may be on the western front opposite the Kashmir valley and the Poonch, Rajouri, and Akhnoor regions further south.
The Indian Army's Northern Command would be stretched if all three of the corps under it -- based in Leh, Srinagar, and Nagrota (near Jammu) -- were to face hostilities.
The limitations of road connectivity across the Himalayan ranges in winter would add logistical difficulties.
Troops, armaments, ammunition, and supplies of the other army commands would need to remain in their place in case hostilities were to spread to other fronts closer to New Delhi, or involving the north east.
A major reason why November might seem suitable to the Sino-Pak axis is that the US will be tied up with election results which could be contested in light of expectations of a very large number of postal ballots. These could take several days to be counted.
The US is used to votes being counted as soon as polling ends, and results being declared the same night. Several analysts have proposed a scenario in which President Donald Trump appears to win on the basis of votes that are cast physically at polling booths, and so are counted first.
His Democratic opponents would challenge any early declaration since they expect more of their supporters to prefer postal ballots. This could lead to an ugly row, with conflicting accusations of vote fraud from both sides over the next few days, even as postal ballots continue to be counted.
The upshot of that could be a hamstrung US government, which would find it difficult to support India by threatening China and Pakistan with war.
Most strategic thinkers in New Delhi seem to have come around to the view that China will push on with its aggression in Ladakh, at least south of Pangong Tso. They differ over when to expect this. Some think it will come relatively soon, and these analysts might be willing to accept the November scenario.
However, other analysts think it will not be before next year, and yet others think it will take a few years before things really heat up on the border.
Of course, all of this marks a substantial change from the first few weeks after the PLA's sudden build-up and intrusions on the LAC in April-May. The government at least was in denial for quite a while.
The army chief stated in mid-May that patrolling parties of the two countries came up against each other sometimes owing to differing perceptions of the LAC. He interpreted the fact that several skirmishes had taken place at different points on the LAC as a coincidence.
Even after the major skirmish at Galwan on June 15, in which Indian soldiers put up a heroic fight, the prime minister had stated that nobody had intruded or was on Indian territory.
The new awareness of China's hostile intentions have become evident since the end of August, when the Leh-based XIV Corps took control of several heights south of Pangong Tso.