With the maulana fully committed and PML (N) cadres prepared to court arrest, this would be the first time where both Punjabis and Pakhtuns would be standing up against the Pakistan army, notes Rana Banerji, who headed the Pakistan desk at the Research and Analysis Wing, India's external intelligence agency.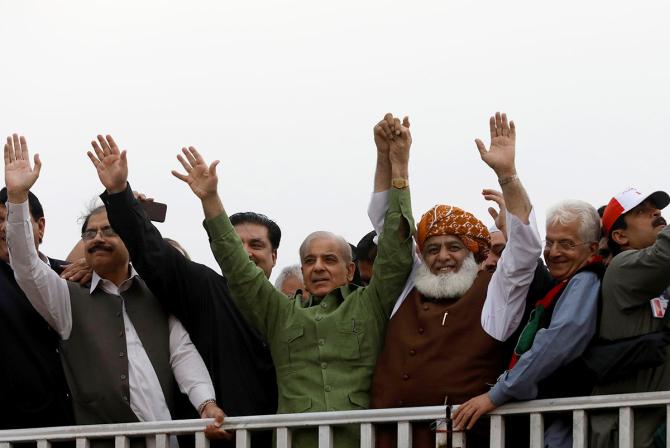 With the Pakistan Democratic Movement poised to start its protest rallies from Gujranwala on October 16, the stage seems set for heightened political confrontation, bitterness and instability in Pakistan.
Addressing an all parties conference from London on September 20, former prime minister Nawaz Sharif boldly took on the military establishment, explaining how he was eased out of power not by 'a State within a State', but by 'a State above a State'
Surprisingly, his speech was allowed to be aired on Pakistani television channels but subsequently, courts declared him an absconder and any further speeches have been banned by the Pakistan electronic media regulatory authority.
The Pakistan Democratic Movement issued a 26 point resolution demanding Prime Minister Imran Khan's resignation and fresh elections.
A programme of public rallies has been announced, which may continue till the end of December. Thereafter, the Pakistan Democratic Movement could resort to a 'Long March' to Islamabad.
A veiled threat of en masse resignations of members of the national and provincial sssemblies has also been held out, so that senate elections, due in March, which could confirm a Pakistan Tehrik e Insaf majority there, cannot be held.
After Shahbaz Sharif's arrest on September 28 by the National Accountability Bureau on alleged corruption charges, the Pakistan Muslim League's narrative of seeking a compromise with the military establishment has lost ground.
Maryam Nawaz -- Nawaz Sharif's daughter -- apprehends her own arrest on new or old charges. Both Nawaz Sharif and Maryam have nothing more to lose and are asking their cadres to confront the 'real power brokers' by coming out on the streets in strength.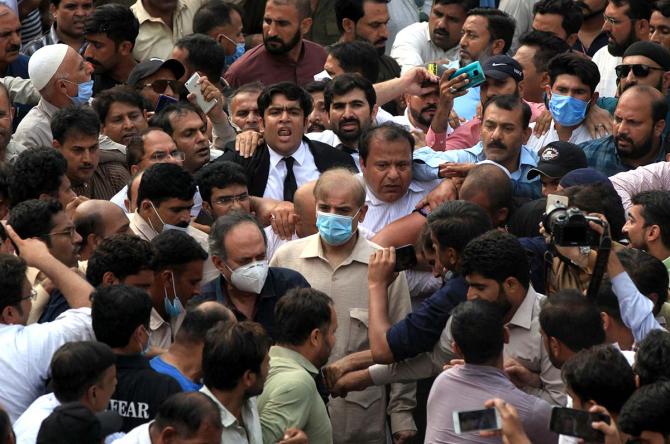 Maulana Fazlur Rehman has been named leader of the movement. His Jamiat Ulema e Islam cadres are ideologically committed and can gather in large numbers. An avowed critic of Imran Khan, he had already indicated during his earlier 'long march', that he would do his utmost to destabiliWSe the present 'selected' dispensation.
With the maulana fully committed and PML (N) cadres prepared to court arrest, this would be the first time where both Punjabis and Pakhtuns would be standing up against the Pakistan army.
The People's Party of Pakistan is the only lukewarm cog in the Opposition alliance, as it is in power in Sindh.
In an hour-long interview with Samaa TV's Nadeem Malik on October 1, a rattled Prime Minister Imran Khan alleged Nawaz Sharif was playing into India's hands by challenging the 'sacred' institution of the army.
He reiterated his determination to pursue accountability of corrupt politicians but could muster only a weak answer when asked why he could not be even handed against corrupt retired generals like Asim Bajwa.
He kept making much of `being on the same page with the army. Commenting on Nawaz Sharif's charge of being asked by the then Inter Services Intelligence chief, Lieutenant General Zahoor ul Islam, to quit as PM, Imran brazenly claimed, since he was an elected PM, if anyone had the temerity to so ask him, he would send that person packing!
Addressing the Insaf Lawyers Forum in Islamabad on Friday, October 9, he accused previous governments of failing to control the ISI, because their corruption was found out easily.
In today's Pakistan, Imran declared, 'I am democracy!'
Confusion was confounded when a First Information Report was lodged in Shahdara, Lahore, late on October 5 night, on the complaint of a PTI worker, Badar Rasheed, implicating 43 PML (N) leaders, including Nawaz Sharif, Shaheed Khaqan Abbassi, Maryam Nawaz, three retired lieutenant generals Qayyum, Tirmizi and Abdul Qadir Baloch, and surprisingly, current Pakistan occupied Kashmir PM Raja Farooq Haider on charges of sedition and criminal conspiracy.
PTI Minister Fawad Chaudhry claimed the PM's reported annoyance at this development. Interior Minister Ijaz Sheikh later said his government was not for sedition charges against the Opposition. Thereafter, on Saturday, October 10, the names of all others except Nawaz Sharif were removed from the FIR.
Adding to the prime minister's embarrassment, retired dirtector general, Federal Investigation Agency, Bashir Memon, a widely well regarded, honest police officer, claimed in a sensational interview on recently abducted journalist, Matiullah Jan's television channel that he had been called in by Imran Khan and asked to register terrorism cases against PML (N) politicians, which he had declined. He was thereafter removed from his post.
Sustaining public support, on perceived PTI malgovernance on bread and butter issues would no doubt be crucial to building up the tempo of the Pakistan Democratic Movement agitation.
As and if the Opposition agitation gathers momentum, some efforts may be made to lower the political temperature.
Imran Khan could be asked to go slow on his witch-hunt against Opposition politicians through the NAB.
If Imran refuses, the army could stop further support to his agenda. Imran's position in the national and provincial assemblies could be destabilised easily and the Opposition given more space, in a prelude to an 'in-house change' or early elections.
If all else fails, the army could even directly step in, though this is unlikely to get a nod this time from Pakistan's international benefactors, including the United States or Saudi Arabia, both of whose support seem necessary for financial bail-outs in the future.
Suspensions of the constitution, through extendable '90 day takeovers' in the past have had their own dialectic. `Dismounting the tiger becomes difficult.
The trouble with Pakistan army chief General Qamar Javed Bajwa's tenure is exactly this. After Supreme Court judges raised their eyebrows over the manner of his extension in November, 2019, his own fate seems to have got almost inextricably linked with that of Imran Khan.
Though dissent within senior echelons of theaArmy had been controlled sincethen, if the Pakistan Democratic Movement rallies get public support, if there are arrests, violence or bloodshed, any false step by an armybacked regime could again arouse the angst of the generals, within and without (retired).
This would be an avoidable backdrop even as General Bajwa prepares for his first post-extension reshuffle to replace six senior generals, including two corps commander who retire in December.
Perhaps cognisant of this dilemma, General Bajwa reminded cadets passing out fromthe Pakistan military academy in Kakul on Saturday, October 10, that while the army's actions remain 'guided by the constitution', to support the government of the day as per law, ultimately, 'we must listen to our people and apply corrections where needed.'
Would this be sobering admonition enough to temper Imran's bravado about personifying democracy in Pakistan? Only time will tell.