Senior general refuses to retire, reveals Rana Banerji, who headed the Pakistan desk at the Research and Ananlysis Wing, India's external intelligence agency.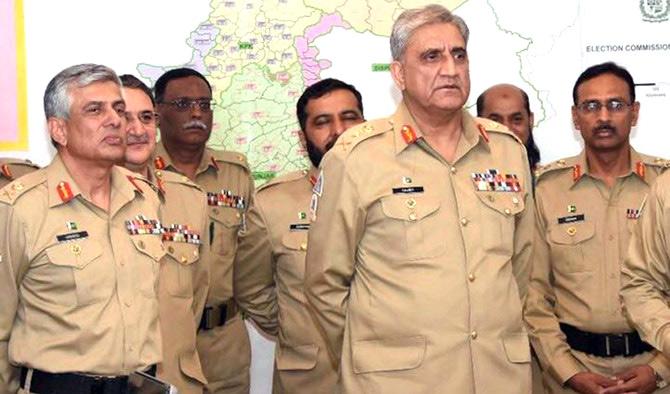 Simmering discontent persists within senior echelons of the Pakistan army.
Though superseded when Lieutenant General Nadeem Raza was appointed chairman, joint chiefs of staff committee, Lieutenant General Sarfaraz Sattar, erstwhile director general, strategic plans division, has not followed convention by putting in his papers so far.
This is complicating matters as he remains without any post. In such circumstances, army chief General Qamar Javed Bajwa may have no choice but to have Pakistan's ministry of defence issue General Sattar a severance notice. This could happen over the next 2-3 days.
Some senior serving officers believe this impasse is creating negative ripples about the Pakistan army as an institution.
General Sattar was never in General Bajwa's good books. Erstwhile favourites have been left with no troops to command. Lieutenant General Bilal Akbar, who was X corps commander, Rawalpindi, is now shunted out to the Pakistan ordnance factories, Wah.
The only one left with command over troops is Lieutenant General Asim Munir at 30 corps, Gujranwala. He too may be eased out in the next re-shuffle. All others were promoted and posted by General Bajwa and will stay in line.
Against this backdrop, a whole new ball game has erupted with the General Musharraf verdict. This is a god send opportunity for General Bajwa to regain lost moral ground. His stock hit rock bottom when he accepted the Pakistan supreme court mandated extension, but now as defender of the army, he can recover ground.
This explains the strong reaction made public by the army's inter services public relations, insisting that General Musharraf can never be regarded a traitor.
Senior officers in the Pakistan army are rallying around, even if earlier they had reservations about General Bajwa's extension. Now, they want him to have full three years in office, if only to show the country who is boss.
This is similar to what General Musharraf gained from the Jehangir Karamat resignation in October 1999. The army swore then never to allow a civilian prime minister to send another chief home early.
Much will depend on whether new Chief Justice Gulzar Ahmed will blink. If he is handled roughly, the army will have another angry judge at its hands who could bring down the guillotine on General Bajwa when the legislation extending the chief's term comes up after six months.
On the other hand, to decrease pressure on the judiciary, he could give General Bajwa a pass for another three year term.