Unless controlled and contained, given the untested belief that the north Indian labour support and follow the Hindutva kind of political ideology, there is a potential in terms of ideological clashes with their Dravidian brethren in the local neighbourhoods, and it all escalating into violence, especially during election time, predicts N Sathiya Moorthy.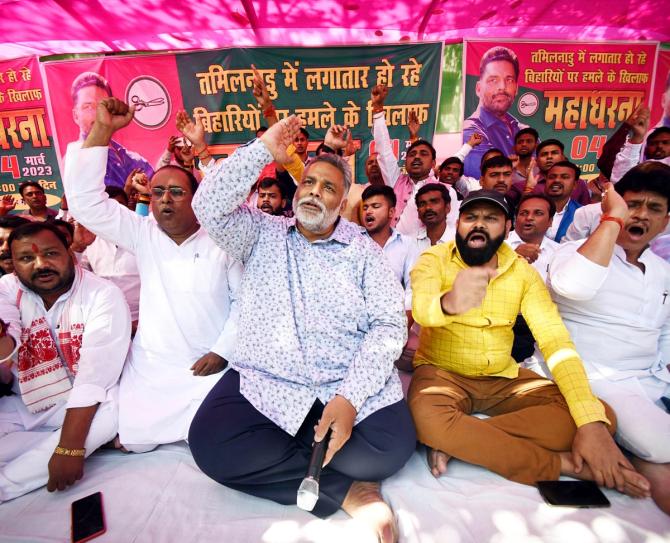 If anything, the Tamil Nadu government was caught unawares more than napping.
But with equal ease and firmness, it handled the rumoured attacks on north Indian migrant labour spread by some social media posts in Bihar and UP.
It began in the western hosiery capital of Tiruppur and spread to neighbouring Coimbatore, where too migrant labour from Bihar, UP, West Bengal, Odisha and several north eastern states are gainfully employed and at the same time have become the backbone of multiple industries, starting from the street-corner tea-stalls and beauty parlours.
It is even more so in capital Chennai and the evolving industrial suburbs of Kanchipuram, Tiruvallur and Chingleput districts, not to leave out the rest of the state.
In many homes in the urban centres, too, north Indian boys, more than girls, have become domestic helps and drivers, having learnt the local language and also the city routes, through their past years of residence, when they also spread their kind of trust-worthiness, both as humans and as an irreplaceable workforce.
Suffice to recall how in a not-so-distant episode in the popular talk-show 'Neeya, Naana? (You or Me?)' on Vijay TV, women, mostly housewives from the north settled in Tamil Nadu for years, decades and generations, nearly-shamed Tamil college girls, who couldn't even pronounce some of the phonetics unique to the language correctly, by displaying their command over Sangam literature and the like.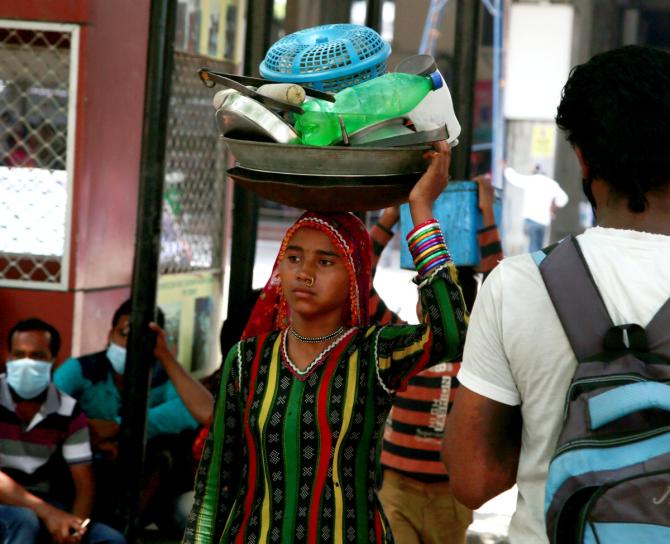 As the old adage goes, there cannot be smoke without fire, and the smoke in this case has been smouldering -- but in a very low fire -- over the past weeks.
Lately, some pan-Tamil political parties and self-styled social organisations and their social media posts have begun targeting those that are otherwise honourably termed as 'guest workers'.
The unsubstantiated claim was that the migrant labour was taking away the jobs of locals by accepting lower wages, long work-hours and inhospitable living and working conditions.
That some of these political parties are also electoral allies of the ruling Dravida Munnetra Kazhagam meant that critics of them all could blindly point a finger at Chief Minister M K Stalin's government, for not doing enough to re-assure the migrant labour and to ensure their safety and security in the first place.
It did not stop there. At least two senior DMK leaders were caught on camera, making disparaging remarks about migrant workers and their families, so to say.
Of them, Higher Education minister K Ponmudi referred to them as worthy only of selling 'paani puri here'.
Former Union minister and the party's Lok Sabha MP Dayanidhi Maran went one step further.
At a public meeting, Maran made the comparison, how 'our boys, like Sundar Pichai (of Google fame) and Satya Nadella (of Microsoft, incidentally a native of undivided Andhra Pradesh), while Hindi-speaking youth were working in construction and as cooks here.'
The usual smirk on the minister's face was matched only by the MP's customary overstating of criticism.
Both BJP and non-BJP critics of the DMK have also posted the video clipping of Stalin's old speech in Erode East, declaring that the BJP had plans to people the state with Hindi-speaking people (for political and electoral reasons). 'Though (EPS) Palaniswami (a reference to the AIADMK's then chief minister) may absolve it, we won't do so'.
The demand is now for the state police to begin its legal action against 'hate speech' with the current state CM.
Two or three alleged incidents of local labour attacking the migrants and vice versa, without details of the sites or sources, began doing the rounds, providing meat for the traditional detractors of the DMK and Stalin's relatively recent 'Dravidian model' of government.
The government agencies did not wake up nor did the ruling party's ever-alert public commentators.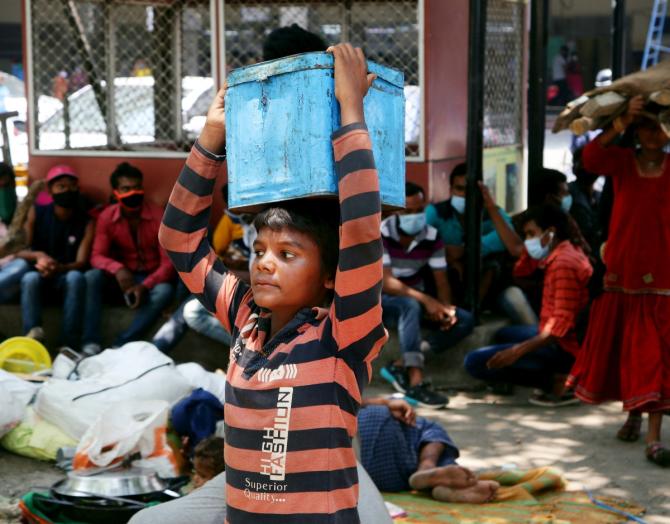 If all of it drowned in the high-profile Tamil media focus on the high-intensity, high-cost, assembly by-election in the Erode East constituency, not far away from Tiruppur and Coimbatore, from where the so-called 'exodus' had begun, it did not die down, after all.
If any, distracting from the massive electoral victory of the Congress ally of the ruling DMK, and also Stalin's high-profile 70th birthday bash, the rumours and social media claims about the alleged killing of north Indian labour made it to the headlines, even more at the national level.
Pro-DMK social media activists, for their part, would want you to believe that the rumours were a deliberate attempt by groups that were upset about the DMK making Stalin's birthday a meeting place for disparate Opposition leaders from the rest of the country, to vow to face the ruling BJP at the Centre (in most other states) in next year's Lok Sabha elections, united.
It is not known if their enthusiasm remains after the BJP and allies topped the assembly polls in Tripura, and also becoming the post-poll ally in Nagaland and Meghalaya.
The truth lies somewhere in between, it would seem.
For there is no denying the sense of insecurity that had begun seeping in among the migrant labour after the politicians' call for their replacement with locals.
Equally true, there was no immediate government initiative to silence those allies and other social media activists, even as those first reports emerged -- not to mention the need for ministers to withdraw, if not apologise, for their remarks.
There is also absolutely no truth about the alleged killing of a dozen or more of migrant labour around the time of the Erode East poll results and Stalin's birthday celebrations.
Pro-DMK social media posts claimed that it was the handiwork of the BJP as they were reminded of similar efforts by then DMK boss, the late chief minister M Karunanidhi, leading to the formation of a non-Congress, non-BJP pre-poll alliance that captured power at the Centre, in 1989 and 1996.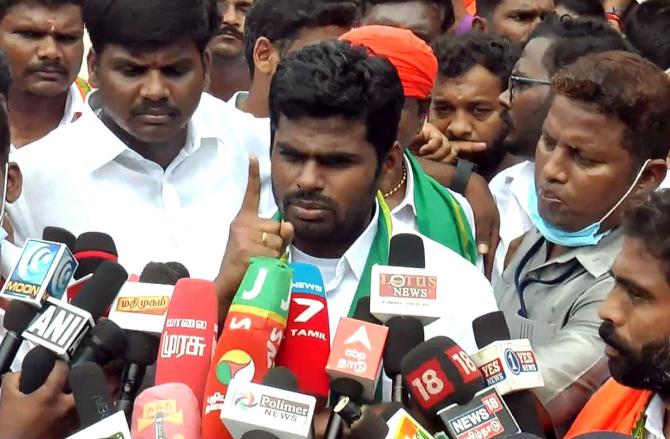 The state police has filed cases against four north Indian politicians and journalists, including an office-bearer of the ruling BJP in Uttar Pradesh, as the source of the false propaganda.
They have also filed cases against Tamil Nadu BJP president Kuppuswamy Annamalai under four sections of the Indian Penal Code for 'promoting enmity between different groups on grounds of religion, race, place of birth, residence'.
The police is reportedly seeking a ban on the social media outlets of the Bihar BJP, for triggering what all followed.
True to form, Annamalai has promptly challenged the government to arrest him, and has re-posted the videos showing the two ruling party leaders' references to north Indian labour.
A former IPS officer of the Karnataka cadre, he could not have asked for more, after his chosen chief for the state party's all-important IT wing, C T R Nirmal Kumar, crossed over to join the AIADMK ally, where former chief minister Edappadi K Palaniswami readily received him, a week after the Erode East poll rout and a year ahead of the Lok Sabha polls.
For now, the chief minister has talked to his Bihar counterpart Nitish Kumar of the Janata Dal-United, after the latter too tweeted the rumoured news, a day or two after his deputy Tejashwi Yadav of the Rashtriya Janata Dal ally had attended Stalin's birthday bash.
For their part, AIADMK faction leaders EPS and O Panneerselvam have separately condemned rumour-mongers and urged the state government to take stringent action against them.
The timing may just have been chosen to overlap with the poll verdict and Stalin's birthday resolve, yes, but the provocation, though over much, came from within Tamil Nadu.
It also showed one more time, how despite being celebrated for its communication skills in the past, the DMK, like its Congress ally at the national level, is no match for the common BJP rival in one crucial department relevant to politics and poll campaigns in the 21st century -- namely, social media.
In his telephonic conversation, Stalin reassured Nitish on the safety and security of Bihar workers in Tamil Nadu.
He has since declared that migrant labour are 'our brothers' and 'we Tamils will ensure their safety'.
The Tamil Nadu authorities have since received teams of officials rushed by the governments of Bihar and Jharkhand, to reassure them that all was well with migrant labour from their states.
The official teams also met with some groups of labour from their states and expressed satisfaction about what they saw and heard.
This may however only be the beginning. From Bihar, Lok Janshakti Party-Paswan faction leader Chirag Paswan is visiting Tamil Nadu, and is following it up with a memorandum to Governor R N Ravi, ever ready to receive critics of the state government.
It is not unlikely that BJP units from some of these states too could follow suit, and make 'bad news' against the 'Dravidian culture' and 'Dravidian model', both in their home states and in the national media.
For his part, Governor Ravi (incidentally, a Kerala cadre IPS veteran and a Bihar native), in a statement, sought to reassure north Indian migrant labour that the Tamils are 'really good people' and they have nothing to fear about.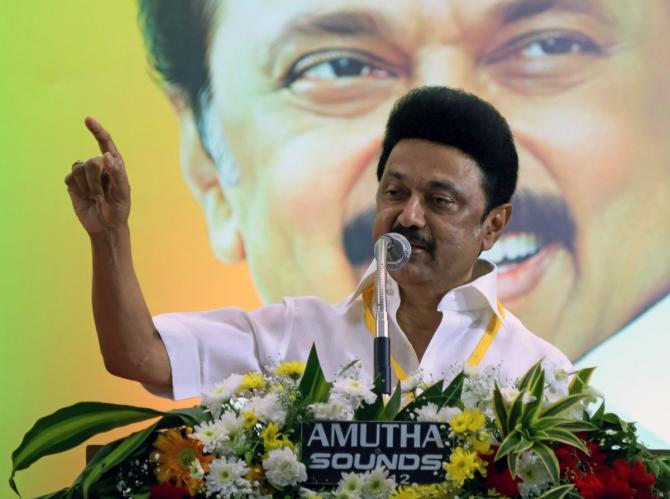 There is greater realisation/awareness now about migrant labour from other parts of the country becoming an integral part of Tamil society, and that is where the first real sparks may ignite.
Given the uniqueness of state politics, where Dravidian ideology alone seem to count -- with Stalin packaging it as 'Dravidian model' of development -- there is a constant apprehension that there could be a clash of ideas and ideology between the locals and migrants at the work-place and elsewhere, which may have nothing much to do with wages and work hours (alone).
With successive governments acknowledging the reality on the ground, and the migrant labour getting dormitory-like accommodation provided by their employers, be it in Tiruppur or Chennai's industrial suburbs of Sriperumpudur, they are entitled to voter-ID registration, PDS rations and the like, based on their Aadhar cards from their home states.
Their children are getting education facilities in the villages that they ordinary reside in, if they are families.
Their home states too are trying to address some of their lifestyle problems, in a big way or small.
The Odisha government, for instance, has sent volunteer-teachers to teach children of migrant labour, their mother-tongue in local schools, wherever possible. It is happening in the Sriperumpudur suburbs too.
It is here where it hurts and it may hurt in the future, even more.
Given the untested and unchallenged belief that the north Indian, Hindi-belt labour support and follow the Hindutva kind of political ideology, there is a potential there in terms of ideological clashes with their Dravidian brethren in the local neighbourhoods, and it all escalating into violence, especially during election time.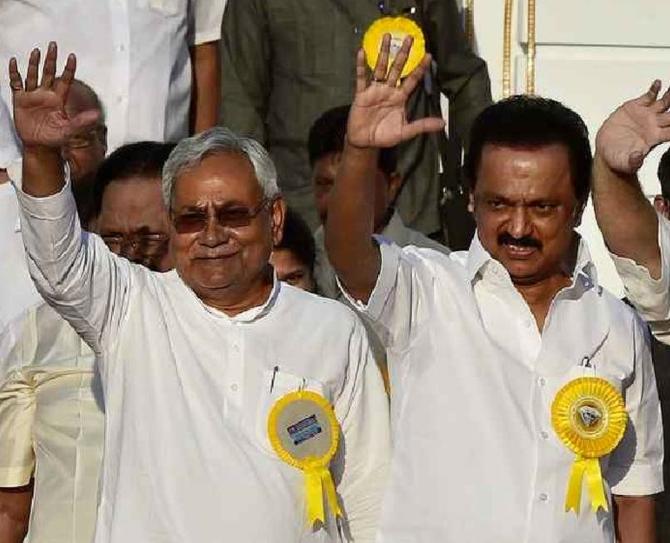 Yet, there is no denying the need for plugging the holes in the social system for economic prosperity of the people, government and states -- and the nation as a whole, possibly in that order.
If in the past, north eastern migrants in south India, especially Karnataka, began an overnight exodus to their home states, based on a social media post of the kind, later traced to Pakistan, this time it is believed to have emanated nearer home, in UP.
Anticipating massive fall-out as migrant labour constitute 70-75 per cent of their workforce, associations of MSME, hospitality, restaurant and such other sectors across the state have begun interacting with them, and reassured them about their safety and security.
Where some of them had left for their hometown after they were asked to return, based on the fake videos, employers are in touch with them, asking them to return.
Some of them may have actually gone home for the Holi festival, but that is also being used to distract public attention from the panic situation that derived entirely from fake videos.
N Sathiya Moorthy, veteran journalist and author, is a Chennai-based policy analyst and political commentator.
Feature Presentation: Rajesh Alva/Rediff.com