The BJP seems to fear a 'born-again' DMK stalling their electoral progress even more than the AIADMK, observes N Sathiya Moorthy.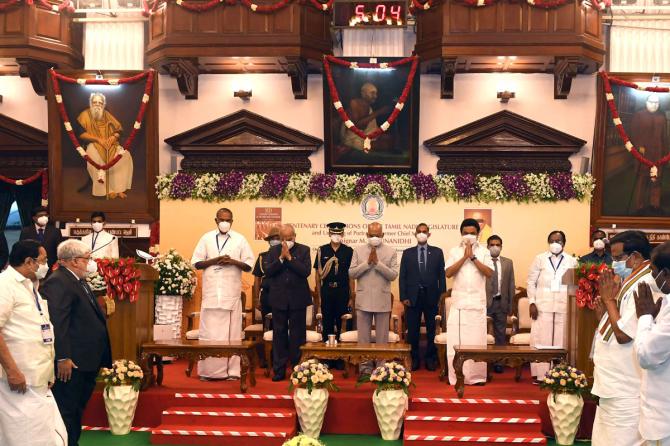 Ask Bharatiya Janata Party leaders in 'Dravidian' Tamil Nadu, and they will give an emphatic 'no' for an answer.
It may also be correct, but the state BJP's pique is not over the naming of a temple in western Dharmapuri district as the Bharat Mata Memorial Temple;, but over a Dravida Munnetra Kazhagam minister inaugurating it and thus acknowledging the traditional nationalist sentiments of the Hindutva-oriented party.
The Rs 1.5 crore (Rs 15 million) temple project was initiated by the state information department under the previous All India Anna DMK government and was inaugurated by the DMK's Information Minister M P Saminathan recently. What political Hindu nationalists should have celebrated was not to be.
Because they seem to fear a 'born-again' DMK stalling their electoral progress even more than the AIADMK, they have not claimed credit for forcing the ruling party to accept the 'traditional nationalist' depiction of Bharat Mata.
Yes, in the temple Bharat Mata is depicted akin to the Hindu goddess Durga with a spear/strident in hand and astride a lion, as per the imagery given by early Bengali nationalists. Contemporary Tamil freedom fighters, including poet-nationalist Subramania Bharati, adopted this imagery as well.
Incidentally, the temple is the fructification of freedom fighter Subramania Siva's (1884-1925) dream project, for which he had purchased six acres of land in Papparapatti in Dharmapuri district, and had fellow freedom fighter Chittaranjan Das to lay the foundation.
Siva died a leprosy patient after the British wantonly housed him in a prison cell housing leprosy patients. And the temple has taken close to a century to materialise.
For a section of the state BJP leaders, the dream project of Subramania Siva does not seem to matter, not even their own depiction of 'Bharat Mata' finding acceptance by the 'anti-god, anti-national' DMK -- as they continue to harp on the idea.
Using semantics, they have taken exception to the use of the word 'memorial' with the Bharat Mata temple. But none else than a section of the state BJP sees any mischief in it.
At best, those down at the lower level officialdom had overlooked it all along. Rather than writing to the authorities concerned and getting it rectified, by going public they have given more publicity to the temple than the original inaugural news got.
This is not the only issue on which DMK Chief Minister and party chief M K Stalin has departed from the traditional ideological route taken by his late father M Karunanidhi. Because Karunanidhi had led the party for 49 long years, most practices of the DMK in his time came to be identified as a personal hallmark of the man.
It is not so in the case of Stalin. He is said to be quietly influenced by his wife Durga, especially on matters Hinduism, as different from political Hindutva. Durga Stalin was known to maintain a small puja on a wall cupboard when the couple lived in Karunanidhi's Gopalapuram home. The latter too did not shy away from acknowledging it.
Now in their own home in Alwarpet, south Chennai, not far from Karunanidhi's house, Durga Stalin has a huge puja room, designated and decorated as such. She has also taken viewers of a Tamil YouTube channel on a 'tour' of her puja room, explaining each of the figurine or photograph, how they came to her and what kind of puja she performs, either personally or gets it done by a priest, on a daily basis.
As coincidence would have it, news television channels zeroed in on a handful of Brahmin priests coming out of Karunanidhi's Gopalapuram residence on May 7 when Stalin was visiting to pay his respects to his mother Dayanidhi Ammal after being sworn in chief minister.
Pro-Hindutva social media groups sought to hype it as Stalin's 'dual face' on religion and Brahminism, as they had done in the case of Karunanidhi earlier -- but it did not seem to stick any more. Like Karunanidhi before him, Stalin too seemed to have drawn a line between his own personal beliefs and those of others in the family, beginning with his wife.
An equally meaningful and even more purposeful 'pro-Hindu' initiative of the Stalin government is Hindu Religious Affairs Minister P K Sekar Babu's ceaseless drive to recover temple lands in private possession across the state.
A lot needs to be done, given the inherited inadequacies, but Babu has begun well, by visiting various temples, almost on a daily basis, and taking over one property or other that belonged to the deity but not in the possession of his human care-takers.
Before Sekar Babu's time, then AIADMK chief minister Jayalalithaa adopted a name-and-shame initiative, by putting out a list of rent defaulters in the temples concerned but it did not work.
As minister, Sekar Babu quickly initiated the process of uploading temple property details and rent dues, often running into lakhs if not crores, on the department's Web site. He has also promised legal action for recovery of dues, from those including elite clubs, schools and others -- and also the recovery of said properties, many of which are in litigation for decades now.
Tamil Nadu temples have a long history, most of them dating back by at least a millennium. Kings and other patrons who built them left behind vast properties for maintenance, without having to depend on public contributions on a periodic basis.
In the famed Big Temple at Thanjavur, Rajaraja Chola, who built it, had the designations of various temple employees down to the last one, etched on an inside wall, along with their salaries.
Over time, many temples fell into disuse, but their properties remained in private hands, got sold and re-sold, or otherwise assigned and re-assigned, through centuries and generations.
In the last few decades, given the socio-economic changes in 'Dravidian' Tamil Nadu, priestly communities, both Brahmin and non-Brahmin, preferred sending their sons to professional courses and office/corporate jobs. This too has led to the closure of temples for want of a priest to perform daily pujas.
Against this overall background, the first Justice Party government that came to power in 1921, took over most temples with a history and historicity, and along with it, properties bestowed on them.
The Justice Party is considered the progenitor of the Dravidian socio-political movement, beginning with Periyar E V Ramaswamy's Dravida Kazhagam, followed by the breakaway DMK and later the AIADMK and Marumalarchi DMK, the latter even if only to a lesser extent, as time wore out.
Because Karunanidhi, both in power and out of it, continued to project a 'Periyar streak' in him off and on, some of EVR's ideology, especially those centred on religion, god and the Brahmin priestly class, got rubbed onto him even more.
Periyar escaped some of the attendant wrath by staying away from electoral politics. But Karunanidhi got an overdose of it as his became an even more familiar face, especially after Periyar's death in 1973.
With the judiciary from the Supreme Court downwards directing the return of temple administration to the community, the state government is bound to be in a legal quandary. It will be independent of whichever party or leader is in power.
But that is what political Hindutva is already using against the ruling DMK, though their voices have got drowned in the continuing 'voter honeymoon' with the new rulers.
First and foremost, most Tamil Nadu temples, unlike as often assumed, did not belong to any private owners at any time. They were built by the sovereign and their properties too were alienated by the sovereign. Hence, they should continue to be bestowed on the sovereign of our times -- which is what the state government is.
This is different from the case of vast properties owned by Christian denominations and Muslim communities across the state. In their case, local community groups either acquired those properties, or individuals alienated the same, in favour of a church, mosque or their management committees.
It is not that individuals did not confer lands on Hindu deities and temples, but then they were/are much lower when compared to those by sovereign rulers.
Hence, the question arises if a property thus passing on from one sovereign to another in a lineage of its own could be alienated in favour of a particular community group, starting with a board of trustees.
Anyway, experience has shown that public trust boards created by successive governments for the day-to-day supervision of the management by government officials, have not fared any better, in terms of credibility, honesty and transparency.
Yet, the DMK government cannot escape political Hindutva's flogging after the Karunanidhi dispensation once took over the famed Nataraja temple in Chidambaram, from the community of Podu Dikshitars, a Brahmin sub-sect. Aided by present-day BJP MP Subramanian Swamy, the Podu Dikshitars got the Supreme Court to strike down the temple takeover.
All this would continue to haunt the Stalin leadership on matters god, religion, temples and temple properties, especially as and when the voter-honeymoon begins fading away. Yet, there is no denying the fact, that the mainstay 'Dravidian' political identity has managed to wipe out much of its inherited imagery, as if to begin it all afresh.
Even without it all, the BJP is stuck with an average 2-3 per cent vote-share in the state, through the past decades. Despite multiple efforts and a multitude of opportunities, the party has not been able to better the electoral position, especially on its own.
Yet, the political Hindutva brigade in the state BJP and outside can still expect the Dravidian ruling class to provide them with more occasions and opportunities. In the latest one, the Tamil Nadu Textbook Corporation, a state government enterprise, has asked to remove caste tags that follow names in school books.
This will create a piquant situation, with sensitive political implications. The commonly cited example in the social media on day one was that of U Ve Swaminatha Iyer (1855-1942), popularly known as 'Tamizh Thatha' or the 'grand old man of Tamil'. Iyer travelled to interior villages, collected decaying palm leaf manuscripts that had long since gone out of fashion, and compiled and printed them, thus rediscovering some of ancient Tamil literary works that had been given up as lost.
By removing 'Iyer' from his name, the Textbook Corporation may be serving the Dravidian social justice cause, yes. But it also makes it all laughable, after a point.
It also happened when Karunanidhi as chief minister got caste identity removed from street names in the city.
Two sterling examples related to 'T T Krishnamachari Road', named after the former Union minister, taking the feminine gender as 'Krishnama Road', and that of a Justice Party founding leader, Dr Nair Road, becoming 'Doctor Road'.
But in the present case, there is greater sensitivity attaching to Forward Bloc leader 'Pasumpon' Muthuramalinga Thevar, whose Mukkulathore community followers may rise up in arms if the caste tag in his name is removed.
The Stalin government appointed popular humourist-educationist Dindigul I Lioni as chairman of the Textbook Corporation. If it caused eyebrows to raise, it also owed to his greater ideological identification with the DMK, more than most other contemporary leaders.
On his own, Lioni has embarrassed the leadership with his insensitive observations, which on occasions had left a bad taste.
For their part, silently though, the Hindutva brigade has been pointing to his Christian identity, as if it militated against the core of the larger Tamil being. Far from that. Yet, critics have not stopped implicitly linking Lioni's name to such other efforts by some self-styled Christian missionaries and even ordained priests to run down Hinduism, Hindu gods and practices, in their quest to popularise and propagate Christianity -- at times with an unwashed intent at proselytisation.
N Sathiya Moorthy, veteran journalist, political analyst and author, is Distinguished Fellow and Head-Chennai Initiative, Observer Research Foundation.