New Union minister L Murugan's declaration of Kongu Nadu as his native place, instead of Tamil Nadu, may be part of a grand BJP strategy to create new states out of existing ones, particularly those that have anti-BJP governments, mulls N Sathiya Moorthy.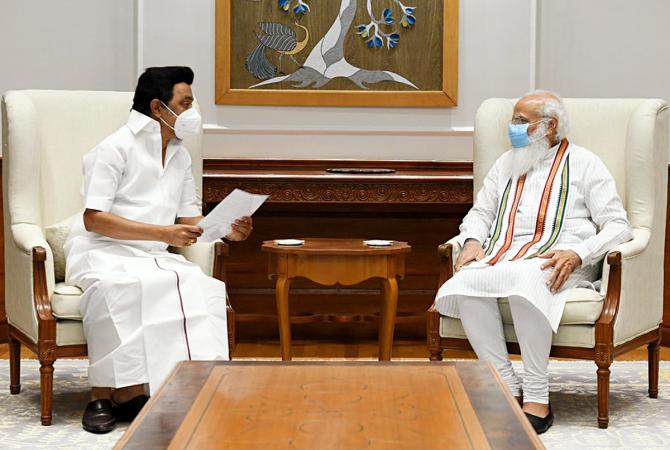 At a time when his Bharatiya Janata Party colleagues in the state unit have been targeting the ruling Dravida Munnetra Kazhagam for coining the Tamil word 'ondriya arasu', or 'Union government', to replace the commonly-used 'central government', the newly inducted minister of state in Team Modi has kickstarted a new controversy.
Through subsequent reactions of his party men and a section of the Tamil media, a vocal section of the state party has made it look as if Loganathan Murugan's was not an oversight.
Instead, the Murugan faux pas, which possibly was not, may be part of a grand BJP strategy at the national level, to create new states out of the existing ones.
From the immediate, post-poll Tamil Nadu context, it targets particularly those that have anti-BJP governments, or those that have made powers-that-be at the Centre, uncomfortable in recent months, if not years.
It began with Murugan's official biodata, released along with those others sworn in as ministers last week, mentioning his native place as 'Kongu Nadu', in the place of 'Tamil Nadu'. Tamil media supporters, more than critics, were the first to point it out, indicating that it was possibly not unintentional.
It caught up when the multi-edition Tamil daily Dinamalar carried a lead story a day later, suggesting that the 'Kongu Nadu' idea in minister Murugan's official bio was deliberate. It was a way for Modi to serve notice on the ruling DMK, for creating a new regional/federal identity through the coinage of the phrase 'ondriya arasu'.
The term Kongu Nadu refers to western Tamil Nadu, with 'cotton capital' Coimbatore as the centre. There are other industrialised districts like Tirupur and Salem, and farming districts like Erode and the Nilgris. The districts of Dharmapuri, Krishnagiri, Namakkal and Karur form part of what was historically known as 'Kongu mandalam', which translates now as Kongu zone or belt.
Citing history, already some supporters of a separate state of Kongu Nadu also add to the list parts or whole of Dindigul district and even Madurai district farther south. To them, parts of Palakkad district in Kerala and Karnataka's Charamarajnagar district too belong here.
These were areas originally forming part of the Chera kingdom. Ancient Tamils' famed seven lesser philanthropist-principalities and their rulers (kadai ezhu vallalgal) mostly belonged here.
With Murugan kickstarting it, there are suggestions that Kongu Nadu was an idea whose time may have come after all. The latter has since caught the imagination of supporters and opponents of the BJP alike.
Missing in the social media and public discourse through the past few days is the pro-BJP middle class elite. They do not seem to either relish the idea or are unsure/indifferent, or all of it put together.
The suggestion is that the Modi Centre is keen on creating new states across the country, to make administration people-friendly. The list, according to social media, includes West Bengal and Maharashtra, both ruled by anti-BJP parties or coalitions.
According to some from within the party, BJP stronghold Uttar Pradesh too may be included. That is because some people in the party echelons are not happy with the growth and acceptance level of Chief Minister Yogi Adityanath. They believe that Yogi may have already cast his eyes on the prime ministership, and that does not make some people in Delhi comfortable.
UP sends the largest contingent of 80 Lok Sabha MPs. In the past, when then BJP chief minister Kalyan Singh contributed to the party's national kitty by ensuring the victory of 50 MPs in the Lok Sabha polls of 1998 and 1998, within months happened his manipulated downsizing -- leading him to political obscurity.
While such ideas keep popping up now and again, significantly, this time it has followed in the footsteps of the BJP faring not as well as hoped for in the five-state assembly polls. That has already caused eyebrows to raise, as to the real motive.
The question is also now about the method, where pro-division BJP groups in Tamil Nadu are citing Article 3 of the Constitution which empowers the Centre to create new states out of existing states, after intimating them -- without consulting them.
The state BJP leadership, which has passed on to ex-Karnataka IPS retiree K Annamalai after Murugan's elevation, has maintained radio silence. But a district unit of the party has since passed a resolution, favouring a separate state of Kongu Nadu. Significantly, initial suggestions for a Union territory instead died down as fast as they erupted.
DMK MP Kanimozhi, state Congress President K S Azhagiri, MDMK's Vaiko and leaders of the CPI and CPI-M have all variously poohpoohed the suggestion. Some of them have said that it was not on, while others have added that the people of Tamil Nadu would not accept dividing the state.
They may have a point. Kongu Nadu is not the first demand of its kind in recent years. Vanniar-strong PMK founder Dr S Ramadoss, has for long been demanding a north-south division, and two states thus.
Whether or not it would have had takers, Ramadoss's suggestion that a 'northern state' should be carved out along caste lines, and indicating that Vanniar voters had a decisive electoral say in 105 of the 234 assembly constituencies washed away his arguments such as 'making administration available at doorsteps'.
Interestingly, close to a week after the Kongu Nadu row erupted, neither Ramadoss nor any other PMK leader has come up with the party's views on the subject. Looks as if they are waiting to study the real mood and intention, if any, of the BJP ally at the Centre. It is also because some of the districts/areas like Salem, Dharmapuri and Krishnagiri, which are now being linked to the idea of a Kongu Nadu, overlaps with Ramadoss's 'northern state' concept.
If it catches up, the idea of a Kongu Nadu state is sure to trigger similar demands from other parts of Tamil Nadu, where geographical regions are identified with one dominant caste or the other. Thus, it is Vanniars in the north, Vellala Gounder in the west, Mukkulathore in south-central, and Nadars deep south.
Already, social media has been coming up with maps, redrawing the current Tamil Nadu boundaries, both within and adjoining states under the Indian Union, to recreate the ancient kingdoms of Cheras, Cholas, Pandyas and Pallavas.
If left unchecked, this is sure to feed further imagination for individual communities to go on demanding the recreation of such other kingdoms, principalities, including those under poligars (palayakkarars) and zamindars, as existed from ancient times to the exit of the British Raj first -- and zamindaris, later.
Otherwise, too, Kongu Nadu is dominated by the status-conscious Vellala Gounder community, which own most industries, fam lands and tea estates in the region. The Dalit-Arunthathiyar sub-sect forming subaltern, farm labour class is often associated with 'bonded labour' inside the region and outside the state. Murugan has gone on to become a PhD in law, and now a Union minister.
Thus, beginning with the naming/renaming of a new state in and out of the region, to a land identified with other and individual communities could become the next natural step. It may be particularly so in the Nilgris, where multiple tribal communities follow their individual social laws and custom without upsetting the Constitutional equilibrium.
In neighbouring Karnataka, the dominant tribal community in hilly Kodagu district (earlier Coorg) has been demanding a separate state, with history to back them. The British annexed Coorg in 1834, and it merged with the linguistic state of Mysore (now Karnataka) only in 1956.
Should the Centre think and talk about forming smaller states, it could trigger the revival of Kodagu demands -- and with that fresh ones in other Western Ghats tribal communities, as in Tamil Nadu and Kerala in the immediately neighbourhood.
A greater concern should be about the demand for a Kongu Nadu state reviving such other demands for a separate 'Dravida Nadu'. At formation in 1949, the DMK had inherited the demand from the Dravida Kazagham parent of 'Periyar' E V Ramaswami.
Unlike often assumed, the DMK gave up the demand in 1960 after seeing how post-Independence 'Constitutional nationalism' could help erase remnants of 'cultural nationalism' that they had identified with 'Brahminical dominance', and achieve the party's 'social justice' goals without it having to fight for a 'separate nation'.
Unlike often propagated, they did not fear the Defence of India Rules, which was proclaimed only two years later, at the height of the Chinese aggression -- and gave up the 'separate state' demand.
Thus, the Kongu Nadu demand, whether being projected as a political antidote to the DMK government's overnight adoption of the 'ondriya arasu' coinage or not, it can now open a Pandora's box, whether or not the former has the Centre's blessings.
Already, both BJP and DMK cadres point to the latter not making it big in the western region ever since the late M G Ramachandran broke away to found the AIADMK as far back as 1972.
But the BJP supporters of Kongu Nadu demand often seem to have forgotten even otherwise that their AIADMK electoral ally alone is strong in the western region -- and not necessarily their party.
To be fair enough, the BJP may come a distant third after the DMK, but that need not mean anything in a three-cornered contest for electoral power in a new state, if at all it came to that.
The question of the BJP eating up the AIADMK does not arise anytime soon, after two elections in a row (2019 and 2021) have shown that the party has survived the loss of Jayalalithaa's charisma following her death in December 2016.
The current situation is that the BJP continues to require the AIADMK even more in the state than earlier in purely electoral terms, and not otherwise.
Should the BJP still send out such signals, then the AIADMK may be forced to conclude that the national ally had not given up hopes of dominating state politics at their cost. More importantly, with the Gounder community led by former chief minister Edappadi K Palaniswami dominating the post-poll AIADMK legislative party narratives, any idea that he might become chief minister of a separate state could well be used against him -- leading to a vertical split in the party even before a new state was born.
Leading such a split, of course, would be AIADMK coordinator and three-time chief minister O Panneerselvam, from within, and jailed ex-Jaya aide Sasikala Natarajan, a fellow Mukkulathore community leader who is still feeling the waters for a mega re-entry.
Keeping to themselves and keeping the party intact, the ruling DMK could see its acceptance and popularity levels growing, without they having to do anything about it.
It may not be to be linking of the BJP's national-level strategists, when they look at the evolving scenario a decade down the line, if a Kongu Nadu state were to be granted soon.
More importantly, if critics are able to paint the BJP as the 'separatist' group in the state, one of their main planks centred on a 'separate Dravida Nadu' demand from generations-old past, may not wash any more.
At the same time, it could well have fuelled the revival of such a demand, the Modi government having come to be identified as 'anti-Tamil' in its policy and administrative spheres through the past seven years. That again is not on, from a party perspective.
Then, there is another catch for the BJP when it comes to Tamil Nadu and Kongu Nadu. Congress veteran P Chidambaram, as slain prime minister Rajiv Gandhi's internal security minister and one-time interlocutor in Sri Lankan ethnic issue, reportedly had an intelligent advice for the Tamil leadership in that country who wanted the merger of the Northern and Eastern province, to create one wholesome Tamil province: 'Take it or leave it,' Chidambaram told them, 'but consider this as well. With two separate provinces, you will have two Tamil chief ministers, in the place of one.'
Translated to contemporary Tamil Nadu context, with a Kongu Nadu or whatever more may be added to the list, there will be one more 'Dravidian chief minister', if not more -- and not less for those like the BJP and central governments led by such parties to grapple with, politically, electorally and administratively.
N Sathiya Moorthy, veteran journalist, political analyst and author, is Distinguished Fellow and Head-Chennai Initiative, Observer Research Foundation.