Sasikala's declaration of staying away from politics does not necessarily have to mean that she was retiring for good. She is only taking time to evaluate her post-poll chances before digging in again, if possible, says N Sathiya Moorthy.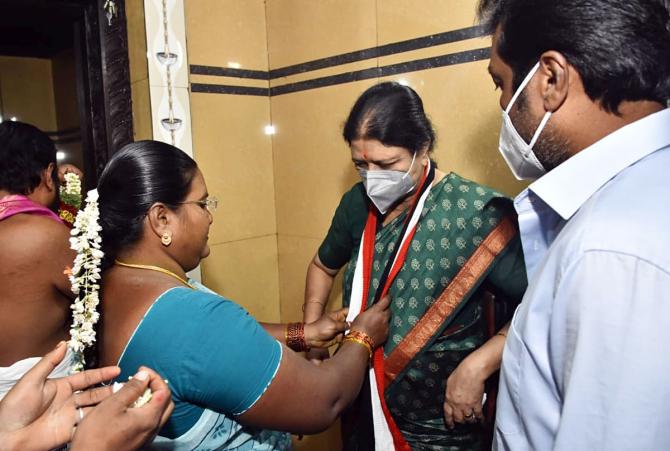 At the end of the day, it has all boiled down to semantics. What does V K Sasikala Natarajan, the live-in confidante of late Tamil Nadu's All India Anna Dravida Munnetra Kazhagam chief minister Jayalalithaa, mean when she said that she has opted to 'stay away' from politics and work for the return of the 'golden rule of Amma'?
Is she retiring from active politics, or is she going to extend the four-year respite in a Bengaluru prison, and take a call weeks from now, that is, after the state assembly polls of April 6?
Sasikala's decision was written into the script from the very moment her freedom from prison in January became a sure thing. She issued a two-page, untitled statement late on Wednesday, stating that she had hoped for all followers of 'Amma' Jayalalithaa to work together to defeat common enemy Dravida Munnetra Kazhagam in the polls. That not having happened, she was staying away, praying to Amma and to god -- in that order -- to make her hope come true.
It is a clear indication to the AIADMK under Chief Minister Edappadi K Palaniswami (EPS) and Deputy Chief Minister O Panneerselvam (OPS), respectively, the joint coordinator and coordinator of the party, putting their foot down on not re-inducting her, after having struck out the same from party rolls when she was in prison serving the court-ordered sentence, also in the name of mentor Jayalalithaa, for what primarily was a crime committed by the latter.
It also lends credence to media claims that the ruling Bharatiya Janata Party ally of the AIADMK at the Centre wants Sasikala and Co accommodated for them to win the assembly polls comfortably. It is learnt that some internal studies by the BJP at the higher levels had led them to conclude that without Sasikala and Co's vote-share contribution, the alliance may face sure-defeat once again, after the Lok Sabha polls of 2019 in the state.
In the Lok Sabha polls, the Sasi-centric Amma Makkal Munnetra Kazhagam (AMMK), led by her nephew and one-time Jaya confidant T T V Dhinakaran, had polled a substantial 5.5 per cent votes, contesting all 39 parliamentary seats. Translated, the party had polled even more substantially in at least 30 assembly segments, in the southern districts, whether there larger Mukkulathore community has a strong presence in every which way.
If the AMMK votes did not matter to the psephologist at the time, it owed to the massive victory margins for the DMK-Congress combine, in all but one of the 38 constituencies that they had won in a total of 39. Neither the AMMK's 5.5-per cent vote-share, nor the same figure posted by the Pattali Makkal Katchi, now signed up with the AIADMK-BJP combine, mattered. But not in an assembly election, given the 41-40 per cent vote-share margin between the victorious AIADMK combine and the rival DMK-Congress alliance in the previous assembly polls of 2016.
As the pitamah of the BJP's twin LS poll victories of 2014 and 2019, with Narendra Modi at the centre of it all, Union Home Minister Amit Shah seemed to have concluded, and rightly so, that every vote counts in an assembly poll, especially in 'Dravidian' Tamil Nadu this time -- and that his job was to make every vote count.
By letting the idea of working through the BJP and letting the latter have an upper-hand in the poll negotiations, Sasikala seemed to have ensured that she did not invite the Centre's wrath. The latter could cause the reopening of pending cases against her, some of which found sudden new life in the last weeks of her imprisonment. She has also ensured that she is more dependable than the EPS-OPS duo for the BJP in the future.
With no chance of being able to contest the current polls, or even the next Lok Sabha polls in 2024, thanks to the six-year legal bar on her from contesting after release from prison, Sasikala is in no hurry to rush through, now or possibly later. Even for a by-election contest, she would have to wait until after January 2027, when the bar ends. She would be 72 by then, and for a diabetic that is saying a lot in terms of campaign strains.
Going by perceptions over superstar Rajinikanth's decision not to enter the electoral fray this time as promised -- and he cited his kidney condition and the Covid environment -- Sasikala too knows that the 'Dravidian' voters would not want to experiment with a newcomer at such an advanced age in direct electoral politics.
Also, should the AIADMK lose power, the 'Modi factor' would be among the major causes, as in the LS polls of 2019. Sasi should by then be seen as being away from the BJP if she has to capture the Dravidian political imagination.
The experience of BJP's allies in other states also seems to have influenced her -- that beginning as a junior, nondescript ally, the BJP, especially under the Modi-Shah duo, has parasite-like political hunger to eat into the vitals of the main body facilitating its presence in the first place. Sasi would not want to begin with such a premise, having to look all the time at her own back -- if at all she is able to make it.
Sasikala's declaration of staying away from politics does not necessarily have to mean that she was retiring for good. She is only taking time to evaluate her post-poll chances before digging in again, if possible. Else, fade into self-imposed insignificance, else a post-poll government, especially of AIADMK's EPS would go after her, landing her in avoidable legal hassles at an advancing age.
Tamil Nadu's prisons too may not be as charitable as those in Karnataka, leave alone the controversies centred on alleged freedom for her to visit shopping malls, etc, in the early days of her imprisonment at the Parappanahara Agraharam prison in Bengaluru.
But her aim seems to be otherwise. If her staying away now would help AMMK under Dhinakaran to slice off as many AIADMK votes as possible, it's fine by her. If that in turn cause the AIADMK to lose power, she would not unwelcome it. Needless to say, it would be at the cost of deputy CM OPS's common, southern Mukkulathore stronghold. She could then hope to try and capture the parent AIADMK from outside, and have her sweet revenge on both OPS and EPS, not necessarily in that order.
A formal merger of the AMMK in the AIADMK would then only be a formality, and so will be the re-admittance of Dhinakaran and others, who were expelled by Jaya in her time, never to take them back.
Jaya had sacked Sasikala, too, but reinstated her after obtaining a tearful apology, to which she gave due publicity. Though the party general council purportedly elected Sasi as general secretary, a position held by Jaya in her time, after her imprisonment, the OPS-EPS camp has contested her elevation on two grounds. One, under the party constitution, drafted by founder MGR, the general secretary has to be elected directly by all primary members.
MGR and successor Jayalalithaa ensured as much by seeing to it that there was no competition, and that they got elected, time and again, through voice-vote in a party conference, called mainly for the purpose. In between, MGR also had fun by getting the late V R Nedunchezhiyan, P U Shanmugam and S Raghavanandam, elected to the post, likewise. In acceptance speeches across the state afterward, Raghavanandam especially declared that his only qualification for the post was the fact of his fighting in cinema-hall queues, to watch MGR's latest offering, first day, first show.
Two, detractors point out that for holding any party post, one should have completed five years as a member. In Sasikala's case, she had not reportedly done so after being readmitted into the party. Considering that in AIADMK, both under MGR and Jayalalithaa, press statements of sacking of the kind was not always accompanied by the said names actually struck down from the membership register, it's likely that Sasi's name was never ever removed in the first place. It is still a contestable proposition.
Anyway, the AIADMK under the OPS-EPS combo had removed Sasi even as a primary member, and have argued that she thus cannot claim to be the general secretary. At one stage, they all had competed with one another to be seen as being instrumental in making Sasi the party general secretary after Jaya's exit. That was when each one of them fell at her feet, and before video cameras, to prove their loyalty, taking with them the general council resolution, unanimously naming her for the post, and pleading with her to concede the party's appeal. As a seasoned individual since, Sasikala now knows the different shades of loyalty.
From prison, Sasikala had contested the claims against her removal as general secretary. The case was pending before a lower court in Chennai. Since release from prison, she has urged the court for an early hearing. This would entail that she stuck to her self-claimed image of being in the AIADMK, and not identify necessarily with the AMMK by joining the latter's poll campaign.
At the end of the day, optics matter, and if the AIADMK were to lose power because she campaigned against the party, leave aside what the courts may rule, the cadres are not going to like it!
N Sathiya Moorthy, veteran journalist, political analyst and author, is Head-Chennai Initiative, Observer Research Foundation.