Weeks ahead of the Tamil Nadu assembly elections, V K Sasikala, expelled All India Anna Dravida Munnetra Kazhagam leader and close aide of late chief minister J Jayalalithaa, on Wednesday announced that "she will stay away from politics," but would pray for the "golden rule" of the late party supremo.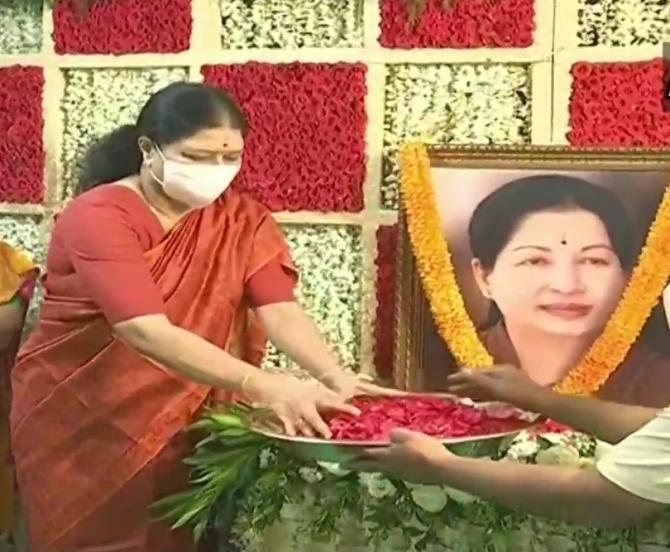 In an announcement that came as a bolt out of the blue, she urged "true supporters of Amma" to work like siblings and ensure Jayalalithaa's "golden rule continues."
"I will stay away from politics and keep praying my sister Puratchi Thalaivi (Jayalalithaa), whom I consider as God, and the Lord Almighty for the establishment of the golden rule of Amma," she said in a statement.
She appealed to Jayalalithaa's "true supporters" to work unitedly in the April 6 elections and prevent "common enemy", DMK, identified as "evil force" by the late chief minister, from coming to power.
After being released from a Bengaluru prison following completion of a four-year term in an assets case, Sasikala had last month announced her intention to engage in active politics.
Her subsequent political moves, including the stand of the AMMK floated by her nephew TTV Dhinakaran, in the polls was keenly awaited by observers and political parties alike in the state especially in the context of the crucial assembly elections.
This is the text of her letter in Tamil:
'As per the thinking of my elder sister Puratchi Selvi Jayalalithaa who I forever pray to, she had said that the golden rule of Puratchi Thalaivar MGR and hers must continue in Tamil Nadu for more than a hundred years, for which the children of one mother, Amma's true followers, must together fight the coming elections with unity.
'Amma's followers must remember that she had pinpointed the common enemy DMK as evil and be smart enough to prevent it from coming from power and work to establish Amma's golden rule.
'Those of Amma's true followers who cared for me and showed affection, and to those with good thoughts, my heart-felt thanks.
'Just as I was Amma's sister to implement her thoughts when she was alive, I am the same after her demise.
'I have never craved power, position or authority. I will always be grateful to Puratchi Thalaivi's dear followers and the Tamil people.
'I am leaving politics and will forever pray to god and my elder sister Puratchi Thalaivi that Amma's golden rule is formed once again.'
ANI Adds:
The AIADMK has so far ruled out accommodating her or her nephew TTV Dhinakaran-led Amma Makkal Munnetra Kazhagam in the party or in the alliance led by it.
The development comes a month ahead of the assembly elections in Tamil Nadu on April 6.
Sasikala had been staying at her niece J Krishnapriya's residence in Chennai's T Nagar area after returning to the city in February following the completion of her four-year prison sentence in a disproportionate assets case.
The former AIADMK leader was discharged on January 31 from Bengaluru's Victoria hospital where she was undergoing Covid-19 treatment. She was officially released from judicial custody on January 27 after completing her four-year prison sentence in a disproportionate assets case.
In 2019, the income tax department had attached properties worth Rs 1,600 crores belonging to her under the provisions of the Benami Transactions (Prohibition) Act.
After the demise of Jayalalithaa in December 2016, Sasikala was elected general secretary of the AIADMK. She had handed over the control of the party to nephew Dhinakaran after being convicted in the disproportionate assets case in February 2017.
Edappadi Palaniswami was made chief minister with her backing but Sasikala was removed after rival faction led by O Panneerselvam, who had rebelled against Sasikala, merged with the Palaniswami faction. Both Sasikala and Dhinakaran were removed from the party in September 2017.