'Surprised by the absence of any sloganeering or even mild protest in an ambience so free and self-regulated, I asked a friend from Delhi whether he too, with sharp political antenna, was surprised at how smooth and easy going everything was,' notes Ambassador B S Prakash.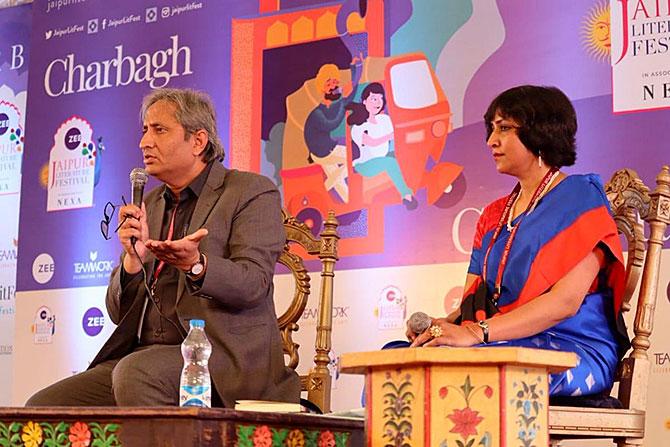 "If you are a woman -- a writer, an artist, a professional, and if you are ever in a situation worrying about whether you should hitch up with the handsome guy you have met, manage the work-life balance, or, a big OR, not do that -- shrug him off -- I have one word of advice," said the attractive middle-aged woman on the podium. "Do not!" she said with great emphasis.
There was a gasp, followed by cheering and applause. The festive, joyous and rebellious spirit around me went one notch further up.
"You nailed it, Elizabeth," said a serious professorial looking lady sitting beside me.
Have you guessed the venue? Yes, it was the first day of the JLF, an abbreviation that the Jaipur Literary Festival, now in its second decade has acquired. The speaker was the feisty Elizabeth Gilbert of Eat Pray Love fame (Julia Roberts played her in the movie), sparkling on stage with a joke or a wisecrack a minute, and at the same time, advocating a version of have-fun feminism.
Enlightened and at the same time entertained by Elizabeth, first thing in the first morning, I came out of the main tent. What a breathtaking spectacle.
The clean Jaipur air itself was like a tonic for me after polluted Delhi. The mild fog had lifted and the sun was peeping out.
The vibrant colours in the venue: The tents and the floral decorations, the buntings and the non-political banners, the rich array of multi-hued silk scarves and elaborate shawls -- all the colours of the rainbow were on display.
The sights were competing with the already floating aromas of aloo-tikkis and onion kachoris. Every sense in my being was quivering with delight and anticipation.
Am I becoming a poet too, I wondered with some alarm.
No, no, I am too old, too dry, and too much of a cynical retired bureaucrat to be swept off by such literary illusions -- or is it allusions, I told myself.
The onion kachori stand was overwhelming in its appeal. The snacks can wait, me and my friend decided. We must feed our mind and soul, whatever that means.
What next? We looked at the programme for the festival and were befuddled by the plethora of choices.
Here, under the tent called 'Durbar' was a session on post-modern novels, or was it post-structural?
On the opposite side at 'Samvad' was a panel on 'Indian identity -- singular, plural or universal' and already an anxious audience waited.
In a quiet area called 'Mughal', an exploration unfolded on Akbar and Dara, and on who would have been a better emperor, with no less than William Dalrymple holding forth with two teens, too young to be labelled as eminent historians!
The vast corpus of mythological, classical or plain historical texts was being dissected at a fourth venue. Shouldn't I educate myself about our ancient roots? But, wait a minute.
I saw the eternally sprightly Shobha De in her ever so stylish clothes getting ready to talk about the era of Rajesh Khanna and Dimple. Who can miss that?
All this is just what I remember from the first day. Four more days of such treats and a total of over two hundred sessions with writers from five continents and ideas to capture every spectrum. Not for nothing is the JLF billed as the world's largest literary festival.
In terms of footfall, authors, books launched, gol-guppas consumed; it is certainly the zaniest.
As we settled down after the celebrity sightings and some compulsive shopping, there were weightier issues to absorb, though who is to tell what is weightier for whom -- one of the lessons, I learnt.
The ubiquitous Abhijit Banerjee and his wife Esther Duflo, Nobel Prize winners, were the biggest names, but were being their modest selves.
Some whizkids held forth on new age technologies, the buzz words of artificial intelligence, big data, eugenics, genomes and what not.
If some looked at distant future, their counterparts looked at the remote past, the three eras in Istanbul for instance, from the Byzantine to the Ottoman.
It was humbling to realise how much is researched and written. It is painful to think of how little is read!
One of the phrases that I picked up while wandering through what seemed like a management talk (I did not linger too much) was 'take away'. That author seemed to be emphasising that at the end of every experience or encounter, you must identify for yourself what you have learnt or 'taken away'.
I am temperamentally not enthused by the sentiment. Nevertheless, what are my broad take aways from JLF?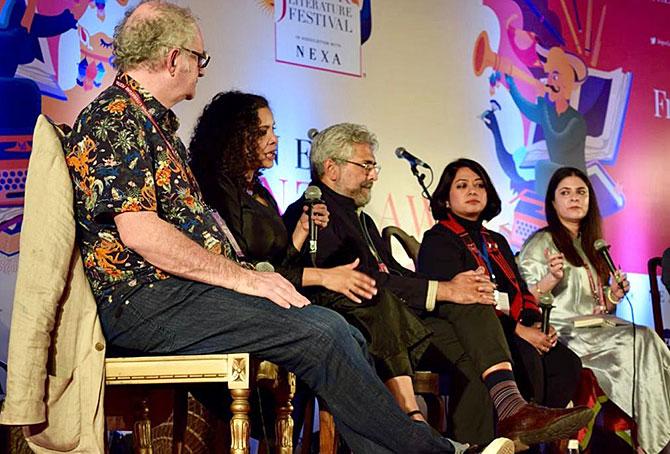 To begin with, 'voices' or 'narratives', if you prefer, and a plurality of them are a source of joy and wonder.
The voices in Jaipur, some literary, some academic, some pedantic, others exuberant, transcending genders and the transgender, young and old, leftist and conservative -- whatever they mean, were at the root of making it a festival rather than a conference.
It was stimulating, to say the least. There were differing perspectives on everything, history, philosophy, economy, though not so much among the literary types who believed that each experience and opinion had its own legitimacy and should find expression.
It was refreshing for me, used to geo-strategic and geo-economic discussions to see the respect and affection given to 'minor or peripheral' issues and people. Young writers were excited and exciting. So were, others writing from their oppressed or disadvantaged positions.
Revisionist history was a rage. To be unconventional in dress, thought, and manners was conventional.
I am avoiding the temptation to draw larger political inferences. Surprised by the absence of any sloganeering or even mild protest in an ambience so free and self-regulated, I asked a friend from Delhi who I bumped into whether he too, with sharp political antenna, was surprised at how smooth and easy going everything was.
"You have to understand what is being said here before objecting to it," he commented, wisely.
B S Prakash is a former Ambassador and a long-standing Rediff columnist.
You can read Ambassador Prakash's earlier columns here.