In the shock after Nathuram Godse murdered Mahatma Gandhi that January evening 72 years ago today, a young American diplomat rushed to capture the assassin.
Vaihayasi Pande Daniel traces the memorable life of Herbert Reiner, who History has sadly relegated to a footnote.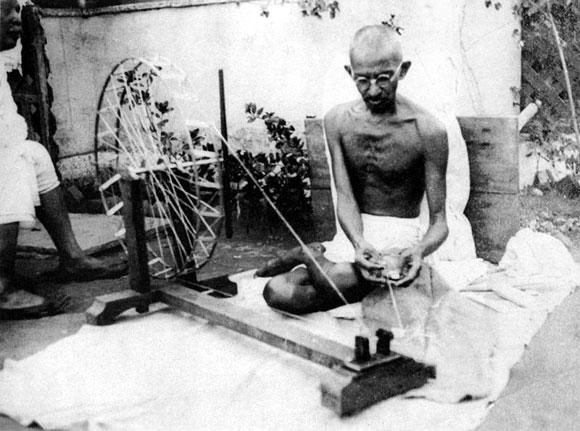 Herbert Reiner would have just turned 31 when he reached New Delhi in September 1947 to start his first diplomatic posting as a disbursing officer, at the rank of a vice consul, at the newly opened US embassy there.
Delhi was going through turbulent times post-Independence as the young country struggled to establish itself.
Violence racked the city. Post Partition refugees were pouring into Delhi. Some were Hindus and Sikhs getting off daily trains from Pakistan. Others were Muslims waiting to get to Pakistan. Rioting had reached a height in September that year.
Reiner, born in Vermont but raised and schooled in Massachusetts, was a World War II veteran who had served with the US navy, was excited to be in India.
He hoped to get a glimpse of one of the greatest men alive -- Mahatma Gandhi.
Gandhi was camped in Delhi through a lot of late 1947 as he worked strenuously and valiantly to quell Hindu-Muslim riots.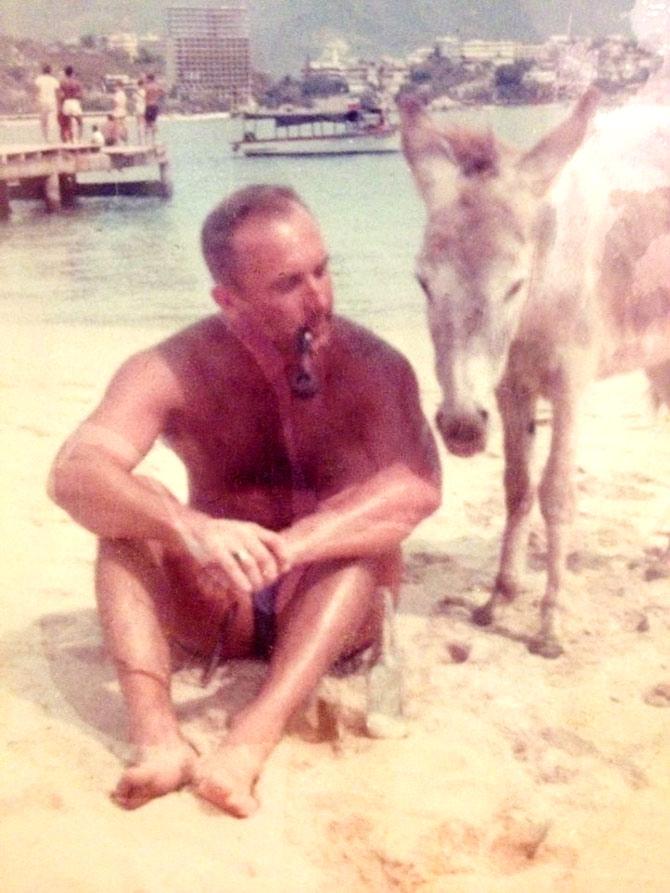 In late 1947 and early 1948 Gandhi was living in two rooms at the sprawling Birla House (he lived there 144 days, the last days of his life), south of Connaught Place on Albuquerque Road (today Tees January Marg)
Reiner wrote to his mother that he planned to attend one of the well-attended prayer meetings Gandhi conducted and finally see the famous leader.
At Gandhi's celebrated interfaith meetings, prayers/songs of all religions were said and sung. And he used these occasions to air his thoughts.
As the rioting increased, especially in Punjab and Delhi in January 1948, Hindu protestors often tried to disrupt Gandhi's prayer meetings.
A bunch of men arrived one day outside Birla House and shouted 'Let Gandhi die'. India's first prime minister Jawaharlal Nehru, as well as Sardar Vallabhbhai Patel, happened to be visiting that day and ran out to confront the men with: 'How dare you say that? Come and kill me first'.**
It was at one of these meetings that Gandhi said, after Partition had become a reality: 'Geographically we may have been divided. But so long as hearts too have not been divided, we must not weep', adding later when Pakistan and India were two different countries 'If I have to go to the Punjab, I am not going to ask for a passport. And I shall go to Sind also without a passport and I shall go on walking. Nobody can stop me'.
A prayer meeting was scheduled for 5 pm on January 30, 1948 on the back lawns of Birla House.
Reiner decided to finally attend this one, showing up 15 minutes before, joining a small crowd of, according to Reiner, 'schoolboys, girls, sweepers, members of the armed services, businessmen, sadhus, holymen, and even vendors displaying pictures of Bapu'.*
As five o'clock approached, the crowd had grown to several hundred and Gandhi, 78, could be spied, running ten minutes late, approaching slowly along the path, supported by his niece Manuben and adopted daughter Abha (Chatterjee).
He was still recovering from his last debilitating fast of five days made for Hindu-Muslim harmony, that he broke on January 18.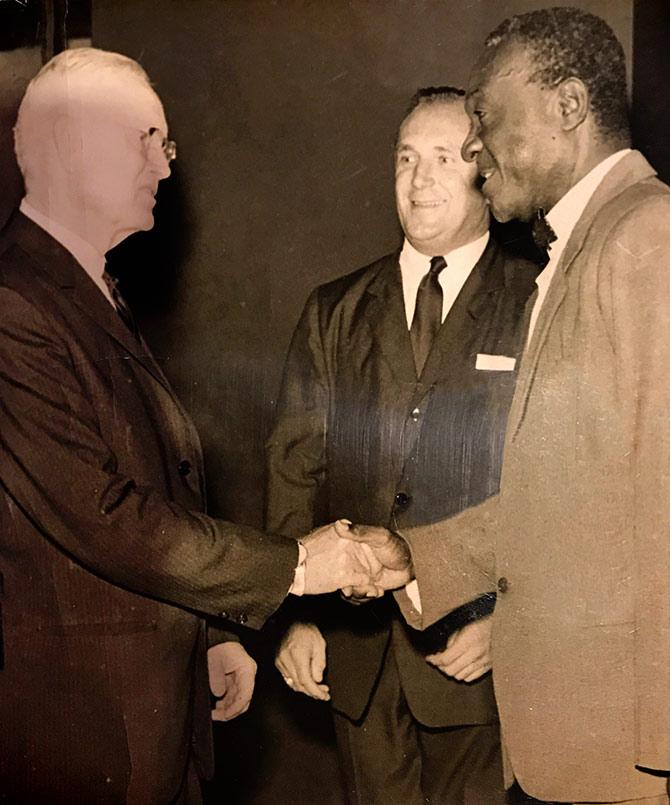 Reiner moved closer to the raised platform in the centre of the lawns to get a better glimpse. He said: 'An impulse to see more, and at a closer range, of this Indian leader impelled me to move away from the group in which I had been standing to the edge of the terrace steps'.*
He noticed an unidentified man rudely shout out to Gandhi saying 'Gandhiji you are late'.
That momentarily slowed Gandhi further, who paused to give him an irritated glance and he moved ahead passing Reiner, and climbed the few steps to the dais when a well-built, short man in a khaki tunic suddenly emerged from the throng into Gandhi's path.
He fired three shots from a Beretta at him and Gandhi crumpled, felled to death. It was 5.17 pm.
Reiner could not see the pistol, but heard the string of shots and thought it was celebratory firecrackers.
The crowd was paralysed in horror as a tall, well-built, man darted forward and caught hold of the assassin by his shoulders and handed him over to the security personnel present. The public began to punch the murderer before he was taken away.
The assassin was Nathuram Godse, a high school dropout from Pune.
The captor was Herbert Thomas Reiner Jr.
Recalled Reiner, who believed Godse was momentarily shocked at how easy it had been to carry out his task: '(Godse) stood nearly motionless with a small Beretta dangling in his right hand and to my knowledge made no attempt to escape or to take his own fire...'
'Moving toward Godse I extended my right arm in an attempt to seize his gun, but in doing so grasped his right shoulder in a manner that spun him into the hands of Royal Indian Air Force men, also spectators, who disarmed him.'
'I then fastened a firm grasp on his neck and shoulders until other military and police took him into custody'.*
Robert Stimson of the BBC reported: 'For a few seconds no one could believe what had happened; everyone seemed dazed and numb. And then a young American who had come for prayers rushed forward and seized the shoulders of the man in the khaki coat. That broke the spell...'
'Half a dozen people stooped to lift Gandhi. Others hurled themselves upon the attacker. ... He was overpowered and taken away.'
Robert Trumbull of The New York Times, describing the events of that fateful evening, wrote: 'The assassin was seized by Tom Reiner of Lancaster, Mass, a vice consul attached to the American embassy and a recent arrival in India...'
'Mr Reiner grasped the assailant by the shoulders and shoved him toward several police guards. Only then did the crowd begin to grasp what had happened and a forest of fists belabored the assassin.'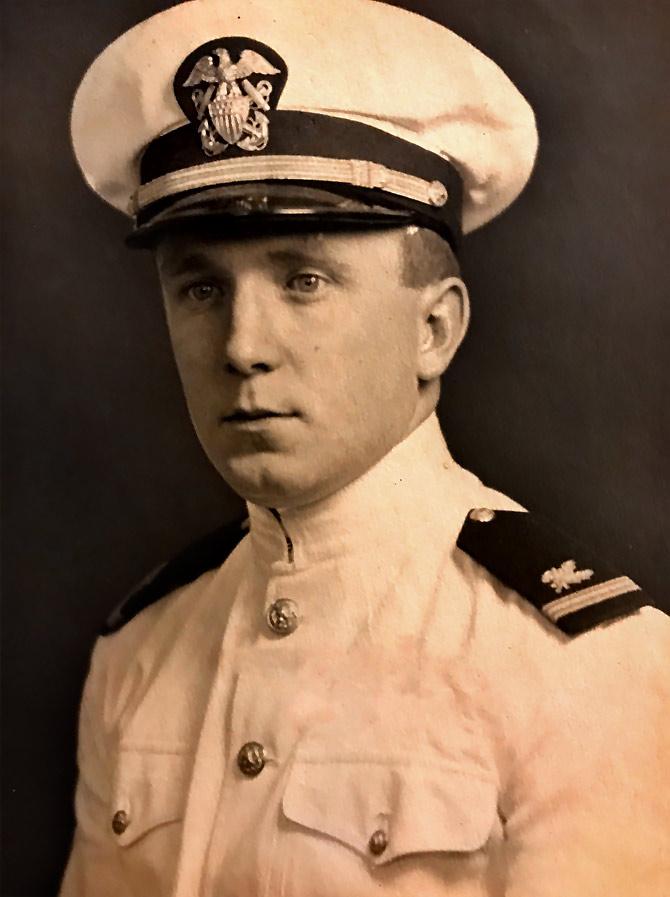 India was plunged into grief.
'The light has gone out of our lives and there is darkness everywhere... Our light has gone out, but the light that shone in this country was no ordinary light. For a thousand years that light will be seen in this country and the world will see it,' Nehru said.
In the coverage of Gandhi's killing in newspapers across the world Reiner's capture of Gandhi's assassin made front page news too.
In 1949, Godse was hanged in Ambala jail, after pleas for mercy filed by Gandhi's sons were turned down by Nehru, Patel and India's then governor general Chakravarti Rajagopalachari.
That was the year Reiner left India for Korea.
Reiner went on to have an eventful and successful career in the US foreign services and was posted to Hungary, Korea, Sierra Leone, Liberia and South Africa with his stint in Johannesburg being, according his family, his most historic one.
But those few moments when he made history were not to be forgotten.
For Reiner's 10 surviving nieces and nephews -- he never married -- their Uncle Tom was always a hero and was remembered as the American who caught Gandhi's killer.
---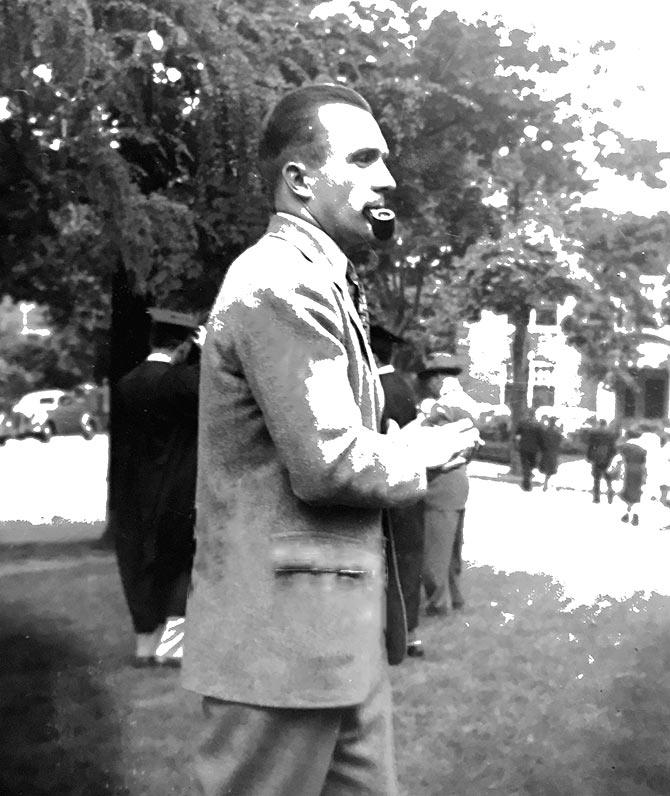 Rediff.com tracked down two of his nephews and one of his nieces and spoke to them on e-mail about their uncle:
Eric Reiner recalls: "I did have the opportunity of talking with Uncle Tom, one-on-one about this incident when I was about 10 years old.
"In Uncle Tom and my conversation, he, humbly made the story sound quite non dramatic. He told me that when he realised what had happened, and saw that no one was doing anything to respond and as he thought that the killer could escape, he went and grabbed and held the man until he was able to turn the killer over into the custody of the police.
"I had hoped for a much more exciting story, but still I realised that moving towards and grabbing a man who had just killed someone with a gun takes uncommon courage.
"But this courage proved to be no fluke. Tom had the opportunity to show his courage yet again about three years later as a US foreign service agent manning a communication post near the southern tip of South Korea.
"At this time North Korean troops had over run American positions and American GIs were in full retreat and trying to regroup before being pushed off the tip of Korea into the sea.
"As the communication post was likely to be overrun, it was ordered evacuated, but Tom did not evacuate. He stayed on and operated the communicationcentre himself, putting saving the lives of the many retreating American soldiers above saving his own."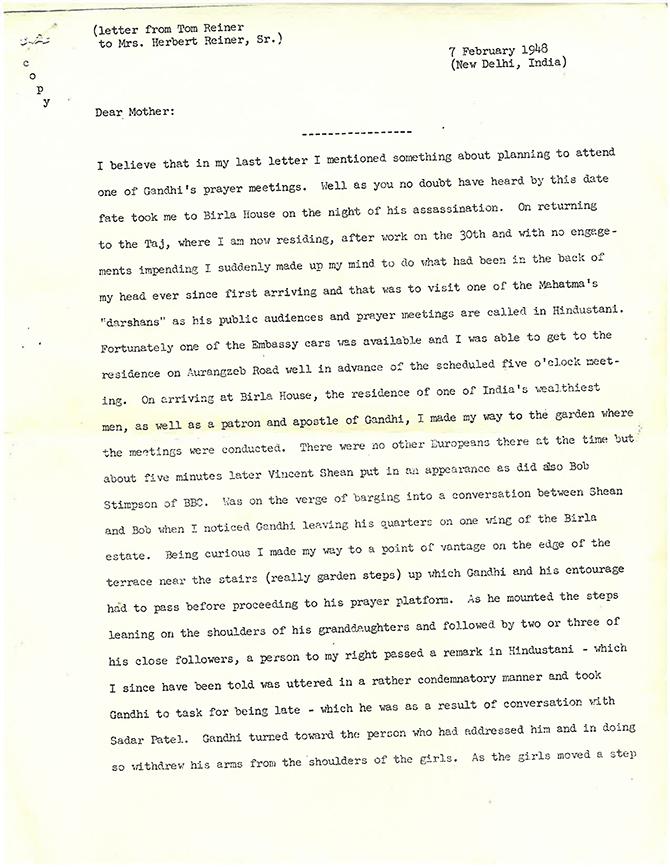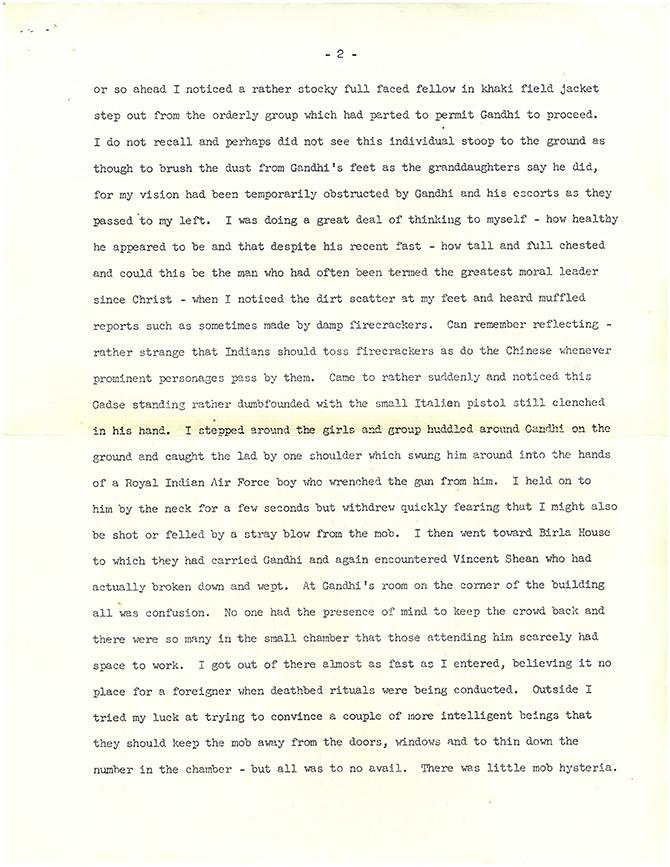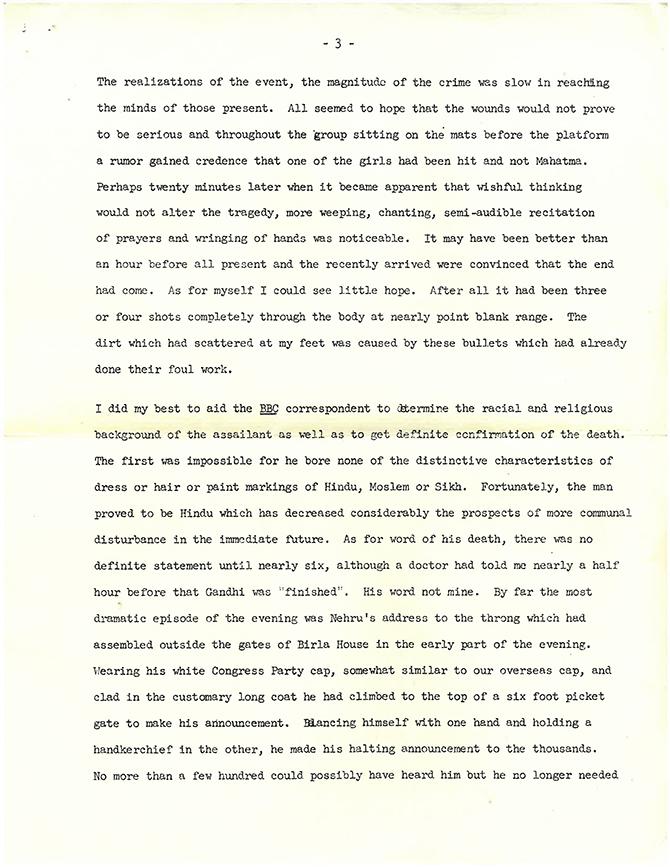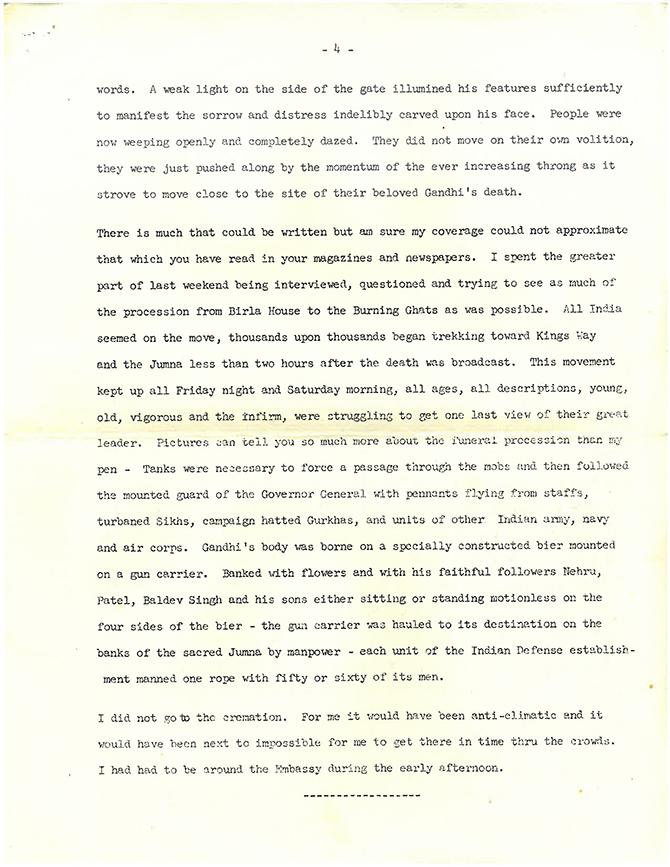 Nephew Edward Reiner remembers: "Uncle Tom was greatly admired by all of us when he made it home to Massachusetts.
"We paid close attention in conversation to all his thoughts and assessments. He smoked a pipe, was serious, dignified, and intellectual -- a career diplomat, a highly respected 30 years plus veteran of the foreign service.
"Like Gandhi, he served in South Africa. Probably the high point of his career was his post as consul general in Johannesburg. It is my undocumented belief that he was engaged in closed door meetings with those actively pursuing an end to apartheid."
Edward Reiner felt his uncle, perhaps influenced by Gandhi, had played a constructive role in South Africa as a consul general.
"I know my Uncle Tom chose to invite African and African-American performers to the consulate, such as Miriam Makeba and Louis Armstrong. In my mind, this was clear signalling of where his sympathies lay, with the oppressed and those active in the struggle.
"We may never know what support he may have offered in closed-door sessions with members of the African National Congress, the liberation movement. It is a safe bet that he stood for equality, democracy, and self-rule.
"He was an exotic with us cousins for several reasons.He had a polished, worldly air of sophistication. With intelligent blue eyes, he would thoughtfully draw on his aromatic pipe. Not one for small talk, we felt his faith in our intellect as he offered up his views on world affairs and crisis situations. He had lady friends, but never married.
"The focus of his life was his work in the diplomatic corps of the US state department, some 35 years of dedicated service.
"The bungalow beside the Nashua river (the family home and Reiner's home in the US) was like a museum for us children with artwork and artefacts from all over the world: camel saddles, brass samovars, African masks, ivory elephants, Chinese lions, jade carvings, etc.
"There were many wonders to lay our eyes on. They opened our imaginations to the cultures of the world.
"Tom told us about his work helping Liberia and Sierra Leone develop as independent nations. He helped Sierra Leone establish its independence and set up a government in the post-colonial era, 1961.
"We saw the clippings from The New York Times reporting his role in capturing and subduing Gandhi's assassin, January 30, 1948. He was humble in telling his story, but my mother supplied us with typed copies of the four-page letter he sent home to his mother.
"His state department training taught him the importance of writing down the details of events and meetings, so this was a well-crafted, detailed letter that put us children right in the middle of the events and captured our imaginations.
"I was not shy about telling my teachers and classmates about my Uncle Tom! We saw him in heroic fashion. His surefooted alertness and reaction, when others hesitated, spoke volumes."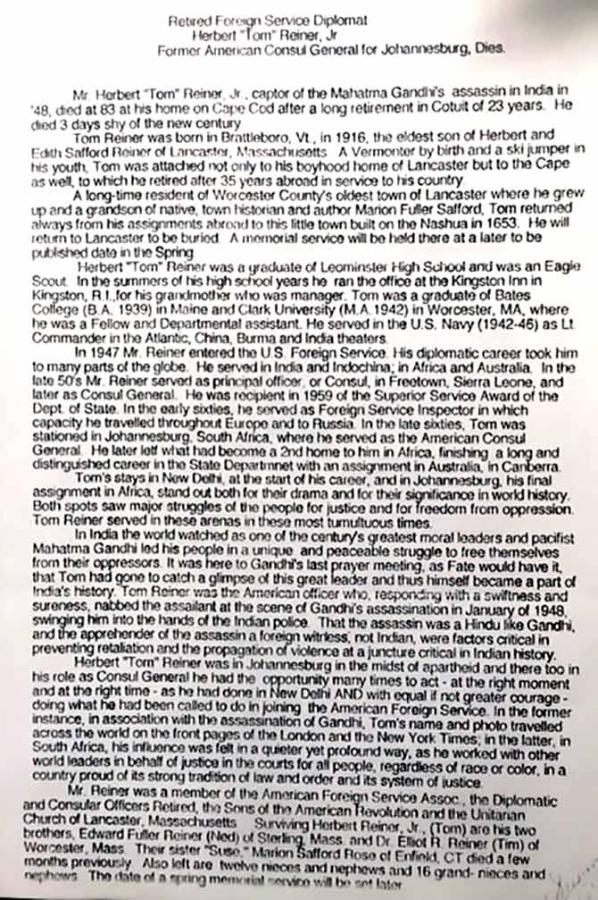 Niece Margaret Reiner Morris says: "I am Uncle Tom's oldest living relative -- a frightening thought -- and I was 2½ at the time of Gandhi's death.
So none of us remembers the actual event, but it was "in the air" in our family for quite awhile.
"Uncle Tom was a romantic figure to me as a little girl. He was worldly and awesome. But approachable, He brought me presents from foreign lands -- Siam, France, China, India, Africa. When he visited, talk often turned to the Gandhi assassination and what he had experienced as a result of his involvement in that, as well as to more recent adventures he had had.
"My family talked about Gandhi's beliefs and his way of advancing them, and we were all touched by him.
"I was very moved and impressed by what our family considered his heroic act in holding onto the assassin. I am still very impressed and proud.
"I have been very aware of Gandhi, the moral genius of his century, all my life. If a book comes out, I read it. If a movie comes out, I see it. I have special feelings for India because of him. I even took a couple years of Sanskrit, just because it was from India.
"As a child, I told just about just about everyone that Uncle Tom had caught Gandhi's assassin. This was usually met with disbelief because I did elaborate on the truth from time to time, but after a couple years or more, I did have a clipping from our local newspaper about my grandmother's (Reiner's mother's) trip to Liberia to see Uncle Tom, and it mentioned that her son had captured Gandhi's assassin. So I had some degree of documentation.
"I still tell people about it, especially if they are from India. But to make it sound less like bragging which of course it is, I kind of make a sort of joke about it, like I really think I reflect his glory.
"People still often think I'm joking, but now, with the Internet, they'll tell me later they looked it up, and now they believe me. Even though now I am pretty committed to telling the truth at all times, though I try to do it kindly.
"In general, people in my age range and down to about age 45 or 50, are interested in the story and know and care about Gandhi, but the younger people in this country are not very aware of him, which is very sad."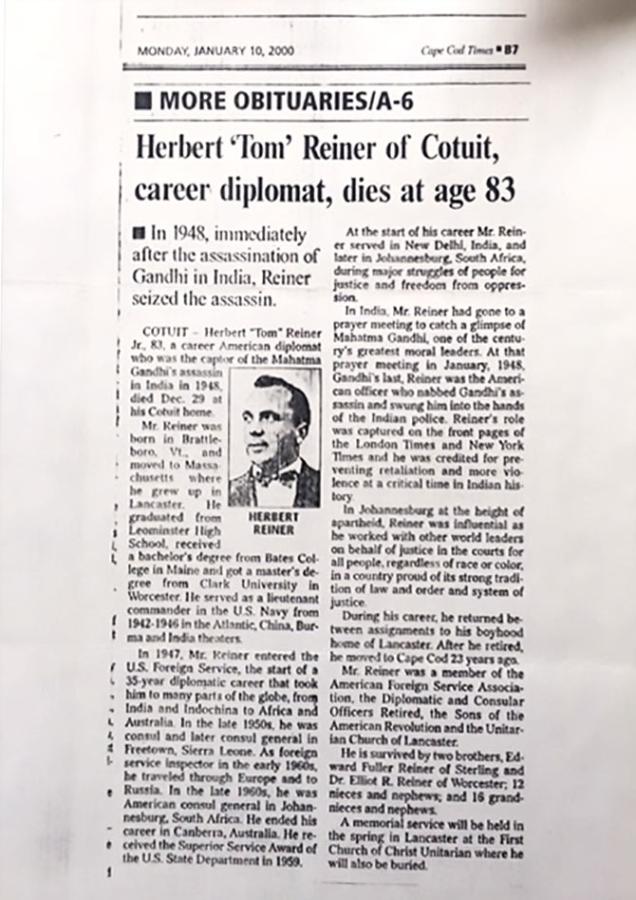 *Saco -- The Rice Paddy by Stratton Olin Roy
**Gandhi: The Years That Changed The World 1914-1948 by Ramachandra Guha
Photographs: With kind permission of the Reiner family