'The awareness of how big my father's sacrifice was came to me when we went for the Republic Day parade and my mother received the Ashok Chakra,' Rukmini Vasanth, whose father Colonel Vasanth Venugopal was killed in action fighting terrorists, tells Rediff.com's Archana Masih.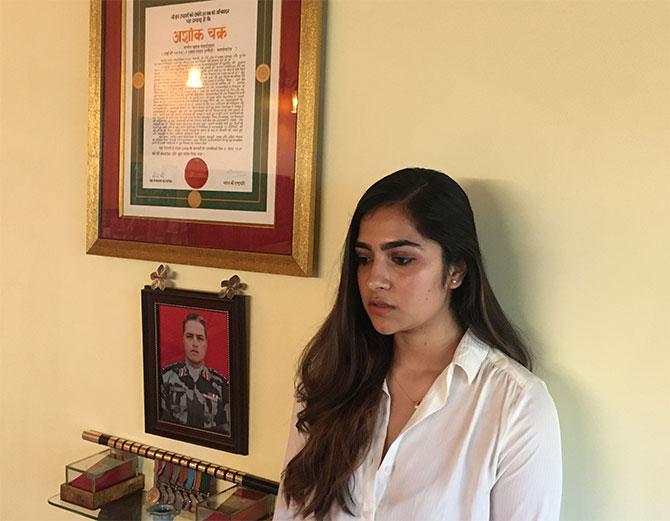 Colonel Vasanth Venugopal's mother-in-law enters the home as her granddaughter is talking about her father, an infantry officer who was killed in action, fighting terrorists in Uri, Jammu and Kashmir.
"Hello. Have you offered them coffee, biscuits?" the grandmother asks her granddaughter with a warm smile that brightens up the fading evening light. Assured that her actress granddaughter Rukmini has indeed been a good host, she goes into the puja room to pray and light a lamp.
Rukmini was ten when Colonel Vasanth was killed in action. Her younger sister Yashoda was seven.
They would come to stay in this -- their maternal grandmother's -- home in Bengaluru during Colonel Vasanth's field postings and this is where they returned after he sacrificed his life in the service of the nation.
A book Forever Forty, celebrating his memories by his wife Subhashini Vasanth, is kept in the living room.
"I go back to the book a lot. It tells me so much about who my father was. Since his letters are in the book, so much of the book is in his own words. He was missing through a lot of my formative years, and I wondered how those conversations would be like with him -- those letters provided some answers," says Rukmini who played a lawyer in the film Birbal. Colonel Vasanth wrote nearly 400 letters to his wife from the border.
The last time the family met together was when Colonel Vasanth was posted in Kashmir. It was a few months before his martyrdom.
In July 2007, he was killed in action fighting terrorists in the Uri sector. Colonel Vasanth, a Kargil veteran, led his men from the front. He was grievously injured in enemy fire, but continued fighting till all the eight infiltrators were eliminated. By the time he could be moved to the base hospital, he had breathed his last.
The framed Ashok Chakra citation hangs on a wall in the room where Subhashini Vasanth teaches Bharata Natayam, a dance form that has helped the reputed dancer cope with her grief.
A brass diya hangs above the certificate that gives an account of his extraordinary courage and supreme sacrifice. Below it on a glass shelf is kept the Ashoka Chakra medal in a glass case, along with the colonel's other medals and his baton.
It is a spot of quiet reverence and fond memories.
Colonel Vasanth had led his regiment -- the Maratha Regiment -- in the Republic Day parade in 1997.
In 2008, his wife Subhashini Vasanth accepted the Ashok Chakra -- the nation's highest medal for gallantry in peacetime -- from the President of India at the poignant start to the Republic Day parade.
"The awareness of how big my father's sacrifice was came to me when we went for the Republic Day parade and my mother received the Ashok Chakra," says Rukmini with a poised maturity.
"I was stunned by how controlled and graceful she was. She was devastated with what had happened, but her ability to steady my sister and me was remarkable. I now get a sense of how much work she must have had to do."
"My journey for navigating that loss is a constant process. I don't think it ever shuts down. It crops up at every stage of your life. But as time passes, you can remember the memories without making it very difficult. It does not debilitate you," she says sitting at the large dining table, her coffee lying forgotten.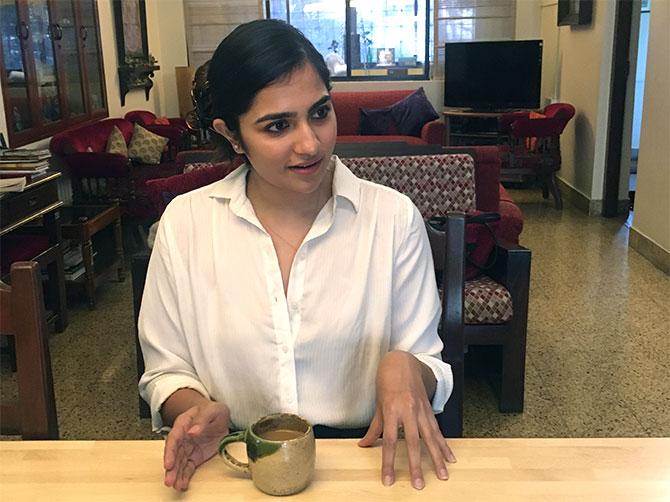 Toying with a spoon, she remembers the treks with her father, his doodles in the margins of his notes, his love for P G Wodehouse, the taste of the nimbu-paani in the mess -- how he taught her to eat dosa with a fork and knife...
"It is still something I like doing. It is not a necessary skill, but it is there. When I go to the regimental reunion, I like having the masala dosa with a fork and knife," she laughs.
In the last few years, she has made a conscious attempt to meet those in the army who knew her father. Last year, the family met the entire regiment at the reunion in Belgaum. The best part for her is listening to the jawans speak about her father.
"In a hierarchical system like the army, I feel nice that the people who served below him have such a lot of respect and affection for him. That means a lot to me."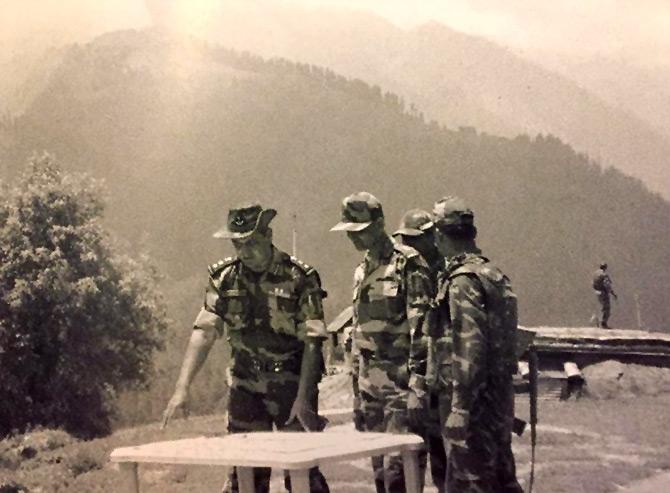 Subhashini Vasanth started the Vasantharatna Foundation in her husband's memory to help and care for martyrs's families, especially the wives and children of jawans.
"Basically, we have one thing is common -- loss, but we have built an amazing sense of community. A camp is also organised where wives, children, sometimes grandparents come for a weekend to a corporate team building space outside Bengaluru for a workshop," says Rukmini.
The workshops also provide financial, health and education counselling.
As she started on her own career track, she realises that a career in the army is what her father wanted since he was six. "He had chosen that life and where it would lead him."
"People sometimes DM on Instagram that they saw my film and then found out about my father and thank me for what he did."
"I don't know how to react, but I understand where it is coming from. People do appreciate what he has done."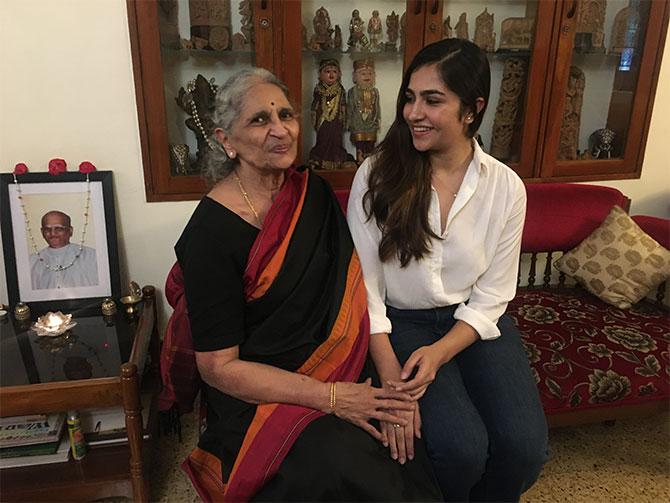 Rukmini has shown us around her home, the room upstairs where her mother holds dance classes, the foundation's office and pictures of her father.
As we leave, her grandmother puts a tikka on our forehead, blesses us and gives a fruit.
A martyr's home doesn't send anyone empty-handed.