Iqbal wanted to land the smuggled goods by helicopter on the Andaman Islands.
DK asked, 'Iqbal, a helicopter will bring the consignment to the island, drop it there and then return. Won't radars detect it?'
'No.'
'How?'
'Radars can't detect aircraft that fly at a low altitude. Our helicopter, after entering India's air space, will dive and fly at four feet above the sea level.'
'For that, I have a German pilot in mind. He was an ace aviator in the last world war.'
An enthralling excerpt from Aabid Surti's Sufi: The Invisible Man Of The Underground.
Illustrations: Dominic Xavier/Rediff.com
DK glanced at the catalogue again. 'These are old models of helicopters.'
'You can say these are the leftover scrap from World War II, which is why they are very cheap,' said Iqbal. 'The cheapest one, an eight-seater, is going for a song, for just Rs 7 lakh.'
'The cost is immaterial,' DK said, placing the catalogue on the coffee table. 'The problem is how to buy it.'
'Leave that to me.'
But this catalogue is from Germany and we can't buy from them without the government's approval.'
'Says who?'
'If you buy it illegally, where will you keep it?'
'Why on earth would we want to keep it!'
'Then what's the point of buying it?'
Iqbal suddenly realised that DK was under the impression that he wanted to buy the helicopter for his personal use. He wanted to laugh out loud, but didn't. Instead, he explained his idea.
On one hand, there were omens of an imminent crash in the gold market, while on the other, the customs were tightening the noose on traffickers.
These were the days for daredevils to mint money. These were the times for the clever mice to snatch away the cheese at the last second, without falling into the trap.
He had opened two new avenues. One was to land the smuggled goods by helicopter on the Andaman Islands and the other was to open a new channel in Madras and smuggle in consignments from there
Let us first look at the helicopter concept. The Andaman and Nicobar Islands comprise thirty-five islands, of which only eight are inhabited. The others are a no man's land, completely deserted.
Iqbal, after days of intensive study, had presented this unique blueprint. Then he waited quietly while the boss made up his mind: DK was sceptical, experienced and extremely cautious. At heart, he was still a shrewd baniya.
Playing with his thin gold necklace, DK asked, 'Iqbal, a helicopter will bring the consignment to the island, drop it there and then return. Is that right?'
'Absolutely.'
'Won't the radars detect it?'
His question was not misplaced. Every aircraft, whether big or small, is bound to get detected on entering Indian air space.
'No.'
'How?'
'Radars can't detect aircraft that fly at a low altitude. Our helicopter, after entering India's air space, will dive and fly at four feet above the sea level. For that, I have a German pilot in mind. He was an ace aviator in the last world war.'
'Hmm...' DK was pleased. 'The consignment will have to be brought from the island to the city first. What arrangements have you made for that?'
'Every day, steam launches take day-trippers from Madras to these islands. I've appointed the boatman of one of these launches for our job. Only he'll know the 'drop' spot of the consignment on the island. He'll bring the goods back on his return trip. From there it will not be difficult to transport them to Bombay in a truck.'
<p=>Iqbal's other stratagem was to smuggle goods in by hoodwinking customs officials in Madras.
The customs department was on alert not only at the Bombay port but also in Madras, Calicut and Calcutta.
It had become difficult for cargo ships, which were legally entering the Indian ports, to hide contraband goods. These ships were often raided, inspected and their captains subjected to interrogation.
For instance, if the customs officials detected over a dozen boxes of wristwatches on the ship, the captain would have to provide a satisfactory explanation.
He had to furnish an inventory of goods listing the names of the companies to which the cargo belonged. If there was no mention of the wristwatches in the inventory, these would be confiscated. The captain too would land into trouble.
DK's gang smuggled in not just gold, but also whisky, wristwatches, transistor radios, Japanese fabrics and other such goods which were in demand in the Indian market. These contraband goods, like the gold biscuits, used to come in Arab launches or in cargo ships. After customs stepped up vigil, bringing smuggled goods in using cargo ships had become almost impossible.
Iqbal realized that the customs officials inspected only those cargo ships that brought in goods imported by Indian firms. But if a ship anchored at an Indian port for refuelling or other valid reasons, the customs department would not touch it.
DK gave Iqbal's plan the green signal. Iqbal took the plunge with passion as if he, like Faust, had signed a pact with the devil. He, who had so far grossed millions with Bombay as his centre, now spent most of his time outside Maharashtra.
Sometimes he was needed in Calcutta and sometimes in Porbandar; sometimes it was Kanyakumari and, at times, Puri. Often, he would drive hundreds of miles on a truck loaded with contraband goods to Bombay.
***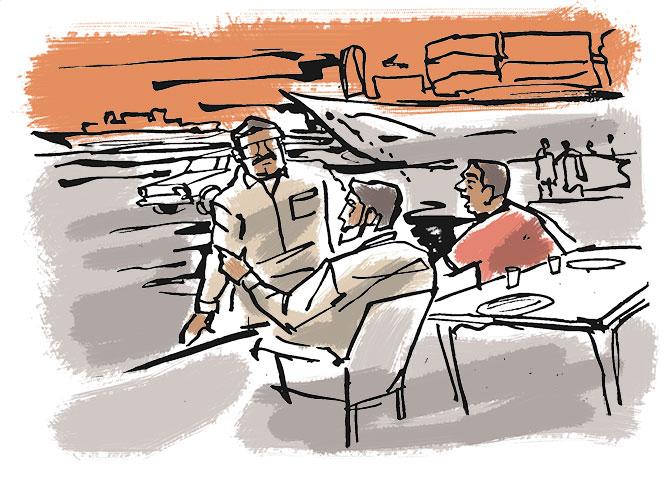 While Iqbal's idea of employing a helicopter had proved to be successful, the other idea of hoodwinking the customs officials in Madras did not last long.
The last time, a dubious Chinese ship coming from Seychelles and heading for Hong Kong had entered the Madras port on the pretext of a problem in its boiler room.
Iqbal was there to take the delivery. He was sitting in the dock's Udipi canteen, sipping tea with Dagdu. Both of them were chatting, having dosas for breakfast. Earlier, they had stuffed themselves with a plate of idlis.
Dagdu had just opened his mouth wide to take the last bite of the dosa when his jaws froze. His eyes were fixed on a car that had just entered the dock.
'Aaichya!' He put back the dosa on the plate. 'We're screwed, boss!'
The car stopped right in front of the canteen. The taut shouldered customs officer from Bombay, Khan, alighted. Despite his dark sunglasses, Dagdu had identified him.
Dagdu was about to escape when Iqbal caught him by the wrist. He had almost got up from his seat but sat down again. Iqbal got up.
'Hello, Mr Khan!' Iqbal walked out with a smile to shake hands with him. 'What a pleasant surprise to see you here!'
'I'm pleased too.'
The cat and mouse game started once again. Both knew the real reason behind the other's presence. Khan had come down to Madras following Iqbal.
He had not anticipated running into him. He wanted to catch Iqbal red-handed, which would not be possible now.
'Would you like a cup of tea, sir?' Iqbal asked.
Khan looked into the canteen. 'That guy sitting over there shivering like a dry leaf, is he your colleague Dagdu?' he asked.
'Yes, sir.'
'Has he seen a ghost?'
'He saw you and got scared,' Iqbal replied fearlessly. 'I tried to convince him that without proof nobody can touch us. But this nitwit won't believe . . .'
'He knows that I don't need proof to arrest him.' Khan shoved Iqbal aside and headed for Dagdu.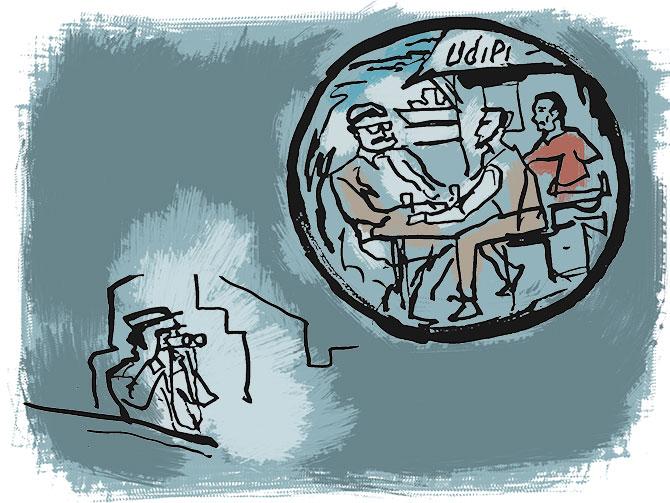 According to the information Khan had received, Iqbal had become active in Madras, but he was unaware of the modus operandi the wizard had adopted.
He was really surprised by what he learnt from his phone conversation with the Madras customs officials.
According to them, it was true that Iqbal was in Madras, but he was apparently into the transport business.
Fools! Khan thought to himself. If Iqbal was in any business, it could only be smuggling.
Iqbal took one long stride and caught up with Khan. By this time Dagdu had relaxed a bit, yet he was shuddering inside. The apprehension was visible on his face.
Khan sat opposite him. Iqbal sat on a third chair. Some flies had started hovering over the half-eaten dosa. Khan's penetrating gaze was fixed on Dagdu.
'Khan Sahib!' Iqbal said. 'The dosa here is to die for.'
'One can imagine, seeing the number of flies,' Khan shot back and asked for a cup of tea instead.
Iqbal beckoned a lungi-clad boy and placed an order for two cups of tea and a glass of lime juice. Looking at Khan, Iqbal asked, 'Sir, may I ask a personal question?'
'Go ahead.'
'How many years of service do you have left?'
'Are you worried?'
'No, no, sir. I asked you in a different context. I just wanted to tell you that a senior officer from the navy recently retired. Can you believe that he will get only Rs 400 as monthly pension?'
'What do you mean?'
'He has four children, a wife and old parents. How will he manage in just Rs 400? Moreover, he has been asked to vacate his house.'
'What's new?'
'Will your honesty too go six feet under after your retirement?'
'No. I will go to my village, Jaawra, after retirement where I have my ancestral home. It's not difficult to live there on Rs 400 a month. Besides, by the time an official retires, his children are grown up and start earning. So, I don't have to look after mine. On the contrary, if needed, they will support me.'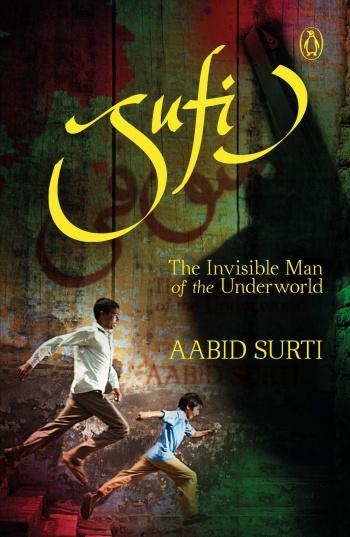 He paused for a while and then exposed Iqbal's game plan. 'If you are trying to buy me like this, you better take note of this. I'm not a gullible person like your navy captain friend who is rotting in prison. Also, once I've had my tea, I'm taking Dagdu with me.'
Dagdu was shaken as if he had been electrocuted by a loose wire dangling from the roof of the canteen. Iqbal's brain too betrayed him. He had not anticipated the tables to turn so unexpectedly.
As the canteen boy brought two cups of tea and a glass of lime juice, the captain of the Hong Kong ship appeared on the deck.
As per instructions, this was the time to send a man from the ship to the canteen to establish contact with Iqbal.
Iqbal was to disclose at what time and how he would be taking the delivery of the contraband goods, especially the wristwatches from Seychelles.
From the deck, he focused his binoculars and saw Iqbal and Dagdu sitting with a customs official in the canteen. He presumed that the official was on Iqbal's payroll, else why would he be sitting there chatting over a cup of tea? He gave a crew member Iqbal's description and sent him down.
From afar, Iqbal saw him approaching. This time, his knees buckled.
---
Excerpted from Sufi: The Invisible Man Of The Underground by Aabid Surti, with the kind permission of the publishers, Penguin Random House India.