Just to be clear, "love jihad" -- a concept that claims that Muslim men court Hindu women to convert them to Islam purely to take over India -- doesn't exist, says Mitali Saran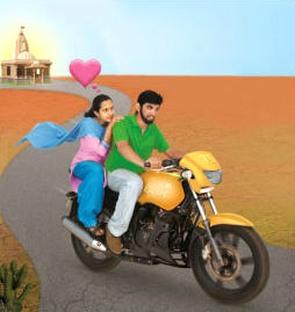 The public park near my home is often filled with lovers cooing at each other, either for want of privacy at home or at work, or just because it's nice to kiss someone in a beautiful green place filled with birdsong and breezes.

Regular walkers with any humanity just walk past the rattling shrubbery and the couple sucking face on the bench or under the tree. We keep our eyes firmly on our own path and silently wish them a happy morning.
Lately, though, the most eye-popping couples hanging around Lodhi Garden are the ones in khaki.

The place is now often bristling with New Delhi Municipal Council guards.

Turns out a foreign woman was harassed, so the guards are here to make walkers like me feel more secure.

But they don't, really; they make me feel uncomfortably watched.

And maybe it's a coincidence, but the lovers have receded. The guards may not mean any harm, but uniforms are known for shooing and shaming and threatening lovers, so you can't blame the latter for being wary.

There's something ill about a society that is perfectly comfortable with violence and control but frowns on consensual relationships. And there's something particularly grotesque about a party that will cold-bloodedly use relationships as a political weapon.

Just to be clear, "love jihad" -- a concept that claims that Muslim men court Hindu women to convert them to Islam purely to take over India -- doesn't exist.

It simply isn't a thing. It's a conspiracy theory.

I can say this in many different ways, but you get the gist.

For some reason, the media has earnestly embraced this entirely spurious term as if it isn't completely bonkers, and often uses it without quotes.

For the most part, barring some instances of inducement, religious conversions consist of the perfectly voluntary exercise of individual free will -- a concept that social conservatives cannot abide.

"Love jihad" is a nasty, paranoid campaign drummed up by the Bharatiya Janata Party and its uglier affiliates in the face of the Uttar Pradesh elections.

Apparently, the party has no qualms about dropping its trousers to bare its ugly Hindutva essentials, like some flasher who can't help himself, if it will win them votes.

The Akhil Bhartiya Vidyarthi Parishad, the Bharatiya Janata Yuva Morcha and the Vishva Hindu Parishad have banded together, and are roaming around UP to "warn" Hindu women about the "dangers" of being "duped" into "being abducted by" non-Hindus and "forcibly converted".

This typically patriarchal narrative of "rescue" assumes that women do not have, nor deserve, the right to autonomy and choice.

It reduces them to auxiliary tools in a larger power game -- breeding vessels for various competing demographics.

People who bring up the bogey of "love jihad" are saying, in the subtext: "We're having a huge amount of trouble with the idea of individual rights, most particularly individual female rights, so we're not going to rest until the community is back to signing off on your life, which is when all will be right with the world, and if you're as petrified of being outnumbered by Muslims as we are, even though it's a statistical impossibility for the next several generations, give us your vote."
It's jaw-dropping that the BJP can, on one hand, bang on about women's rights and empowerment, and, on the other, bang on about the poor birdbrains having to be rescued from marrying someone of another religion to breed more tiny fanatics for them -- and it doesn't see a contradiction.

The bottom line is that the party doesn't give a fig about one of these angles.

Guess which one? No thinking woman believes that a bunch of people so committed to conservative tradition is ever going to stop patronising women by "protecting" them. Empowerment is about individual rights and individual agency, and the BJP wants no truck with either.

This is not to say that the Congress or the Samajwadi Party or anyone else does -- some of the most regressive, misogynistic commentary comes from these quarters -- but in the context of a country lately more sensitised to the status of women as second-class citizens in so many ways, the BJP's brazenness is astonishing.

BJP President and hate-speech accused Amit Shah; BJP member of Legislative Assembly (MLA) from Sardana, UP, and Muzaffarnagar riot-accused Sangeet Singh Som; BJP MLA from Gorakhpur, UP, Yogi Adityanath; and BJP MLA from Indore, Madhya Pradesh, Usha Thakur are all examples of how the party is happy to spout bromides from the Prime Minister's Office's Twitter account and the ramparts of the Red Fort, while simultaneously poisoning social relations -- not by accident, but in coldly strategic terms.

This poison vilifies Muslims, and steps on women's throats.

The BJP appears to believe that development is a purely economic concept that can productively coexist with tattered social relations. It remains to be seen whether society agrees with that view.