'If Asia does become a Chinese dominated space, it will not only be because India failed to get its economic act together but also because it did not stand up for its democratic credentials,' warns Shyam Saran, the former foreign secretary.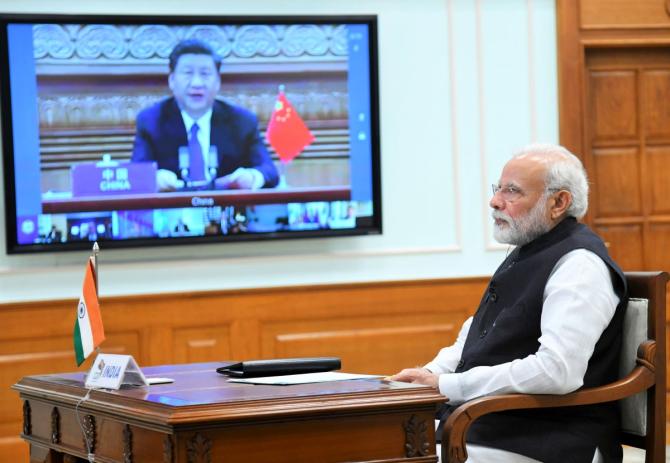 India and China have reportedly agreed to carry out disengagement of their forces along the Line of Actual Control and this is positive news.
However, heightened mistrust will remain and there will continue to be wariness on the Indian side about moves the Chinese may make in the coming days.
The additional claims to territory that China has made have been reiterated.
On the economic and trade fronts, it is likely that there will be a decrease beyond what was already the result of the Covid-19 pandemic.
Cross-investment by Indian and Chinese firms may stall if not decrease. So, we may have our own version of 'decoupling' in progress.
The strategy of 'Atmanirbhar Bharat' will accentuate this trend.
It is clear that the consensus that underlay India-China relations for the past several decades has broken down.
What were the key elements of this consensus?
One, that India was not a threat to China and China was not a threat to India.
Two, that there was enough room in Asia and the world for both India and China to grow.
Three, India was an economic opportunity for China and China for India.
And, four, that India-China relations had acquired a strategic and global dimension, thus enhancing the importance of strong and cooperative relations between them.
Precisely for this reason, the two sides wished to seek a political resolution to their boundary issue so that they could work together on a series of global issues where they had convergent interests.
This consensus was made explicit during the visit of then Chinese premier Wen Jiabao to India in 2005, but has been steadily eroding at least since 2009.
The last time India and China worked together on a global issue was during the Copenhagen Climate Change summit in 2009.
The change was visible during Wen Jiabao's subsequent visit to India in 2010 when he declared that the border issue may be resolved only in the long term.
In 2015, during the Paris Climate summit, it was the template worked out by the United States and China that became the basis of the Paris Agreement.
India was no longer a key player. China began to benchmark itself against the US and relegated relations with other emerging countries to the second rung.
China regards its relations with India as no longer a significant factor in its Asian and global strategy. To put it bluntly, the Asian space, it believes, has room only for an ascendant China, not India.
The latest developments bring to a head the breakdown of the earlier consensus, though this may have been clouded by the high profile, even theatrical events such as the series of leadership summits between Chinese President Xi Jinping and Prime Minister Narendra Modi.
China is good at using theatrics to mask its intention and lull its adversary into complacency.
But the signs were there, if only they were read correctly.
There is an additional ideological dimension to China's effort to demote India in its hierarchy of power. This is to show up India's democratic polity as chaotic and inefficient and no match for the superior model which China represents.
This is of a piece with its constant disparagement of Western democracies -- particularly the US, which under Donald Trump is hardly an advertisement for liberal democracy.
This becomes important in managing political discontent and in stifling dissent within China, comparing its seeming orderliness and efficiency with the images of disarray even in mature democracies.
The massive failure of Chinese authoritarianism to acknowledge the eruption of the epidemic promptly and to transparently alert the world to its dangers, which would have been unthinkable in a liberal democracy, was cleverly masked in the subsequent and ruthless efficiency with which it was tackled.
What should have been seen by the world as a dangerous failure inherent in its so-called 'superior' model was turned into a clever demonstration of its success in tackling the pandemic.
What is more, this inherent fault line carries dangers not only for the people of China, but for the rest of the world.
The more this model seduces other countries, the greater the world's vulnerability to such crises in the future.
I have so far looked at the ideological dimension in utilitarian terms. Far more important is the value that democracies attach to fundamental freedoms, the rule of law and the accountability of State power.
As the centre of gravity of global power continues to shift to Asia, China wants not only to dominate militarily and economically but less obviously, ideologically.
As the second largest country in the region, choices that India makes will be an important factor in determining whether this new crucible of power will also be painted in the ideological colour of its currently more powerful rival.
If India is determined to contest Chinese dominance in Asia, it will have to do so not only in the military and economic fields, but also in the ideological field.
Reaffirming faith in our liberal democracy and the values enshrined in the Indian Constitution are indispensable to confronting Chinese hubris.
It is unfortunate that there has been a tendency in this country to hold up China as a model that India must aspire to.
There is constant bemoaning that being a democracy has held back India, and even admiring Mr Modi because he is a 'strong leader' like Xi Jinping.
In failing to acknowledge India's incredible success in managing a multi-ethic, multi-lingual, multi-religious and multi-cultural society and that, too, without sacrificing individual freedoms and dignity as its greatest strength, we undervalue the very asset which distinguishes us from the arid homogeneity that China aspires to.
China is welcome to its monochromatic future. That must never be India's aspiration.
If Asia does become a Chinese dominated space, it will not only be because India failed to get its economic act together but also because it did not stand up for its democratic credentials.
The future of democracy in Asia and the world may well be determined by choices India makes.
Former foreign secretary Shyam Saran is a senior fellow, Centre for Policy Research.