Kejriwal believes in good governance and takes pride in his Hindu identity, points out Sudhir Bisht.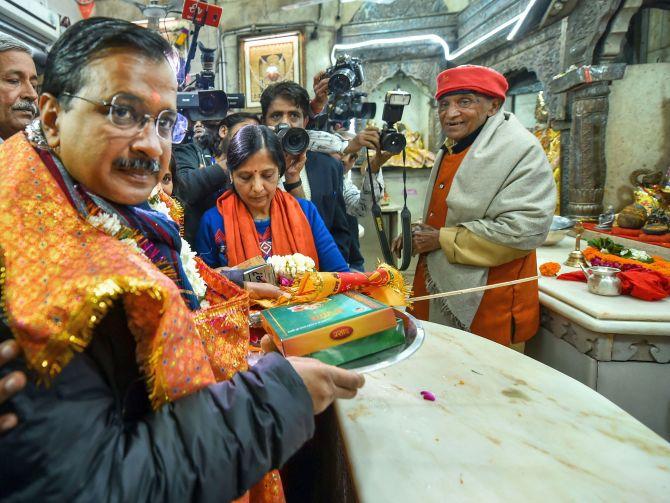 I am an admirer of the Hindu nationalist Bharatiya Janata Party since I was a child.
In 1971, when I was not even in my teens, I had an opportunity to listen to a marvellous man of the Bhartiya Jan Sangh, the original version of the present day BJP, who was the candidate from the New Delhi Lok Sabha constituency.
Professor Manohar Lal Sondhi had been a former IFS officer and was seeking re-election from New Delhi. He had won the seat in 1967.
During that time the Jan Sangh's symbol was the earthen lamp. The 'lotus' came onto the scene much later, in 1980, after the failed experiment of the Janata Party. The Jan Sangh had merged into the Janata Party in 1977, but resurrected itself in 1980 as the BJP with the now omnipresent Lotus symbol.
I was very impressed by whatever Professor Sondhi spoke and in the next few days, I had the good fortune of listening to a very fiery speech by Atal Bihari Vajpayee. I maintain that ABV is the best speaker India ever produced, although his speech lost its magic by the time he was elected PM for the third time in 1999. Sushma Swaraj comes next and then comes Narendra Damodardas Modi.
So I have been a Jan Sangh/BJP admirer since my childhood and my heart leaps with joy whenever the lotus scores over its rivals.
What I have always liked about the BJP is its unambiguous pride in the Indian identity and in its oldest religion. I like the BJP's abhorrence for pseudo secularism that does not shed even a single tear at the mass exodus of Kashmiri Pandits from the valley.
I like the BJP's disdain for the perpetuation of a country-within-country that kept J&K away till about a few months ago.
I also admire its distinct preference for the private sector with a strong regulatory mechanism in contrast to the other parties's obsession with the public sector.
I laud the BJP's courage in introducing bold reforms in economic and social spheres and I am a great admirer of its present top leadership represented by Modi.
But I am not averse to Arvind Kejriwal's rise in politics either. His landslide victory this month at the lotus's expense has not saddened me much. I see a junior version of Modi in Kejriwal.
Here is a chief minister who bows his head before Hanuman and breaks into the Hanuman Chalisa without having to look at a paper. He knows the verses by heart and seems to be taking pride in that fact.
Here's an activist who took the plunge into politics with a view to win power, but with the ultimate objective of serving the people.
India has many great men who were powerful politicians but were shy of wielding power themselves. Was it because of their genuine disdain for power or was it their fear of failure to deliver on the expectations of their supporters? Who knows? Only Mahatma Gandhi and Jayaprakash Narayan can tell.
Kejriwal has the guts to get into a position where the buck stops with him. That is so much like Modi.
Modi also takes full responsibility and leads from the front, something that Kejriwal has emulated. Moreover, Kejriwal in many ways has imbibed the Modi model of administrative leadership.
He has put a firm plug on the leaky government-spending pipeline by reducing corruption substantially.
Kejriwal has also shown no remorse for being a practitioner of Hinduism. The Haj subsidy for Muslim pilgrims has been there for years and was criticised by us. Now Kejriwal has organised pilgrimages for hundreds of poor Hindu senior citizens and is not ashamed of it.
By the way, he has also increased the salaries of 180 imams and their helpers by more than 80 percent, but Kejriwal has not been vocal about it.
He takes pride in organising pilgrimages for Hindus, but is not boastful of increasing the salaries of imams. This reversal of appeasement politics is admirable and requires political guts.
Kejriwal's journey had its lows and its highs. The lowest of his lows was his stupidity of taking on Modi by raking up imaginary issues.
Kejriwal also lost a lot of respect during his initial years in power by his repeated assaults on the titans of the Indian private sector, Mukesh Ambani being his favourite whipping boy, for no plausible reason at all.
He also had problems with the lieutenant governor of Delhi, with the Delhi Development Authority, with the municipality. So determined was he to pick up fights that he even sat on a dharna with his cabinet colleagues in the heart of New Delhi.
The Hindu newspaper reported in January 2014: 'Showing no signs of relenting, Delhi Chief Minister Arvind Kejriwal today ruled out negotiations to end the standoff with the Centre and threatened to flood Rajpath with lakhs of supporters that can disrupt the Republic Day celebrations.'
Nevertheless, Kejriwal gave up his activism towards the middle of 2018 and contributed all his might in building his reputation as an achiever.
He had already been doing a fine job, but his frequent diatribes against the Union government gave an impression of his being more of an activist than a leader. My article on Rediff.com highlights this aspect of him being his own worst enemy.
From mid-2018 onwards, Kejriwal stopped focusing on fighting and started concentrating on highlighting his achievements. It is indeed true that Kejriwal took quite a few steps to serve the people of Delhi.
He is passionate about Delhi just as Modi is passionate about India.
The biggest plus for Kejriwal has been his corruption-free sarkar. Isn't it straight out of Modi's book?
Kejriwal has successfully plugged the leakages that occurred due to corruption and using the funds thus saved, he has been able to provide big relief to the poor and lower middle class of Delhi.
The consumption of electricity is free if one's meter reading is below 200 units. Of course, the resourceful residents of Delhi have been able to exploit this by installing two meters in their house if it is a double-storied building.
So in effect, a family with two meters and with less than 400 units of combined electricity consumption is virtually getting free bijli!
Similarly, water consumption is free if a family uses under 20,000 litres of water. I have personally checked that many unauthorised colonies started receiving water supply as mini greenfield pipeline projects were undertaken with gusto by the Delhi Jal Board, a department directly under Kejriwal's control.
These colonies hitherto depended upon groundwater and water tankers but now receive good quality water for four hours at least twice a week. This takes care of their drinking water problem at least and the water is free, if one doesn't consume more than 20,000 litres water in a month.
The mohalla clinic infrastructure built by Kejriwal is more hyped than it is useful, but it has created a good impression about his being alive to the need of bringing primary healthcare at the doorsteps of his people.
Another area where Kejriwal has scored a massive win is in his success in forcing private schools to keep school fees at the same level as it was in 2015. This is a very, very major achievement and this has played out nicely and positively even with upper middle class voters.
The mainstream media has not highlighted this achievement of Kejriwal adequately, but this is a big factor in the Aam Aadmi Party's win over the BJP in Delhi.
Kejriwal's free bus ride scheme for the women of Delhi has given him a massive thumbs up from poor women. I have interacted with some women and they say that if Kejriwal had his way, then he would have also ensured free metro rides for women.
Kejriwal's massive support base among women is modelled around Modi's special connect with women with his 'Beti Bachao, Beti Padhao' campaign.
As a resident of Delhi, I am happy with Kejriwal. To me the most important thing is that neither my CM nor my PM is corrupt. I can take legitimate pride in this fact.
In addition, just as my PM built toilets for the poor of this country, my CM has provided primary healthcare at the doorsteps free.
I am happy that just as my PM gave free cylinders to the poor households of rural India, my CM has given relief of at least a thousand rupees per month to the poor of Delhi by way of free water and free electricity.
I do not buy the argument that 'nothing is free, everything is paid by the taxpayers eventually.' If freebies are financed by the savings that accrued by eliminating corruption, then why complain?
And if this logic of 'nothing-is-free' is applicable for the CM, then it is applicable for all welfare schemes of the Union government too.
So why should I not be happy with Kejriwal at the helm in my state and Modi at the Centre?
Kejriwal is a true follower of BJP ideology that believes in good governance and takes pride in its Hindu identity. In the coming weeks I expect Kejriwal to give a clarion call to Muslims to lift the blockade of the national highway in Delhi that passes through Shaheen Bagh. He will do so in unequivocal terms, but in a soft tone.
He is not someone who supports the burqa-clad women who for no rhyme or reason have disrupted the life of a part of South Delhi for the past eight weeks.
In Kejriwal I have a Chotta Modi as CM and he and the original Modi will lead us well.
---
Dr Sudhir Bisht, author and columnist, writes from New Delhi and tweets @sudhir_bisht. He can be contacted at sudhir_bisht@rediffmail.com