The street-fighter is back and the introspecting, sparingly speaking, avatar of Kejriwal has gone on an extended recess.
In this grime of heightened Delhi politics, all the good work done by the Delhi government may go down the drain, warns Sudhir Bisht.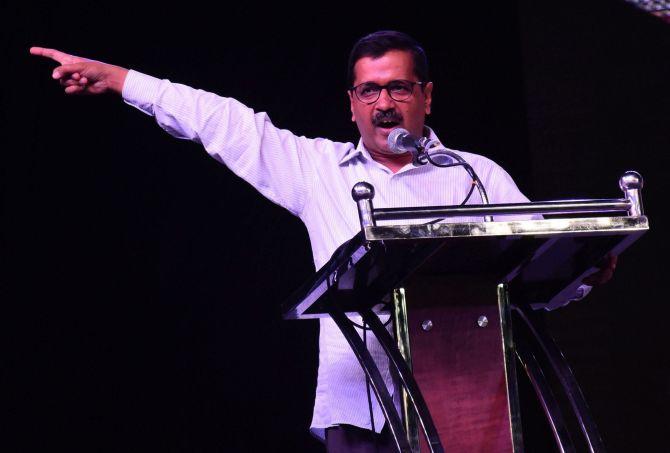 IMAGE: Delhi Chief Minister Arvind Kejriwal. Photograph: PTI Photo
Most of the great plays that have survived the onslaught of Father Time are tragedies.
Julius Caesar, Hamlet, Othello, Macbeth and King Lear were written more than 400 years ago. These long plays are performed and applauded even today, when the average attention span of human beings is less than eight seconds.
Yes, the May 14, 2015, issue of Time magazine quotes Microsoft Corporation studies to say that the average attention span of human beings has dropped from 12 seconds in 2000 to eight seconds in 2015.
Is it because every human being identifies his own emotions with the poignancy that is associated with every big hero?
Maybe each one of us likes the fact that even the mightiest of super-humans get bested by another human being or by fate! So we see our failures, big and small, in the light of the failures of the high and mighty, and feel relieved.
In Julius Caesar, the Roman dictator is killed by a group of men, among them his foe-turned confidant, Brutus.
Brutus, the 'most honourable of them all', kills Caesar with a heavy heart as he has no personal gain in the killing of Caesar, but does so to stop Caesar's megalomaniacal ambitions which Brutus feels undermined the Roman republic. But Brutus too kills himself after he is defeated by Mark Antony in the second battle of Philippi.
Hamlet, the prince of Denmark, kills his uncle to avenge his father's murder and directly or indirectly causes the deaths of his mother and many close associates. He himself dies in the end, killed by a poisoned sword that is pushed by the brother of his true love.
Macbeth, the general who was prophesied to be king, kills his own king, and led by his capricious and scheming wife, becomes the despot of Scotland. Macbeth is brutally beheaded by Lord Macduff in the end.
All the protagonists of the great Shakespearean plays have one trait in common. The chief blame for their downfall lies squarely at their own door. They are all consumed by their own frailties.
Something akin to the great Shakespearean tragedies is being enacted in the national capital territory of Delhi nowadays. 'King Lear' Kejriwal, who has been a quiet soul ever since his party was squarely beaten in the Punjab assembly elections in March 2017, has reverted to type once again. He seems hell bent upon causing destruction upon his own self and his party.
To be fair to Kejriwal, he has been one of the most unfortunate chief ministers in India, simply because he is CM of a state where the power centre has shifted from the CM's office to the lieutenant governor's office.
To the best of my memory, this was not the case during Sheila Dikshit's 15-year rule or the BJP's five-year rule that was divided among Madan Lal Khurana, Saheb Singh Verma and Sushma Swaraj.
From 1993 to August 2014, very few people in Delhi actually believed that there existed two power centres in Delhi.
The general impression among most residents of Delhi, even among the most knowledgeable men and women, was that the lieutenant governor was the titular head of Delhi.
This changed immediately on Kejriwal's ascension to the throne in December 2013 when he formed a short-term government that lasted less than 50 days.
Quite understandably, Kejriwal, in his first stint as the CM of a minority government, remained the belligerent activist and pugnacious fighter. But that was not the way he started off.
Immediately upon taking oath as chief minister on December 28, 2013, Kejriwal sang of brotherhood and peace, before changing tune in the Republic Day function that followed. But all this was attributed by the public to his inexperience.
When Kejriwal came back as CM on February 15, 2015, his party had won in 67 out of 70 constituencies in Delhi. The activist now considered himself the supreme commander of Delhi and developed national ambitions.
He even thought of himself as an alternative to Narendra D Modi.
He was now calling the prime minister a psychopath and hallucinated that Modi was out to kill him.
At the beginning of his second term, Kejriwal was at war with the entire world. He fought the lieutenant governor, the Delhi police chief, the finance minister of India and the prime minister.
It is not as if it was only the political establishment that bore the brunt of his ire. He was against the Ambanis and Adanis and all those who represented big business as well. It befuddles me that none of the industrialists took him to court for defamation.
Kejriwal seemed unstoppable in his tirade against all those who were not the part of his system.
There have been a few setbacks for Kejriwal since then, the first came when Arun Jaitley dragged him to court for defamation.
Kejriwal had levelled allegations of corruption against Jaitley during the latter's tenure as the head of the Delhi and District Cricket Association.
The second setback for Kejriwal was his party's loss in the Punjab assembly elections. The Aam Aadmi Party was tipped to be the winner, but it ended up being a poor second to Captain Amrinder Singh's Congress party.
The loss in Punjab sent Kejriwal into a silent mode. He suddenly stopped all his acerbic tweets about the prime minister and the lieutenant governor.
The people of Delhi heaved a sigh of relief and social media suddenly lost a major cause for flurry and flutter.
Kejriwal's silence started attracting positive stories about him. Newspapers and television stopped their 'campaign' against him that Kejriwal accuses them of carrying out.
There were stories about how well he had managed the fair pricing and equitable distribution of water resources in Delhi. People started taking note of the great work done by the CM in keeping the price of electricity in Delhi low compared to its neighbouring states.
It is a fact that the AAP government has done wonders by reining in the private schools of Delhi which hiked fees every year.
The AAP government fought with them, even threatened to shut them down or take them over if they hiked the fees.
At the same time, the state government was able to bring about significant improvements in the functioning of Delhi government-owned schools. Parent-teacher meetings that took place only on paper actually started happening and this earned the Delhi government praise from citizens.
There have been many achievements by Kejriwal's government, like its implementation of mohalla clinics, for one.
The opening of mohalla (or community) level primary health centres may have been slow but it certainly earned a lot of goodwill for the state government.
Kejriwal was seen to be inching towards the title of Delhi's favourite CM by intervening on behalf of citizens when Delhi Metro fares were hiked.
The activist but non-serious image of the CM was seeing a turnaround as he kept relatively cool even when the Election Commission disqualified 20 of his MLAs from the Delhi assembly for holding offices of profit.
My own assessment is that there was a sense of sympathy for the party over this. Things were going just right for the CM, when the most bizarre incident took place on Monday, February 19.
Delhi's Chief Secretary Anshu Prakash alleged that he was called to the CM's residence for a meeting at a very late hour on Monday where two AAP legislators assaulted him in the presence of Kejriwal and his deputy CM.
This is the first instance in the history of Independent India when the head of a state's civil services has allegedly been manhandled by elected representatives of Delhi in the presence of an elected chief minister.
I have no cause to disbelieve Anshu Prakash. He is widely respected and is considered to be one of the finest officers in the Indian Administrative Service.
Naturally, the assault on Prakash has sent shock-waves among bureaucrats. Arvind Kejriwal's image has taken a beating again and this setback will take a lot of effort to overcome.
Just when it appears that all was going well for Kejriwal, he does something to bring disrepute on himself.
Is Arvind Kejriwal his own worst enemy?
It is evident that Arvind the good man is now surrounded by the usual scheming, selfish, uncouth politicians who crowd India's political space.
The intelligent and respected people of stature who once formed his inner circle have all left him or have been banished by him.
There is no one of the stature of a Yogendra Yadav who could be a moral and intellectual guide to Kejriwal.
The legal acumen of Prashant Bhushan is no longer available for free to the party.
The popular leader, Kumar Vishwas, who could manage to calm rustic type MLAs in AAP, is sulking somewhere in his Ghaziabad house.
And Arvind Kejriwal is once again an angry man who will throw all the gains from his Vipassana training out of window.
The street-fighter is back and the introspecting, sparingly speaking, avatar of Kejriwal has gone on an extended recess.
In this grime of heightened Delhi politics, I fear that all the good work done by the Delhi government will go down the drain.
As my late father always said, the city of Delhi had prospered most when it had no MLAs, no chief ministers, and when a lieutenant governor was the only power centre and who ruled Delhi with an iron hand, without having to please any politician except the home minister and prime minister of India, who were more than willing to extend a helping hand to him.
Because, for the people of Delhi, the LG's performance was a direct reflection of the performance of the Union government and everyone fell in line to make things better for Delhi.
Here's hoping for a return of Union territory status for Delhi!
Sudhir Bisht, PhD, Delhi-based author and columnist, tweets at @sudhir_bisht