As the campaign peaked, AAP leaders evidently realised they had to deflect their chief opponent's attempts to polarise the electorate over religious identity, explains David Devadas.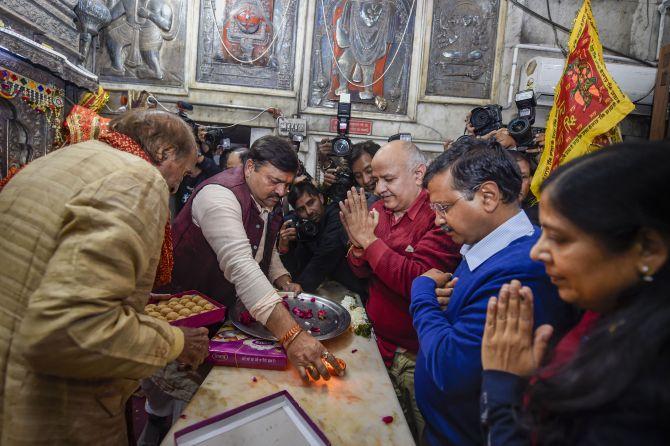 The questions that have been raised over the Aam Aadmi Party's use of Hindu symbolism as subtle campaign props are misplaced. There was nothing wrong with it, either as a tactic or as long-term strategy. One cannot ignore the trend of the times, the context.
Although AAP managed a 62-versus-8 landslide in the 70-member House, it was a tough fight nevertheless. It got so many seats because, in an extraordinary validation of the first-past-the-post system, the tilt towards AAP was pretty substantial more or less uniformly across Delhi.
Only one of the eight BJP victors was among the 35 new members (half the new House) who won with a margin of more than 17,000 votes.
And four -- or half of the BJP's 8 -- were among the 16 who won by a margin of less than 10,000.
And yet, the BJP won 40 per cent of the popular vote in this two-horse race. Although AAP finally took more than half the popular vote, it could not take this for granted during the campaign.
If any other party (such as the Congress) had taken a substantial vote share, it would have cut into AAP's more than the BJP's 40 per cent vote share.
Since the electoral battle for Delhi's assembly was fought against the backdrop of anti-Citizenship (Amendment) Act protests, most notably in Shaheen Bagh, the electorate could have been polarised on Hindu-Muslim lines -- to the BJP's advantage.
Ideology is not religion
AAP leaders did well to focus their campaign on what their government has done to transform Delhi's government schools and neighbourhood clinics.
As the campaign peaked, however, they evidently realised they also had to deflect their chief opponent's attempts to polarise the electorate over religious identity. For this, they had reason to flaunt tikkas, temple visits, and a Hanuman Chalisa recitation by the chief minister.
The way that recitation came about -- from an apparently unexpected challenge during an interview -- did not seem like a campaign tactic. But even if it was, it served the purpose of deflecting attempts to polarise.
Those who call this 'soft-Hindutva' seem to confuse Hindutva with the rigorous practice of Hinduism. It is not. Rather, it is an ideology that posits Hindus as primary Indians, and certain other categories of people as inherently 'anti-national'.
The Ram temple movement was used for mass mobilisation, but Hindutva is about a particular idea of nationhood, inclusion, and exclusion, rather than religiosity. In fact, the founder of the ideology was not even a practising devotee of religion.
The Hindu symbols and praxis flaunted by some AAP leaders have nothing to do with that ideology.
Middle class religiosity
There are other reasons why such tactics make sense. One has to do with the kind of party AAP is. An emergent political force of this decade, it is an essentially urban party, primarily focused on the urbanised poor, including migrants.
In terms of contemporary history, one may see it as a by-product of the policies of economic liberalisation which the Congress adopted in 1991, which consciously urbanised India.
Urban middle classes tend to adopt an overt display of religiosity. No wonder a visit to a church is commonplace just before a US president's inauguration.
Tide of history
Those who reject AAP's tactical deployment of Hindu symbols don't seem to see the tide of history, not only in post-liberalisation India, but the world at large.
We may not like it, but the clash of civilisations of which Samuel Huntington wrote three decades ago seems to be upon us. It is obvious in the politics of the US, China, Turkey, Hungary, Russia, and many other places.
Right-wing identity politics is gaining ground in all these countries, coalescing generally around strong-man figures of essentialised national identity -- which Huntington explored in his book, Who Are We? with regard to the US.
The fact is, the world has slid gradually away from liberalism since the oil shocks of the early 1970s. The growing climate crisis, population explosion, and dimmed economic prospects have all contributed.
Mass migration, often driven by these factors and the ease of transportation, has contributed to boosting a fortress syndrome in many countries. Brexit is an example.
Terror, often manipulated for geostrategic advantage, boosts it further.
Technological innovations have eased the spread of fears based on these factors enormously.
Playing on fear
The current ruling establishment has expertly used these technologies, and played to all these fears, presenting itself as the guardian of a neo-nationhood based on a revised history.
Mid-20th century liberalism is unlikely to be able to match it, for tunnel vision only seems to burrow deeper.
With little elbow room in such a time, AAP played its restricted hand quite well.
---
David Devadas is the author of The Story of Kashmir and The Generation of Rage. He can be contacted at daviddevadas@gmail.com.