'Look at ​Kejriwal. With his work, he's made a place in our hearts. But the ​BJP leaders have only abuses for us," protesters at Shaheen Bagh tell Jyoti Punwani.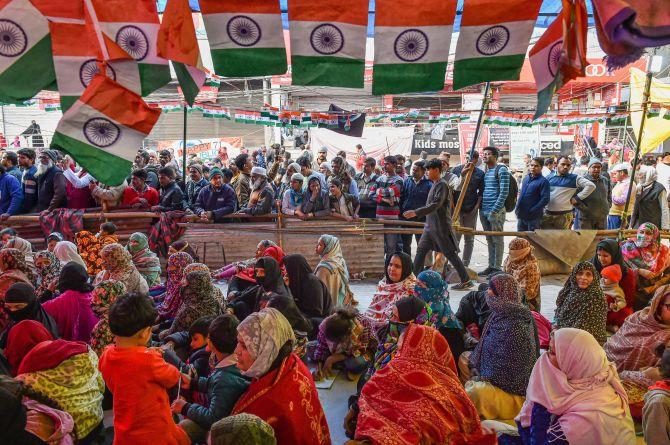 Delhi's voting ​had just got over when I visited Shaheen Bagh. I had barely started talking to a group of women when ​A​rvind ​K​ejriwal's name came up.
The question I asked had nothing to do with him. "How long are you prepared to sit on dharna here?" I asked them.
"As long as it takes," they replied.
"All we want is for the government to come and speak to us. They are proclaiming from every platform that ​this law ​they have passed​ is​ good for the country. They know we have been protesting against it here for two months now. Don't they come running when they want our vote?"
"Can't ​Modiji come to explain to us why this CAA​-​ ​NPR-NRC is good for us? Modiji is used to speaking from huge stages. ​Ours is just a small stage. ​I​t won't be difficult for him to tell us the benefits of these laws."
The prime minister and home minister should indeed come here and talk, but you must have heard what they are saying about you, I replied.
"Shouldn't a leader win over his people?" ​a​sked a young woman in the group.
"Look at ​Kejriwal. With his work, he's made a place in our hearts (hamare dilon mein jagah banaa di). But the ​BJP leaders have only abuses for us."
The others hastily intervened to clarify that their sit-in had nothing to do with any party.
​B​ut when I pointed out that people were complaining that ​K​ejriwal had neither visited Shaheen Bagh nor said a word about it even though the ​BJP had made it their only election plank, all of them jumped to his defence.
"Why should he come here? What does he have to do with this issue? It's not of his making," they replied.
"And it's better he doesn't speak about Shaheen Bagh. The ​BJP will only use whatever he says against them," they added.
This exchange took me back six years.
The 2014 ​L​ok ​S​abha polls were on ​​and AAP had just made its all​-India debut.
The country had seen Kejriwal as chief minister of Delhi for just three months (December 2013 to February 2014).
The firebrand had chosen to leave Delhi to fight the country's most powerful candidate, ​Narendra ​Damodardas Modi from Varanasi, but ​AAP had also put up candidates across the country.
Everywhere in Mumbai, ​a new phenomenon could be seen: Muslims of all ages were thronging the new party's poll offices.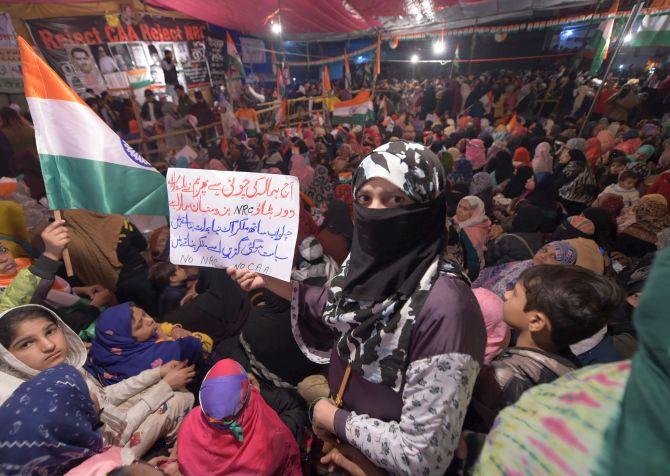 On May 12, 2014, Kejriwal was to visit Mumbai to campaign for his candidates, and a meeting at the historic ​Khilafat House was made part of his schedule.
It was a brief stopover during a long drawn out road show. After extricating himself with great difficulty from the crowd that wanted to hear him at ​Nagpada j​unction in south central Mumbai, a prominent location in the city's old Muslim quarter, the AAP leader entered the hall.
He spoke briefly about the his main plank: A vote for him would mean a vote for swaraj, where people made the decisions, instead of a politics controlled by corporates​, the hallmark of both the BJP and the Congress.
Then he left.
Disappointment, even anger, erupted among a small group of Muslims in the room, known community leaders.
"Why did we call him here? He didn't say a word about our problems!" they growled.
The dissatisfaction of these leaders reflected nothing but their own old brand of patronage and vote bank politics.
So used were they to Congress, NCP and Samajwadi Party netas coming to Khilafat House or Islam Gymkhana, and assuring them that their interests as Muslims lay in voting for them, that a leader who simply refused to address them by their religious identity seemed to them to be a betrayer.
Today too, many intellectuals are angry with Kejriwal, over his refusal to make the CAA-NRC or Shaheen Bagh an election issue, and his absence at Jamia Milia Islamia after the police violence there. These are seen as signs of his "conservative, right wing, Hindutva" tendencies.
Indeed, so strong is the 'either-you-are-with-Muslims-or-you-are-against-Muslims' syndrome today, that the unbelievable poison spewed by the original Hindutva outfit, the ruling party, against Kejriwal seems to count for nothing.
Nor does the fact that unlike other 'secular' parties, AAP MPs actually voted against the Citizenship (Amendment) Bill.
Well, looks like Delhi's ordinary Muslim voters have no qualms about voting for a man who is supposedly against them. Reports show that some of the highest voting percentages were from the city's Muslim areas.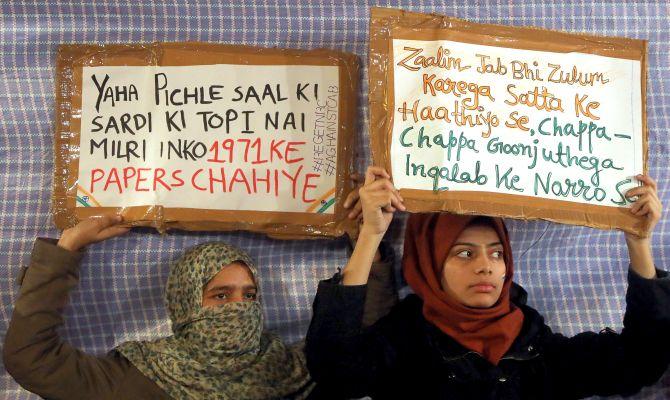 So, does their Muslim identity not matter to these voters, most of them devout believers?
For many intellectuals, the CAA-NRC protests are all about Muslim identity.
Yet, the epicentre and role model for these protests, Shaheen Bagh, seems to have exercised the power of the vote fully in favour of the man who refuses to talk about their religious identity.
Of course, the absence of the Congress in Delhi's election must have contributed to this Muslim support for Kejriwal.
But couldn't it also be that Delhi's Muslims, like Mumbai's Muslims in 2014, want to vote simply as citizens, no different from their non-Muslim neighbours?
Couldn't it be that they genuinely support a leader who sees them as citizens, who ensures that his administration works for them the way it does for all Delhi's citizens?
In a Delhi Muslim Whatsapp group, in response to a comment that 'Muslims mean nothing to Kejriwal', came a rejoinder: He has built hundreds of classrooms for Muslims, he's given electricity free to thousands of Muslims... 'But he's done so for Hindus too', was the response.
That's precisely it, came the rejoinder. He has given you exactly what he has given the majority community.
Again, the words of Muslims who joined AAP in 2014 come back: "Why do you think of us as Muslims? We want what is Constitutionally ours, we don't want lollipops."
"We see hope in AAP, which has shown that politics can be done without money, muscle power or negative propaganda, that tough decisions can be taken by governments, and that the dream of swaraj can be fulfilled by people becoming part of governance."
"Hukumraan ki bas yehi pechan honi chahiye: Kisise dar nahin; sewa bhaav se kaam (these should be the marks of a ruler: unafraid of anyone; and working for the people)."
These were the voices of Mumbai's Muslims, and these weren't the elite, but those who lived in Mumbra, Bhiwandi and Cheetah Camp, Muslim-dominated areas.
And there was nothing unique about them.
These sentiments were echoed in far away Varanasi where a group of Muslim weavers, asked about their specific demands, told a Mumbai AAP office bearer who had gone there to campaign for Kejriwal: "Tell Kejriwal our demands: Treat Hindus and Muslims equally; whoever among us does wrong, must be punished. And tell him to protect the weak."
Neither Varanasi nor Mumbai could see their hopes of AAP style of politics being fulfilled.
Delhi did, and five years of it have made the majority choose this kind of non-corporate politics again.
How apt that the women of Shaheen Bagh, who are today the face of the current protests of Muslims for recognition of their Constitutional right as equal citizens, chose to vote as citizens, sharing the same aspirations from their chief minister as the majority of their fellow citizens.