Whatever be Kamala Harris's preference for her identity, many Indians in the US will rally around her as she is the first person with Indian blood in her veins to get close to the White House, observes Ambassador T P Sreenivasan.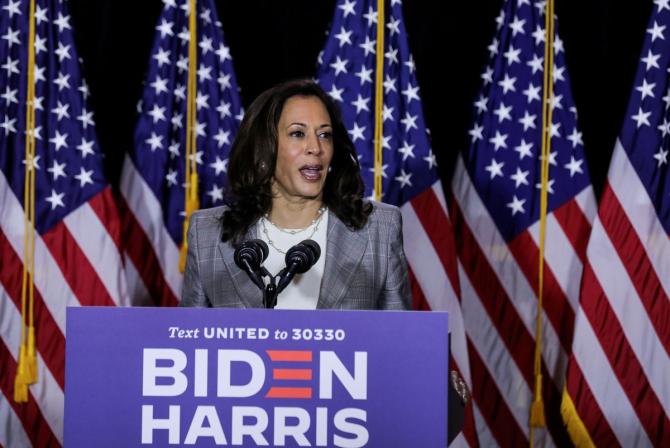 The only time I met and heard Kamala Harris was at a gala fundraising event in New York in 2018 for Pratham USA, an organisation dedicated to better education in India.
She was introduced as "the first Senator of Indian American heritage in the history of the US Senate." Looking back at that experience now after she has been picked by Joe Biden as his running mate on the Presidential Democratic ticket, I think her keynote address on that occasion threw some light on her India connection.
Her links with India are basically an emotional link with her family, rather than a civilisational or political attachment to the country.
She began her address with a warm reference to her "Chithy" (her mother's younger sister) who had come from Canada and her sister Maya.
She then shared personal anecdotes about events that shaped her thoughts and her ideals.
As she spoke of her younger days, she laughed charmingly after every sentence, conveying a kind of nostalgia.
She reflected on her visits to Chennai, where she accompanied her grandfather, who had fought for India's Independence, on his morning walks on the Besant Nagar Beach.
She also recalled her visit to Chandigarh to meet her "sick" grandmother, who turned out to be healthy enough to host a party for her.
Harris said her grandfather was one of the most influential people in her life "One of the things that he definitely taught me is that freedom and democracy are not given to us. We have to fight for it. Freedom and democracy are not something we take for granted. And if it will endure, it will be because we fight for the ideals and the nobility of what it means to live in and fight for and support a democracy," she said.
After speaking about her growing-up in California with an Indian mother and a Jamaican father, she spoke about her family's lineage as well as their commitment to "standing up for what is right" and urged those in attendance to join the "collective fight" against hate and division.
Although the event was basically Indian-American and the Indian consul general was present, she did not say a word about India as a nation, its background or India-US relations.
No Gandhi, no Nehru.
She linked the problems of people of South Asian origin with those of the other minorities in the US and that was the only reference to her South Asian pedigree.
She consistently characterised herself as a "Black American," but included all minorities in her crusade for equality and democracy.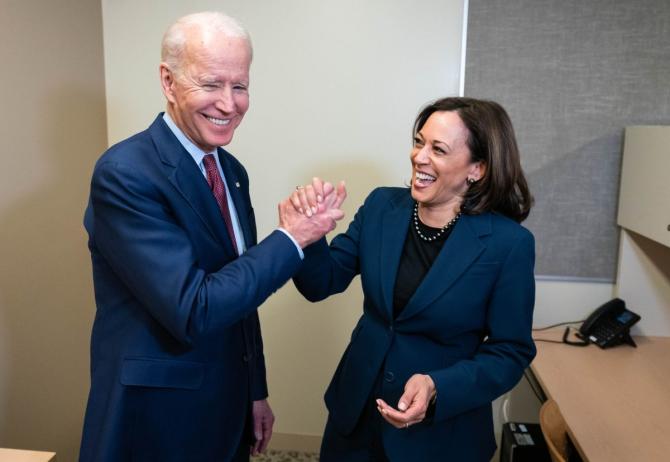 No one doubts that Harris was the most appropriate choice for Vice Presidential candidate and her Indian connection was only a minor factor.
More important were the many complementarities she brought to the ticket, such as her younger age, her gender, her identity as a black politician and her reputation as a valiant fighter for the minorities and human rights and her thorough professionalism.
As the Attorney General and a Senator from California, her service has been impeccable.
Some other names were under consideration on the belief that their swing states might help in getting electoral votes.
Eventually, she prevailed because of the many compensatory elements in her personality.
Her strength as a debater, her qualifications for governing and the racial diversity she would bring to the ticket were the major considerations.
Her friendship with Biden's elder son, Beau, who died of cancer in 2015, was also a factor, said Biden.
Whatever be Harris's preference for her identity, many Indians in the US will rally around her as she is the first person with Indian blood in her veins to get close to the White House.
If she becomes the Vice President, she will be only a heartbeat away from the Presidency.
This is not a situation, which can be ignored by the 80% of the Indians who voted for Hillary Clinton.
It is true that the community got divided in the last four years because of the perception that Trump might be better for India and the Hindus, even though his migration policy was hurtful.
Harris may bring back the unity among the Indians in favour of the Democrats.
Her original name, Kamala Devi (Goddess of Lotus) should resonate well with some even in its truncated form as Kamala (Lotus)
Anticipating this, it is being pointed out that Harris was unfriendly to India at a crucial moment.
During her aborted campaign for the Democratic candidature for President, Harris had said that the US was watching the situation in Kashmir after the scrapping of the erstwhile state's special status and that she would strive to lead while upholding the values the US is known for, including speaking out against "human rights abuses".
She even regretted that at a critical time in Kashmir, there was no US ambassador in Islamabad.
Asked about the possible role the US could play following last year's lockdown in Kashmir and the human rights situation there, she replied: 'It is about reminding people that they are not alone, that we are all watching.'
After External Affairs Minister S Jaishankar declined to attend a meeting last year with the House Foreign Affairs Committee because of the presence of Indian-American Congresswoman Pramila Jayapal, who had moved a resolution in the House of Representatives on the situation in Kashmir, Harris extended strong support to the lawmaker who, like her, has roots in Tamil Nadu.
Harris tweeted: 'It's wrong for any foreign government to tell Congress what members are allowed in meetings on Capitol Hill. I stand with @RepJayapal, and I'm glad her colleagues in the House did too.'
It is not unusual for candidates to speak what the voters want to hear during campaigns without regard to the foreign policy implications of what they say.
George Bush, Barack Obama and Donald Trump were not particularly friendly to India even though they had quite a few supporters from the Indian community.
But when they came to power and recognised the role of India in global affairs, its potential value as an ally against China, its vast market and potential for investment, they readjusted their perspectives on India.
Harris will not be different in this respect.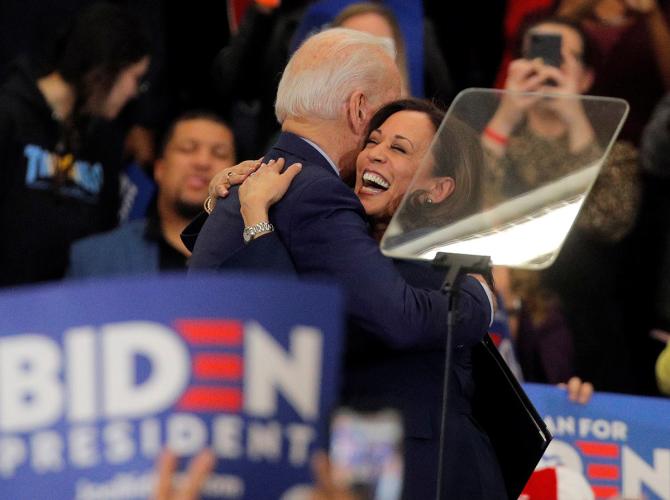 The Biden camp has already made it known that the Presidential candidate was in favour of the India-US nuclear deal and the growth of India-US relations during the Obama regime.
He was also supportive of Indian migration.
Plans are already afoot for a Biden team to begin working on the Indian dDiaspora to wean it away from the Republican camp.
Kamala Harris has certainly added a new dimension to the Democratic ticket, but it is by no means certain that she will clinch the Presidency for Biden and then position herself for 2024.
The likely prospect of the popular vote going for one party and the electoral votes for another is daunting.
The campaign will be ugly and no one knows what forces will be in play in November.
The pandemic, George Floyd, China, Russia or cyberattacks may become decisive factors at any moment even though Biden has an edge over Trump at this point in time.
---
T P Sreenivasan, (IFS 1967), is a former Ambassador of India and Governor for India of the IAEA.
Ambassador Sreenivasan is a frequent contributor to Rediff.com and his earlier columns can be read here.
Feature Presentation: Aslam Hunani/Rediff.com