Why did we go into nationwide lockdown when we were adding 100 cases a day and why are we not going into lockdown but allowing cricket stadiums, political rallies and Kumbh Melas when we are adding 40,000 cases a day? asks Aakar Patel.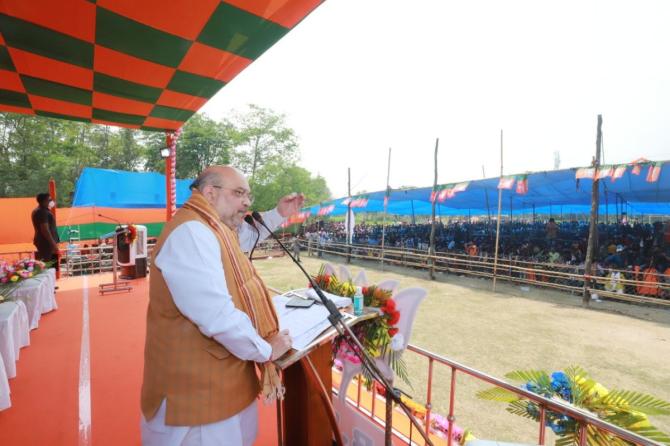 One of the problems of writing in these times is that little makes sense.
There is no real connection to reality with news and therefore commenting on it, which is the work I am doing here, is useless.
There is no role for an analyst because there is nothing to analyse in the absence of logic and reason.
To illustrate what is meant consider these four news items.
The first is from Sunday, March 14. The headline is: 'India vs England: Record crowd post COVID-19 in 1st T20 International'.
The news item says that in the match played at the world's largest Narendra Modi Stadium the attendance was 57,000 people.
The second headline is from March 14 and it says 'Covid-19 scare: Remaining T20I in Ahmedabad to be played without spectators'.
The report says that the BCCI came to the conclusion that having tens of thousands of people in close proximity was not good during the pandemic.
The second wave of Covid had begun at the end of February so the question is why spectators were allowed into world's largest Narendra Modi stadium.
That the news reports did not explain but daily Covid cases in Gujarat went up by 40% in these four days.
The third headline is from March 20. It reads: 'Alarmed over Covid-19 surge MHA writes to states, asks for compliance with norms'.
The report says that Union Home Secretary Ajay Bhalla has written to the chief secretaries of all states on the second wave of Covid.
He says that large gatherings are a problem and that they should take 'necessary measures' for "strict enforcement".
The fourth headline is also from March 20 and it says 'Explained: Why new Uttarakhand CM wants no 'rok-tok' on Kumbh crowds'.
The report says that the BJP government in the state wanted the Kumbh Mela to be 'open for all'.
As of March 11, some 32 lakh people had already gathered and more were on their way.
The shahi snans were to be held on April 12, 14 and 27.
Daily cases had doubled in Haridwar over the last two weeks.
It was unclear what the connection of this activity had to do with the Union government's instruction which also came on the same day.
The second last headline, this again from March 20, reads: 'Assembly Election 2021: PM Modi to address rally in Kharagpur today, four rallies scheduled in 10 days'.
This follows from another story which said Modi would hold 20 rallies and Amit Shah 50 rallies in Bengal.
Modi's 'Brigade Chalo' rally in Kolkata on March 7 had between 500,000 and 10 lakh people in the crowd.
Cases had doubled since that day in Bengal also.
The last headline we should look at is 'Covid count tops 40k after 111 days, biggest rise in active cases since September'.
On March 19, India recorded 40,000 new cases. One year ago, on March 24, 2020, when Modi decided that there would be a 21 day national lockdown, India had added less than 100 new cases.
Why did we go into nationwide lockdown when we were adding 100 cases a day and why are we not going into lockdown but allowing cricket stadiums, political rallies and Kumbh Melas when we are adding 40,000 cases a day?
What is the science here? I do not know.
I do not think anyone knows. Why is the Modi government sending letters to states saying they should have strict enforcement of crowd control when Modi is himself holding giant rallies?
Why is the government saying there should be necessary measures taken urgently to stop the spread of the virus when it is allowing 32 lakh people to gather in one place for a month? These are rhetorical questions.
They do not have any answers because there is no logic and no sense to the way that India operates.
The prime minister's latest slogan is that in Bengal he will not allow khela, but only vikas.
His record, according to his own data, says that India's GDP growth has been in constant decline since January 2018.
It fell from 8% to 7% to 6% to 4% to 3% at the end of 2019 and then fell into the negative.
Unemployment according to government data was at its highest in 2019 before Covid in India's independent history.
There are 20% fewer adult Indians in the workforce than in China or the United States.
This means that there will be no demographic dividend in India and we have squandered the moment when we could have had the maximum number of people in the workforce.
This will not happen because there is no work for them.
Is this vikas? I do not know. But the prime minister says it is, so there must be some truth to it.
Analysts in India have become irrelevant because the facts do not matter any longer.
This is a strange statement to make, but it is true.
Aakar Patel is a columnist and writer and you can read Aakar's earlier columns here.
Feature Presentation: Aslam Hunani/Rediff.com