The costs of providing free vaccines are way lower than the costs of a freewheeling epidemic, notes Devangshu Datta.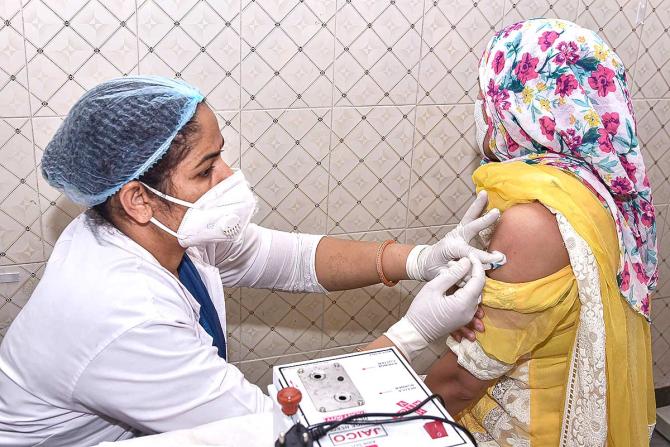 Smallpox, cholera, polio, typhoid, yellow fever, rubella, tuberculosis -- I've been inoculated against all.
The smallpox scratch patch was an annual affair.
So was the 'TABC' injection that prevented cholera and two types of typhoid.
TABC was terrible.
The target arm felt like it had nails driven into it for two days.
Both vaccines were administered free in schools.
Indeed, the jabs were coercive, or at least it felt that way.
The municipality sent teams around, parents signed a consent form (which we tried to conceal) and we lined up for 'punishment'.
It worked.
Indians above 40 have the infant smallpox scar as a distinguishing mark.
Their parents' generation included many with pox-scars on their faces.
Indians below 40 have neither scar.
Smallpox was eradicated by 1980.
Polio could also be headed into extinction.
TABC isn't mandatory anymore.
But it's available, and sensible to take it, if you go to certain parts.
These vaccines were supplied free by the government.
The rationale behind that policy decision is worth reiterating in the current situation.
It is a no-brainer actually, regardless of ideology.
Epidemic diseases cause economic losses.
The positive externalities of developing herd immunity through vaccines goes a long way beyond meeting health ministry quotas since the costs of providing free vaccines are way lower than the costs of a freewheeling epidemic.
Sick people cannot work; they suck up resources; they infect others; preventing infections via lockdowns causes disruptions.
If members of the workforce die, future productivity is lost.
Over 21 million salaried Indian workers lost jobs in 2020-2021.
Maybe a hundred million informal workers suffered loss of employment due to the catastrophic economic contraction.
Epidemiologists use a measure called the R0 ratio to get an average estimate of how many people any infected individual will infect in turn.
An R0 of 1 indicates only one person will be infected by an infected individual.
An R0 of above 1 indicates chances of an epidemic.
A rule of thumb formula (1-1/R0) indicates the level of likely infection, which is also the required herd immunity.
For example, if COVID-19 has an R0 of 2, it will infect 50 per cent of the population (1-1/2) without intervention.
If you vaccinate over 50 per cent of the population, you achieve herd immunity.
A more infectious disease of R0 3, will require 67 per cent vaccination cover.
We don't know COVID-19 R0 rates.
India has over 11 million registered Covid cases, and 160,166 deaths (as on March 24).
Seropositive rates indicate much higher infections.
The Third Seroprevalence Survey (December 2020-January 2021) indicated 21 per cent of adults and 25 per cent of those under 17 had antibodies.
This indicates many asymptomatic infections, or mild cases that were never tested for.
Maybe 600 million to 800 million Indians need COVID-19 vaccinations?
Regardless of exact numbers, the policy argument for free vaccines is very strong.
This isn't generosity.
It is a sensible policy.
Most countries have indeed provided free vaccines without ado.
All of the EU, the US, China, Brazil, etc are providing vaccines free.
India has a dual-pricing system.
Politicians have made much campaign capital out of the 'mai-baap' generosity and grace of not charging citizens who go to government facilities.
Those who go to a private hospital pay Rs 250.
Government facilities don't have the necessary capacity or efficiency in many cases, which forces many people to go the private route.
The security guards in my colony are 'paid shots'.
So are waiters at the local dhaba.
This is short-sighted policy.
The vaccine should be made available free for all, with the government picking up the tab, wherever it's taken.
Huge sums have been raised for the supposedly Covid-related PM Cares scheme.
Surely vaccination qualifies for disbursal?
Demanding Aadhaar, or other ID, for the jab, is silly.
If a street dweller with no papers wants the vaccine, give it!
This is not a gas cylinder.
People won't take multiple doses because it's free.
Everyone who can't pay and can't visit a government hospital, for whatever reason, remains unprotected and at risk.
In aggregate, a large number of such unprotected individuals will retard the chances of economic revival for the entire nation.
Feature Presentation: Ashish Narsale/Rediff.com