As many as 17 three star generals will retire before General Bajwa hangs his boots, says Rana Banerji, who headed the Pakistan desk at the Research and Analysis Wing, India's external intelligence agency.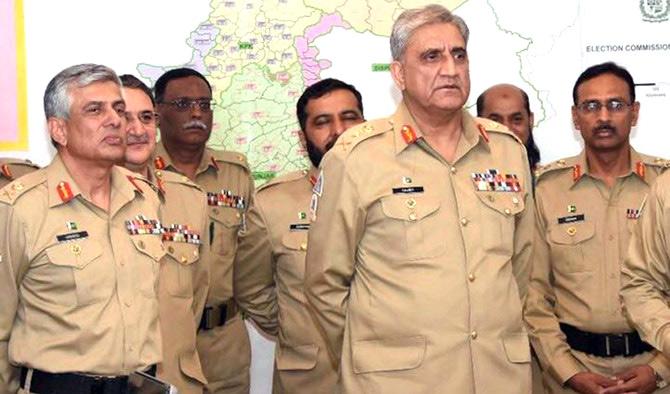 Uncertainty over formal notification by President Arif Alvi of General Qamar Javed Bajwa's tenure as Pakistan's army chief for another three years ended on November 21, as the Pakistani media reported that this had already been issued on August 19, 2019.
It was also announced that Lieutenant General Nadeem Raza, currently chief of general staff, is being appointed as the new chairman, joint chiefs of staff committee, with effect from November 27.
This is the sixth extension of a sitting army chief's term in Pakistan, the last being that of General Ashraf Kayani in 2010. Four of the six army chiefs later declared martial law.
Though General Bajwa can continue as COAS till August 2022 (if we go by the 3 year thumb rule), as many as 11 three star generals will phase out before he hangs his boots.
If the 3 year tenure date is read as November 2022, 17 lieutenant generals would have retired.
Understandably, this decision did not go down very well with the senior collegiate leadership of generals, including his corps commanders. They would have seen it coming, but had no choice than to fall in line.
Even as General Bajwa reshuffled his deck of three star generals, resentment simmered, not least because of the unceremonious dumping of erstwhile favorites like Lieutenant General Bilal Akbar, banished from the prestigious Rawalpindi 10 Corps command to the Pakistan ordnance factory, Wah, and Lieutenant General Asim Munir Shah, eased out to the 30 Corps, Gujranwala, from the Inter-Services Intelligence directorate, within ten months of being posted there.
The army currently has some 177 generals in fighting arms (this does not include the doctors and engineers and other technical services). Two are four-star generals, some 27 three-star generals, of whom corps commanders and principal staff officers are the key advisors to the chief.
Another 148 are two-star major generals. Some of those would have moved up a notch if the chief had retired on time. Some 43 of these major generals have already been superseded. They will go home regardless.
Others more charitably disposed believe the extension could offer General Bajwa an opportunity to reform the military command structure. Pakistan badly needs to re-organise its upper defence command to better administer its three armed services under a single chief of defence staff or empowered JCSC chairman.
With an extension under his belt, the COAS could involve civilian and retired military experts to streamline the command structure and better provide a single point of advice to the prime minister. Currently, the army chief does that anyway, but this bypasses the seniority ladder since the joint chiefs chairman is out of the loop, more often than not.
A model for this structure might be the Packard Commission report in the United States that led to the Goldwater Nichols Act of 1986, which introduced the concept of other four star officers as theatre or regional commanders in the United States.
Pakistan has taken tentative steps towards regional commands, but it needs to devolve operational powers to their heads -- perhaps elevating them to four-star rank, reporting to the CDS or joint chiefs chairman, giving the army chief more time to provide support at the centre.
At the very least, Pakistan deserves a serious study of the best means of achieving its defence objectives. It needs a clearer line of command in manning the war room at the PM's office, to coordinate service operations.
Simultaneously, General Bajwa could press for an updating of the war directive from the civilian government that could yield fresh doctrines from all three services. This needs to be done on a regular basis, setting a clear vision for the next five years or so, reviving the institution of regular quadrennial or quinquennial reviews, so that the civil and military leaderships can jointly set their defence targets.
If General Bajwa can set Pakistan on this path, his extension will have been well earned.
Lieutenant General Raza was commissioned in the infantry's 10 Sindh Regiment in September 1985. He is a graduate of the command and staff college Quetta. He also attended an infantry company command course in Germany in 1994. He has served as the brigade major of an infantry brigade, general staff officer (Grade 1) at the military operations directorate, and chief of staff of a strike corps.
On the instructional side, he has been on the faculty of the school of infantry and tactics, Quetta, as well as the command and staff college, Quetta, and the war college, Islamabad, (now known as the national defence university). He served as the commandant of the Pakistan military academy, Kakul.
General Raza has commanded an infantry battalion and infantry brigade along the Line of Control, an infantry division in South Waziristan, before heading the 10 Corps (Rawalpindi). These were all essential postings in a well-rounded professional career. He assumed the position of CGS on September 10, 2018.
He supersedes Lieutenant General Sarfaraz Sattar, currently director general, strategic plans division, Pakistan's nuclear command organisation. General Sattar was earlier defence attache in India and is slated to retire only in December next year if he chooses to continue despite supersession.
This change takes place against the backdrop of a worsening economic situation, expression of judicial ire over Prime Minister Imran Khan's rhetoric on corruption and accountability, and the army's increasing impatience against Imran's inept handling of day to day governance.