Neither Biden nor his successors can any longer ignore the threat China has come to pose to the US in both economic and military fields, observes Virendra Kapoor.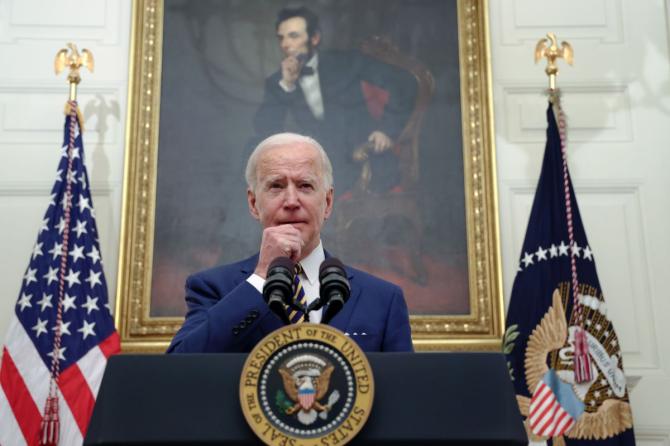 The contrast between the inaugural of a new American president in 2021 and 2017 could not have been starker.
Four years ago, Donald Trump speaking from the same pulpit had laid bare the contours of what would become his presidency's signature legacy of hate, division, disruption and crony capitalism.
Rancour and bitterness were the tools he employed to arouse his support base of 'deplorables' against anyone who opposed his brand of populism.
On the other hand, on Wednesday, January 20, 2021, from the same Capitol Hill, from where a fortnight earlier Trump had despatched his stormtroopers to ransack the two legislative chambers, Joe Biden delivered a message of hope and unity.
He would be the president of both those who supported him and who did not.
Always statesman-like, he struck not a single discordant note in his short but purposeful address.
Unlike his predecessor, the 46th US President undertook to heal wounds, restore calm and order, and committed to address the pressing problems of the people.
To begin with, to neutralise the challenge of the Coronavirus pandemic which killed more than four lakh Americans under his predecessor's watch.
Trump had first refused to consider the deadly virus nothing more than a common flu, mocking the scientists who called for a strict cautionary regimen, and later threw all caution to the wind, addressing election rallies without anyone wearing the masks or maintaining social distance.
In a way, Trump himself turned the main spreader-in-chief of the virus.
Biden, on the other hand, led by example, wearing a mask even at an event which marked the pinnacle of his more than half-a-century of political career.
So did former presidents, ranking Senators and Representatives of both parties and the tens of thousands of security forces who secured the Inaugural ceremony against heightened threats of violence from the Trump blackguards.
So noxious was the legacy of the flash-in-the-pan winner of the 2016 presidential race that he poisoned with oodles of hate and racism the very life-blood of the American polity.
No US president in recent memory was as unworthy of occupying the most powerful office in the world as the not-so-successful New York real estate baron.
No other president in recent times was as ignorant and unaware of the world around him as Trump.
Yet, the narcissist boasted he was a stable genius.
He had won in 2016 appealing to the baser instincts of the voters who had seen better days.
His anti-Muslim, anti-immigrant, anti-Latinos, anti-media, and pro-Mexican wall campaign endeared him to the white but relatively poor voters who were rendered jobless by the flight of manufacturing jobs to China and other low-income countries.
A demagogue whose dog-whistle white supremacist message enthralled the fringe groups such as the Ku Klux Clan or the ultra extremist Christian, pro-life constituents, Trump changed America in an unwholesome way and undermined the post-War certitudes.
The Cold War era Western security and economic alliances crafted by several of his predecessors came unstuck under his vicious tirade.
He was harsh on NATO allies and lovey-dovey with the Russian dictator Vladimir Putin and, for a time, with North Korea's murderous autocrat Kim Jong Un.
He led the reversal of the globalisation process just as several of his presidents had spearheaded the move towards globalisation.
His rejection of the Paris climate accord or his insistence on fresh, and more equitable, terms of trade with China were no less controversial.
It was under Trump's watch that President Xi Jinping, instead of buckling under the US challenge, bared his hegemonic fangs, menacing Europe, Australia, Asia, Americas et al with his country's superior economic and military clout.
To be fair to Trump, he helped in spotlighting the threat a powerful China posed to the established global order.
Neither Biden nor any of his successors can any longer ignore the threat China has come to pose in both economic and military fields.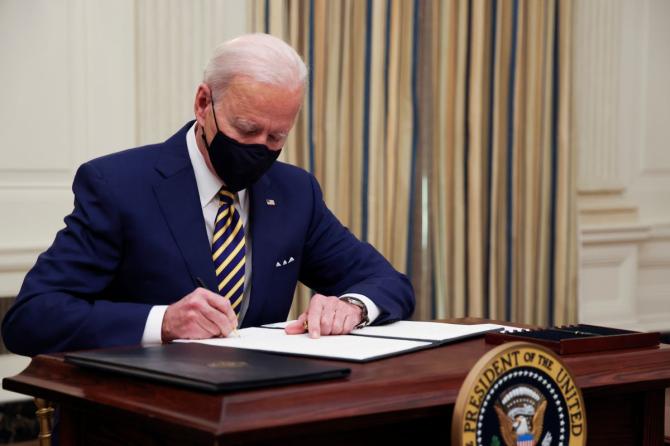 Even in his relations with India, despite a public show of bonhomie with Modi, Trump was transactional, withdrawing preferential treatment for a number of Indian exports and insisting on further opening of the Indian market for American goods and services.
Biden will not restore status quo ante with China, but he will be more nuanced and measured in his dealings.
The American security establishment has raised the red flag over China's predatory and expansionist agenda, and ambition to replace the US as the global superpower.
Biden will keep the pressure on Xi.
As a pivotal power in Asia, India is assured of continued support of the Biden administration, especially due to the belated realisation by the American strategic community that it serves as a bulwark of freedom and democracy in this part of the world against China's expansionist, militaristic goals.
Without joining any security alliance, without surrendering neutrality, India can still cooperate in strategic security matters with the US and other democratic nations to safeguard its territorial integrity and sovereignty.
Meanwhile, as expected, the US was re-joining WHO and the Paris Climate Agreement.
Even on the Iran nuclear deal a re-look is assured.
If the sanctions-hit Iran plays its cards well, the Biden administration might heed western allies such as Germany, France, the UK and re-work the nuclear deal and lift the sanctions.
Admittedly, the American security establishment is highly sceptical of Iran's ambitions.
Besides, there is inherent opposition to US normalising relations with Iran from the Saudi Arabia-led Sunni Arab alliance.
A note of caution for India.
Even though there is unlikely to be much change in India-US relations, the Biden administration would be noisier on perceived violations of human rights in parts of the country due to the terror-related local environments in Kashmir and in parts of the north east.
However, India would hope to get relief on immigration, H-IB visas for skilled workers.
As the one-time chair of the Senate Foreign Relations Committee, Biden's record gives reason for India to expect him to be harder on Pakistan for its export of terror than even the previous Trump administration.
Meanwhile, it may be alright to draw nationalistic pride that in Kamala Harris we have a US vice-president of Indian-origin or that dozens of Americans of Indian origin have been appointed in key positions in the new administration.
But nobody should expect a marked impact on India-US relations as a consequence.
Because whether it is Harris or others of Indian origin, they are, above all else, Americans first.
Feature Presentation: Aslam Hunani/Rediff.com