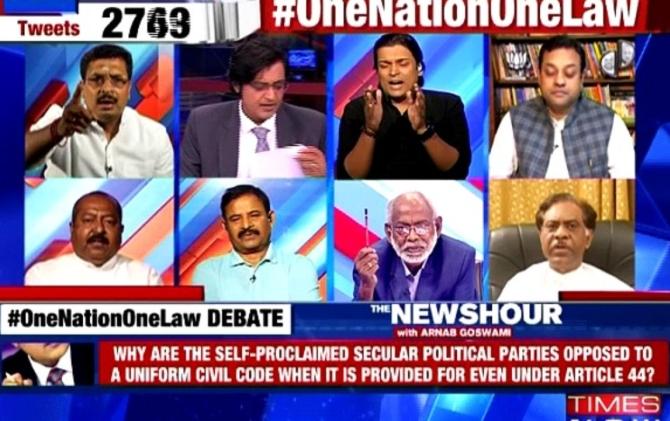 'Now that Arnab Goswami is signing off from the Times group, his cacophony and his shrill sermons will be missed.'
'So will the fish market.'
'Thank God for that because for me the fish had started to stink,' says Sudhir Bisht.
Not so long ago, Barkha Dutt's show on NDTV, The Buck Stops Here, was the prime time television show for the miniscule percentage of viewers in India who get their daily dose of news on television. Then things started to change a bit around 2011.
That year, around mid-April, Anna Hazare launched his campaign, India Against Corruption. The many indefinite sit-ins, dharnas, and Anna's fast-unto-death became the toast of 24x7 media channels.
NDTV, which allegedly was a strong supporter of the United Progressive Alliance government, was less than critical of the government of the day for its covert opposition to the Jan Lokpal Bill.
NDTV cameras kept the focus on the government's point of view with Kapil Sibal, P Chidambaram and Salman Khurshid making numerous appearances on the channel to express their aggressive contempt for the small, though not frail, man that Hazare appeared from outside.
These stalwarts from the Congress party were repeatedly mocking Hazare and his supporters and often said, 'Why can't these bunch of agitationists (yes, one of them said agitationists and not agitators) form their own party and fight elections and do whatever they want?'
The arrogance of the mighty was in full display.
The IAC agitation carried on till mid-2012 before it died its natural death due to the weariness of those who were agitating even as the government of the day passed the Lokpal Bill in the Lok Sabha by taking away most of the sting that was supposed to be contained in the bill.
It was during this IAC campaign that another star anchor, but not yet a superstar anchor, Arnab Goswami, threw himself completely in support of Hazare's movement.
Mind you, when the movement started, Arnab was not a strong supporter of the IAC movement. But something happened in August 2011 when Times Now, the channel where Arnab worked, showed footage of Anna inside Tihar jail.
There was also footage of Hazare surrounded by the Delhi police making a dash for cover when it began raining during the protest.
His 20-metre sprint left the younger police officers huffing and puffing, but Hazare was breathing absolutely normally. He grinned from ear-to-ear and Goswami was swept away by that sprint and that smile.
From August 2011 onwards, Goswami became the biggest supporter of the IAC and the public that supported the Hazare-led movement switched over from all other channels to Times Now.
Goswami became a mega star. Contemporary anchors who were on par with him until then were swept aside by the typhoon called Arnab who realised that the public was looking to attaining nirvana at night through an anchor who could worship their Hazare-like heroes.
NDTV's more-than-a-little-tilt towards the UPA was fast becoming its undoing, but it needed an Arnab like samurai to hasten the demise of its 9 pm dominance.
After he got his first big success in 2011, Arnab upped his ante and started taking positions in the debate.
The mutation of an anchor of a television debate -- from playing the role of moderator to donning the hat of a partisan participant -- brought immediate dividends.
I will give Goswami full credit for working out a long-term strategy for putting him atop the Mount Everest of television news debates.
His team researched the subject of the debate better than most teams in other television channels. And Goswami was always better prepared than all the other television anchors put together.
He brought in several innovations in his 9 pm news opera. Goswami was the first anchor to invite more than four guests on his show. He packed the panel with a minimum of six guests. And he was cunning to give longer time to those who mirrored his own beliefs.
By 2013 most of India had become disenchanted with the UPA government and Goswami turned into a staunch critic of the UPA. This was lapped up by the viewers. He openly ridiculed Congress spokespersons like the articulate-but-seldom-smiling Sanjay Jha.
I am not an admirer of Jha, but I felt very bad when he was shouted at and cut off arbitrarily by Arnab on numerous occasions.
He was the first news anchor to speak back, with greater vigour, to a formidable lawyer-spokesman of the calibre of Manish Tiwari. And
he simply made fun of the spokespersons of minor parties like the Samajwadi Party.
He was not afraid of letting the viewers know his likes and dislikes as he openly clobbered men like Dr Ajay Alok of the Janata Dal-United. However, he did make exceptions for people like the JD-U's Pavan Verma for reasons best known to him.
The point I am trying to make here is that Arnab wasn't afraid to flaunt his likes and dislikes. And his likes and dislikes always, repeat always, coincided with the mood of the majority of the nation.
Justice Arnab, as many of his admirers call him in jest, is the first anchor who combined in him the roles of prosecutor and judge.
He was the first anchor who delivered instant 'justice' in the case where an IAS officer D K Ravi committed suicide. The politicians were instantly held responsible for the young officer's suicide even though an inquiry later confirmed that the suicide was due to other reasons.
And Arnab was unsparing in his attack on the high and mighty. He was ruthless with Salman Khan and Sanjay Dutt and this made him an instant hero among his viewers.
If one were an National Democratic Alliance supporter, one loved how Arnab mocked the Congress for not sending its representative by keeping a vacant chair for the party.
Viewers loved him for his audacity to vociferously criticise the Indian cricket board and Bollywood.
Here was an anchor who feared none and spared none.
Goswami was the first anchor to encourage his panelists to speak in Hindi in a programme telecast on an English news channel. This broadened his viewership base as Times Now was transformed from an English-speaking viewership to a much larger English-understanding viewership.
We just marvelled, many times in despair, the manner in which he exploited those panelists whose views concurred with his own views.
My good friend, Colonel R S N Singh, is a regular on the show and I see many times the star anchor turning to him and the affable Maroof Raza (a brilliant strategic affairs expert from the stables of Times Now) for support whenever he finds himself in a corner.
Goswami can come out of any uneasy situation by suddenly 'opening up the debate' or 'opening up the phone lines,' something which no other channel is able to achieve.
In the process of running the circus that runs for nearly 90 minutes, Goswami is able to ensure that the anchors of the competing channels from 9 pm to 10.30 pm are consigned to sideshows.
Goswami's show has very few advertisements in between. They either precede his show or follow his show with just two breaks in between his show. He doesn't give any opportunity to his viewers to indulge in channel surfing.
I watch him whenever he takes a position that is in sync with my own position. Otherwise I avoid him.
Who wants to be in the middle of a very, very crowded bazaar if one is neither a buyer nor a seller?
But the popularity of his show leads me to believe that most viewers tread the line that Goswami takes. Perhaps I am wrong. Maybe Goswami takes the line that most Indian tread.
By May 2016, his popularity became so huge that NDTV had to reschedule The Buck Stops Here to 8 pm. The 9 pm slot which was known as prime time had a new name, The Super Prime Time, and if the Times Now figures are to be believed, then it was the number one channel with the other channels relegated to abysmal depths of irrelevance.
In the process of achieving super success, Goswami has also turned his show into a 9 pm fish market.
Panelists outsmart one another by the superiority of their decibel levels and not by the force of their arguments.
The nation doesn't want to know anything when one is with Goswami. The nation wants Goswami to speak what it wants to hear.
So weekday after weekday the fish market is set up. The brave anchor is not shy of calling its rival channel the 'Radia Tapes channel.'
He even asks the other anchors to prove their nationalism.
Goswami is the WWE champ amidst the mud wrestlers that other anchors appear to be on the telly.
He has the sex appeal, the machismo and a shining machete in his hand.
As at today Times Now with Arnab Goswami is unbeatable.
Whenever he goes on short leave, the Newshour is almost always anchored by two anchors. Obviously Arnab can't be replaced by just one person.
Now that Goswami is signing off from the Times group, his cacophony and his shrill sermons will be missed. So will the fish market.
Thank God for that because for me the fish had started to stink.
Sudhir Bisht, author and columnist, is based in New Delhi and tweets at @sudhir_bisht