The description of his career by Ambassador Nazareth in his elegant language, judicious choice of details, without ego or malice to anyone, shows that it had its ups and downs, triumphs and tragedies and lucky and unlucky accidents.
Ambassador T P Sreenivasan reviews A Ringside Seat to History.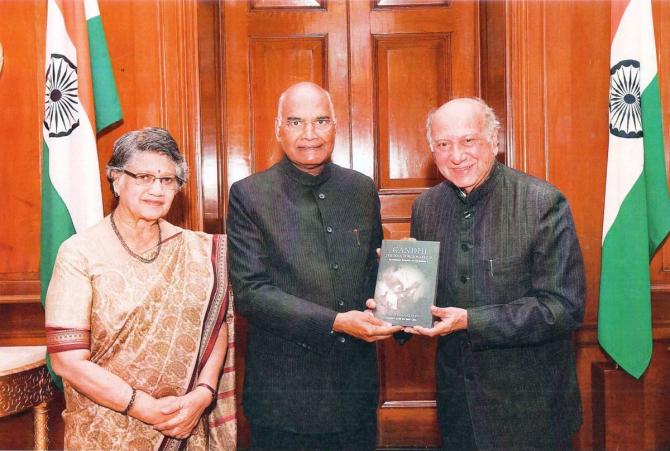 As a clan, diplomats tend to write more memoirs than those in other professions, essentially because they have the opportunity to explore and discover more than others because of the diversity of experiences they encounter.
Telling stories is also part of the diplomatic profession.
I suspect in some countries, diplomats are trained to recount stories and tell jokes to be able to make them acceptable in social circles in different countries.
Indian diplomats have no such training, but out of sheer necessity they become raconteurs around dining tables or during the long interludes in negotiations, while waiting for documents or instructions.
Russians and Iranians seem particularly good at this because they have been trained to speak a lot without saying much.
Most diplomats do their memoirs early in retirement, when memories are fresh, photographs are not faded and travelling down the memory lane is one way to overcome the withdrawal symptoms after an active and busy life.
But some of them get busy with their second careers in right earnest and then begin writing normally at the behest of relatives and friends later in life.
Ambassador Pascal Alan Nazareth, having completed his chequered diplomatic career dominated by India's soft power, plunged into Gandhian studies and lectures on culture on luxury cruisers.
His two books on Gandhiji was translated into 23 foreign and 12 Indian languages and he literally went with them around the globe, leaving the writing of his autography till his 80th birthday.
Luckily, his memory, his sharpness of mind and sense of humour remained intact.
The minute details of events, including date and time must have come from some meticulously kept diaries.
No two autobiographies of diplomats can be identical, though the expectations of their career paths are the same and with very few exceptions, everyone reaches the highest levels of the service.
The recruitment, training, promotions and postings are supposed to be equitable.
But the vagaries of posting of diplomats are such that there is no single pattern that they follow and the policy followed is more art than science.
It also depends on whether an officer hitches his wagon to a political star or remain an upright officer, as High Commissioner B K Nehru observed.
In the process, some may have comparatively smooth careers. while others may have turbulent lives for no fault of theirs.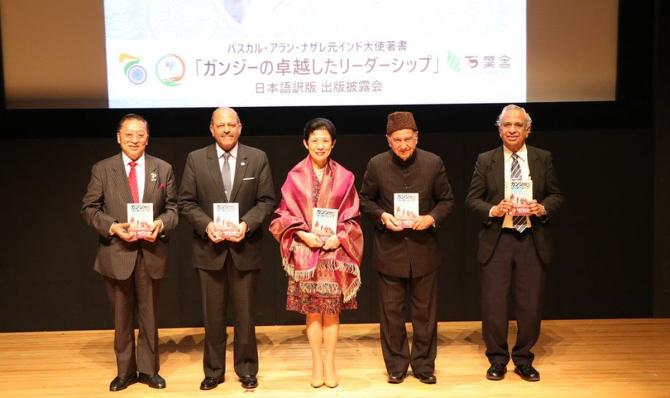 The description of his career by Ambassador Nazareth in his elegant language, judicious choice of details, without ego or malice to anyone, shows that it had its ups and downs, triumphs and tragedies and lucky and unlucky accidents.
It is the story of stoic acceptance of twists and turns of life and making the best of every situation.
The coincidence of the Dalai Lama's arrival in India on the same day as he joined the service, the miraculous arrival of Mother Teresa at a cancer hospital in New York to heal his son, the fight against virginity tests in the UK, his chase of the fugitive Jayanti Dharma Teja all the way to Costa Rica, three coups in Africa and devastating earthquakes in Latin America, his appointment as the cultural czar of India and other events summarised by Ambassador M K Rasgotra in his thoughtful foreword, read more like fiction than facts.
But every diplomat must have such exciting stories to tell.
The success here is that the narration is truthful, forthright, transparent and supported by credible circumstantial evidence.
His absolute dedication to work, indomitable courage, unfailing wisdom and absolute integrity are evident throughout.
He does not hide his frustrations and disappointments during his career and he even reveals that two publishers had turned down his manuscript, perhaps the first author to do so.
Of course, there are some celebrated instances of certain publishers rejecting manuscripts, which later became classics and best sellers.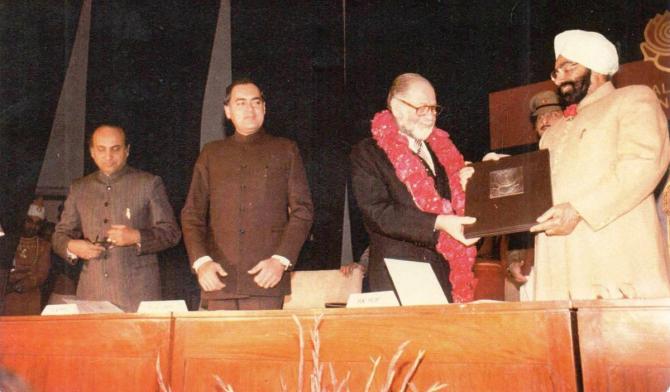 Our paths never crossed when both of us were in the Foreign Service and we did not know each other except through the IFS folklore.
I followed his work in London closely as I was in the foreign secretary's office, which was at the centre of the changes in our high commission there.
But there was a certain parallelism in our careers.
Both of us chose Japanese as our optional language and began our careers in Tokyo.
Although both of us acquired proficiency in Japanese, neither of us got posted back to Japan as we did not fit into the jigsaw of postings at various stages.
We were posted to Yangon at different times, but lived in the same house.
I could, therefore, relate to his stories of 'tree spirits' and spiders.
Fortunately, we did not encounter the spiders, because my wife would have refused to live there.
She was horrified that she had married into a family which worshipped spiders.
When she expressed her fear of spiders, she was told that our family was blessed by the spider gods and anyone who was stung by the spiders in the neighbourhood could be healed by a sprinkling of ashes by any member of the family.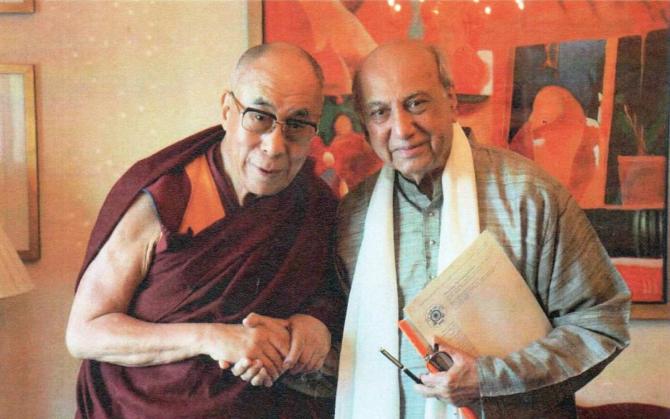 We had our share of coups like Ambassador Nazareth and his wife and there was one occasion when my wife feared that she was about to be taken into military custody in a similar situation faced by Isobel Nazareth in Ghana.
The official car she was travelling in Fiji two days after a military coup was stopped by gun wielding soldiers only to inform my wife that a part of her saree was jutting out of the car.
Isobel voluntarily accompanied a young lady, who was taken by the authorities from her home in a military truck and returned unharmed.
Like in other diplomatic memoirs, the author's wife emerges as an equal partner in contributing to the prestige of the country and in sharing inconveniences and mishaps.
Most women who marry diplomats with dreams of luxury and comforts invariably discover that diplomacy is also a challenging career.
But most of them prove the point made by Pandit Nehru in Parliament that it is only the Foreign Service which provides the services of two persons for the salary of one.
'Nazareth's wife Isobel, with her abundant good looks, charm and elegance, her flair for diplomatic hospitality and her ability to handle all types of exigencies , has been a great asset to him,' observes Ambassador Rasgotra.
The book has sufficient solid evidence to elucidate that statement.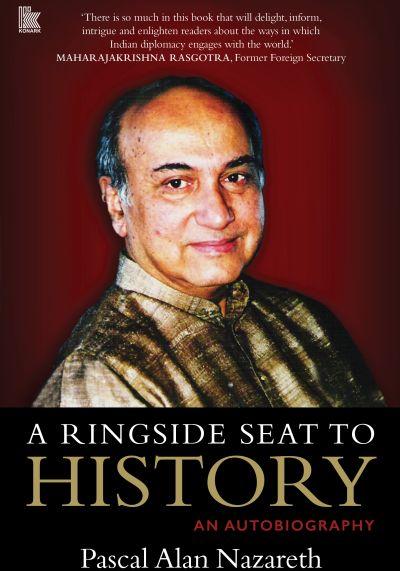 Writing autobiographies is a risky proposition for anyone because even truthful narration will be suspected of self-praise or self-pity.
There is sufficient justification for mentioning accomplishments as they will never be known in the nebulous world of diplomacy in which successes cannot be easily measured.
To a certain extent, diplomats have to blow their own trumpet as the public rarely comes to know their work.
Nor will the story be complete without recording mistakes or failures.
For civil servants, there is the added risk of revealing state secrets, which may be sensitive even after a lapse of time.
Ambassador Nazareth has avoided all these pitfalls and created a model for diplomatic memoirs.
His affable personality, unfailing courtesy, patriotism and efficiency shine through his autobiography.
I feel gratified that I had the privilege of connecting the author with my own publisher, K P R Nair of Konark, who is adept in dealing with diplomatic memoirs.
I must also acknowledge that Ambassador Nazareth readily accepted my minor suggestions during the production of his book.
T P Sreenivasan, (IFS 1967), is a former Ambassador of India and Governor for India of the IAEA.
Ambassador Sreenivasan is a frequent contributor to Rediff.com and his earlier columns can be read here.
Feature Presentation: Aslam Hunani/Rediff.com