'Those who follow the workings of the establishment believe that Indian diplomacy has managed more by the individual flair and brilliance of a few individuals than its systemic strength or organisational excellence,' says Ambassador B S Prakash.
IMAGE: Three of India's finest diplomats: Shivshankar Menon, former foreign secretary, right, with Foreign Secretary Dr S Jaishankar, centre, and Gautam Bambawale, high commissioner-designate to Pakistan, left.
There is a wise and wicked saying that 'little minds discuss people, average minds discuss events, great minds discuss ideas.'
All the three are important for diplomats -- people, events and ideas -- and the interplay among them as developments unfold. But, an organised mind discusses patterns and systems.
This is the thought that struck me as I read recently Diplomacy At The Cutting Edge by Ambassador Kishan S Rana, a senior colleague of mine who has carved out a special niche among the large numbers of retired diplomats who are now seen in print.
The book was released by another very distinguished Indian diplomat, Ambassador Hamid Ansari, the Vice-President. Looking at the audience around me, I felt proud to belong to that fraternity.
Is Diplomacy an art or a craft?
Can a diplomat fly solo, reacting to or influencing events based on his skills or aptitudes, or is he a cog in the wheel, a part of a system, performing his role in strict accordance with instructions.
Can an Ambassador invent, or innovate or only disseminate?
Not all long-serving diplomats necessarily reflect on such issues. But a few do, consistently, over long periods of time, and become known as experts on the diplomatic profession, an arcane area, different from foreign policy or international affairs.
Kishan S Rana is acknowledged as a master of this genre and has nearly a dozen books, most of them with the word 'diplomacy or embassy' in the title!
If you really want to know how professional the Indian Foreign Service is compared to that of China, or Russia, or France, he is the expert to turn to.
Could this be of interest to the public? In the last few years, there has been some talk about the IFS, its capabilities and limitations in the context of our growing influence in the world.
Prime Minister Modi's hyper kinetic, multi-directional travels and his demands from the system to deliver enhances interest in this topic at least among the cognoscenti.
It is being now acknowledged in Parliament and the media that our diplomatic establishment is disproportionably small. Those who follow the workings of the establishment believe that Indian diplomacy has managed more by the individual flair and brilliance of a few individuals than its systemic strength or organisational excellence.
There is also today some awareness of how Indian embassies respond to crisis situations like evacuations or distress calls of the Diaspora. Complaints about passports or visas get aired frequently.
Less known to the public is the work of Indian diplomats in their template functions: Assessing political developments, cultivating key relationships in a foreign country, promoting business, projecting Indian culture, and negotiating global issues in multilateral forums.
How well or badly are Indian diplomats in performing these functions?
Even within the bureaucratic system, there is little awareness of the job content and professional challenges of the IFS compared to the IAS and the IPS who are perceived to be at the cutting edge of our realties.
In this framework, Ambassador Rana's central concern is how 'Diplomacy too can be at the cutting edge' making a difference to the national endeavour.
Billed as a memoir, Rana has descriptions of his varied postings across continents -- China, Kenya, Germany, Europe, US and others. There are by now several memoirs by retired diplomats of his generation with interesting anecdotes, or significant revelations. Some are self-reflective, others are witty, and some, let us admit it, are pedestrian.
But I have rarely come across a colleague who invariably tries to tease out larger inferences and suggestions for institutional reform from each of his experiences. That is Kishan Rana's forte.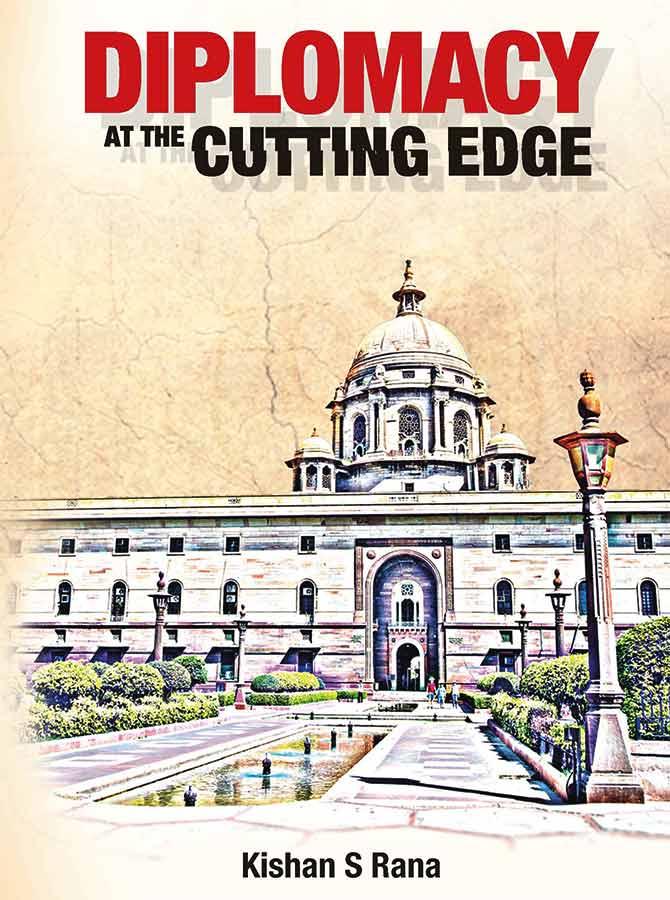 For me as an insider, three phases of the author's career are particularly interesting in the book: His early years in China, penned after a lifetime of reflections on that country; some eventful years as a joint secretary in Indira Gandhi's PMO; and an extremely energetic and productive last posting as the ambassador to Germany at a time when it emerged as the most important power in Europe.
On China, many veteran Indian diplomats have come to a realisation of mistakes made on both sides, of ambiguous signals, and missed opportunities. For instance, months before the war in 1962, a letter in Chinese had been delivered to the embassy from unknown quarters, warning India about its activities in Tibet. Was this a deliberate signal or the random act of a well meaning individual, or a mere prank?
As it happened, due to some exigencies the letter never got transmitted, let alone seriously examined. The challenge of understanding the riddles of China, captured by Rana in this tale from his period in the 1960s, continues to this day.
The chapter on the PMO brings home how personality types and styles affect individual careers and the capriciousness in bureaucratic life. To his credit, the author tells us how he had to move out of the PMO due to a minor happenstance, something that may surprise a lay reader who may expect more calibrated decisions at high levels.
The German experience, on the other hand, is a chapter where rationality reigns and results flow when a focussed Head of Mission works in a totally professional environment. But through all these narratives, the steady focus is on the 'best practices and the lessons learnt' in the management 'case study' style of which Rana is an admirer and a practitioner.
In this and his other books as well, the author has developed over the years a kind of a primer for the MEA (Ministry of External Affairs) and for the IFS. What are some of the core principles distilled from his experiences and reflections?
To start with, the so-called 'external' and the 'domestic' dimensions in policy are increasingly intertwined for India. In terms of the work content and style, therefore, a diplomat cannot function in a South Block silo or fenced off embassy isolation.
If one looks at some of the current agendas of Indian negotiators -- outside the perennial headaches of Pakistan -- this becomes evident. Climate change, energy security, Internet neutrality, cyberspace, intellectual property, bio-diversity -- these are the kind of complex issues that Indian diplomats have to tackle.
In dealing with such issues they are a part of the larger effort with other bureaucrats, technocrats, scientists and NGOs. Effective diplomacy today involves many stakeholders, not only in the government, but in the business, media and civil society.;
A 21st century embassy should thus be at the forefront of the interaction representing all the aspects and interests of the country in an integrated manner. The necessity in an embassy today is to have a well defined holistic statement of mission and to co-opt partners in fulfilling it.
At the individual level, a diplomat has to continually educate himself and enhance his capacity with training, upgradation of skills, and a clear eyed focus on 'delivery'.
Does all this sounds like a prescription for a CEO than for an ambassador? That has been the signature tune of Ambassador Rana as he continues to deglamorise the IFS and describe its Mission, and minutiae.