'Why does Farah feel threatened by me? Why is she so frustrated?' Saroj Khan had asked Subhash K Jha.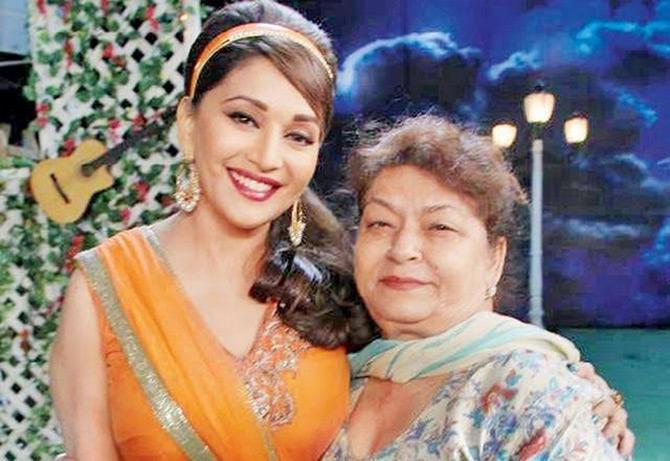 There were only five people at Saroj Khan's funeral early on Friday, June 3.
Among them were her son and daughter and choreographers Remo D'Souza and Ahmed Khan.
Saroj Khan was to Bollywood movie choreography what Naushad was to film music.
Before her, choreographers were shadowy figures in the background. She brought a full-bodied recognition to film choreography and prompted Filmfare to instate an award for this category.
Actresses like Sridevi and Madhuri Dixit acquired a special allure when they danced to Khan's rhythms.
Saroj Khan was a perfectionist in her dance moves and unsparing in that quest.
A popular actress from the 1990s narrates an anecdote. Apparently, the actress couldn't get the steps right.
Saroj called her aside and asked, 'There is no lachak (suppleness) in your dance steps. Haven't you ever done it?'
It took the actress a while to understand what 'it' meant.
Saroj Khan was like that.
Outspoken to an embarrassing degree if push came to shove.
Every time I spoke to Saroj Khan in recent years, she was disgruntled and disillusioned with the way the film industry, especially some younger choreographers, treated her.
Like Farah Khan.
During the promotion of Happy New Year on a television show, Farah and comedian Kuku Sharda lampooned Saroj Khan.
Sarojji was hurt and angry.
"I saw what they did on the TV show," she told me. "Does this kind of behaviour suit her? I really feel sorry for these people."
"I don't know what they stand to gain from targeting me in this way. She is no longer a choreographer. She is a director. I've never gone to her for work, then why do I matter so much to her? Just to stay in the news?" Sarojji asked.
"I am no more in the limelight. I am out of the film industry now. My focus is on teaching dancing to children. I am busy with that. Allah Miyan ne pet diya hai bharega bhi wohi (Allah has given me a stomach, he will feed it too)," she added.
"Why does she feel threatened by me? Why is she so frustrated?"
"I've never spoken behind her back. Yet, Farah and her brother (Sajid Khan) continue to bitch about me."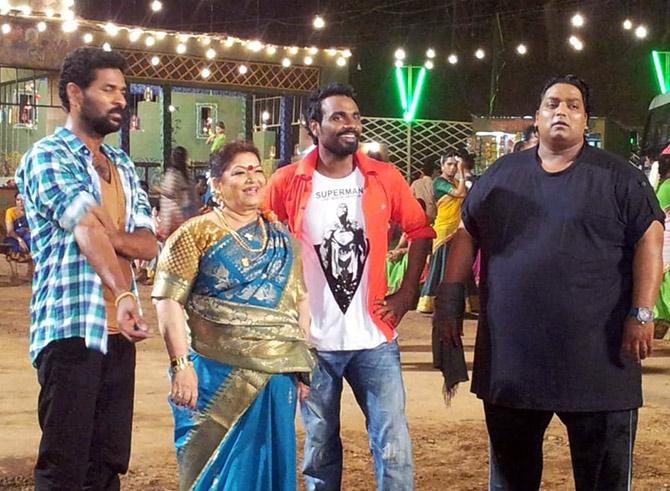 Regarding barbs about her weight, Saroj once asked me, "Why target me? Why not Ganesh Acharya? He is more overweight than me. And please come and see me now. I am slimmer than Farah Khan. I think Farah owes me an apology."
Saroj Khan was extremely disheartened by recent choreographic trends.
"I feel dancing in our films is going down the drain. Earlier, audiences watched film dances with their mouths open. Now saliva falls out of their mouths," she said.
"Film dances are no longer art. They've become too commercial. Now my children have grown up. I have grandchildren. I'm only interested in doing selected films."
She also disapproved of the trend of choreographers allowing their assistants to compose dances.
"I never did that. Farah Khan and Vaibhavi Merchant adopt any movement from their assistants that catches their fancy. If an assistant choreographs a number, what right does Farah Khan have to take the award? It's good that her assistant Geeta Kapoor has branched out on her own."
"When I go to collect an award, I go with the pride of knowing that it's rightfully mine."
Saroj Khan remained indebted to her guru.
"I never forget I've graduated from P L Rajji's school of choreography," she told me once. "This is the man who composed the dance for Hothon Pe Aisi Baat. How can I let him down?"
"Today, I don't feel like putting the TV on to watch the dances. My grandchildren watch Cartoon Network rather than film songs. I liked Aishwarya's songs. But of late, even they look strange. I was supposed to do Umrao Jaan with Aishwarya Rai. But something happened between Mr J P Dutta and me, so I walked out."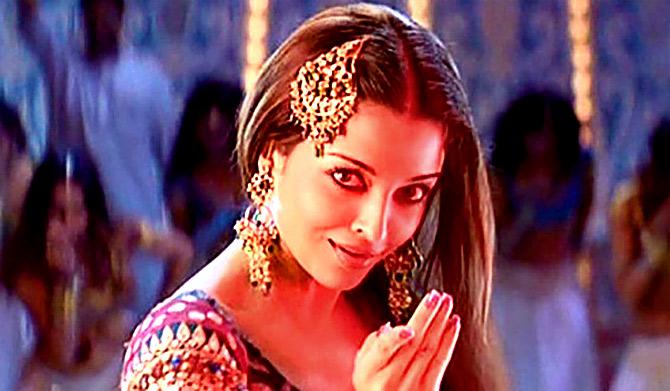 Why did Aishwarya stop working with Saroj Khan?
"I don't know," Sarojji answered. "Maybe she no longer likes my style. I'm sure she has found better choreographers to work with. But I must say Kajra Re did not impress me much as a dance number. Still, it took away all the awards."
"I took all the awards for Aaj Kal Mujhko Hai Intezaar although the film Sailaab had flopped," she added.
"Now, they say Bunty Aur Babli worked because of Kajra Re. I feel like laughing at some of the award juries. They found some of my movements vulgar and gave me awards for the same movements in another song."
Despite being sidelined in recent years, Saroj Khan wasn't willing to move on.
"I will keep choreographing until the end of my life," she insisted. "But I won't get into a rut. I wouldn't do dances just to earn money. Nor will I seek out work.
"I never did that during Sridevi and Madhuri. Why should I do it now?
"I feel the younger stars feel I belong to the older generation. Abhishek (Bachchan), with whom I worked in Refugee and Kuch Na Kaho, prefers Vaibhavi or Remo. Maybe they feel I'm a part of the past."
"But I like choreographing Aishwarya Rai. I like the way Priyanka Chopra dances."