'She gave choreography in Indian cinema a name, a face and a place.'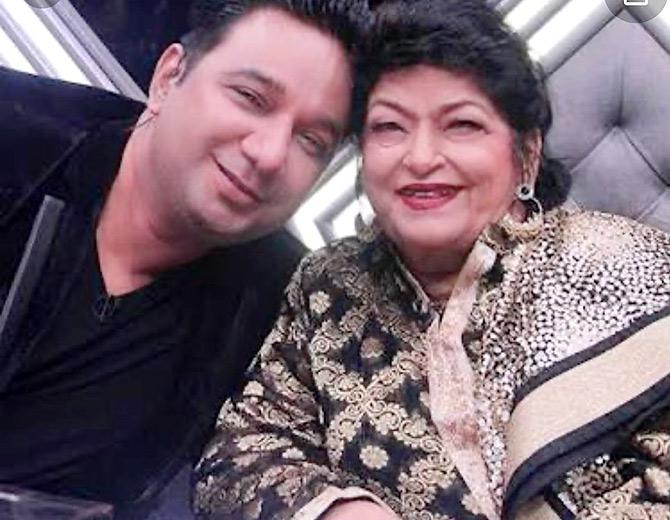 Ahmed Khan can't believe Saroj Khan is gone.
"I got to know of her death at night and rushed to the kabristan (graveyard) in the morning," he tells Subhash K Jha.
"I have just returned, numbed. It has still not sunk in. I knew she was keeping ill health. I wanted to visit her in the hospital, but couldn't because of the COVID-19 lockdown. Now I'll never see her," says Ahmed sorrowfully.
Saroj Khan was like a mother to Ahmed.
"Everything I know about choreography I learnt from her. At the age of 12, I was watching her choreograph Kate Nahin Kat Te in Mr India. I was a child actor in that film. Though I was too young to understand what was going on, I could feel the uniqueness of the body language, the urgency of the movements. I knew right then that I wanted to be a choreographer."
At 16, Ahmed began assisting Saroj Khan.
"I was a child, bewildered and lost. She mothered me. She nurtured my talent. I was like her son. Whatever I know about choreography I learnt from Sarojji."
"She gave choreography in Indian cinema a name, a face and a place. All of us (choreographers) owe our careers to her."
Ahmed got a chance to repay some of Saroj Khan's debt two years ago.
"In Baaghi 2 I got a chance to pay homage to Sarojji's iconic Ek Do Teen from Tezaab. I was so nervous. I thought she would be angry, but she was not. I went to her house with a cheque, a token gesture o appreciation (the token amount, Subhash has heard, was Rs 20 lakh). I knelt before her and gave her the cheque," says Ahmed.
"I cannot tell you the emotions I felt at that moment. Sarojji was my guru and a mother figure."
"There were other great choreographers before her, but what she did to Bollywood choreography was historic."