It's almost like a rite of passage for every Bollywood hero to dress up as a woman at least once in his career.
Ayushmann Khurrana is ready to repeat the deed second time around in Dream Girl 2, a sequel to his 2019 comedy where he played a call centre guy whose ability to sound like a flirtatious woman on the phone attracts too many unwanted admirers.
While we hope the follow-up will regale us as much as the first one, Sukanya Verma looks at the many, many instances of men dressing up as women in Hindi films.


Aamir Khan, Baazi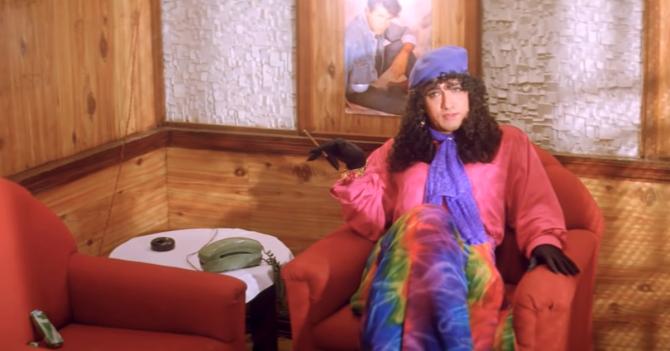 Remember when Bollywood's resident perfectionist waxed off his body hair when his undercover cop character pretended to be a cabaret dancer called Miss Julie dancing to Dole Dole in Ashutosh Gowariker's flop action masala?
Baazi sank without a trace, but Aamir's efforts are well remembered.
Salman Khan, Jaan-E-Mann
In Shirish Kunder's musical rom-com, Salman Khan covertly helps his former classmate Akshay Kumar woo his former wife Preity Zinta -- sometimes by dressing up as Elvis, sometimes as a really brawny woman following them to a night club.
Shah Rukh Khan, Duplicate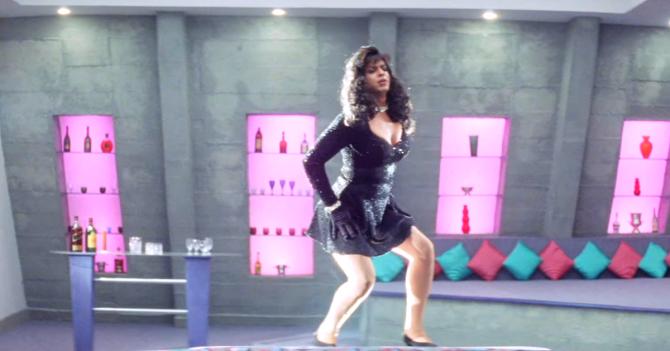 SRK's wicked lookalike dresses up provocatively to seduce one of his enemies in the gangster world and lay the blame on his innocent 'duplicate.'
Hrithik Roshan, Dhoom 2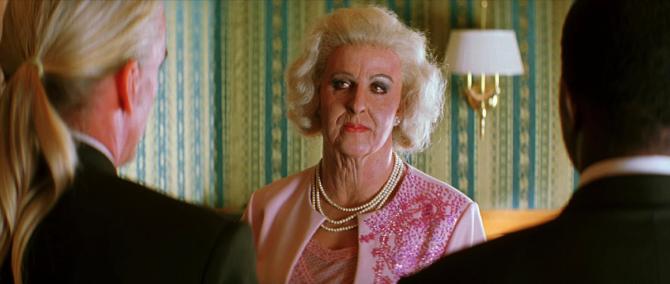 Why play just any woman when you can play Your Majesty?
HR's portrayal as a master of disguises and smooth thief in Dhoom 2 hits peak fun when the man turns Queen as part of his plan for an elaborate train robbery.
Ritesh Deshmukh, Apna Sapna Money Money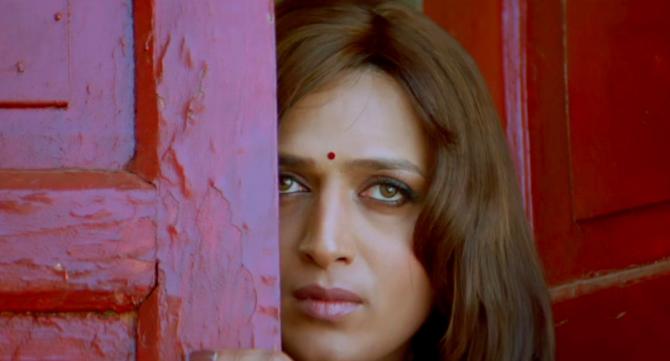 Coming to his lovestruck cousin's rescue ends up complicating his own life when his girlfriend's father falls for her, forcing Ritesh to keep masquerading as Sania aunty for longer than he expected.
All the ruckus aside, the man sure makes for a pretty sight.
Ajay Devgn, Golmaal Returns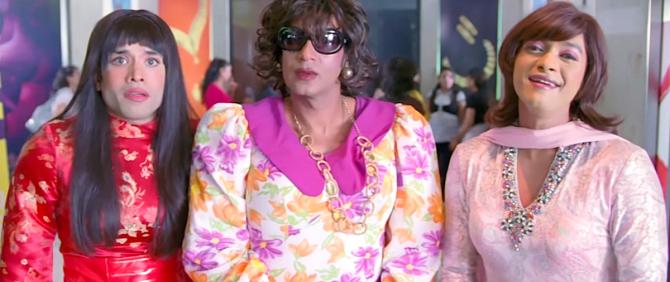 How to avail 70 percent discount on all products of a mall as part of Women's Day special promotion?
Simple. Just doll up in dresses and wigs if you're in a Rohit Shetty comedy, like Ajay Devgn, Shreyas Talpade and Tusshar Kapoor.
Saif Ali Khan, Humshakals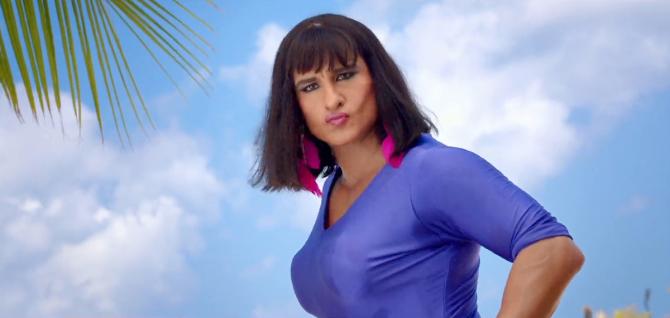 Saif Ali Khan's propensity for partaking in embarrassingly bad projects isn't new.
Before Adipurush, he agreed to make a complete fool of himself in the so bad, So Bad, SO BAD Humshakals.
Part of the ordeal involves looking at him looking like this.
Rajkummar Rao, Ludo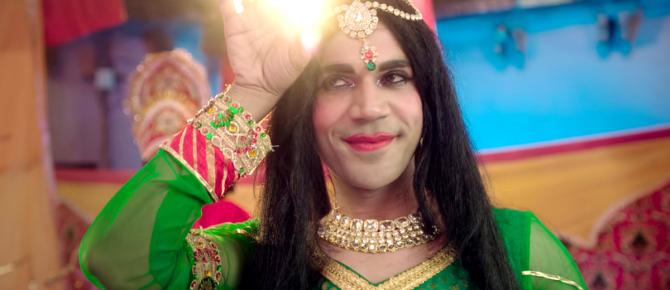 Fulfilling his hobby as an occasional nautanki artist, Rajkummar Rao has quite a blast showing off his inner Shurpanakha enacting a scene from the Ramayan.
Deepak Dobriyal, Prem Ratan Dhan Paayo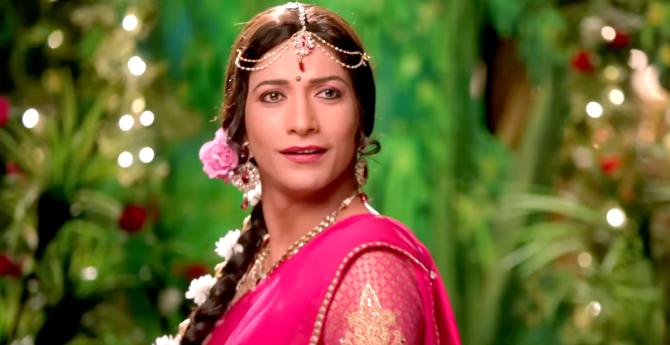 Few guys can claim to look as gorgeous and graceful as Dobriyal role playing Sita on stage for a song sequence of Sooraj R Barjatya's lavish family drama.
Arjun Kapoor, Sandeep Aur Pinky Faraar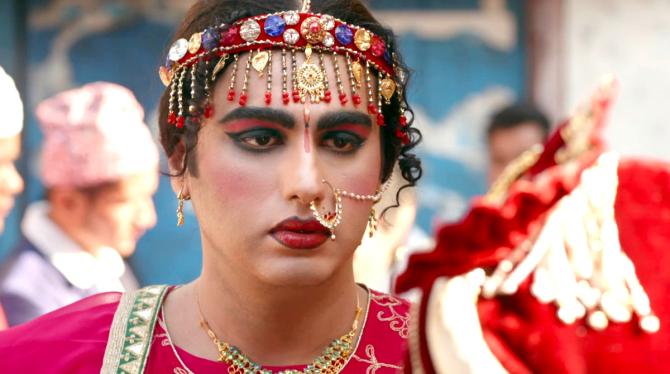 Even Dibakar Banerjee couldn't resist this trope with Arjun Kapoor cross dressing as a bride and crossing the India-Nepal border to escape the cops, hot on his trail, towards the climax of Sandeep Aur Pinky Faraar.
Anil Kapoor, Jhooth Bole Kauve Kaate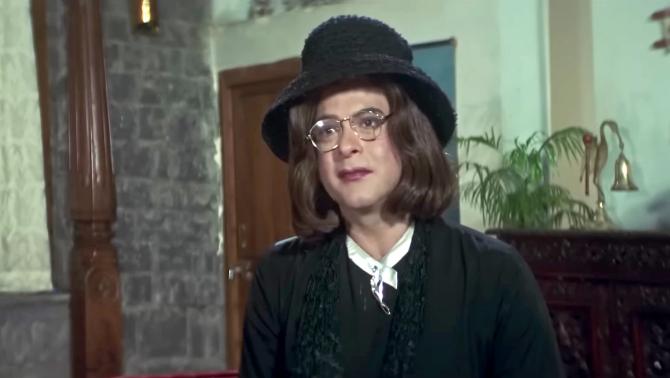 Decades before Arjun, his chacha Anil Kapoor too disguised himself as an Anglo-Indian woman named Margaret to disrupt an imminent engagement between his love interest and a suitor picked by her father in Hrishikesh Mukerjee's final offering as film-maker.
Kamal Haasan, Chachi 420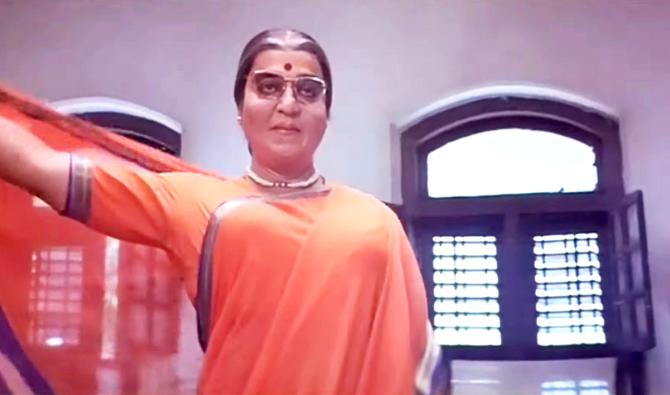 Kamal Haasan's Mrs Doubtfire inspired gig in Hindi and Tamil is one of the best examples of prosthetic make-up even after two decades.
Even more believable is the actor's affectionate depiction of a grandmotherly nanny desperate to spend more time with his estranged wife and daughter.
Govinda, Aunty No 1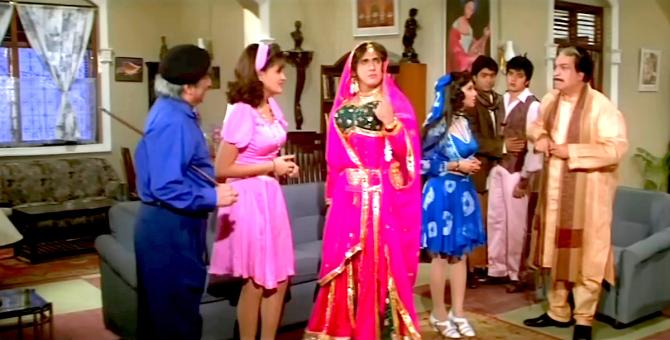 Moruchi Maushi fans will appreciate Govinda's ardour in playing the dramatic aunty bailing out her buddies in trouble by distracting two middle-aged men fighting for her affection in and as Aunty No 1.
Akshay Kumar, Khiladi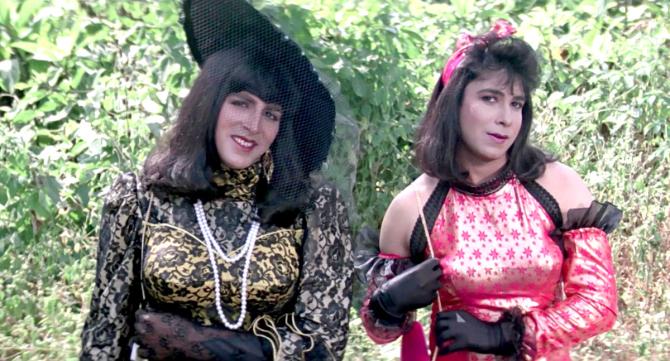 Back when Akshay Kumar wasn't busy playing God or his messenger, the good old Khiladi doffed his hat at a Rafoo Chakkar reminiscent scenario wherein he and bestie Deepak Tijori dress up like girls to hang out with their girlfriends at a outstation trip.
Anupam Kher, Zamana Deewana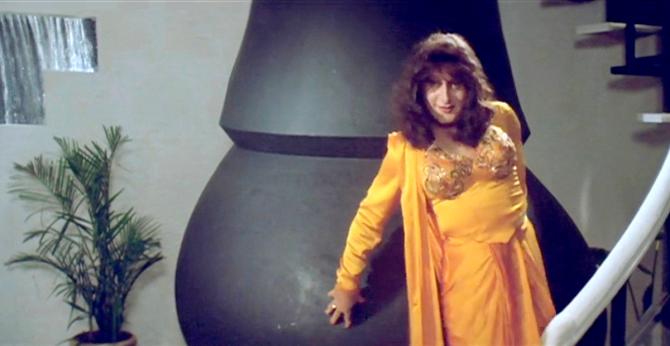 From posing as Sridevi's twin on the cover of CineBlitz as a prank to flaunting his dhak dhak moves, a la Madhuri Dixit in a bid to get up close and personal with chiefs of two rival gangs in Zamana Deewana, Kher has done it all.
Sanjay Dutt, Mera Faisla
When the last word in macho does his bit for cross dressing, you get Sanjay Dutt cutting an utterly awkward picture in Mera Faisla.
Amitabh Bachchan, Lawaaris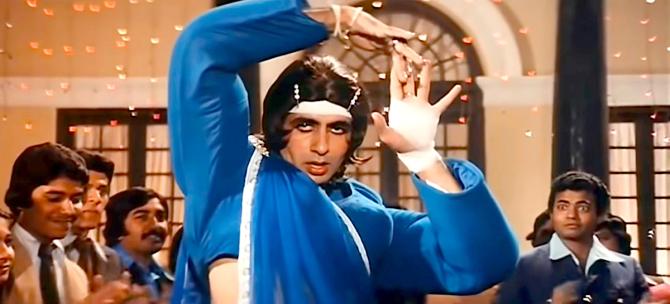 AB's playful take on the folk song, Mere Angne Mein is as irreverent as it gets, parodying everything from gender to propriety in the cheekiest ways and silliest garbs.
Rishi Kapoor, Rafoo Chakkar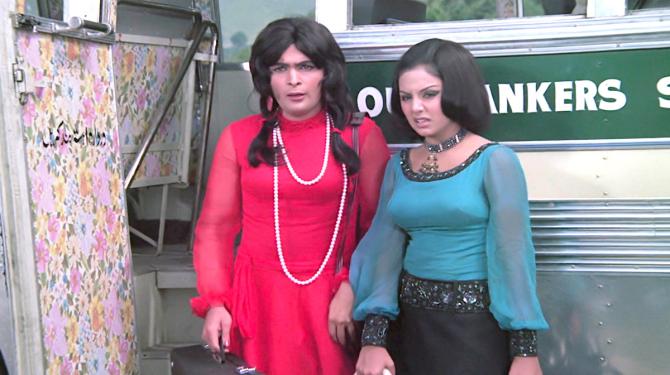 A chocolate-faced Rishi Kapoor (along with an equally sporting Paintal) donning frilly dresses, curly hair and makeup to stay close to real-life sweetheart Neetu Singh while on the run from a bunch of crooks in this Some Like it Hot rip-off lives rent-free in our memory.
Biswajeet, Kismet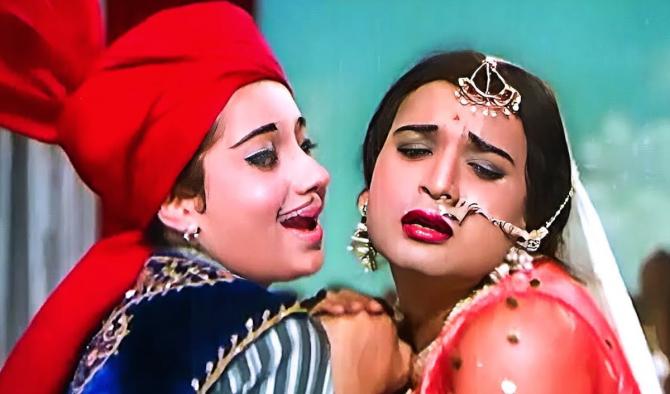 Biswajeet and Babita's playful reversal of roles in the chartbusting Kajra Mohabbat Wala is as impactful now as it was then.
Shashi Kapoor, Haseena Maan Jayegi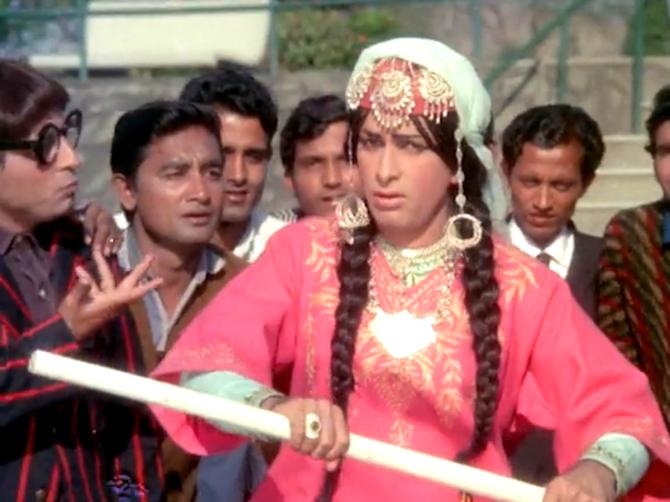 Shashi Kapoor gets in touch with his feminine side as the roguish one of his double role avatar expounding on his findings on four types of women in the song Suno Suno Kanyaon Ke Varnan.
Mehmood, Love in Tokyo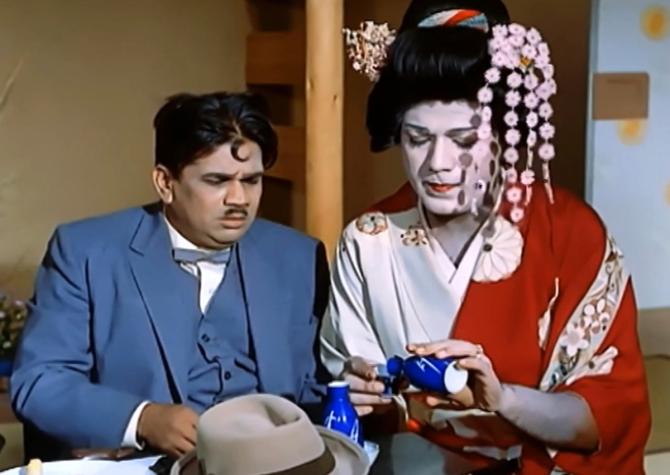 There are enough instances of Mehmood in a woman's costume ensuing in silly fun. It could well be a separate story.
But his transformation into a Japanese geisha leaving his partner-in-comedy Dhumal completely awe-struck is stuff of endless chuckles.
Shammi Kapoor, Bluff Master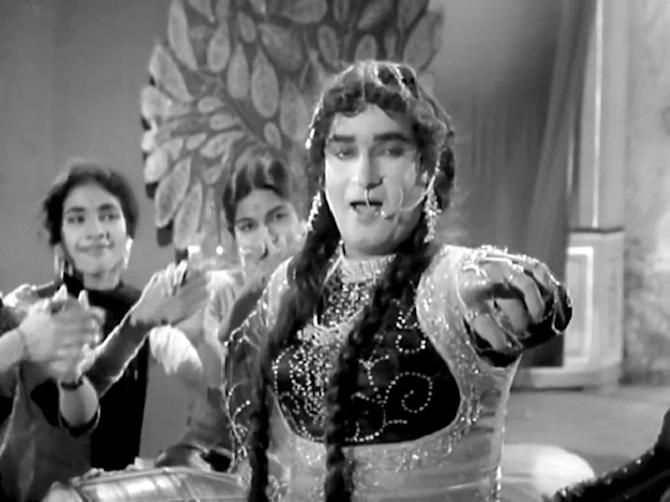 As bade bhaiya Raj Kapoor always said, the show must go on, and Shammi Kapoor makes sure that's exactly what happens by filling up for an unwell female performer by slipping into her shoes and anarkalis for a frothy qawaali opposite Saira Banu.
Kishore Kumar, Half Ticket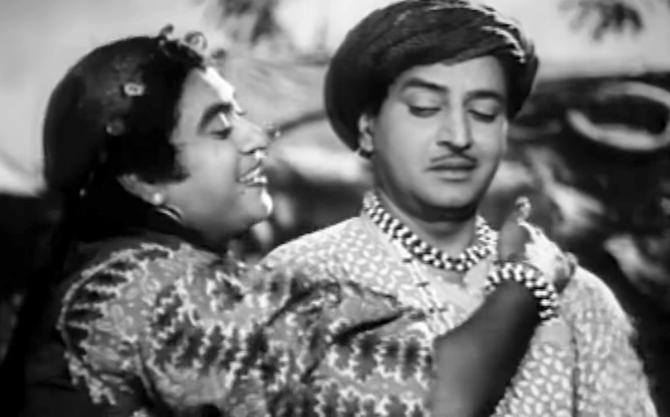 Kishore Kumar juggles between a school boy, a gypsy woman and his own dead mother's portrait on the wall in one and the same movie to rib-tickling effect in this comical gem.
Not only does he dress up as a woman taking on Pran's pestering villain for the hilarious Aake Seedhi Lage Dil Pe Jaise Nazariya, but sings like one too.
Shahid Kapoor, Milenge Milenge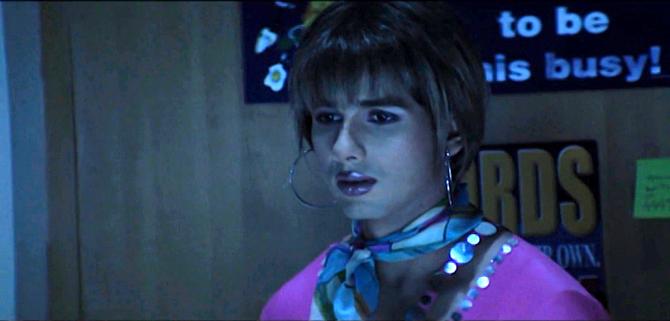 Puppy-faced Shahid has no problem pulling off pink lips for the long-in-the-making romance co-starring his ex, Kareena Kapoor.