'I don't watch my films more than once, otherwise I will fall in love with myself.'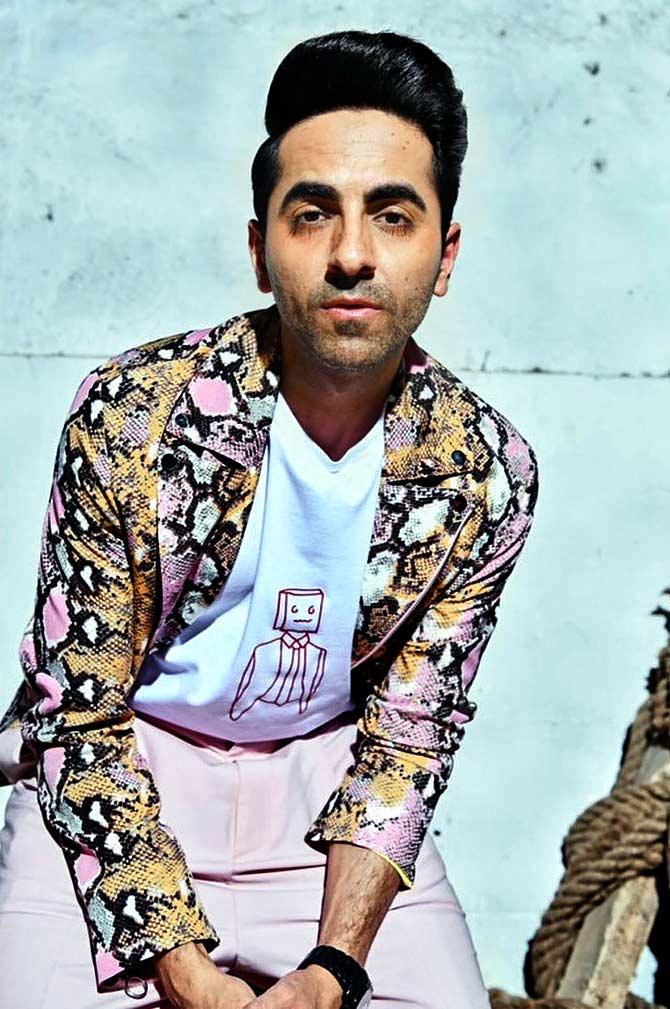 Ayushmann Khurrana seems to be picking all the right movie scripts.
He's been rewarded by back-to-back hits and a National Award.
Will his latest film Dream Girl give him yet another dream run at the box office?
"It is the most commercial film I have got till date," Ayushmann tells Rediff.com Contributor Divya Solgama.
As today's actor and singer, what is your take on Laxmikant-Pyarelal's song Dream Girl… Kisi Shayar Ki Ghazal?
Laxmikant-Pyarelal are legends. I guess they started very young with Parasmani, when they were barely in their 20s.
This song is different because having an English word in a Hindi song in those times was very unusual. People used to focus on Urdu words then.
Laxmikant-Pyarelal were used to teaming up with (lyricist) Anand Bakshisaab.
Apart from this, I still feel Hema Maliniji is the perfect dream girl in Indian cinema.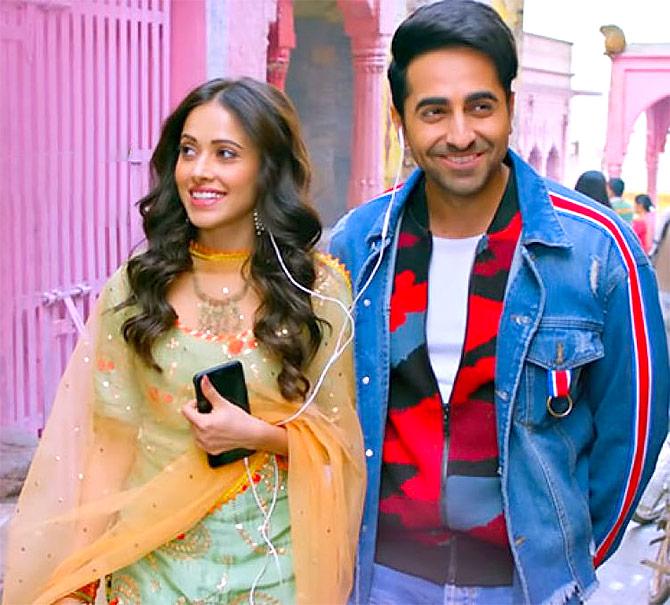 You recently won a National Award. How do you plan to take your career forward?
The National Award is a happy pressure and a happy responsibility that I have right now.
It's the perfect validation that my choices are right.
So I don't have to think about anything changing my formula or my way of thinking towards scripts.
I want to keep my basics right, and not get overwhelmed by the names of the directors, producers and co-actors.
After Hawaizaade did not work, I would question myself about what's going wrong with my choices.
But that was a great learning for me.
If that hadn't happened, this wouldn't have happened.
So, it's thanks to my non-successful films that I am what I am today.
But thankfully, Dum Laga Ke Haisha happened after Hawaizaade, which worked for everyone.
Meri Pyaari Bindu was a beautiful film but it didn't work at the box office.
I gave my heart and soul for that character; I loved it!
I don't know what went wrong.
I got mixed responses about the film.
But that film is very close to my heart.
You have had back-to-back hits. Is there any change in people's behaviour towards you?
I want to try different things, not think about the back-to-back successes.
For me, Dream Girl is very different, and completely different from my previous films.
It is the most commercial film I have got till date.
I have gone in the zone of the 1990s comedy, and have taken Govindaji out of me.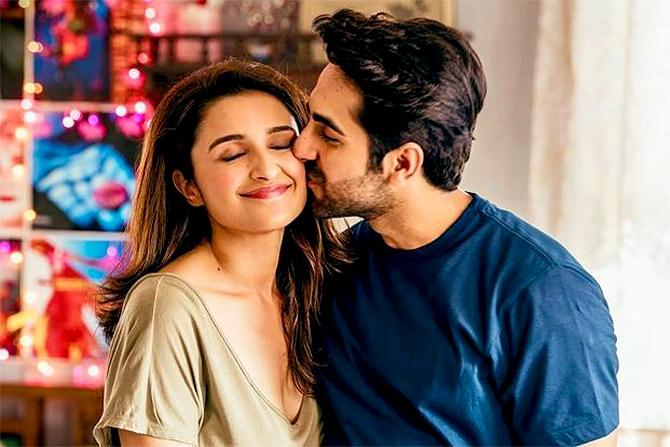 Whose suggestions do you take while selecting scripts?
I don't take suggestions from anybody; I go by gut instinct.
But yes, my wife and manager read my scripts.
I keep my basics right. Firstly, it has to be a fresh concept for our Indian cinema.
Secondly, the script should hold our audience for at least two hours.
Lastly, it should have some kind of value addition.
You play a 'girl' named Pooja in Dream Girl. Does such characters affect your personal life?
My films never affect my personal life.
I never take the characters home.
I am a very detached kind of person.
Also, I don't watch my films more than once, otherwise I will fall in love with myself (laughs). You will not think about anything else if self-obsession happens.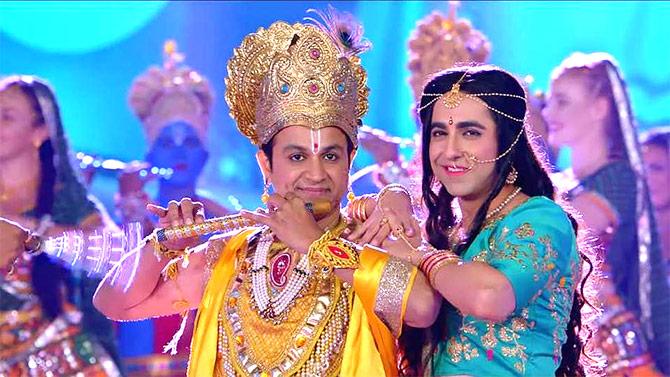 Is it tough playing a girl?
It's so difficult! I am talking in terms of physicality because I had to shave my beard again and again, do a lot of make-up and dressing.
Also, you have to feel like a girl and have that body language.
It's tough becoming a girl.
Did you take any inspiration from movies?
Yes, there were inspirations like Govinda in Aunty No 1 and also Kamal Haasan in Chachi 420.
But Kamal Haasan was legendary in that film.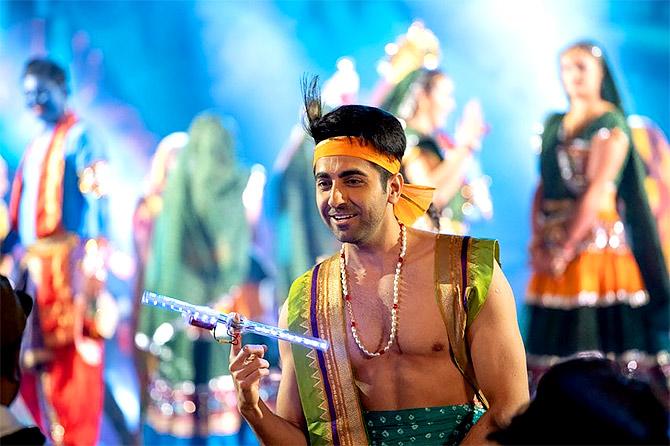 There's a thin line between a naughtiness and vulgarity while posing as a woman in a film. How did you balance that?
The idea was to do something totally opposite my serious, dark film, Article 15.
I wanted to do something that was not considered my zone, and Dream Girl is that film.
I have grown-up watching slapstick films like Haseena Maan Jayegi and Shola Aur Shabnam.
Dream Girl is that kind of film.
Everyone loves your sexy voice in Dream Girl. Who has the sexiest voice among actresses in Bollywood?
I always wanted to sound sexy in my films, and Dream Girl gave me that opportunity.
I think Priyanka Chopra and Rani Mukerji's voices are very sexy.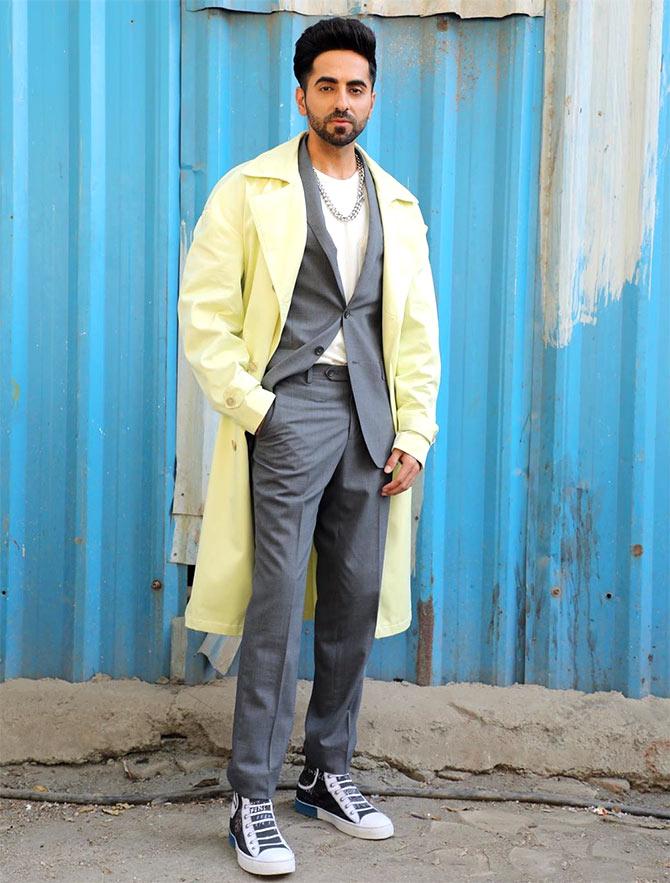 You won the second season of the reality TV show MTV Roadies in 2004 and then ventured into an anchoring career. Tell us something about that phase in your life.
I am a really good friend of Raghu (MTV Roadies host). He is the first person in Bombay, who really helped me make my portfolio and everything related to it.
My first audition in life happened because of Raghu.
I joined MTV because of him.
What are the lessons you've learnt?
You have to think about how you make your own space in this world.
There has to be some vision, not just talent.
Everybody is talented but if you have a certain vision, that will make your journey more interesting and successful.