Sukanya Verma offers some amazing opening scenes in Hindi films that fuels an excitement for what happens next.
Well begun is half done.
A smashing opening sequence can effectively set the tone for the rest of a movie or offer a dramatic prelude to what's in store.
Not too long ago, I shared my favourite introduction scenes in Hindi films.
Now here's a list of swaggering and sublime opening sequences that fuelled an excitement for what happens next.
Don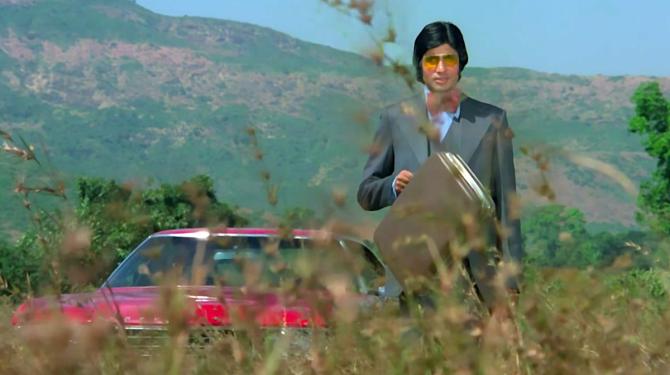 A red Impala races towards three figures anticipating the Don's arrival and their own betrayal at a far-flung location.
A tall, handsome figure emerges, sporting yellow tinted aviators and a big, bold red bowtie, carrying the all-important suitcase to talk shop with the troika of smugglers.
One of the suit-clad goons threateningly inquires, 'Tum sona apne saath laaye ho, Don?'
Our far-seeing Don is not surprised by their intentions to play dirty and tosses the suitcase containing explosives in their direction.
Badoomba! The legend of Don is real.
Kalyanji-Anandji's groovy background score and Nariman Irani's sharp camera angles enhance Don's classic trade off moment by emphasising on the coolth not violence. And Amitabh Bachchan savours every bit of his invincible, iconic alter ego like only he can while others try.
Woh Kaun Thi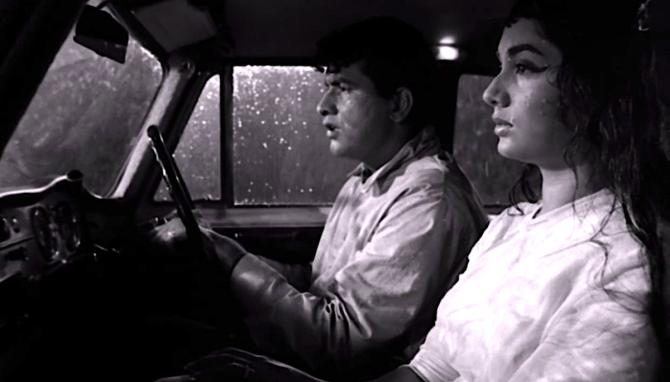 'Kaun ho tum? Koi nahi.Kahan jaana hai? Kahin nahi.'
The eerie mood enveloping Manoj Kumar and Sadhana's strange midnight encounter sets the stage for Woh Kaun Thi's ghostly mystery.
Amidst pouring rain and creaking wipers, a man suddenly halts his car at the sight of a woman in white sari.
He's curious. She's cryptic.
Director Raj Khosla builds on the intrigue by way of atmosphere and enigma.
As the duo drive through the downpour thanks to her superhuman navigation skills, here's what we learn -- she likes blood, lives in a graveyard and hums a haunting tune.
Hitchhiking was never this creepy.
Kagaaz Ke Phool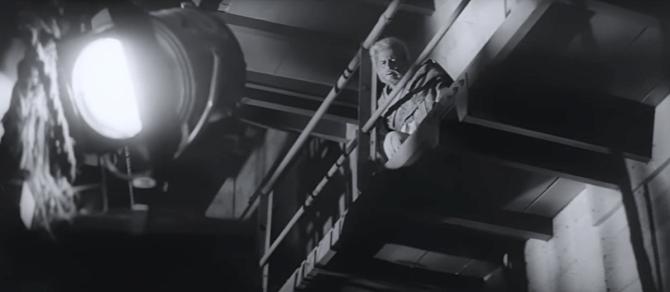 An old, forgotten, film-maker revisits the studio where he once flourished and called the shots in the poignant first scene of Guru Dutt's Kagaaz Ke Phool.
Reminiscing the era of lights, camera and action, the actor-director's overwhelming understanding of despair colours his character's doom in ways that feels almost biographical. As does the film's famous failure.
Guru Dutt's sad state rubs in the ruthless side of show business where a person's worth is purely measured in success.
Kaifi Azmi's soulful summary Dekhi Zamane Ki Yaari Bichde Sabhi Baari Baari only adds to the pathos of this realisation.
Khuda Gawah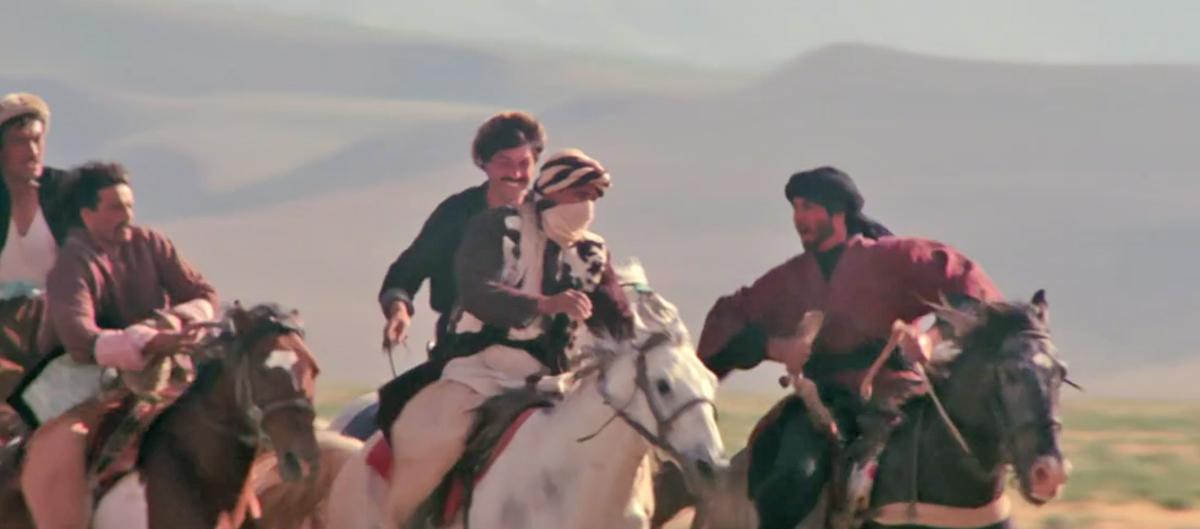 W B Rao's widescreen lens pans across Afghanistan's vast landscape and a huge number of horse riders from warring clans violently compete over a goat carcass till the finishing line.
This barbaric sport forms the backdrop for Amitabh Bachchan and Sridevi falling in love at first sight.
The magnificent buzkashi sequence opening Khuda Gawah is Mukul Anand's showmanship at its peak.
Tamas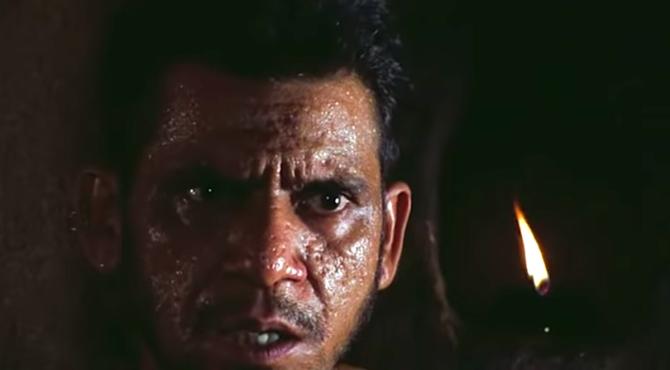 A man's necessity sometimes outweighs his discomfort. Om Puri's distraught face expresses it evocatively as he struggles to slaughter a pig in the unforgettable first scene of Tamas.
He's a tanner misled into killing a pig, triggering off episodes of communal tension in Govind Nihalani's adaptation of Bhisham Sahni's Partition-era novel.
Nihalani's brilliance as director and cinematographer show in how he shoots the actor's anguish and actions across a low-lit room where the only sound you hear is a squealing pig and a loudly beating human heart.
Gangs of Wasseypur I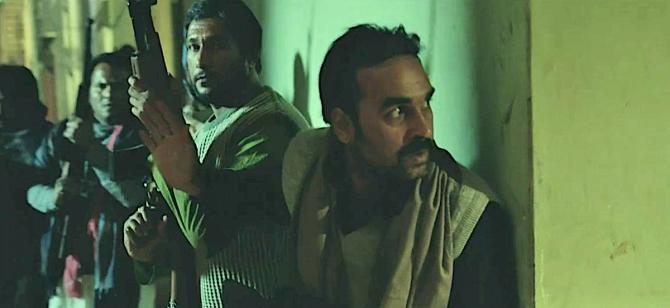 Folks of Wasseypur's cosy neighbourhood are all set to watch a new episode of Smrita Irani's popular Kyunki Saas Bhi Kabhi Bahu Thi when a gang of gun-totting men stomp out of a vehicle, enforcing a curfew and wreaking havoc in its narrow by-lanes.
Anurag Kashyap's swiftly changing momentum enhanced by long takes and dynamic volume of bullets feverishly builds up towards an all-out ambush, quite like a scene of war, spearheaded by Pankaj Tripathi and cohorts reiterating the two-part epic's relentless revenge theme.
But just when you are recovering from all the bam wham, Kashyap does his thing and adds a dash of pop culture whimsy to break the tense mood by way of the target's cell phone ringing Nayak Nahi Khalnayak Hoon Main.
Badlapur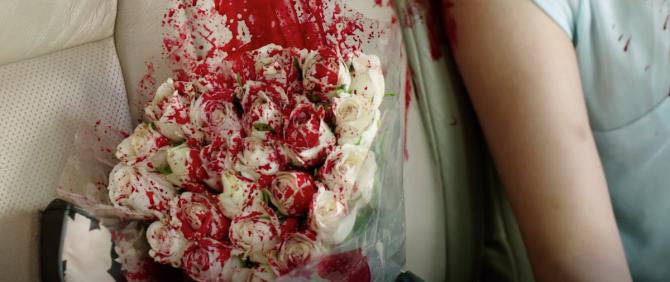 Don't miss the beginning, screams the trailer of Sriram Raghavan's thrilling vendetta.
It's no gimmick you realise as soon as the movie begins and a mother-son's casual day out collides with bank robbers on the run resulting in tragic consequences.
Things happen so quickly, chaotically and terrifyingly in Raghavan's brilliant mise-en-scene exploding into an inadvertent scene of crime, you never quite recover from it.
Sonchiriya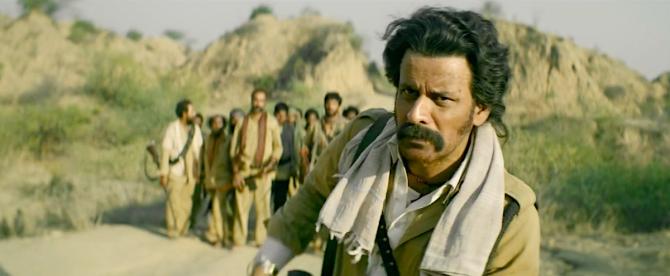 Sonchiriya opens with the shot of flies hovering above a dead snake declaring its forbidding mood loud and clear. Though seen as a bad omen by his company, leader Manoj Bajpayee refuses to change the course of their path.
'Raasta badalne se sraap na badalto,' he later explains to fellow bandit Sushant Singh Rajput.
Instead, he says a little prayer, picks up the snake and puts it aside before ordering, 'Maai ka naam lekar aage badho.'
Abhishek Chaubey's masterful dacoit tale is high on stark imagery and soulful introspection into their dharma, dilemma and inner demons. And the afore-mentioned scene embodies it to pitch perfection.
Omkara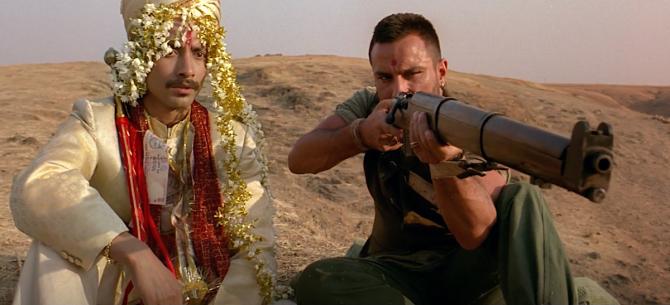 A sweeping long shot straight out of a Western, but in desi attire.
Vishal Bhardwaj's Othello adaptation begins with Saif Ali Khan's henchman telling Deepik Dobriyal's bridegroom the difference between a fool and *insert foul word* in the middle of a barren landscape where he has held the latter hostage.
Before he proceeds to scare away the baarat, Saif's limping troublemaker reveals a tendency for poisoning minds in a sequence designed to highlight his menacing transformation as Omkara's central antagonist.
Shiva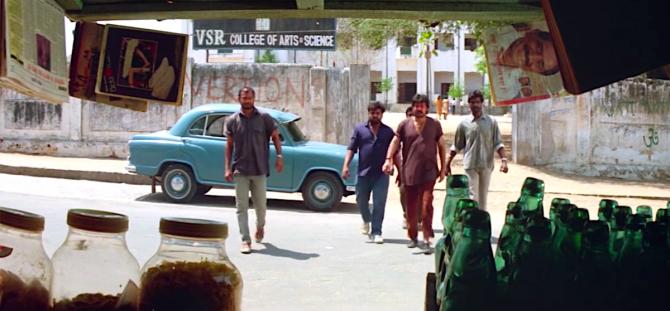 Ram Gopal Varma's raw, realistic portrayal of gangsters and goondas rendered the violence in his movies a visceral strength. And Shiva is the earliest and lasting example of that attribute.
It's a regular day at college and a lecture on hydraulic pumps is in progress when a fierce-looking Brij Gopal and his sidekicks step out of a car and park themselves against the roadside tapri.
He's clearly up to no good, a suspicion that's quickly confirmed when the period ends and Chakravarthy comes out of the gate gesturing him to beat a group of unsuspecting classmates into pulp.
Armed with iron rods and cycle chains, the action acquires an aggressive skin in Illaiyaraja's equally edgy background music.
More importantly, the sequence is an indication of the level of hooliganism its titular hero will take on in the coming few reels.
Andaz Apna Apna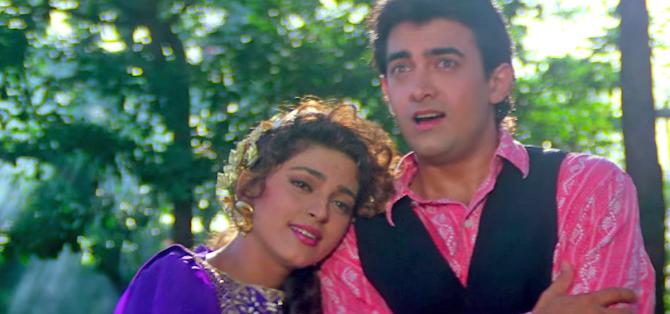 Movies kick-starting with a character's dream are a fairly common trope but nothing comes close to the hilarious antics of Aamir Khan's 'Haila Juhi Chawla!'
The whole idea is to bare Amar's good-for-nothing, gold-digger idling away his time in foolish schemes and pompous notions.
And so it's only befitting his day dream involves coming to movie star Juhi Chawla's aide after her car breaks down, who not only falls in love with her rescuer but also agrees to marry him while Govinda pitches in a fleeting, funny, cameo.
Peppered with in-jokes and triviality, Rajkumar Santoshi's cult comedy makes it amply clear the kind of ditzy romp it intends to be.
Chhoti Si Baat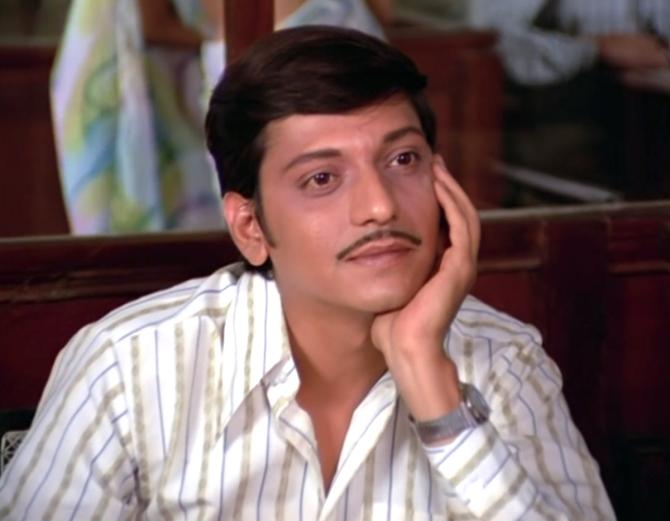 A lively, eloquent voiceover introduces us to the employees of South Mumbai's Jackson Tolaram Private Limited, from top to bottom, keenly describing the events that led to their individual love story and marriage.
Basu Chatterjee's inimitable humour shows in the manner he connects them to the single and shy Amol Palekar smitten by a fellow office-goer he bumps into at the bus stop every morning.
Many have tried this fun method of introducing its leads but few can match the feel-good fervour of Chhoti Si Baat's middle-class Mumbai romance.
Dil Se..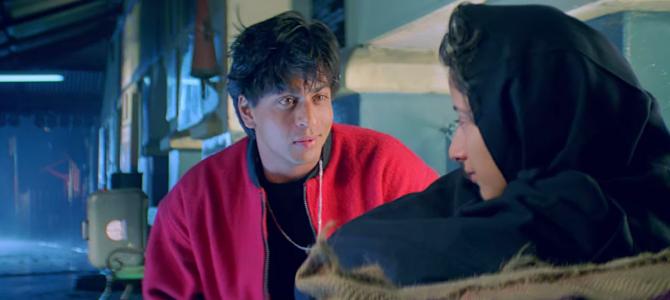 One rainy night at an empty railway platform, a chatty radio journalist lays his eyes on a gorgeous stranger and cannot stop babbling.
From offering cigarettes to promising stars, there's no end to his glibness except he almost means it too. When she finally utters 'chai,' it becomes his life's only purpose.
Alas, the train arrives before the two can get to know each other over a hot cuppa.
How's that for 'Duniya ki sabse chhoti prem kahani?'
Eventually though it's not chai but a jokingly muttered bomb reference that becomes the source of their sad union.
Mani Ratnam's exquisitely shot first meeting between Shah Rukh Khan and Manisha Koirala in Dil Se.. may read odd on paper but SRK's charisma and Manisha's magnetism turn it into a standalone affair.
Ijaazat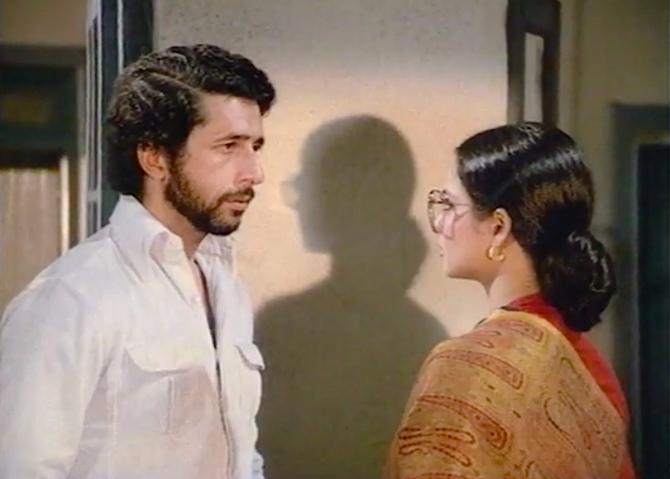 Rains and railway platforms are used to profound effect in Gulzar's ambient Ijaazat. Every sentence spoken by its characters is akin to poetry infused in intimacy and melancholy.
But before it slips into a flashback of good times and bad, the opening scene of Mahinder (Naseeruddin Shah) and Sudha's (Rekha) unexpected reunion is a masterclass in setup.
We don't know the nature of their relationship yet.
But when Sudha sees Mahinder entering the waiting room, she immediately covers her face with a magazine. He notices her, but isn't too sure.
The screenplay focuses on two things.
Her awkwardness, his sloppiness.
He has lost his luggage key. She has one to spare.
Ijaazat's night of nostalgia finds the ex-couple unloading that burden. Classic Gulzar.
Sandeep Aur Pinky Faraar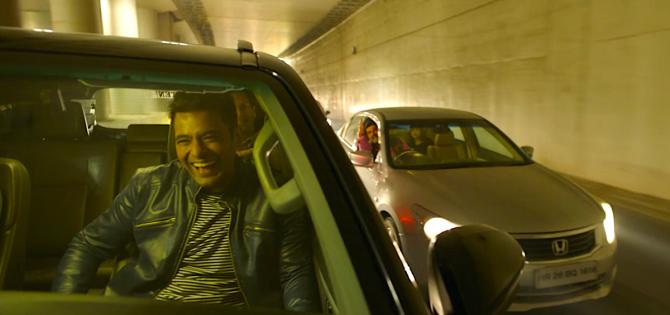 Most reviews of Dibakar Banerjee's latest film mentions its foreboding first scene. And with good reason too.
The camera stays steadily focused on the occupants of a late night drive -- a bunch of NCR cads crudely discussing women and rashly overtaking the vehicles on the adjacent lane.
We catch a glimpse of Arjun Kapoor and Parineeti Chopra in the other car.
Before his barely audible anger can register, the entitled bunch has raced far ahead.
The credits keep rolling as does their lewd merriment whose sound is every so often drowned out in the soothing sounds of music box and santoor.
They are having too much fun for something to not go wrong.
Let's just say, there will be blood.