The entry scene is star.
Things are off to a good start when a lead movie character appears for the first time against strategic music or swaggering drama and the audience bursts into wholehearted whistles and applause.
It's a universal experience every single cinephile's grown up on or participated in.
There's something hugely advantageous about a favourable first impression, often a sure shot promise of all the good stuff to follow in the ensuing hours.
Over the years, the language of cinema has changed considerably but the beauty of irresistible movie entrances prevails.
There's an insane lot to choose from, but Sukanya Verma limits her list to 20.
Here are ones that wowed us for distinctly different reasons. What about you, dear reader?
Madhubala, Mughal-E-Azam (1960)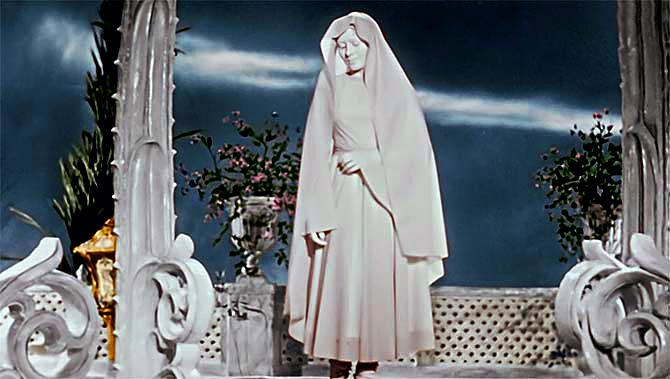 Everything about K Asif's Mughal-E-Azam is epic.
As is Madhubala's introduction scene, where she's literally a sculpted beauty and rechristened Anarkali.
So realistic is the actor's portrayal of a still statue, presented before the royal family as part of a proud artist's anti-monarchy sentiment, it's love at first sight for Prince Salim while a dazzled Emperor Akbar admires, 'Maloom hota hai jaise kisi farishtey ne aasman se utarkar sang-e-marmar mein panaah le li hai.'
Sadhana, Woh Kaun Thi (1964)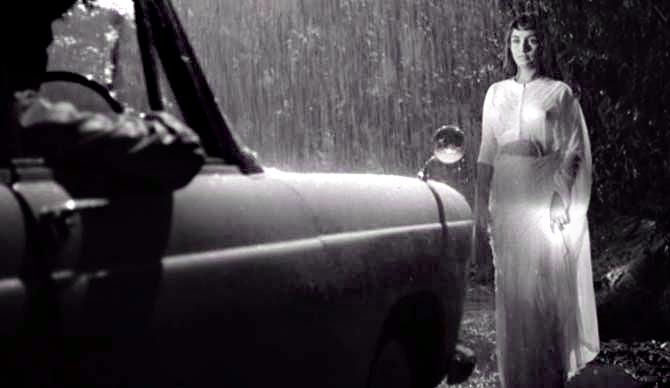 Woh Kaun Thi begins on a stormy night when a creepy figure appears out of nowhere in the middle of the road forcing Manoj Kumar to hit the brakes of his car.
It's Sadhana, eerie, gorgeous Sadhana, draped in a white sari who loves to talk cryptic, has night vision, enjoys the taste of blood and wants a lift till the graveyard.
Beauty was never this spellbinding or spine chilling.
Rajesh Khanna, Anand (1971)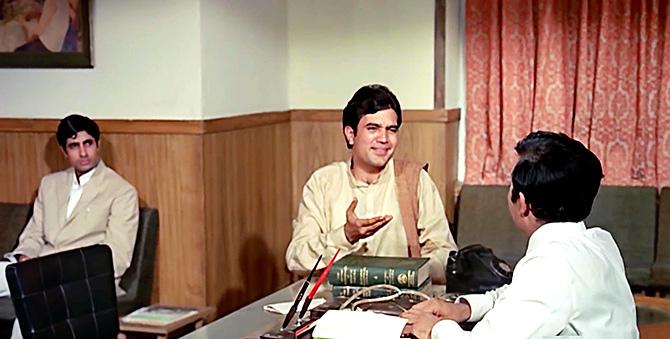 Just before Rajesh Khanna makes his lively, joie de vivre presence felt around Amitabh Bachchan and Ramesh Deo, Hrishikesh Mukerji's much-loved Anand features a scene of the two doctors discussing his untreatable medical condition.
One normally expects an individual suffering from such terrible terminal disease to be a picture of sadness and gloom. On the contrary, Kaka's Anand is bursting with charm and cheer.
On learning he suffers from lymphosarcoma of the intestine, our man quips, 'Wah wah kya naam hai. Aisa lagta hai jaise kisi Viceroy ka naam hai. Bimaari ho toh aisi ho. Nahi toh na ho .'
He says something even more profound seconds later 'Zindagi badi honi chahiye. Lambi nahi.'
Amjad Khan, Sholay (1975)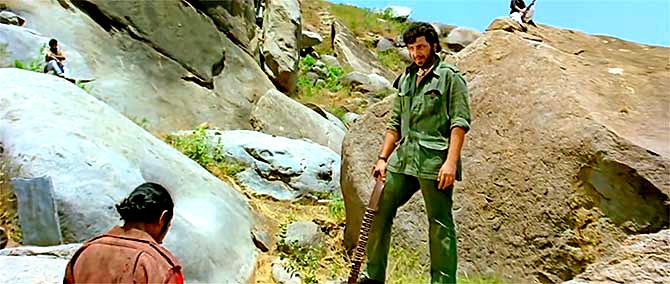 The casually cruel quality of Gabbar Singh's menace is masterfully built up until he finally appears in the scene that turned Amjad Khan into a star.
But the camera doesn't give us an instant look, instead choosing to tease us with the sound of his steps, a bullet belt beating against the rocks while he strides across to and fro and asks the million-dollar question, 'Kitne aadmi the?'
The answer to this doesn't please him one bit.
What follows is one of the most quoted monologues in Bollywood history, tons of muhaha and three merciless golis.
Amitabh Bachchan, Trishul (1978)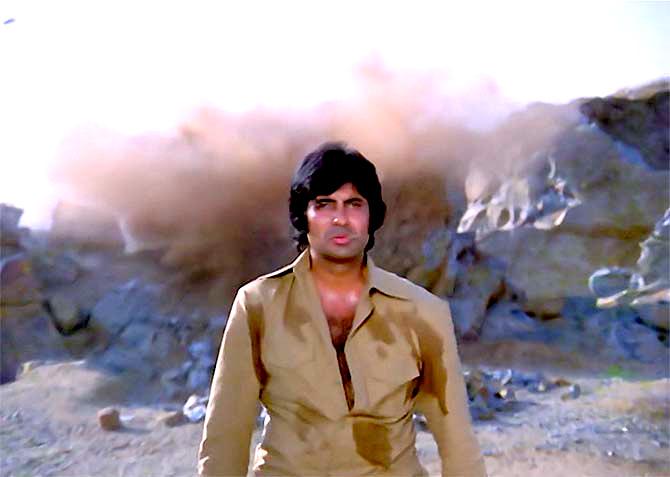 Amitabh Bachchan has countless cool intros to his credit.
But the sight of him emerging out of smoke and strutting into the frame against the backdrop of exploding dynamite, one he just lit up with his beedi is the A to Z of badass.
Farooque Shaikh, Chashme Buddoor (1981)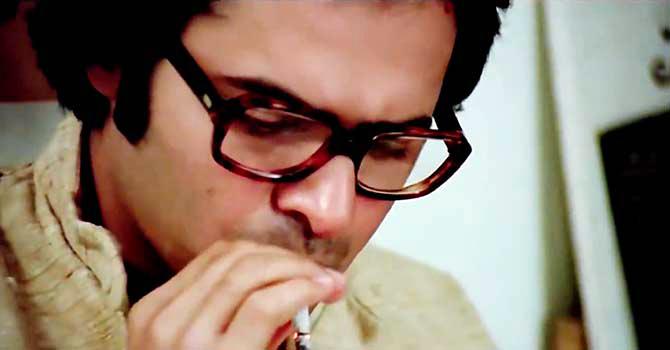 Why use words to convey the mood of a bachelor pad when you can use imagery like Sai Paranjye does in that wonderful opening sequence of Chashme Buddoor?
A heap of burned cigarettes lying in a coconut shell, Mehdi Hasan's ghazal playing in the background, Rakesh Bedi picks one still exploitable butt, takes a puff, passes it on to Ravi Baswani who does the same and places the stub between his roomie's toes.
Roomie, none other than the ever-adorable Farooque Shaikh, then reaches for the cigarette, takes a drag or two.
Cigarette smoking may be dangerous to health, but it never looked more authentic.
Jugal Hansraj, Masoom (1983)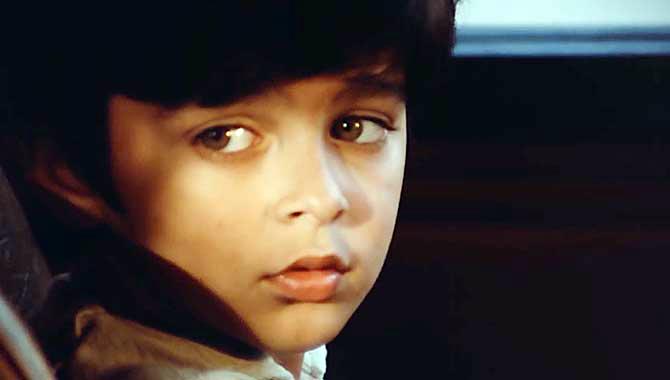 Masoom's entire emotional onus lies on Jugal Hansraj's tender being. But it's close to an hour until we see the boy and his blameless, beautiful eyes.
In the first few scenes, Director Shekhar Kapur shows the kid and his distress from afar, concentrating more on the uproar his existence causes in the life of a perfectly happy household.
It's only when Naseeruddin Shah decides to bring him home, we finally see his face and the questions in his eyes brimming with pain, purity, hesitation and hope.
Amrish Puri, Mr India (1987)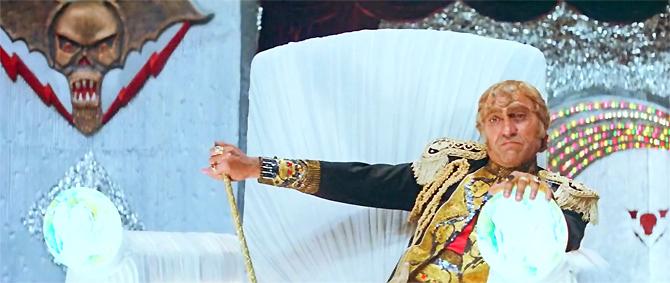 The villain's entry is tantamount to the hero's.
All the more so in Mr India where Amrish Puri's comic book cruel is a delightful combination of daunting aura and costume-y whimsicality.
If the imaginative sets of his extravagant lair highlight his power, his lunacy is made clear as he gleefully hears out his sidekicks update him on all the mischief they've accomplished on his behalf.
Evil of such magnitude has to be elusive.
Mr India builds on that until the focus steadily moves from the sound of Puri's chunky finger rings tapping the spherical accents of his armchair to the smile on his freakish face in anticipation of his first famous words: 'Mogambo khush hua.'
Jackie Shroff, Parinda (1989)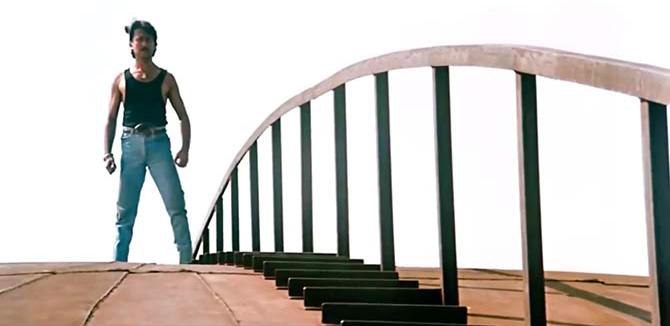 'Tu nahi. Kishen ko bhejo.' You soon see why.
The hitherto unseen driver parks over a gunman trying to block his path. We catch a fleeting glimpse of him and his aviators in the side view mirror.
Next image, his tan brown boots.
Cut to him unbuttoning his shirt and tossing it in the car. Watch and sunglasses follow suit.
Lo and behold, Jackie Shroff's battle-ready expression. Climbing up the stairs, a few more baddies are bashed.
In his best Hulk voice, Kishen angrily summons Musa.
Goes without saying, it's not a good time to be Musa.
Jackie Shroff's enjoyed quite a few 'hero' entrances in his movies, but the slick aggression he packs in his introduction scene in Parinda is an instant classic.
Anil Kapoor, Ram Lakhan (1989)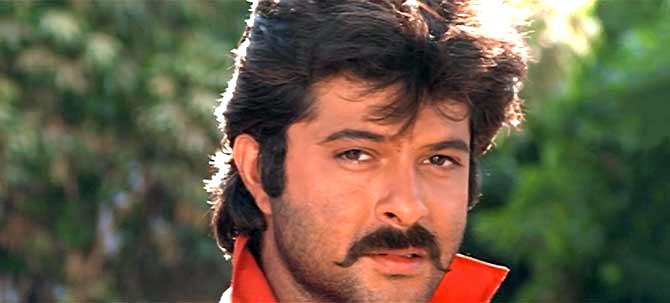 Subhash Ghai's ultimate masala offering is all spectacle and spice. A good deal of its pep owes to Anil Kapoor's One two ka four antics.
Complete with dhol baajas, shenanigans and signature dance moves, My Name is Lakhan is befitting of AK's dhina-dhin-dha zeal.
Amitabh Bachchan, Agneepath (1990)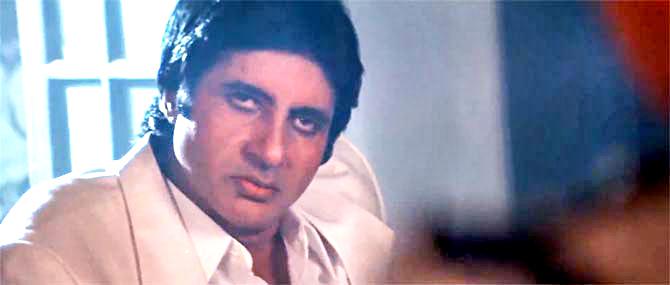 Vijay Dinanath Chauhan; poora naam.
Baap ka naam Dinanth Chauhan.
Maa ka naam Suhasini Chauhan.
Gaon Mandwa.
Umar chhattis saal, nau mahina, aath din, yeh solvaan ghanta chal rahela hai... haain?'
'Nuff said!
Ajay Devgn, Phool Aur Kaante (1991)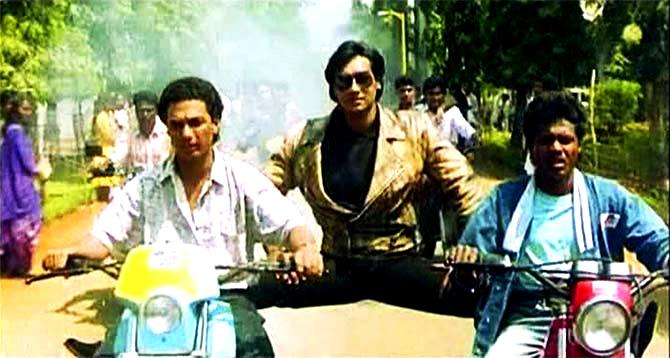 Phool Aur Kaante would be long forgotten if it wasn't for Ajay Devgn's herowali entry. Except it's a lot more than that.
The actor balancing his two feet on a pair of speedily zooming bikes is a significant moment in daredevilry, an unforgettable 'look daddy, I can too' to his stunt director dad Veeru Devgn and a brazen 'you can't ignore me' challenge to Bollywood's star children, conventional-looks obsessed industry.
It worked.
Though he's recreated the balancing act pose on different vehicles since, the first time was a charm.
Sridevi, Khuda Gawah (1992)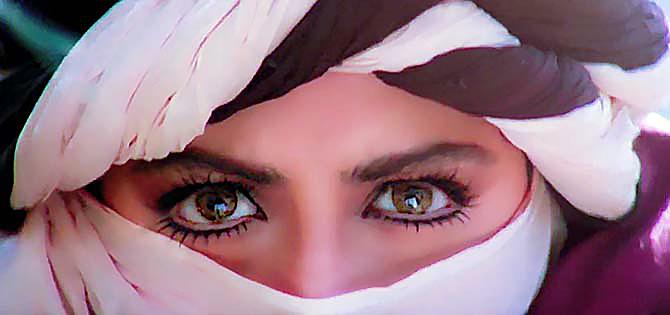 Whatever misgivings one might have about the sport of Buzkashi, there's no denying Sridevi's spectacular presence in the opening scene of Mukul Anand's ambitious Khuda Gawah.
The aggression and tenacity her blazing brown eyes display, the only visible bit of her being, as she races past dozens of fierce horse riders to claim victory in the striking landscapes of Afghanistan is simply stunning.
Of course, at the crucial last second, her veil drops, Big B's jaw drops and everyone goes home thrilled and triumphant.
Sunny Deol, Damini (1993)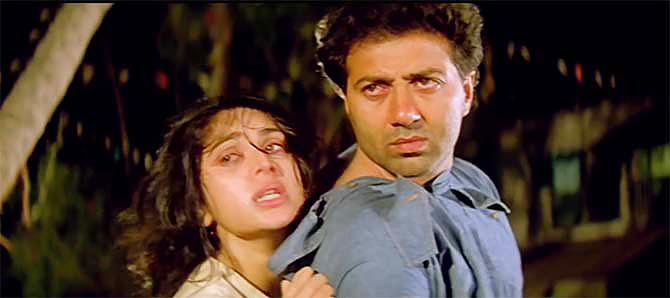 Sloshed Sunny is as potent as sober Sunny.
Before he shows off his proficiency at out screaming Amrish Puri in court and dhai kilo brawn outside it, he first appears as the titular heroine's drunk, disinterested saviour.
Two healthy punches directed at the bad guys, a bleeding fist washed off the offender's shirt is enough to know Sunny, who appears nearly two hours into Damini, will be our all top takeaway from Rajkumar Santoshi's hard-hitting drama.
Aamir Khan, Rangeela (1995)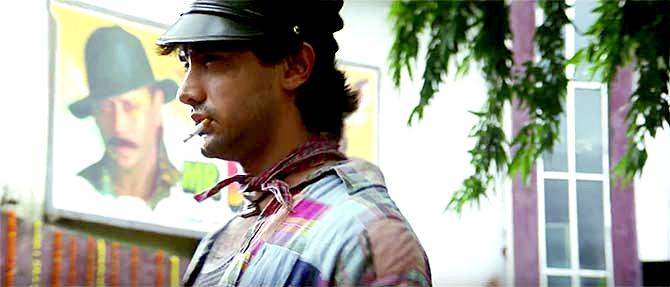 If there's any doubt on how will Aamir Khan pull off a smug, scruffy seller of movie tickets in black, it's promptly dispelled the second he appears peddling 'dus ka tees' outside a theatre playing a Jackie Shroff's Mr Bond.
In less than two minutes, he juggles a haggling customer, suspicious cop and awestruck partner with heart, craft and smarts.
Aishwarya Rai Bachchan, Hum Dil De Chuke Sanam (1999)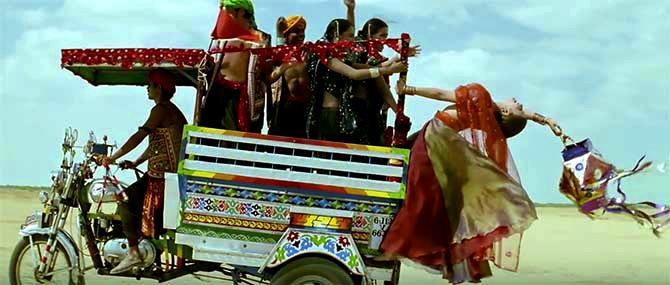 Sanjay Leela Bhansali's leading ladies are a celluloid dream.
The stunning Manmohini sequence in Hum Dil De Chuke Sanam is a testament to his vision.
We first see a nearly blurry long shot of Aishwarya and the colourful lantern she's carrying as she walks towards us while a camel looks on.
Just then, a group of dancers in a scooter cart attract her attention offering us dazzling closer look at Ash's breathtaking Nandini in her livewire, vivacious avatar.
Saif Ali Khan, Omkara (2006)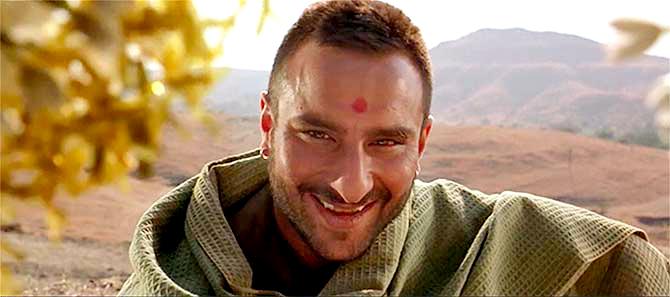 The opening scene of Vishal Bhardwaj's Othello adaptation begins with Saif Ali Khan telling Deepik Dobriyal the difference between a fool and *insert foul word* in the middle of a barren landscape where he's held the latter hostage.
Saif's dishevelled appearance, devious smile, soot-coated teeth and sly, expletive-filled speech is a radical departure from his hipster, urban avatars.
But it masterfully sets the tone for his sneaky, sinister mind as the troublemaking Langda Tyagi.
Hands down, the best performance of his career.
Kareena Kapoor, Jab We Met (2007)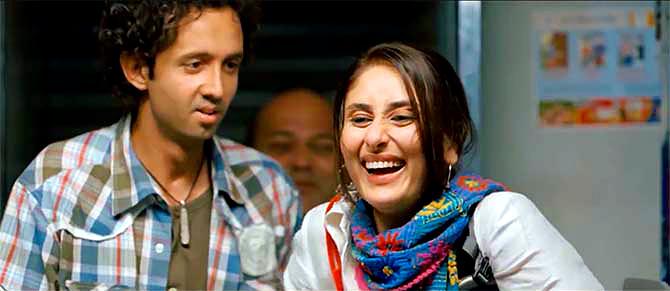 Some characters grow on you. Some win you over at once.
Kareena Kapoor's gabby, gregarious Geet falls in the latter category.
In theory, she has all the traits of a supremely irritating creature, but in Bebo's skillful hands, Geet acquires the optimism of a child woman who just doesn't know to give up.
It's this jolly, goofy appeal we straightaway notice and adore after she hurriedly boards the train (she's never missed one) and gratefully acknowledges, 'Thank you Babaji, mera record tootne se bacha liye.'
Fun journeys are made of stuff like Geet.
Tiger Shroff, Baaghi (2016)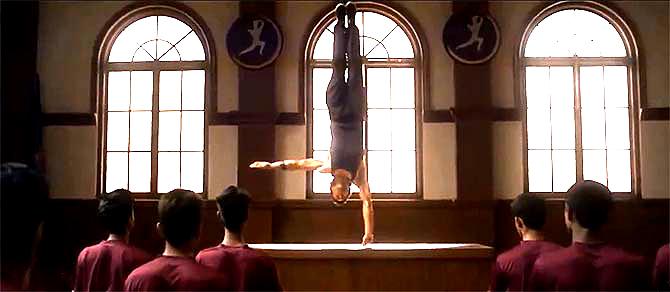 A little showboating never hurt.
In our eagerness to run down anything that's not craving respect, we tend to disregard the merits of mindless masala.
But sometimes even the most hopeless movies are not without their redeeming points.
Baaghi is entirely expendable, but Tiger Shroff's two-finger stand is awe-inspiring.
Alia Bhatt, Gully Boy (2019)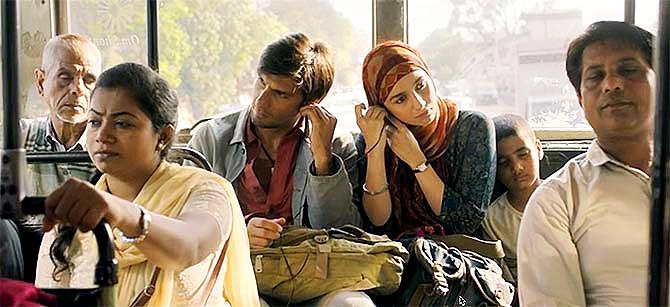 Girl gets inside the bus. Girl is accompanied by her mom. Girl looks at a guy (Ranveer Singh) in the back.
(Does she know him? We don't know.)
Mom gets off at the next stop. Girl promptly walks towards the guy and sits next to him.
Girl takes out one earphone from the guy's ear and plugs it in hers. Girl slips her hand into his.
Bliss.
(She doesknow him. They Are a couple.)
The simplicity of this scene and Alia's first impression in Gully Boy stays with you long after.