Sukanya Verma lists her favourite frames from Hum Dil De Chuke Sanam.
Released towards the end of 20th century, Hum Dil De Chuke Sanam marked the beginning of Sanjay Leela Bhansali's signature opulence.
A lush love triangle starring Salman Khan, Ajay Devgn and Aishwarya Rai, it is a riot of colours and music whose splendour spellbinds us into submission whether or not we buy into its vows over passion logic.
A glamorous update on the premise of Bapu's Woh Saat Din, Hum Dil De Chuke Sanam showcases Bhansali's love for showmanship and shringar to the hilt aided by fellow Film and Television Institute of India alumnus Anil Mehta's visual wizardry.
Mehta's vibrant cinematography and rich palette revolutionised the way our movies look, creating an archetype how Bollywood would be perceived all across the globe.
Bhansali does not direct films as much as he designs them, I wrote in my review of Padmaavat.
Of course, now his obsession with spectacle has grown into 'the conscious efforts of a man trying to live up to his own imagery, his mastery is stuck inside a glorious template whose elements change but essence does not.'
Though gorgeous to behold, Hum Dil De Chuke Sanam's extravagance doesn't come in the way of its storytelling.
If anything, Mehta's vivid compositions make a case for its emotional, headstrong characters guided by desires and decency.
Stunning, spirited Nandini (Ash) develops feelings for Sameer (Salman Khan) her virtuoso father's (Vikram Gokhale) playful NRI pupil from Italy.
On discovering their love affair, the old-fashioned daddy banishes him out of their lives and marries her off to a noble-minded lawyer, Vanraj (Devgn).
Once Vanraj learns Nandini married under parental pressure, he decides to reunite her with Sameer and they travel to Italy.
Moved by his grace and generosity, Nandini picks 'nibhana' over 'chahna'.
As an audience, what made me accept her sudden change of heart is Vanraj truly felt like a keeper compared to the limp Sameer even if a plucky lady like that deserves better than picking between spineless and compromise.
If one half of the romance is a picture of flamboyant fantasy brewing against ornate havelis and cultural splash of Bhansali's native Gujarat, the second half progresses around Europe's classic grandeur (Budapest, Hungary, passed off as Italy) and lively sights.
Ever so effervescent, ever so alive, these are 25 of my favourite frames from the 1999 musical.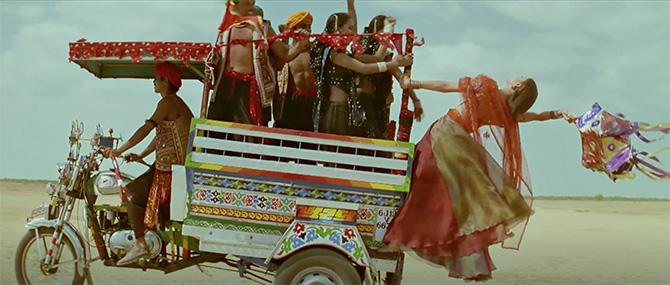 The women in Bhansali's stories are burdened by the rigours of tradition and convention, but they are also its highlight and focus.
Where most directors appeared overawed by Aishwarya's looks, Bhansali uses it as a life force on whom his entire pageantry rests.
The upshot is this sparkling introduction scene in Bhuj.
Air, water, fire, earth -- she is manmohini, she is Nandini.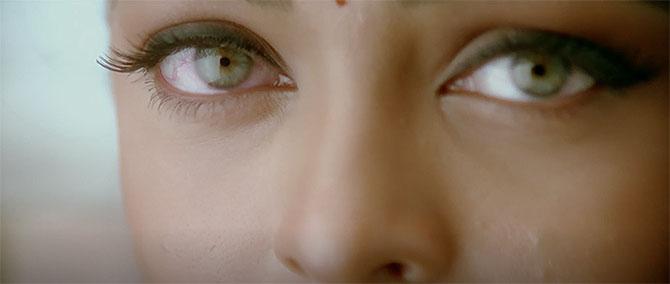 'Kaisi hai aapki nazar?'
'Tez! Aapki rooh tak jhak sakti hai.'
Ash's light-eyed beauty is the soul and centre of nearly every scene in Hum Dil De Chuke Sanam. And Mehta captures them at their most fiery and intimate here.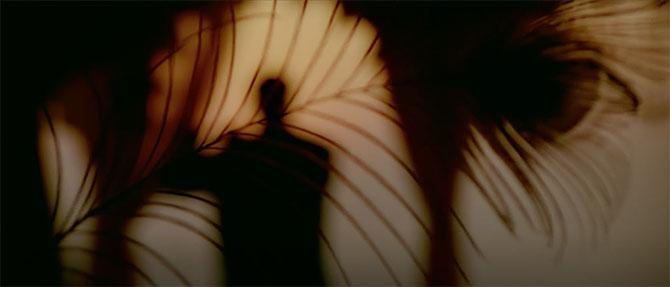 How exquisite is this frame of a peacock feather juxtaposed against a flute-playing Salman likening to Krishna's flirtatious, romantic impulses?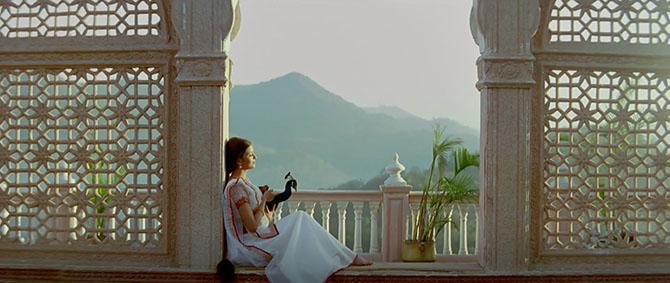 Any symbol of beauty and grace has to occupy an exalted place in Bhansali's ethereal vision.
The national bird of India makes a sublime appearance in many forms and motifs asserting the story's heart and heritage.
Love at first sight is made of coquettish gustakhiyan like this -- uff! multiplied by infinity.
Arguably, one of the best make-up jobs of the leading lady since Rekha's Umrao Jaan.
I could do 25 beautiful shots on Ash alone.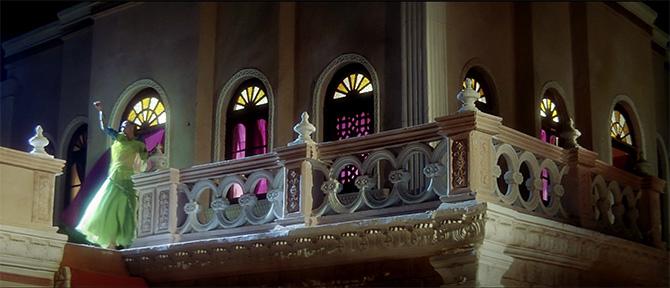 The pure drama and colours of this lavish, luminous scene displays Bhansali's flair for theatrical and Mehta's enthusiasm to indulge him.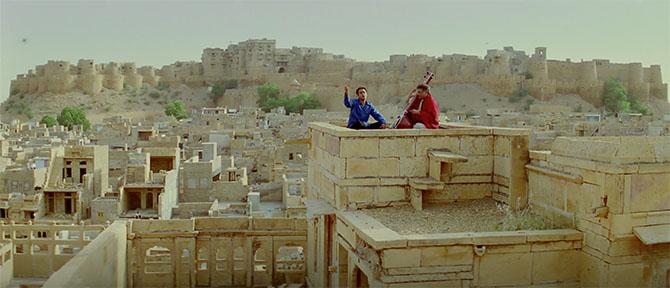 Passing the litmus test is a pair of guru (in red) and shishya (in blue) engaged in deep riyaaz overlooking the majestic Jaisalmer Fort.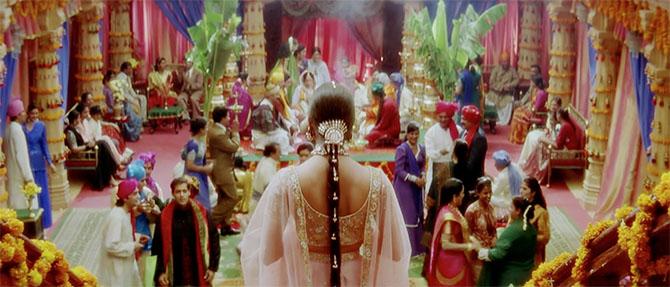 Apart from the colourful nature of this festive frame, what is fascinating is how Nandini's future choices are laid out before her -- Sameer or saat pheras?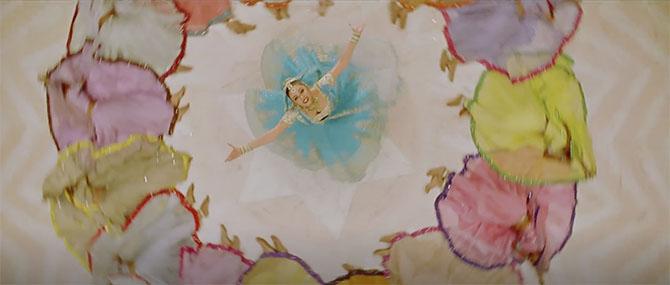 Hum Dil De Chuke Sanam's dazzling song and dance numbers are part of its lasting appeal.
This splendid top shot of Aishwarya swirling to Nimbooda underscores it fittingly.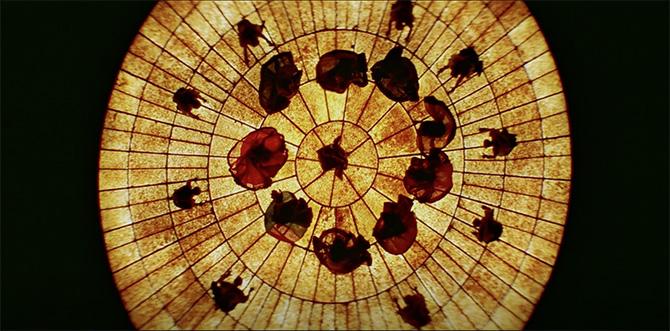 As does the ambitiously scaled Dholi Taro for which Mehta constructed a special acrylic stage to give the Navratri revelry a glowing appearance.
The colour red enjoys a place of significance in Bhansali's cinema.
The blood red curtains in Nandini's stately home are witness to the family's many dramatic moods and moments.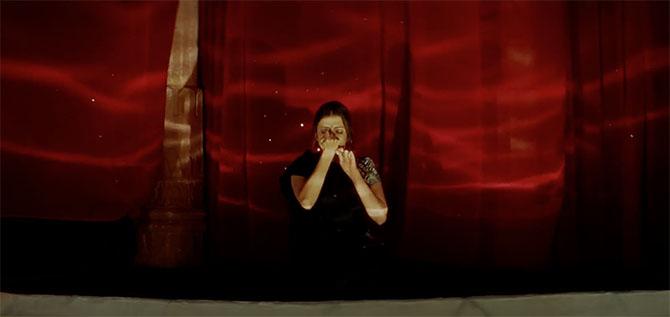 But their most potent moment arrives when they helplessly watch Nandita slash her wrist following Sameer's departure.
Not too long ago, they were privy to her joy when she washed off a minor cut caused by a broken bangle's pyar ka pehla shagun.
What makes its graphic nature even harder to stomach is not the blood, but Mehta's focus on her face trembling in agony.
It brought to mind a scene from Masaki Kobayashi's Harakiri, the same approach to self-inflicted pain.
(Speaking of Japanese classics, that entire sequence where Ash patiently soothes Salman's mirchi induced misery by offering him spoonfuls of honey is inspired by Akira Kurosawa's Red Beard.)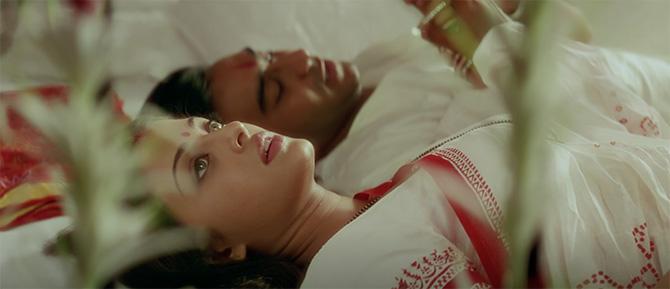 Consummation or cage -- Nandini's unhappiness in her marriage is expressed in how the floral strands adorning their wedding night acquire the air of prison bars.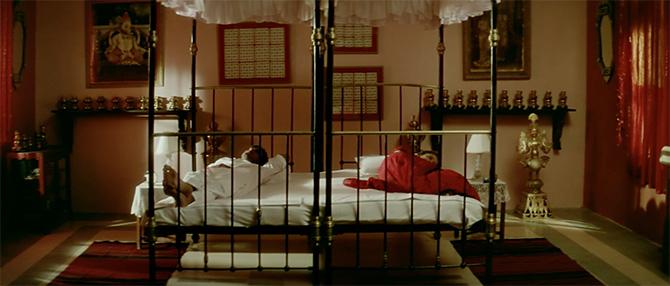 Mehta's brilliance enhances Hum Dil De Chuke Sanam's quieter bits.
The changing bedroom dynamics are constantly documented -- in how he shows Nandini and Vanraj's rift.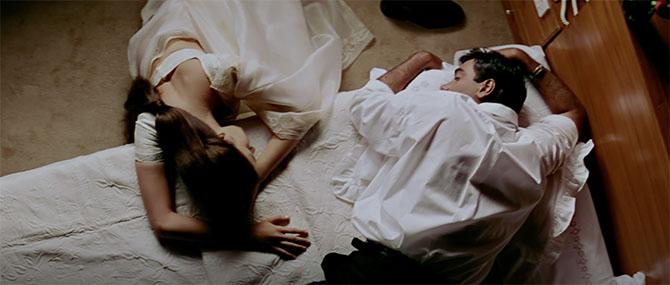 As well as their growing proximity on gradually realising how alike they are when it comes to going out of the way in the matters of the heart.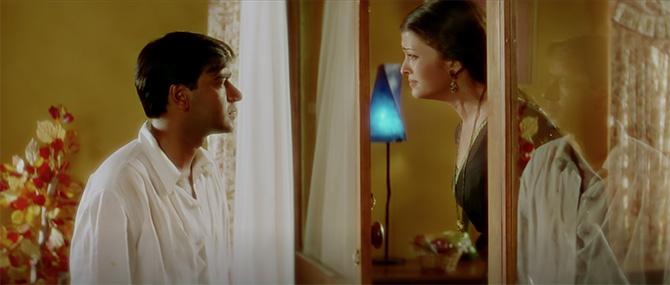 It is a simple frame, but I like what it stands for -- the spouse Nandini is looking at and the soulmate she can';t see.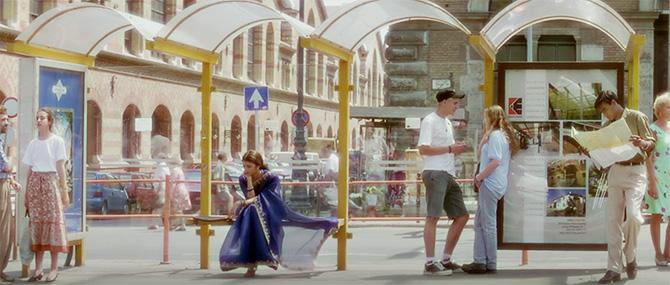 A deceptively ordinary frame except how cleverly Bhansali pronounces Nandini and Vanraj's respective state of mind -- anticipation and quest -- in mundane actions like waiting for a bus, search through a map.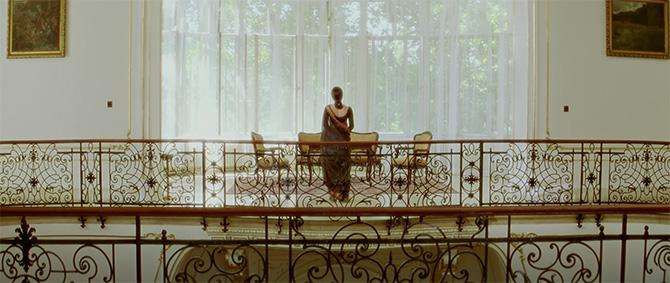 The symmetry of this flawlessly composed frame appeals to me. Bet Wes Anderson would approve too.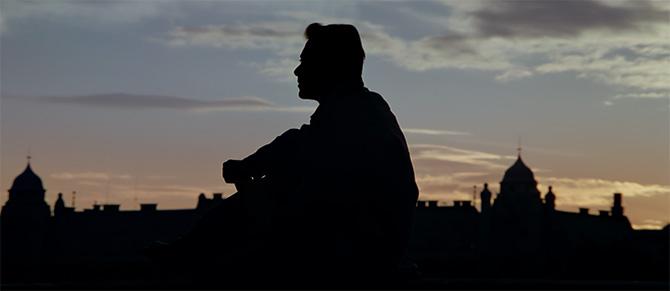 A telling sunset silhouette of Salman Khan in Budapest.
Finding a man in a foreign land can be quite a task especially one that refuses to stay in one place, truly Sameer, hawa ka jhonka.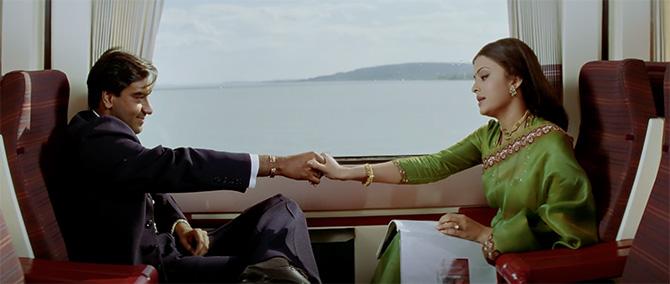 The bridge is a recurring metaphor between Nandini and Vanraj in Hum Dil De Chuke Sanam.
But the one they personified in the form of this friendly handshake overlooking the Danube is my most favourite of its symbolic gestures.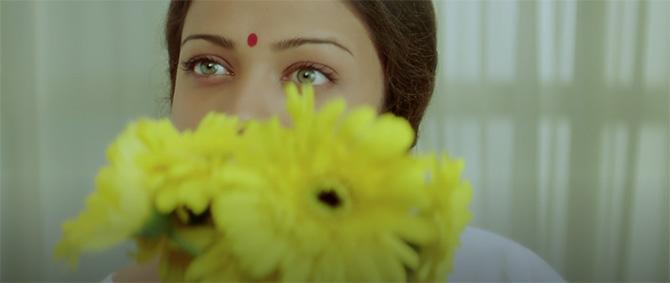 Flowers from the man she loves, bindi from the man she married, eyes filled with indecision -- even dilemma looks like a dream in a Bhansali creation.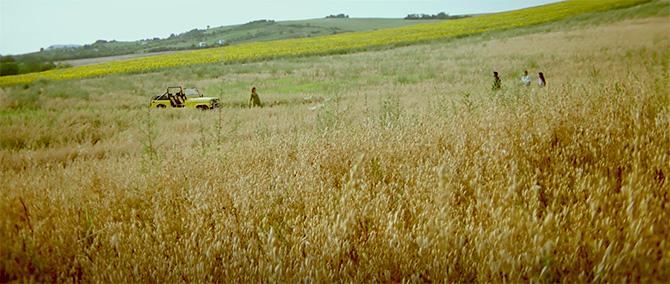 The Godfather-evoking long shot treatment of a robbery shootout scene in open fields shows Hum Dil De Chuke Sanam is as edgy as it is extravagant.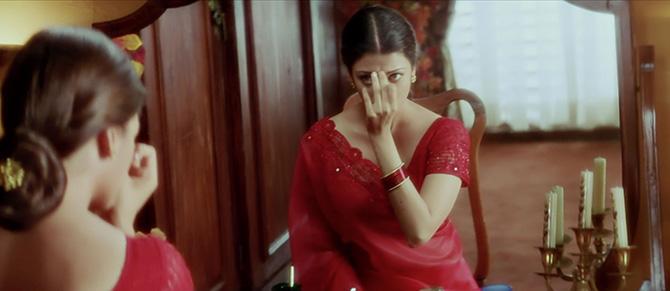 'I like the quality of shringar. The burden of the bun is important. You know when a woman combs her long hair, there is a kind of thought process she undergoes, Bhansali told Rediff.com after the release of Hum Dil De Chuke Sanam.
And Ash reflects on 'the burden of the bun' and the bindi most strikingly in this shot.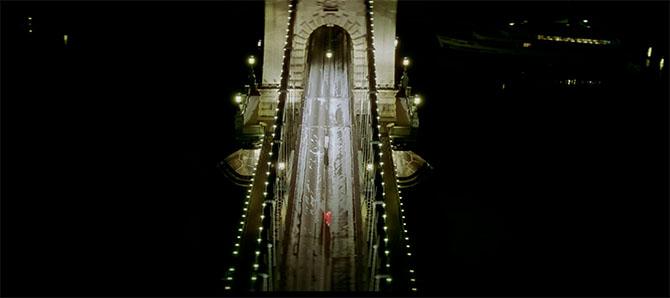 There is magnitude and symbolism, grand gestures and dramatic reunions in this harmonious blend of red, white, black and gold.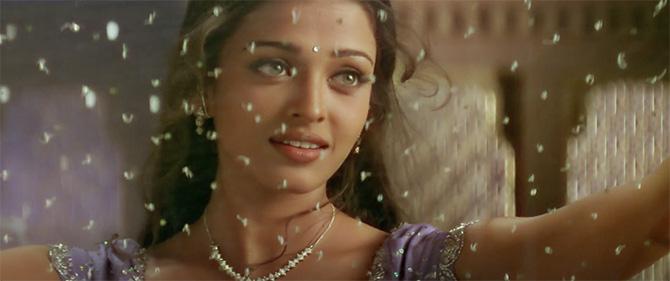 It is celluloid magic like Hum Dil De Chuke Sanam's that lets viewers believe they have stepped into a dream and look at flesh and blood folk like demigods.