Sukanya Verma tells us just what makes Mirch Masala a must watch.
Flaming hues of red dominate Ketan Mehta's fiery tale of feminism.
But when I first watched Mirch Masala on a black and white television set, I could little appreciate the striking visuals of the drama extensively filmed against the stark Kathiawar peninsula.
Cinematographer Jehangir Chowdhury, Mehta's fellow Film Institute of India alumnus, captures the edgy energy and raging disquiet of the 1987 National Award winner at such intense pace, the experience is as inspiring as it is evocative.
Having worked with the film-maker on films like Holi (for which he received a National Award), Hero Hiralal and Sardar, Chowdhury shows an astute understanding of Mehta's symbol-rich vision.
Released over three decades ago, Mirch Masala's aggression, authenticity and aesthetics are as riveting today as in 1987. Not to forget its iconic climax -- a moment of spontaneous revolt, pent-up rage and stinging justice.
A stellar cast of actors like Smita Patil, Naseeruddin Shah, Om Puri, Deepti Naval, Suresh Oberoi, Raj Babbar, Paresh Rawal, Mohan Gokhale, Dina Pathak and her daughters Supriya and Ratna power Mehta's colonial-era clash between a lustful tyrant and a village woman's rejection of his advances.
Despite the intrinsically dramatic nature of the script, Mehta's understated treatment and Chowdhury's photogenic might lend the narrative more spirit than spectacle.
Where Naseeruddin Shah's depraved Subedar takes pride in his sexism enabled by a flock of spineless sycophants and tax-fearing community, we see instances of deep-rooted patriarchy transcend religion, class and consent.
The village chief (Suresh Oberoi) openly engages in adultery but disapproves of his daughter attending school and violently responds to his wife's (Deepti Naval) defiant gestures. His timid brother (Mohan Gokhale) secretly romances among the lower ranks (Supriya Pathak) resulting in the latter's condemnation.
At the centre of Mirch Masala's rampant misogyny is Smita Patil's spunky Sonbai.
A target of the Subedar's lust, Sonbai takes refuge inside a mirchi factory fiercely guarded by the unwavering Abu Miya (Om Puri). Subjected to scorn and coaxed to accede by her colleagues, Sonbai stands her ground, ultimately inspiring sisterhood and solidarity.
What ensues is one of the most powerful images in Hindi cinema history.
As the world continues to grapple with sexual harassment triggering a widespread #MeToo movement, Mirch Masala's resistance and rebellion is more relevant than ever.
Here are 25 of my favourite frames from Jehangir Chowdhury's stunning photography.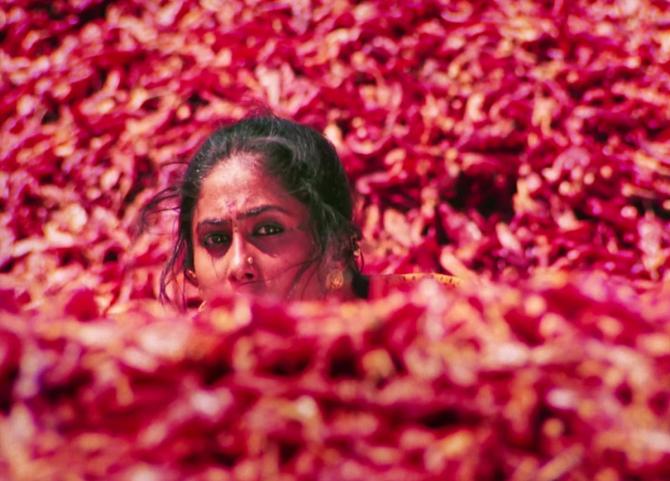 Spice, substance, Smita Patil: A a picture is truly worth a thousand words.
It's a real pity the actress, who passed away a year before Mirch Masala's release, wasn't around to bask in the glory of what is hailed as one of the best performances of her career.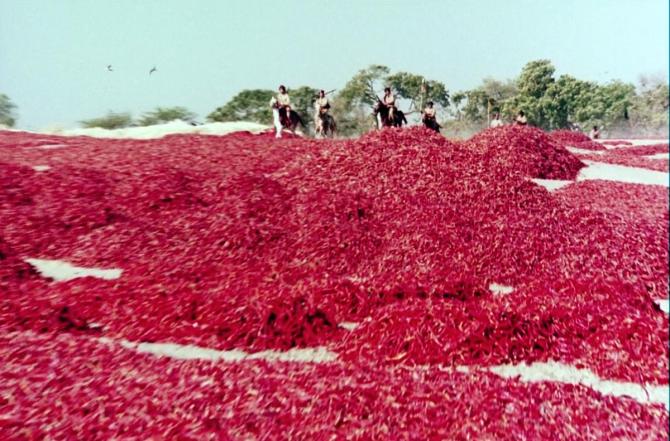 Horse riding men treading on and trampling about a field of delicate looking chilli -- there's something telling about Mirch Masala's opening frame in how it depicts the authority and susceptibility. Except when the chilli decides to bite back, hell hath no fury.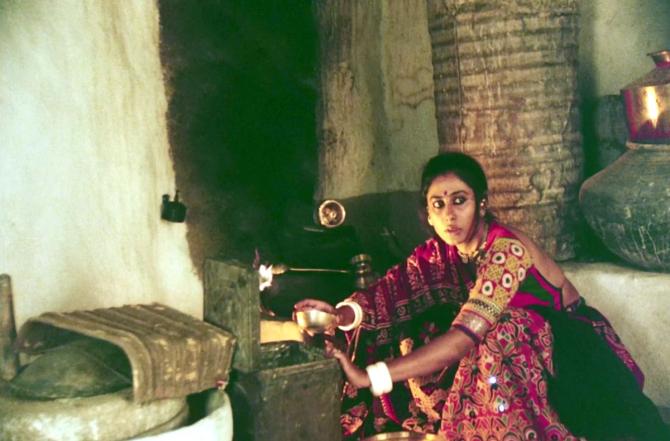 Mehta's realistic rural ambiance contributes to Mirch Masala's lasting charm. And Chowdhury's amber-toned portrait of Sonbai in her domestic space is a dazzling case in point.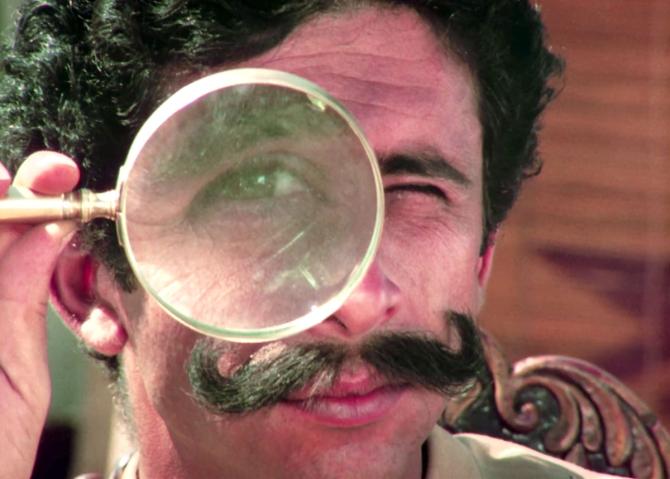 Subedar's leering eye and predatory ways are perfectly summed up in this one arresting visual.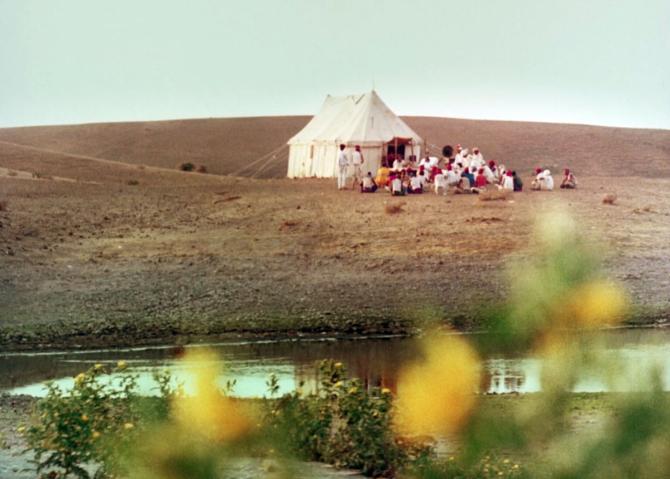 Mirch Masala offers a masterclass in how to make a world of a difference in storytelling by shooting on earthy, actual locations.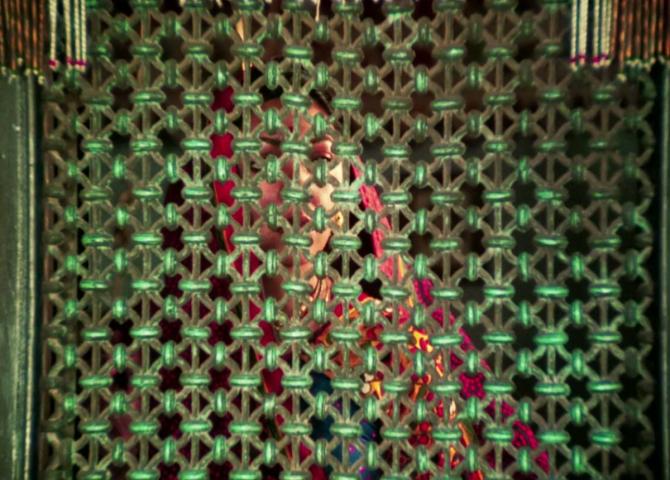 Deepti Naval's character is confined to a life behind walls and windows. Her valiant attempts to break out of a stifled existence is what makes her worthy of admiration.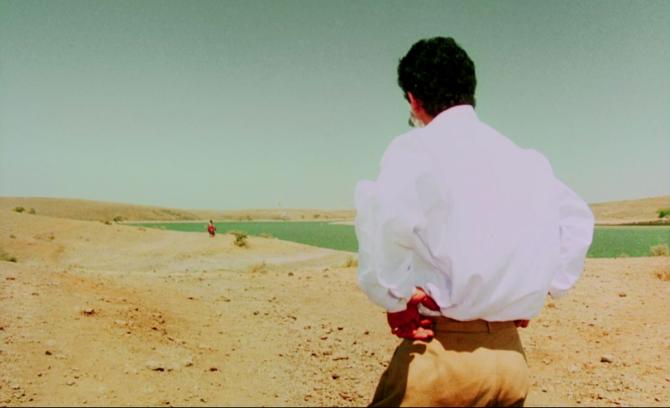 The predator. The prey. Dry landscapes. Body of water. The positioning of the characters in this shot and the flurry of symbols it sends out makes for a captivating visual.
Suresh Oberoi's believable depiction of 'men will be men' syndrome earned him a National Award for Best Supporting Actor. Although his mild manners belie his insensitivity, his first encounter of the gramophone is a rare glimpse into his wonderment.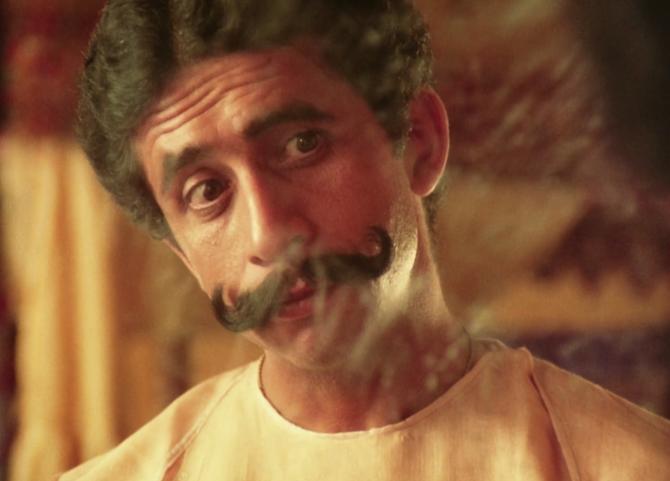 Obsessed by his music, his moustache and a growing appetite for women, Naseer's Subedar is as vain as he is vile.
Often his wickedness betrays his insecurity, but the powerhouse finds a sweet spot between freakish cad and brash caricature.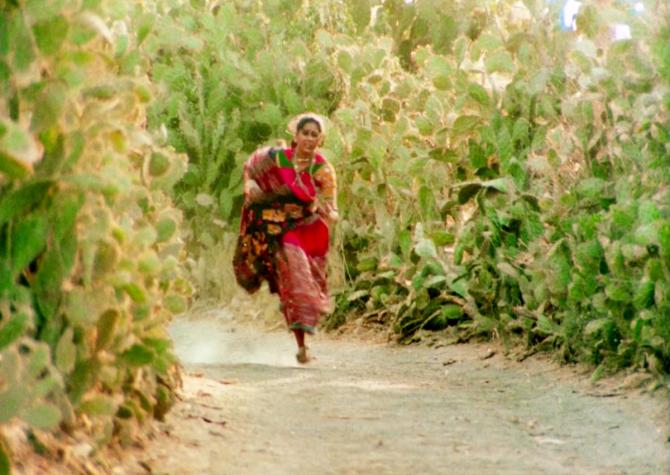 Sonbai racing past a bush of wild, prickly cactus plants is a powerful scene highlighting its throbbing mood and thrilling tension.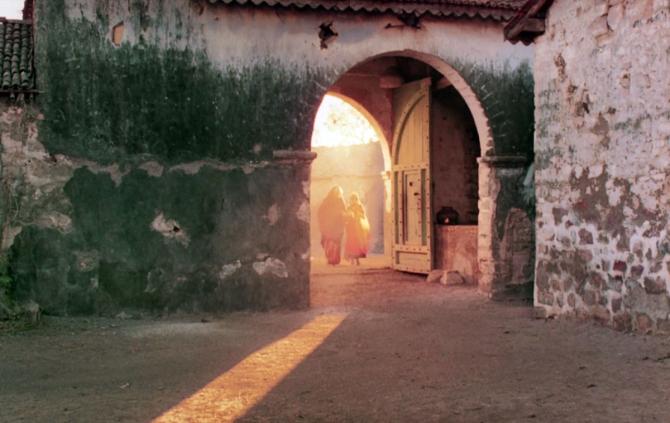 Golden rays of Gujarat's morning sun welcoming the women workers at the gate of the masala factory, it's an affectionately shot visual of a site oblivious to the bloody action it will witness a few hours later.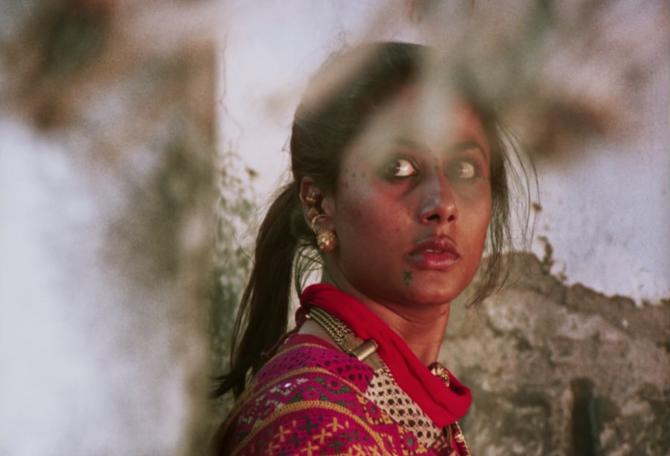 Chowdhury's wizardry in moody portraits is a joy to behold. And when Smita Patil and her haunting eyes play muse, the upshot is breathtakingly good.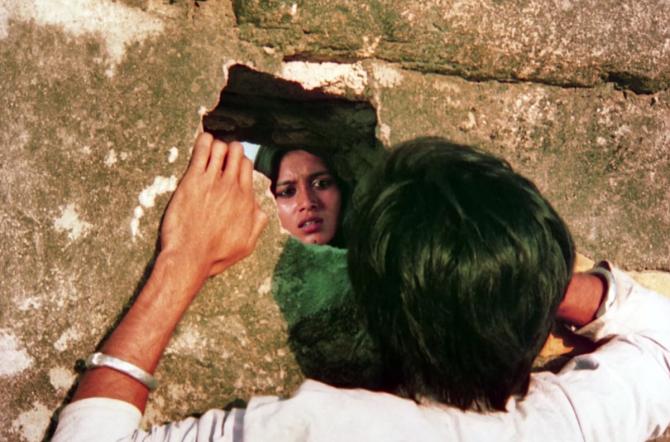 The lovely Supriya Pathak has a minor but integral part to play. Her impulses -- in romance and rebellion -- are the high points of Mirch Masala.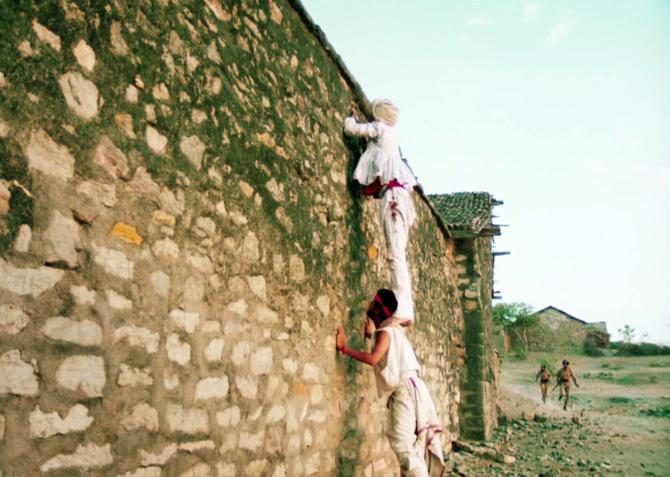 I love the hide and seek vibe, the brilliant texture of this scene. Chowdhury whips up moments out of little.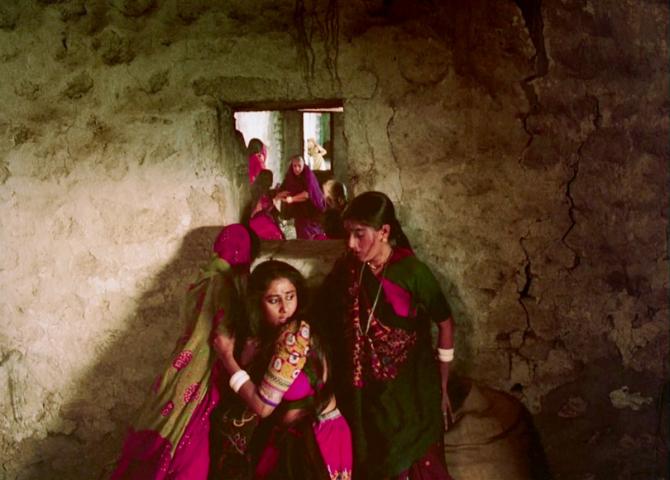 The frame within frame ingenuity of this gorgeously composed shot truly stands out.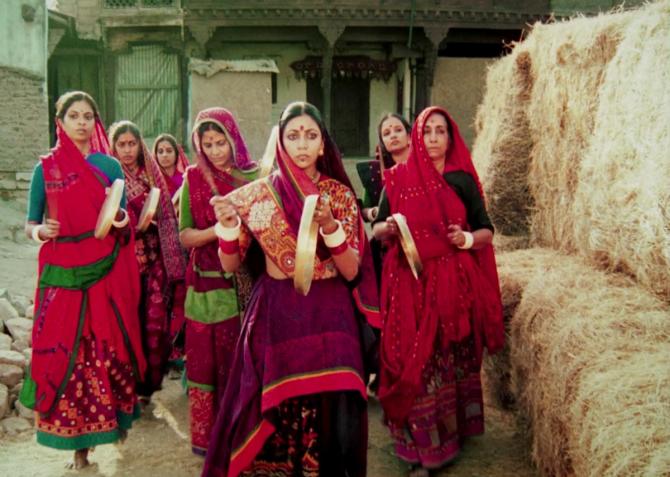 A steely Deepti Naval leading a small-scale protest of neighbourhood ladies, as they clang plates and spoons to voice their anger over Sonbai's harassment makes for a profound statement in Mirch Masala.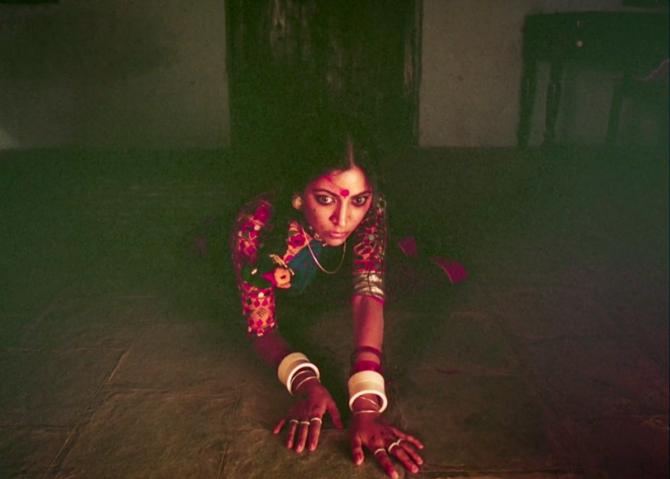 Deepti's triumph may be short-lived, but the determination in her seething eyes insists the fight is far from over.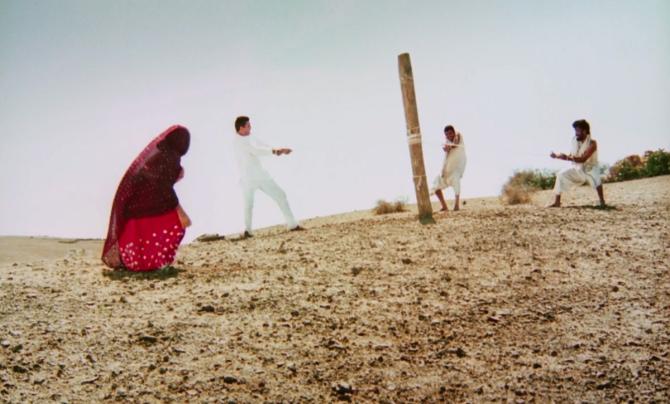 Where horses roam freely and men are tied to a post. Troubling visuals of injustice are strewn all across the village -- the farmer, the school teacher, nobody escapes the wrath of the cruel Subedar.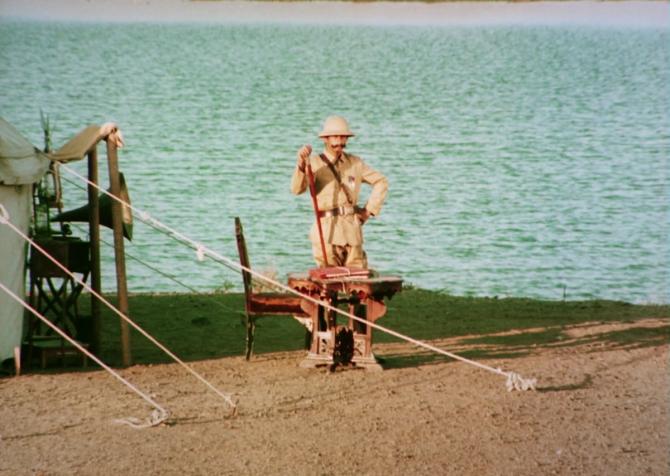 Pig-headed oppressors in uniforms and silly moochis, does that ring a bell? The visual certainly will.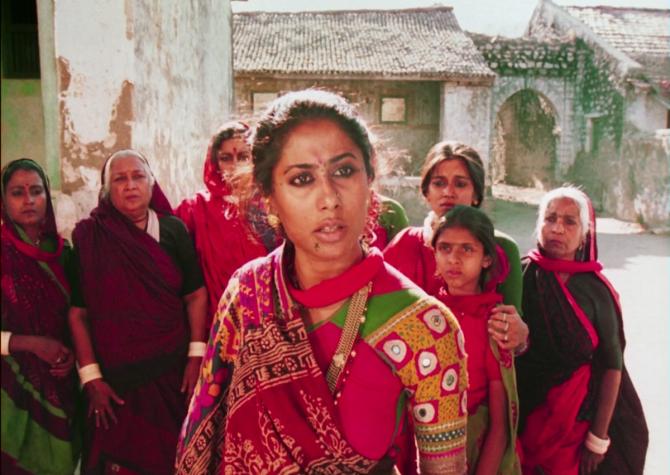 Young, old and powerful -- the real spice girls of Mirch Masala.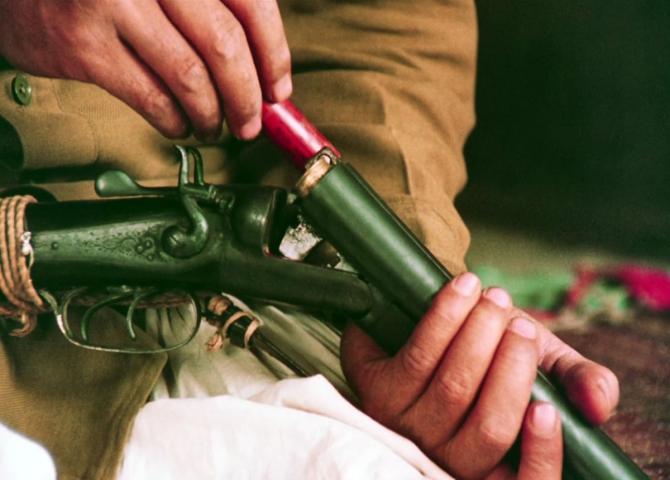 Red enjoys an influential presence in Mirch Masala. Whether it appears in overwhelming numbers or just a pop, the outcome is always outstanding.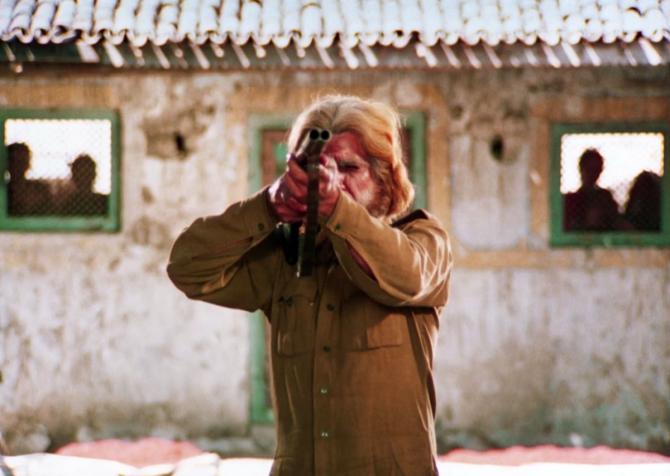 'Beimaan hone se namak haraam hona behtar hai.' Abu Miya's virtue and bravado embodies the wall that stands between right and wrong. And Puri's magnificent portrayal goes well beyond the good Muslim stereotype.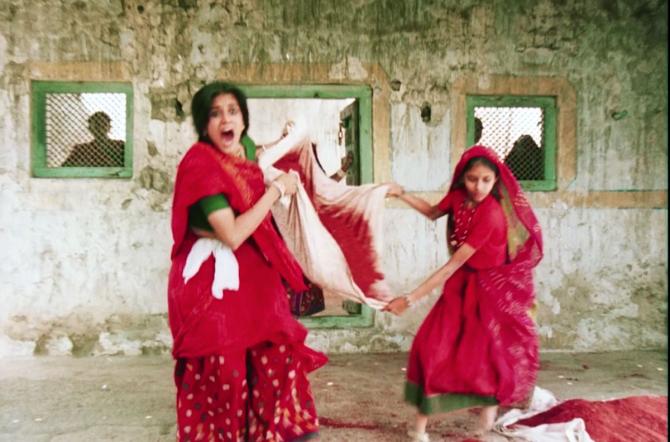 THE scene. Nothing prepares for it. Nothing diminishes its impact. And no one else, not even Sanjay Leela Bhansali, can recreate its fury.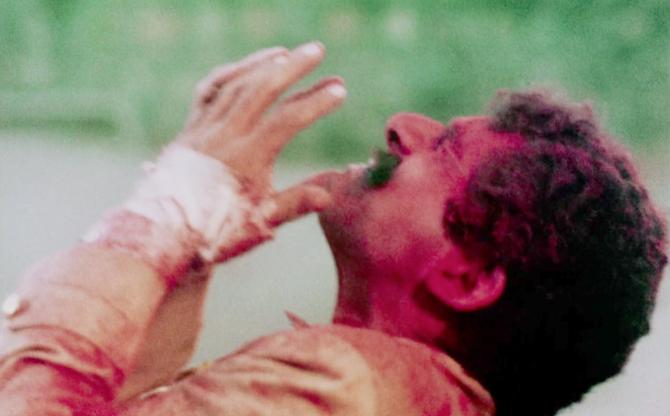 Rabid, raw, fierce but fitting, the excruciating extremity of the punishment meted out at Subedar is chilling yet comforting.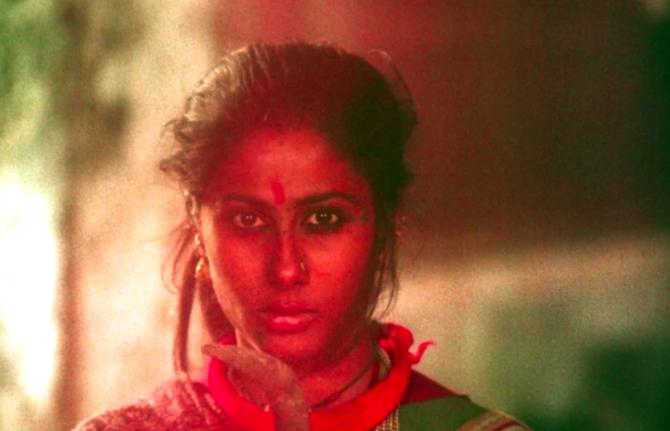 Red was never this empowering. And Smita Patil was never this dynamite.