Were Kareena and Priyanka catty enough? YOU tell us in this poll!
Alia Bhatt burped on national television.
Sara Ali Khan's Bollywood aspirations, strictly confined to her Macbook, became viral.
Embarrassing childhood memories like Varun Dhawan's thumb sucking, Abhishek Bachchan's bed-wetting and Jahnvi Kapoor's morbid games around a dead fish became public knowledge.
Season 6 of Koffee With Karan showcased the 'real' side of Bollywood's most famous folk as ardently as its host Karan Johar's jazzy wardrobe of floral suits and shiny shoes.
Among other things, the subject of nepotism popped up every now and then, Vicky Kaushal was plugged more than the latest movie, Kangana Ranaut wasn't invited and a controversial episode featuring cricketers and promoting sexism, racism and loose talk got the axe.
Sukanya Verma gives a quick recap and review.
Deepika Padukone and Alia Bhatt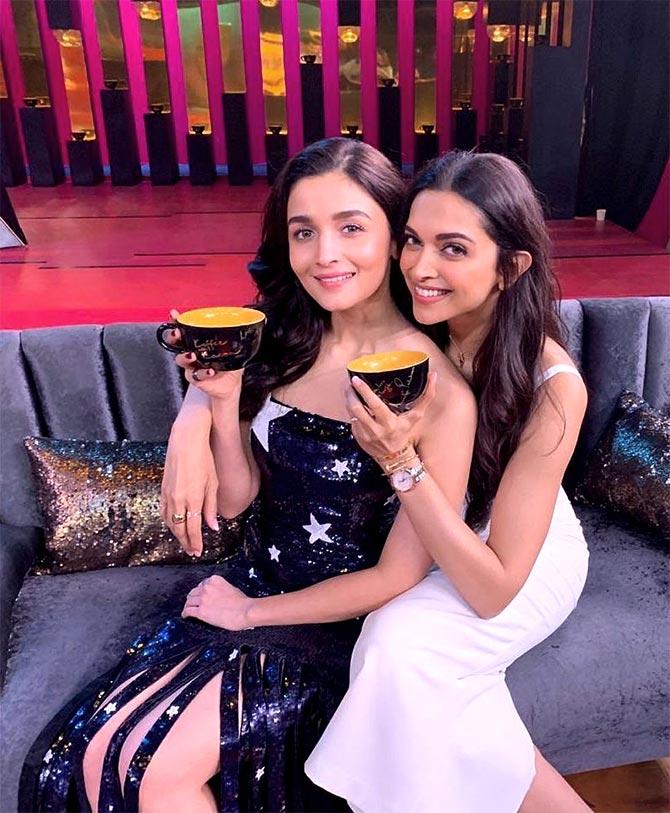 Alia burped. Audience yawned.
All the good looks and goody two shoes vibe of Deepika Padukone and Alia Bhatt combined could not salvage this lackluster opening episode from turning into a slog.
While its snoopy host fished for juicy gossip relating to one's ex and another's current flame -- Ranbir Kapoor -- in the absence of wicked wit and snappy comebacks, the exercise proved more drab than fun.
Liked the episode? VOTE!
Akshay Kumar and Ranveer Singh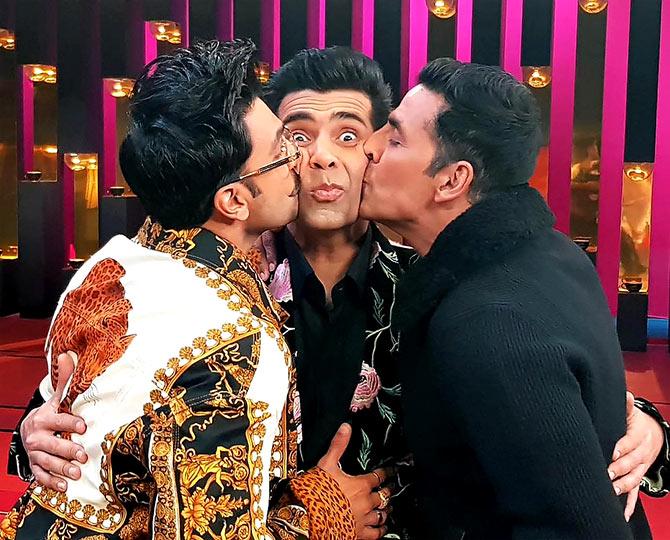 We've always wondered about the camaraderie between these two hunks since Ranveer Singh shared a throwback picture of him as a 1990s fanboy on the sets of Akshay's Keemat.
And the Gully Boy star's idol worshipping fervour sets the fun tone for the entire episode.
The man's such a laugh riot, both Akshay and audience have a hard time keeping a straight face.
Liked the episode? VOTE!
Aamir Khan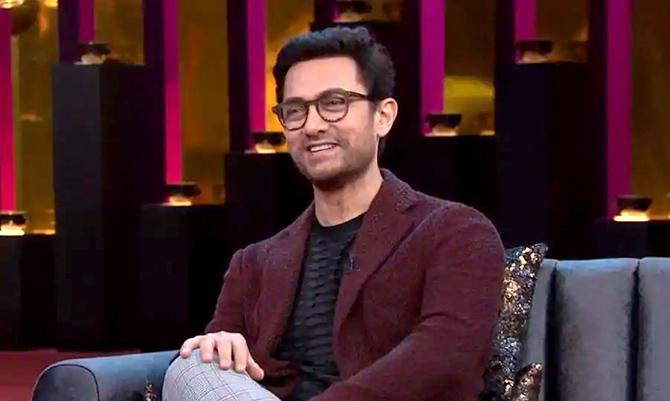 At one point, Karan Johar blurts 'That was witty?' on solo guest Aamir Khan's face, summarising our overall feelings about the dull as dishwater episode.
Mostly there to promote the ill-fated Thugs of Hindostan before its release, Aamir seems to be simply going through the motions in the vein of a press junket instead of a celebrity chat show.
Liked the episode? VOTE!
Katrina Kaif and Varun Dhawan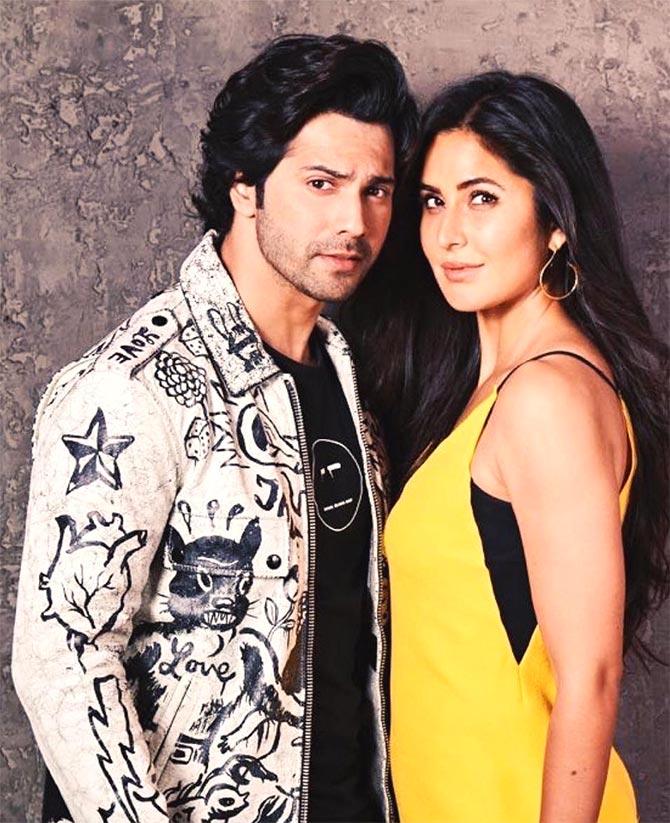 Varun Dhawan and Arjun Kapoor may have started an 'I Hate Katrina Kaif' club at the peak of their Bhai (Salman Khan) obsession, but the woman is delightful to the core.
If her hilarious insights along with partner-in-looniness Anushka Sharma gave us one of the best episodes of last season, her elegant views on the matter of love and moving on is wisdom at its most realised.
Too bad it's lost on a show whose tagline screams 'Stop making sense'.
Liked the episode? VOTE!
Saif and Sara Ali Khan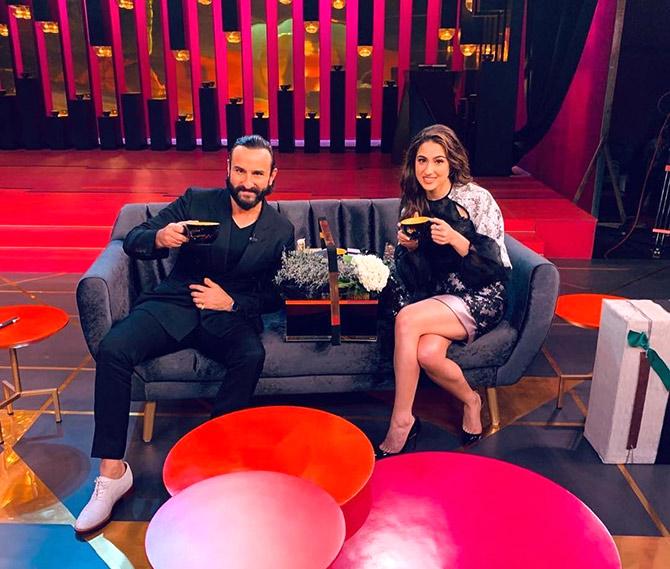 If there's a truly cute father-daughter jodi outside the silver screen since Dil Hai Ki Manta Nahin, it has to be Saif and Sara.
Saif's easy eloquence and subtle sense of humour is no surprise.
But Sara, who pretty much became a star even before her first release following the overwhelming response to her Koffee debut, simply steals the show with her repartee and candour.
Liked the episode? VOTE!
Arjun and Jahnvi Kapoor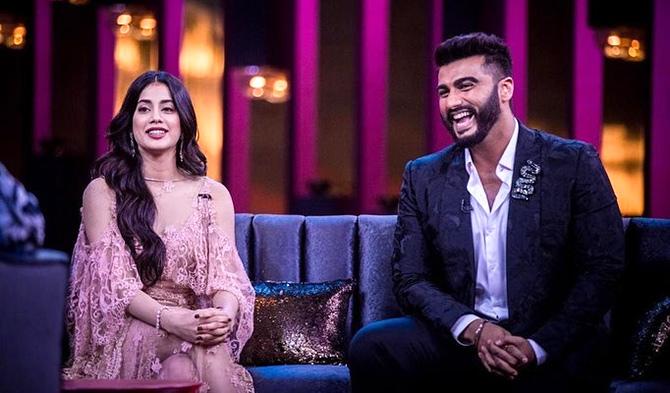 Siblings Arjun and Jahnvi Kapoor bonded over this strange episode, which had its moments of enjoyment, emotion and awkwardness.
While we chuckled at Arjun's constant ribbing of Jahnvi over her bizarre habits and rumoured beaus, it was touching to hear him talk about life changing dramatically after Sridevi's demise.
But between quiet and giggly, Jahnvi did not leave much of an impression.
Liked the episode? VOTE!
Hardik Pandya and K L Rahul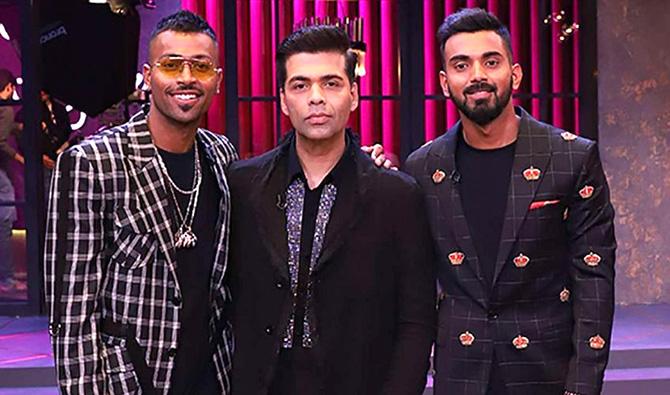 Everybody involved, including KJo, profusely apologised and promised to do better. Everybody involved has promptly moved on.
But the Internet is unlikely to forget the sexist, racist tone of their exchange, the backlash that followed, the angry think pieces it spawned.
It's one thing to be frivolous, entirely another to be filthy.
Liked the episode? VOTE!
Ajay Devgn and Kajol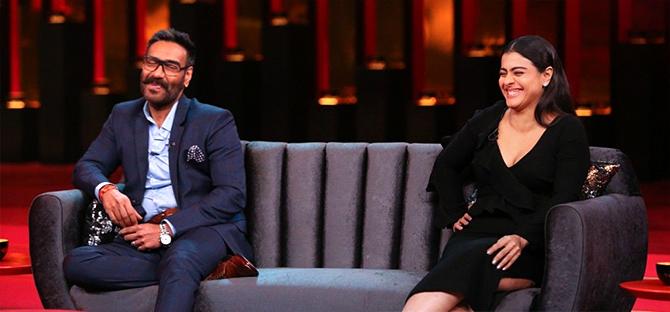 He called her old. She almost hurled an expletive.
Ajay Devgn and Kajol certainly don't live up to Bollywood's picture of a lovey-dovey married couple. At least not on Karan Johar's show.
But the episode, which began somewhat like reconciliation between three people with a history of fallouts, stood out for its unusual banter and dry humour sans the obligatory prattle of dating and denials.
Liked the episode? VOTE!
Diljit Dosanjh and Baadshah
Who knew 'leh' carries so much swag?
No episode of Koffee With Karan has doled out as much mischievous charm and adorable honesty as Diljit Dosanjh and Baadshah's unforgettable debut in Season 6.
The duo's spontaneity personified answers and responses; especially a winsome, blushing Dosanjh is stuff of repeat viewing.
Lassi shots are a masterstroke. And that entire 'Spot the designer' segment is something we could totally get used to.
Liked the episode? VOTE!
Ayushmann Khurrana and Vicky Kaushal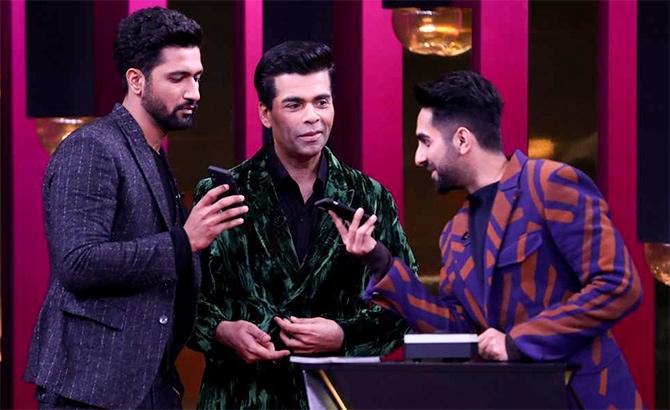 When Bollywood's hottest heroes and affable talents team up for an episode of Koffee, one expects nothing short of sensation.
Call it lack of chemistry, blah questions, banal answers or want of that special something but nice guys Ayushmann Khurrana and Vicky Kaushal's Koffee debut left us high and dry.
Liked the episode? VOTE!
S S Rajamouli, Rana Dagubatti and Prabhas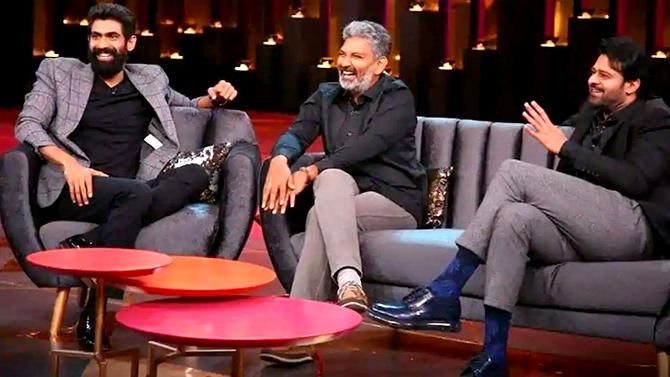 Season after season arrogance reeking, humility faking stars grace the couch and offer little to no insights of their empty personality.
Enter the Baahubali troika and their refreshing lack of pretention is proof of powerful, popular, people in touch with themselves.
The episode's freewheeling chat and laughs introduce us to Prabhas-the brat and glutton, Rana Dagubatti-the grounded gentleman and Rajamouli's light-hearted demeanour.
It's also heart-warming when KJo's glamorous front drops around these disarming personalities.
Liked the episode? VOTE!
Sonam, Rhea and Harshvardhan Kapoor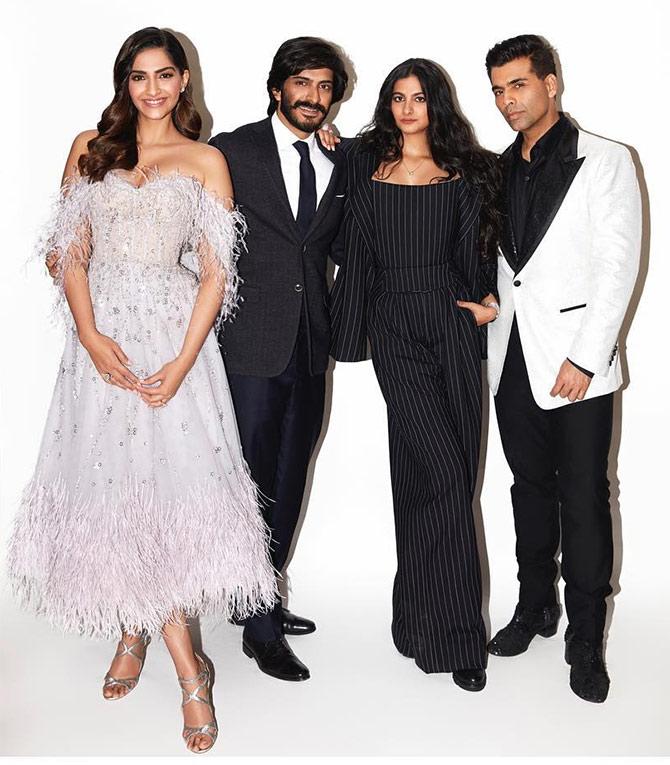 Between Sonam dressed for a Cannes red carpet and Harshvardhan rarely getting a chance to talk, it's left to Rhea to carry the Kapoor sibling torch forward and give it some justification to exist.
Like why her dad Anil Kapoor discouraged her from acting or mimicking Kareena Kapoor Khan.
The rest of this snooze-inducing episode is a haze.
Liked the episode? VOTE!
Shahid Kapoor and Ishaan Khatter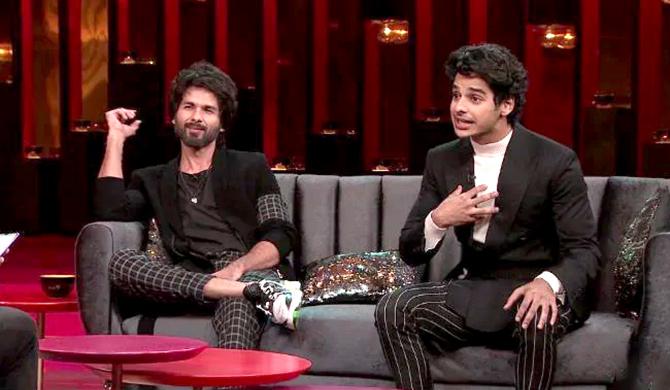 There are enough pictures on Instagram highlighting the close bond shared by Shahid and his half brother Ishaan.
It's the highlight of the Koffee couch too.
But beyond that and Shahid's oddly brash responses and Ishaan's nervous ones as the former mercilessly teases him over the subject of his Dhadak co-star, there's very little to notice.
Liked the episode? VOTE!
Abhishek Bachchan and Shweta Bachchan Nanda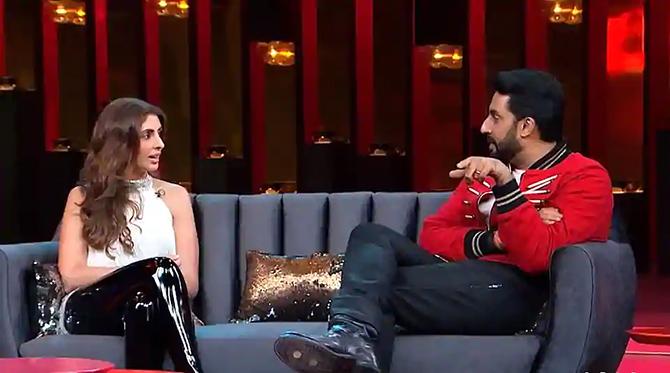 Now here's a real sibling duo.
The camaraderie between the Bachchan bhai-behen and their childhood friend Karan Johar is so informal, the studio feels like a living room.
As they open their hearts up and share stories of their childhood, failures, insecurities and mom Jaya's famously grumpy response to paparazzi, Koffee With Karan never felt this genuine.
Liked the episode? VOTE!
Rajkummar Rao and Bhumi Pednekar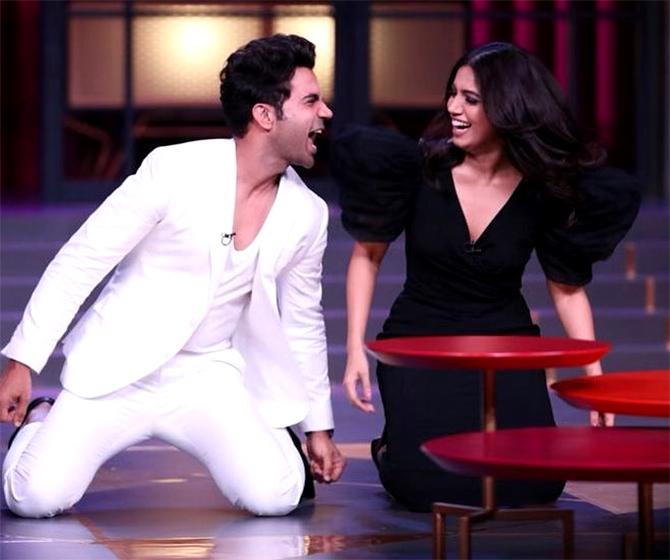 Two genial personalities. Some easy-peasy camaraderie.
The couch showed some smarts and spunk as Rajkummar and Bhumi let their hair down and shared some hilarious stories about their lives.
Bhumi's restaurant recommendation to KJo in Berlin still has us in splits.
Liked the episode? VOTE!
Aditya Roy Kapoor and Sidharth Malhotra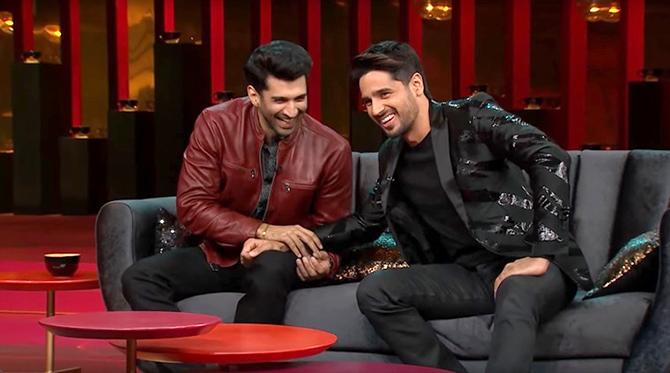 More of a filler than an actual episode, it was back to relationships, breakups, who's seeing who, who saw who in a lacklustre hour of not getting to know Aditya Roy Kapoor and Sidharth Malhotra than we already do.
Ranbir or Ranveer? Same old, same old.
Liked the episode? VOTE!
Kartik Aaryan and Kriti Sanon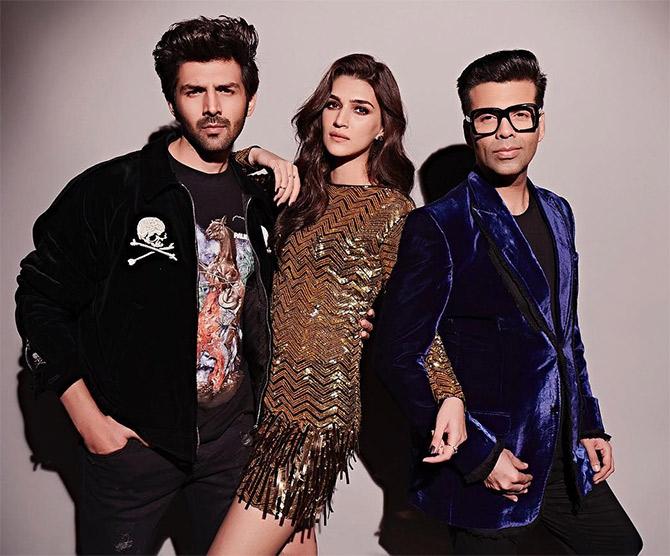 While most combinations on Koffee with Karan this season were inspired choices, Kartik Aaryan and Kriti Sanon paired up to plug Luka Chuppi.
Their excitement to be on the show they've grown up watching was palpable, but their boringly coy and monotonous replies on link-ups didn't make for a notable episode.
Liked the episode? VOTE!
Tiger Shroff, Tara Sutaria and Ananya Pandey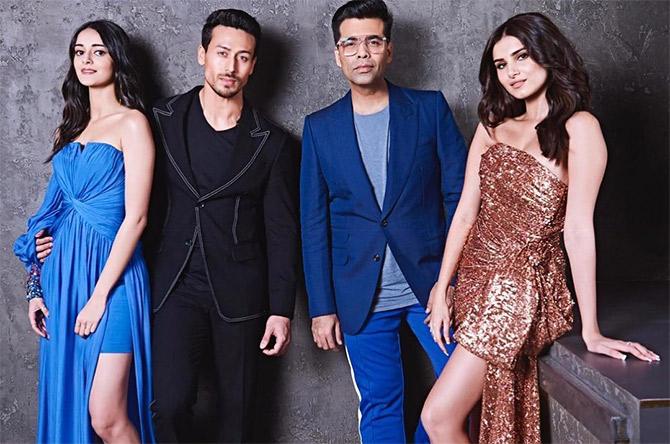 Looking all shiny and spruced up before their big day, the cast of Student of the Year 2 spoke about nepotism, entitlement and being an outsider like PR trained parrots in yet another forgettable episode of Koffee With Karan.
Their juvenile chatter almost made us wish for an Alia Bhatt faux pas to liven things up. The latter showing up to bless the new batch was easily the best thing about it.
Liked the episode? VOTE!
Kareena Kapoor Khan and Priyanka Chopra Jonas
There were no fireworks. But the sheer glamour of this episode left us dizzy.
Seeing she has no chance in front of Priyanka's super confident and sassy rejoinders, Kareena kept it uncharacteristically modest.
A far cry from all the catty comments they've made about each other in the past, the actresses got along as the cliché goes a 'big happy family'.
Although we'd love to get a sneak peek into all her masala filled Whatsapp groups.
Liked the episode? VOTE!
The Koffee Awards with Kirron Kher, Malaika Arora, Mallika Dua and Vir Das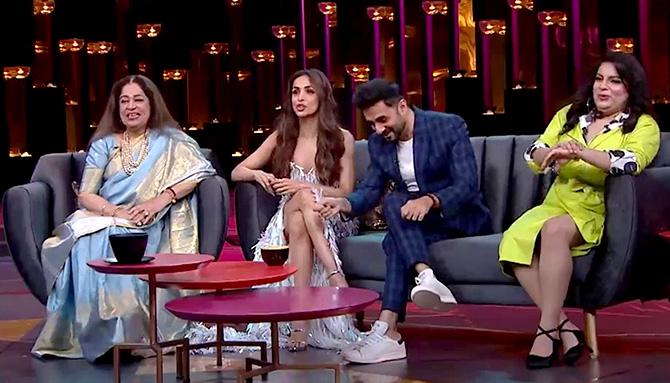 Nobody takes Koffee With Karan seriously. So it's no surprise the awards are as 'please everybody' as they come.
While we agree with the jury's choice of Best Episode (Diljit Dosanjh and Baadshah), Female (Sara Ali Khan) and Male Debut (Diljit Dosanjh), the ridiculously named categories completely ignored some of the better episodes of the season to favour friends.
What do they mean by Best Performance? It's all an act? Ranveer Singh sure looked happy to take two.
The Audi winning answer to Ajay Devgn and Best Performance Female to Kajol felt more of a peace offering than a deserving win.
The Best Dressed Male to Vicky Kaushal, Best Dressed Female to Kareena and Lifetime Achievement for appearing on every season to Priyanka is all about favouring the friend?
Conjecture or not, you decide. Catch you at the seventh season of Koffee With Karan.
Agree with the awards? VOTE!