National Award-winning actor, producer, hotelier, ex-MP, cricket team owner, philanthropist, highest tax payer, reality show judge, animal lover and, above all, people's hero -- Mithun is truly a force of nature, says Sukanya Verma.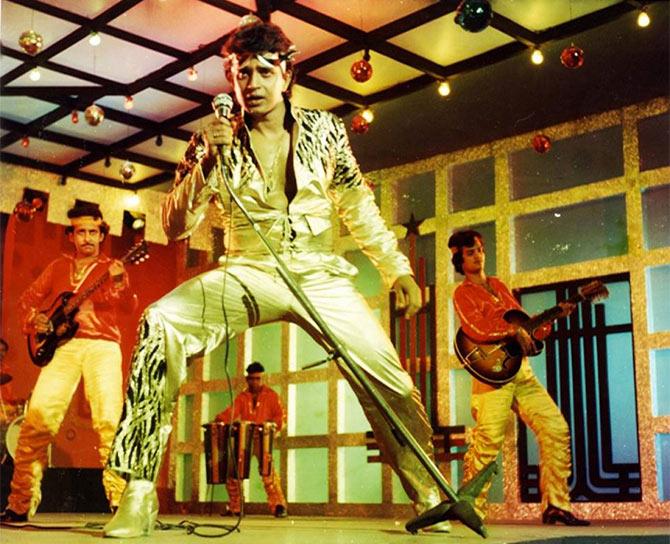 Director Mrinal Sen was attracted to his 'shamelessness' when he first laid eyes on a young aspiring actor at the Film and Television Institute of India.
Bappi Lahiri was the first to applaud in the trial room on witnessing his electric dance moves in Disco Dancer.
Amitabh Bachchan fondly recalled his co-star running around 'enthusiastically ready to carry my bags for me' while filming a blink-and-miss scene for his first film.
Choreographer-turned-director Farah Khan revealed how Mithun's entry on the sets of Om Shanti Om, where he pitches in an appearance along with 30 other Bollywood stars, caused a near stampede.
'All the light boys and spot boys rushed to take pictures and autographs,' she stated in its 'making of' video.
These are lovely memories.
But when we think of Mithun Chakraborty, we rarely think of his collaborators.
No, we think of his fans whose love, loyalty and excitement for his erratic, eclectic cinema, going the whole hog between terrific to trashy, led to the cult of Mithun Chakraborty, the people's hero.
To understand it, you need to see his movies, hear his fans.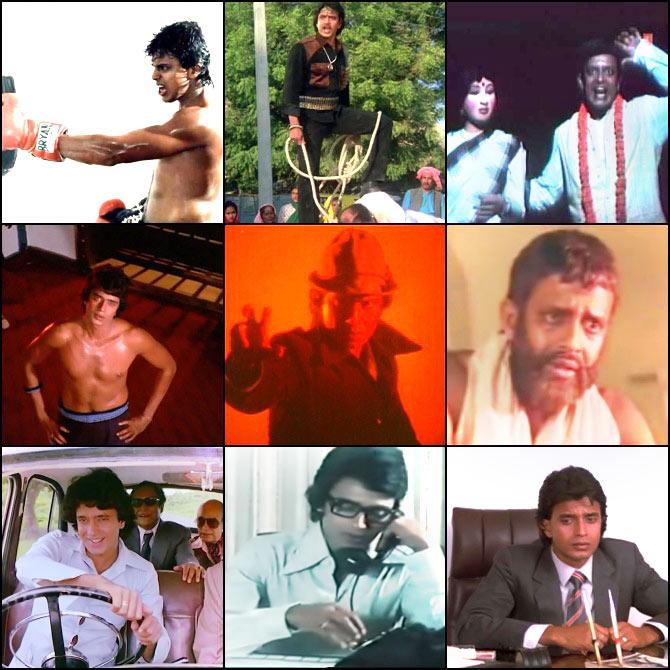 Tadpatri Talkies star and Mithunda bhakt Aseem Chandaver was around six or seven years of age when a fight among his classmates over who will role-play as Mithun Chakraborty in a game of chor police drove one of them to say, 'Mithun can jump as high as three floors and beat the living daylights out of you.'
This piqued Chandaver's curiosity and he rushed to rent his first Mithun titles on VHS, Disco Dancer and Karate. He was a changed man.
Years later, he would make a trip all the way to Mithun's North Kolkata home for a darshan of his "Prabhuji's" abode.
Chandaver, who appeared in a hilarious cameo as a troublemaking neighbour in Mard Ko Dard Nahi Hota (quite in the same way as Mithun's Do Anjaane) has adopted one of the actor's screen identities -- Gina Kholkar (Roti Ki Keemat) on social media.
Writer and columnist Vaibhav Vishal remembers the star's double role gig, smarts, swag and sting in Aamne Samne where he is 'shattering the glass panes to break into a high-rise apartment, flawlessly executing an impressive heist, rappelling down onto a waiting motorcycle, outracing the frustrated cops in multiple chases, wearing shiny disco shirts and dancing against the backdrop of copious amounts of machine-made smoke.'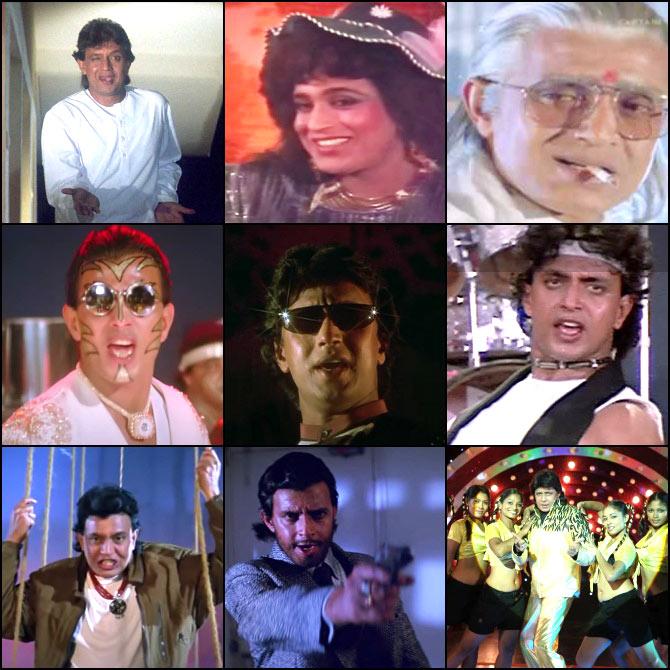 For screenwriter and director Suparn Verma (who bunked school to shake hands with his favourite actor on learning he was shooting the climax of Mujrim in the building next door) the imagery of Mithun's "Gunmaster G-9 in Surakksha and grooving to the beats of Disco Dancer are all rolled into one big memory ball."
Suparn met Mithun>da again to narrate a script of a shelved Hansal Mehta film.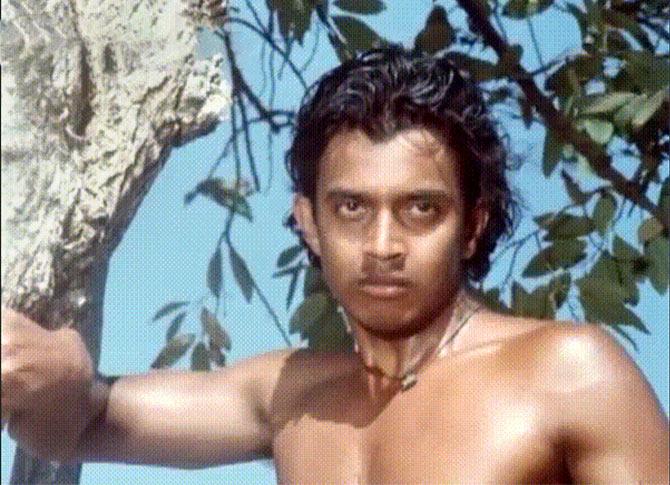 Lucknow-based businessman and cinephile Manish Rathore remembers watching Mithun first on Doordarshan in Mrigayaa, followed by his iconic spy avatars Gunmaster G-9 in Surakksha and Wardat.
A treasure trove of cinema and music, Jaipur's Pavan Jha saw a still from Mrigayaa in the Hindi weekly magazine Dharamyug in the mid-1970s.
The picture of the sinewy actor stayed with him but it was Hum Paanch that cemented that fascination.
"He was my take-away of the film."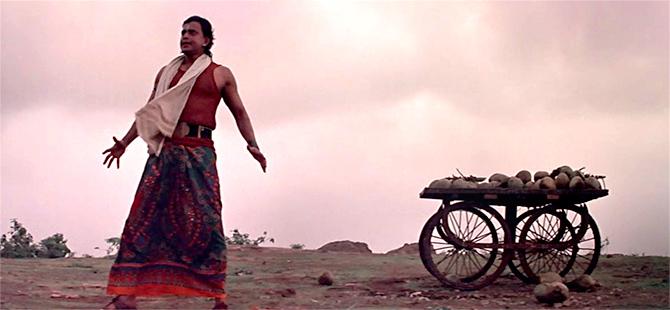 Director of Mard Ko Dard Nahi Hota and Peddlers, Vasan Bala's earliest memory of Mithun includes Bapu's Hum Paanch as well as Basu Chatterjee's Shaukeen.
Interestingly, both the characters Gulshan Devaiah plays in Mard Ko..., a roaring action comedy brimming in pop culture references, have a Mithun connection -- Karate and Jimmy.
Mithun Chakraborty's story of struggle elicits the same degree of astonishment as his audacious triumphs in the movies.
One profile isn't enough to explain the influence of his empire founded on bold, beautiful and bizarre career decisions that spans over 300 movies.
By his own admission, Mithun did three kinds of movies -- 'for money, for my fans and for myself.'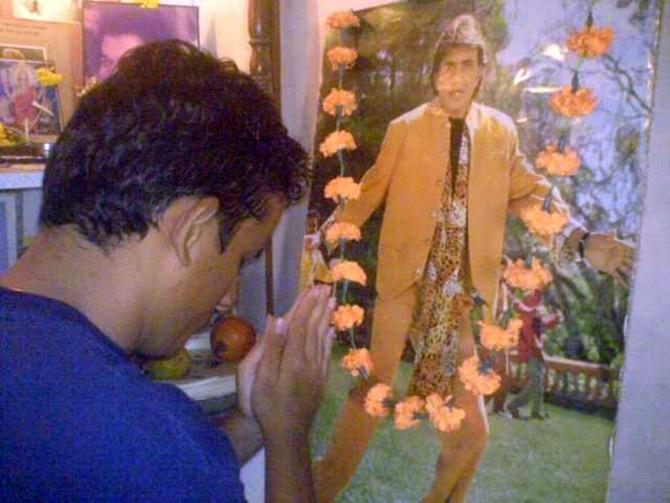 Back when he was trying to gain a foothold in the film industry, Mithun slept inside Matunga's Five Gardens (north central Bombay) and took a membership at the suburban gymkhana to have access to a washroom.
In a heart-to-heart with journalist and trade analyst Komal Nahta (one of Mithun's earlier films, Prem Vivah was produced by Komal's father Ramraj Nahta), the actor admits to having suicidal thoughts during this nightmarish phase where he was made to feel insecure about everything from his complexion to his feeble Hindi.
Fortunately, he overcame all odds and went on to win a National Award in his first starring role itself with Mrigayaa.
Despite a striking physique, handsome frame, natural born dancing prowess and martial arts know-how, 'the sexy, dusky Bengali babu' was not inclined to shine on the silver screen.
'I became an actor by compulsion, not by ambition.'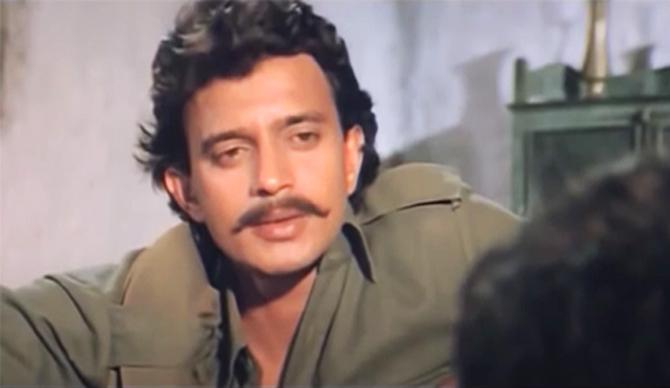 Back at home in Kolkata, his father wished his football-loving son to become an engineer but it wasn't meant to be. Nor was his active participation in the Naxalite movement, leaving which, led him to moving to Mumbai, doing a course from the FTII and catching Mrinal Sen's eye at the convocation ceremony.
From dhinchak disco strutting in shiny costumes inspired by his idols Elvis Presley, Fred Astaire and Michael Jackson (he named his son Mimoh after MJ and boxer Muhammad Ali), happily donning 007 hand-me-downs in sasta, tikau spy fare, juggling kitschy family entertainers, spearheading potboilers of every degree to play saviour, avenger or Jallad, he never fails to surprise us with his art-house aesthetics just when you thought he is completely drowned in camp.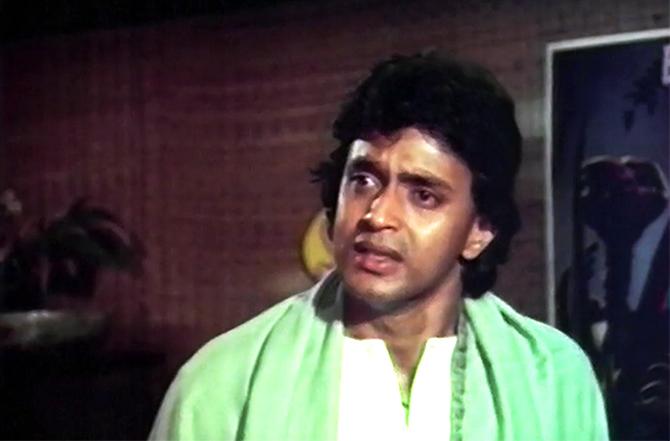 There are so many layers to the Mithun oeuvre -- the hysteria he generates in Russia over Disco Dancer, starring in as many as 25 releases in 1999, winning the National Award three times, playing everything from a spy to sexual predator, dancer to godman, embracing absurdity with a vengeance or the other way around in one B-film after another -- it is natural to feel overwhelmed and exhausted at once.
Even his ghastliest is stuff is so bad, it's good.
What exactly is this awe-inspiring cult of Mithun?
For Rathore, "he is the only male actor in the '80s who made dance and fights look real. Karate and disco matlab Mithunda."
"The Angry Young Man, who could dance and fight was one and second, the B and C centre distributors and exhibitors could afford a Mithun film over an Amitabh Bachchan film," says Vasan Bala.
Calling Mithun his own genre and not competing with anyone, Bala adds "set him apart and in his own league."
Jha hails Mithun as a "great mix of rustic innocence and charm as well as modern outlook and approach. He is ordinary and extraordinary in one persona. His flexible body was unlike anything we've seen but beyond his electric moves, he made a real connection with those deep attractive eyes."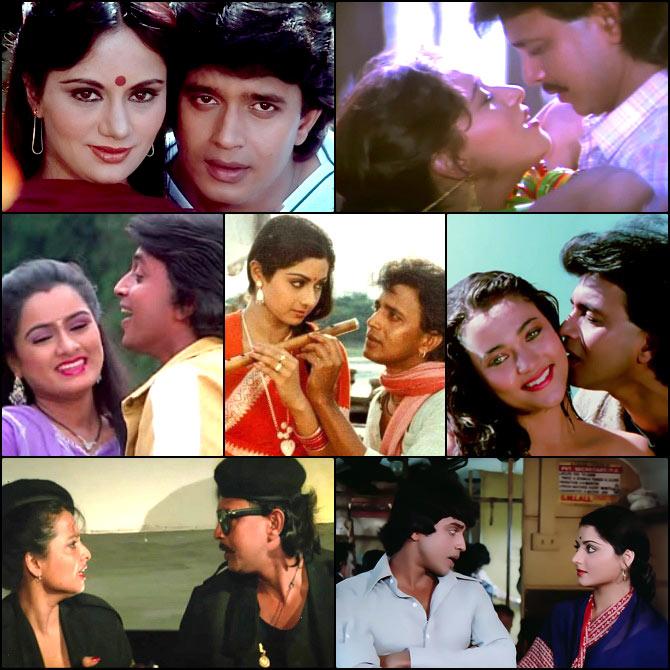 From Padmini Kolhapure to Pooja Bhatt, Mithun romanced a great number of leading ladies but at one point his jodi with Ranjeeta Kaur was considered the hottest. Including Shakti Samanta's Khwab on whose sets he met and fell in love with his future wife, Yogeeta Bali.
Vishal waxes eloquently on the Mithun phenomena: "The young audiences of the 1980s needed a hero of their own. The likes of Amitabh Bachchan, Rajesh Khanna, Jeetendra, Dharmendra, and their younger counterparts like Rishi Kapoor were around and did continue to have a rather glitzy presence on the silver screen, but they still were actors from the decade gone by. They belonged to the '70s. The star sons were yet to happen. The '80s wanted their own hero, their own star."
"Mithun Chakraborty made his presence felt at just the right juncture," Vishal points out. "But more than his presence, it is what he chose to be that made all the difference. The world was yet to converge, and India still was a proud fuddy-duddy nation."
"Western trends would take a long time to come in here. Mithunda captured and capitalised on two of the most iconic popular culture symbols of the 1970s -- Disco and Kung Fu -- and made them his own."
"A modern hero with dark innocent eyes who could dance disco like a dream and beat up the villains with his jiu jitsu fingers was exactly what the doctor had prescribed for the young moviegoers."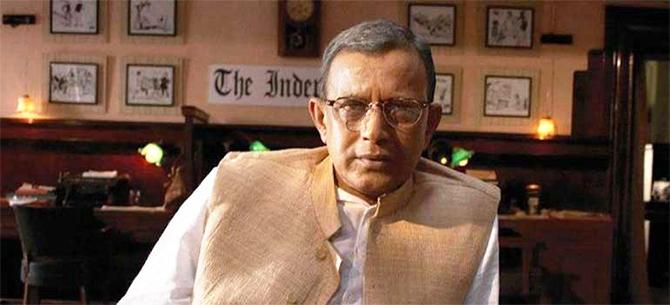 "His eyes are the windows to his soul," agrees Suparn Verma.
"A mass hero who looked like a good-looking version of the common man, it was the era of mannerisms and he rocked it. Whether it was his delivery or swag or dance moves or hair style, everyone wanted to be Mithun Chakraborty."
"Besides that, there is an innate goodness in him that came out on screen."
Chandaver has the last word on the subject.
"While on the outside, it might look like this goofy guy is waving his palm, making it look like a snake's hood, stabbing people and killing them, his fans knew that this is a man who is dead honest and believes in the craft of the unbelievable."
"He believed in Sin City-esque unjust worlds where an ordinary porter could take revenge on an entire crime syndicate."
"He believed in the John Wick-ish Shera where an avenger who has retired is forced to return and slay the ones who killed his family using his five-point finger exploding heart technique."
"He truly believed that a monkey could teach a rookie the art of Monkey Style Karate."
"One of the reasons Gunda became a cult hit back in 2006 is that Guru had released at the same time. Fans could not believe what they were seeing. The name Prabhuji was coined because he could do everything."
"He is the all-rounder hero. He is Ootywood. He is Jimmy. He is Shera. He is Guru."
Koi Shaq? None.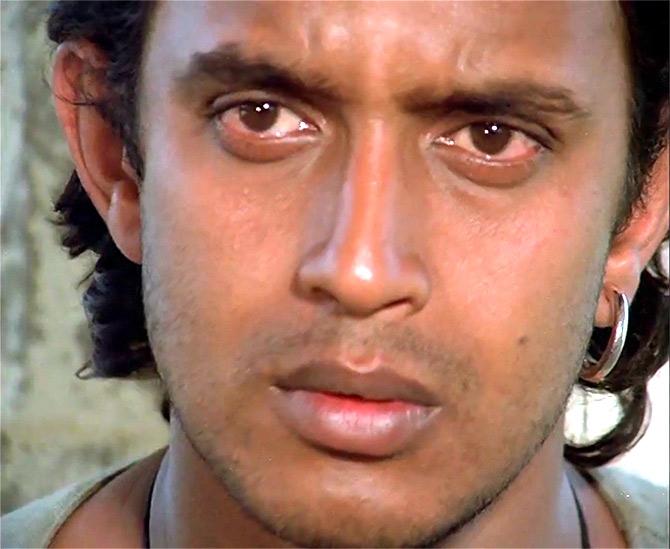 To enjoy the rich tributes to his persona in films like Delhi Belly (Disco Dancer) and Gangs of Wasseypur (Kasam Paida Karne Wale Ki), it's important to visit his versatility in various films and languages.
As a beginner's guide to the man, his method and madness, Verma suggests Disco Dancer, Agneepath, Ghulami and Pyar Jhukta Nahi. The latter, a melodramatic rehash of Aa Gale Lag Ja, was a massive hit of its time and inspired the likes of Raja Hindustani.
And his turn as the silly Krishnan Iyer MA Nariyalpaniwala is so inimitable, they didn't dare touch the character in its remake.
Mithun's winsome contribution to J P Dutta's intense Ghulami is almost on everyone's suggestion list.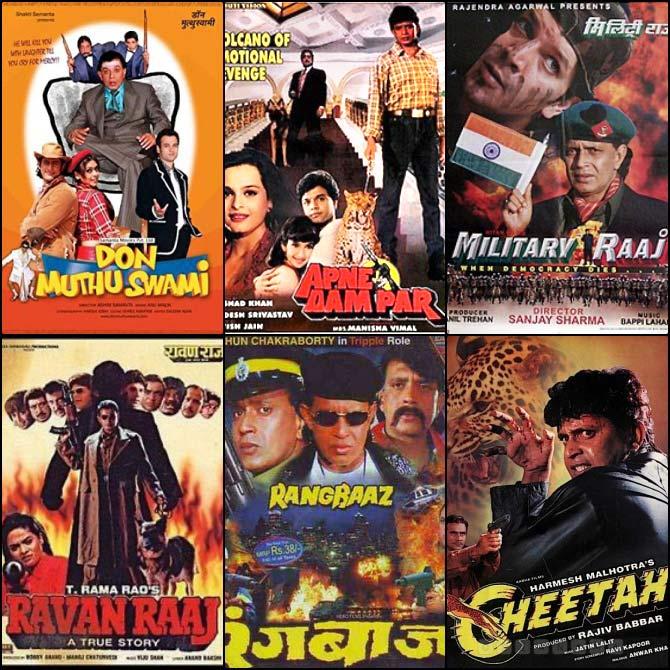 Vasan Bala also wishes to add the deliciously tacky Surraksha because "We have only one Gunmaster" and Shaukeen for his "effortless charm."
Jha and Rathore root for Hum Paanch, Bapu's take on the Mahabharat where a spellbinding Mithun interprets Bheema in ways Shah Rukh Khan would channel for his role of rebelling minion in Koyla.
Both also recommend another Bapu creation, Prem Pratigya and Budhhadeb Dasgupta's Tahader Katha.
Jha's list includes some more offbeat names like Swami Vivekanand and Gudiya to go with Disco Dancer and Jallaad for which he won a Best Villain Filmfare.
Vishal picks three movies from three different phases of his career: B Subhash's Disco Dancer, Bapu's Prem Pratigya and Rajiv Babbar's Shapath.
Of course, there is Mani Ratnam's Guru, but if you have not really seen Dalaal, Gunda, Hatyara, Chandaal, Krantikari, Angaara, Rangbaaz, Cheetah or Yamraj, you don't deserve to see Guru.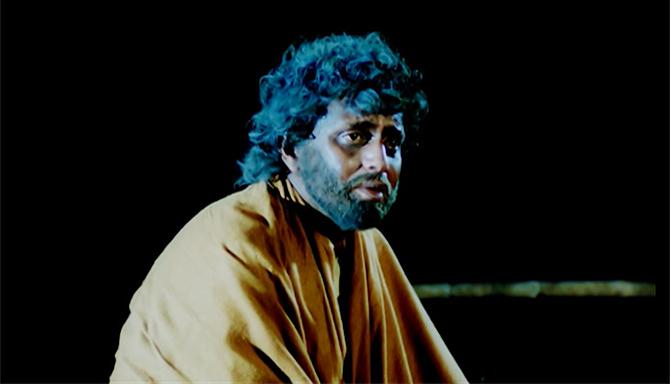 Through his recommendations, Aseem Chandaver reminds us "Disco Dancer is not only a great film, it's the USSR's gateway to Disco due to the social-cultural embargo they had levied on the US."
When done with Jimmy and G-9, he appeals to also show some love for the under-rated Bhayaanak.
"This is Mithun's version of Ready Or Not from the year 1979 where he investigates his wife's murder in a super creepy mansion. He was choosing his movies very carefully even at the nascent stage of his career."
"This is why experimental directors chose him to act in their films because he truly believed in making high concepts popular."
Can't think of anyone else but Mithun likening a sharab ki Bhatti (liquor shop) to his Maa who paalo-ed/poso-ed him, exact vengeance from his brain in another's body and threaten to 'Aaisa deemak bankar khaunga ki kab toota, kab bikhra aur kab tabaah hua teri parchaiyon ko bhi pata nahi chalega.'
Across these incredible and usually interchangeable movies, he created his own distinct style of dressing, speaking, dancing and fighting that would harmoniously and coolly co-exist with performances showcasing his soul, restraint and intelligence.
National Award-winning actor, producer, hotelier, ex-politician, cricket team owner, philanthropist, highest tax payer, reality show judge, animal lover and, above all, people's hero -- Mithun is truly a force of nature.